Your Hourly Cheat Sheet to Watching Week 10 College Football
There are different levels of football fanatics. Some take advantage of a fall Saturday to watch their alma mater or favorite school play, then proceed to do useful and productive things with the remaining hours of the day. One or two games per weekend are plenty for this person. Others try and clear as much of their Saturday schedule as they can to watch as many football games as humanly possible, from the first kickoff until the wee hours of the morning, when many comparatively normal people have already gone to bed.
If you fall into the second category — as we do — this guide is exactly what you need for that itchy trigger finger on your remote. Here is the perfect chronological plan of attack for seeing as much Week 10 college football as you can, meaningful or otherwise.
All times are Eastern, and all rankings are from this week's College Football Playoff poll.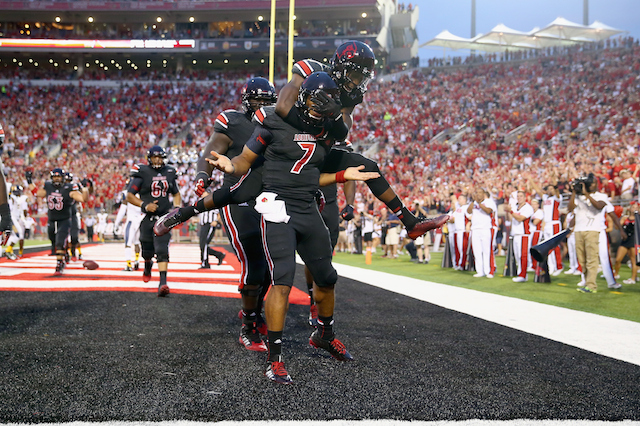 Bonus: Thursday
Your college football viewing kicks off extra-early this weekend, as No. 2 Florida State heads to No. 25 Louisville Thursday night (ESPN). The Seminoles own the longest current unbeaten streak in the country, but the Cardinals could prove formidable at home in this nationally televised primetime affair: Louisville Head Coach Bobby Petrino has won 22 straight home games. The teams have squared off on Thursday twice before, with Louisville capturing the more recent meeting in overtime 12 years ago and Florida State trouncing the Cards 51-7 in 1983, FSU's first-ever Thursday night contest.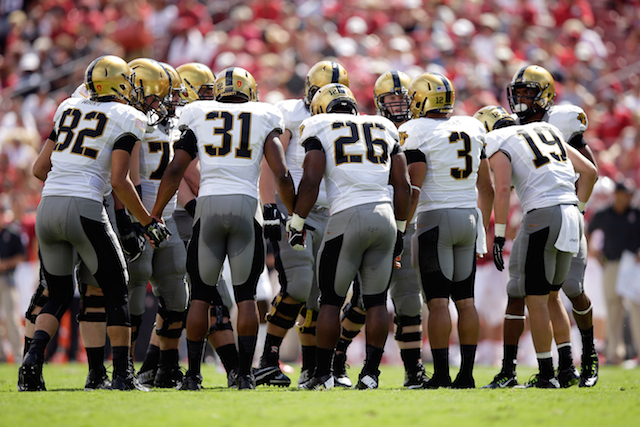 11:30 a.m. — 1:00 p.m.
Speaking of early starts, the first game of Saturday's slate kicks off before noon, so plan accordingly: It's Air Force at Army (CBS). There's always something special about seeing a matchup of service academies, and we recommend that this be the first game you tune into on Saturday. Air Force comes in at 5-2, while Army is just 2-5, but you know the expression: Throw out the records in a rivalry game (especially one that factors into the Commander-in-Chief's Trophy race).
1:00 p.m. — 2:00 p.m.
Our college football viewing marathon next takes us to the state of Iowa, where you can take your pick of Northwestern at Iowa (Big Ten Network) or No. 18 Oklahoma at Iowa State (Fox Sports 1). Or, if you've mastered the "previous channel" button at this point, you can just flip back and forth on every play. As you've learned by now, this is always our recommended approach (assuming you can keep your Wildcats, Hawkeyes, Sooners, and Cyclones straight).
2:00 p.m. — 3:00 p.m.
Other ranked teams in action during the early afternoon include No. 24 Duke at Pittsburgh (ESPNU) and No. 23 East Carolina paying a visit to Temple (ESPNews). Or, if you're so inclined, you can choose from Wisconsin-Rutgers (ESPN), Louisiana Monroe-Texas A&M (SEC Network), Maryland-Penn State (ESPN2), Washington-Colorado (Pac-12 Network), or UCF-UConn (CBS Sports Network). And don't say we didn't give you options: If you get an ACC Network affiliate in your part of the country, you'll have access to either Boston College-Virginia Tech or North Carolina-Miami (FL) too!
3:00 p.m. — 4:00 p.m.
Consider it your personal obligation to see the endings of any/all of the dozen Saturday games we've already mentioned (assuming they're close), then at 3:30, it's time to flip on over to No. 7 TCU at No. 20 West Virginia (ABC or ESPN2). The Mountaineers have won four straight overall and six of seven since a season-opening loss to Alabama, and are surprisingly right in the thick of the Big 12 race after the first two months of the season (although both WVU and the Frogs are looking up at Kansas State).
4:00 p.m. — 5:00 p.m.
Make sure you catch part of the game formerly known as the World's Largest Outdoor Cocktail Party Saturday afternoon: That would be Florida and No. 11 Georgia in Jacksonville (CBS). The biggest storylines of the game are the player who's not there (Bulldogs RB Todd Gurley, who's serving a four-game suspension) and the coach that might soon not be there (is this Will Muschamp's last stand at Florida?). The Gators have had two weeks to let an embarrassing home loss to Mizzou sink in: Will it make a difference?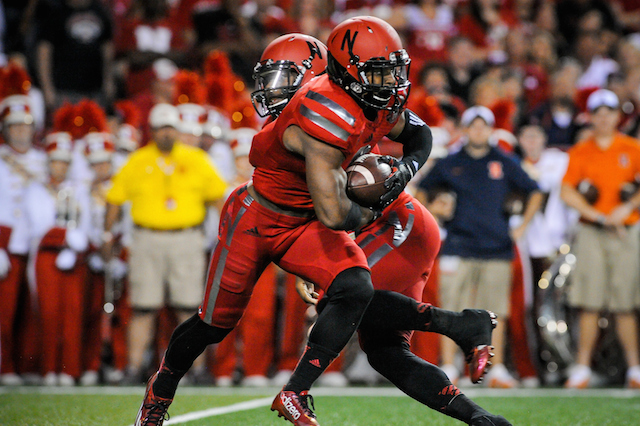 5:00 p.m. — 6:00 p.m.
Don't forget about the other Top 25 teams playing in the late afternoon slot: Spare a few minutes to check in on No. 13 Baylor vs. Kansas (Fox Sports 1) and No. 15 Nebraska vs. Purdue (ABC or ESPN2). Huskers star RB Ameer Abdullah is looking for his fifth 200-yard rushing game of the season, as Nebraska still controls its own destiny in the Big Ten: Would running the table be enough to crack the CFP bracket in December?
6:00 p.m. — 7:00 p.m.
It's just about time for the late games, and we haven't even mentioned Indiana-Michigan (Big Ten Network), Virginia-Georgia Tech (ESPNU), Kentucky-Missouri (SEC Network), or USC-Washington State (Pac-12 Network), among others. Well, now we have! Get busy channel changing, please. You never know which of these games might have the most thrilling finish of the day. You'll probably want to grab a snack too, because it's gonna be a long night.
7:00 p.m. — 8:00 p.m.
Our focus turns next to the all-powerful SEC West, as No. 4 Ole Miss hosts No. 3 Auburn (ESPN) and No. 1 Mississippi State entertains Arkansas (ESPN2). As you might have heard by now, assuming you're not living under a rock (and let's face it, if you're living under a rock in the South, you probably heard anyway), if the season should end today, the Bulldogs, Tigers, and Rebels would all be in the four-team tournament to decide the national champion. However, the season obviously doesn't end today, and the Ole Miss-Auburn loser's hopes will take a significant dive with that second defeat.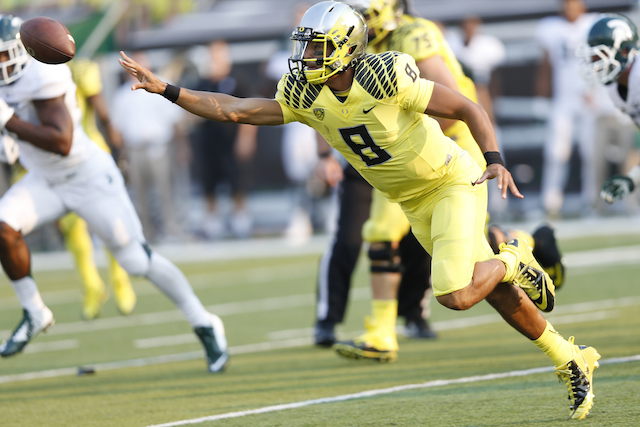 8:00 p.m. — 9:00 p.m.
There are plenty of good games out West Saturday night, including a clash between Stanford and No. 5 Oregon (FOX). Stanford has had the Ducks' number lately, winning the last two meetings. Or, to put it another way, Oregon quarterback Marcus Mariota is 0-2 against Stanford and 30-2 against every other opponent. Oregon's at home, which bodes well for Mariota to end that trend. And, of course, Gus Johnson's on the call, so it should be a fun one to watch no matter what.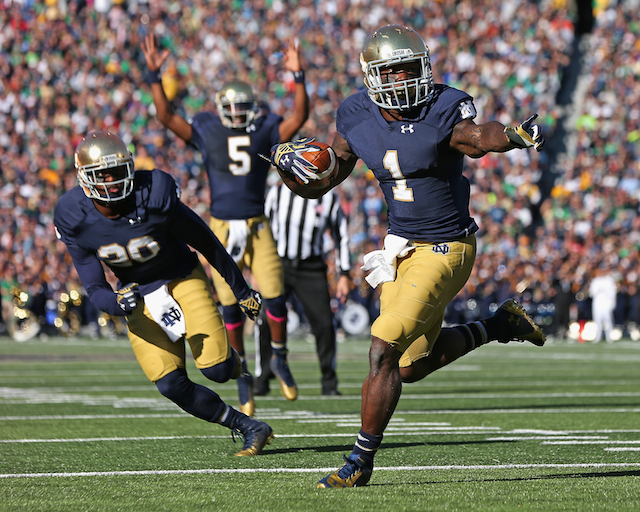 9:00 p.m. — 10:00 p.m.
Plenty of other top teams get evening showcase games this weekend, highlighted by No. 10 Notre Dame at Navy (CBS), No. 9 Kansas State vs. Oklahoma State (ABC regional), and No. 16 Ohio State vs. Illinois (ABC regional). On paper, none of these games should be upsets. But, then again, they don't play the games on paper, do they? And, if things get out of hand in too many places, you're welcome to try Tennessee-South Carolina (SEC Network) or Texas-Texas Tech (Fox Sports 1) as well. But we fully expect you to spend most of the evening glued to Ole Miss-Auburn, so keep that game either in the front or back of your mind as the night unfolds.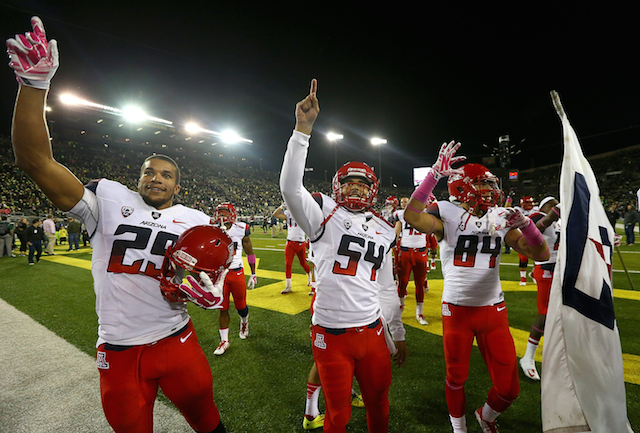 10:00 p.m. — 11:00 p.m.
We hope you're not yawning already when all of those games finally wrap up, because No. 12 Arizona at No. 22 UCLA (ESPN) doesn't kick off until 10:30 p.m. If you are starting to get tired with so many hours of football left to go, skip watching the inevitable Red Bull commercial to go and find a Red Bull of your own. But hurry back, because the Pac-12 has provided plenty of unexpected moments this season, and we anticipate nothing less from the Wildcats and Bruins.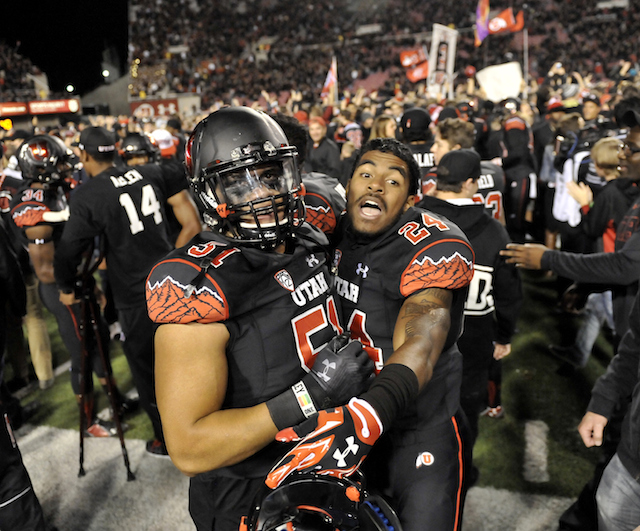 11:00 p.m. — End
Is it just us, or is the last game of the night starting later and later as the season rolls on? No. 17 Utah at No. 14 Arizona State (Fox Sports 1) is scheduled to begin at 11 p.m. EST, which, admittedly, is cutting into our beauty sleep with a game that will last well beyond two in the morning for those fans on the East Coast. But wait! Sunday morning also marks the end of Daylight Savings Time, so you get an extra hour of sleep! In other words, if you're a real diehard fan — the "14 hours, one remote" kind — you're going to keep an eye on the Utes and Sun Devils until the outcome's decided, because when the clock says 2:30 a.m., it really only meanzzzzzzzzzzzzzzzzzz…
Sorry about that. Maybe next week's article will be entitled "13 hours, one remote."