Your Hourly Cheat Sheet to Watching Week 11 College Football
There are different levels of football fanatics. Some take advantage of a fall Saturday to watch their alma mater or favorite school play, then proceed to do useful and productive things with the remaining hours of the day. One or two games per weekend are plenty for this person. Others try and clear as much of their Saturday schedule as they can to watch as many college football games as humanly possible, from the first kickoff until the wee hours of the morning, when many comparatively normal people have already gone to bed.
If you fall into the second category — as we do — this guide is exactly what you need for that itchy trigger finger on your remote. Here is the perfect chronological plan of attack for seeing as much Week 11 college football as you can, meaningful or otherwise.
All times are Eastern, and all rankings are from this week's College Football Playoff poll.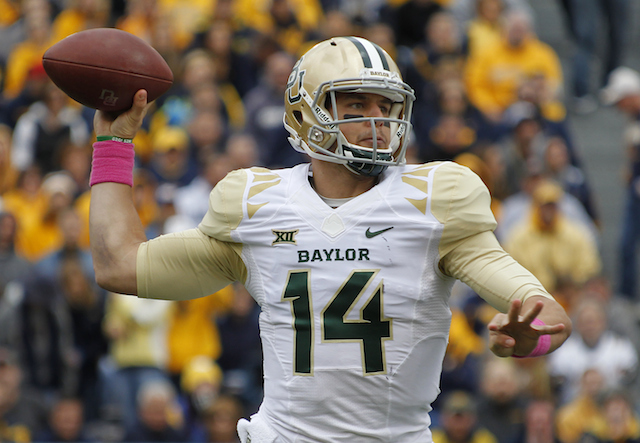 Noon — 1 p.m.
There are six games on the docket Saturday between teams ranked in the top 20, making this undoubtedly one of the most compelling days of the college football season. Our viewing smorgasbord begins in the Big 12, as you'll want to be paying attention to No. 12 Baylor at No. 15 Oklahoma (Fox Sports 1). The Sooners are probably stuck on the outside of the College Football Playoff picture looking in, with two losses already, but they at least have the chance to spoil the Bears' national title hopes in Norman.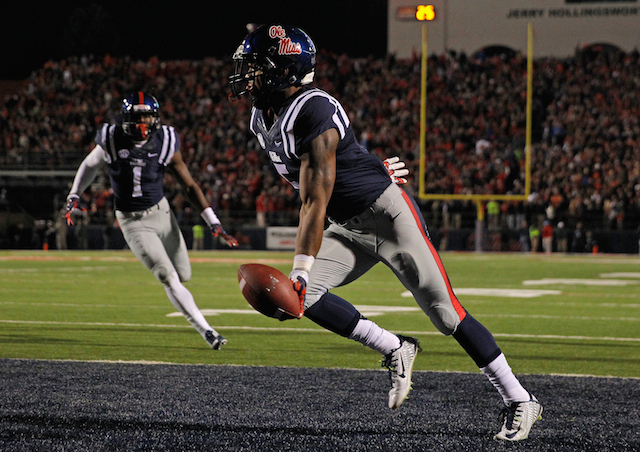 1 p.m. — 2 p.m.
Spare a minute or two in the early viewing window to watch Presbyterian at No. 11 Ole Miss (SEC Network), because that's all the time you'll need to see how ugly the final score could be. Presbyterian is an FCS team that lost by three touchdowns to FCS Liberty last week, and it could get downright embarrassing for the Blue Hose (yes, that's really their team mascot) in a trip to Oxford to play the fired-up Rebels, who are coming off a second consecutive loss after starting the year 7-0.
2 p.m. — 3 p.m.
There are plenty of other ranked teams in action Saturday afternoon, so make sure you keep tabs on all of them in case the Upset Alert horns start going off early. That list includes No. 20 Georgia at Kentucky (ESPN), No. 25 Wisconsin at Purdue (ESPNU), and No. 24 Georgia Tech at North Carolina State (ACC Network affiliates). With each of those Top 25 teams having to go on the road to battle conference foes, you never know what might happen.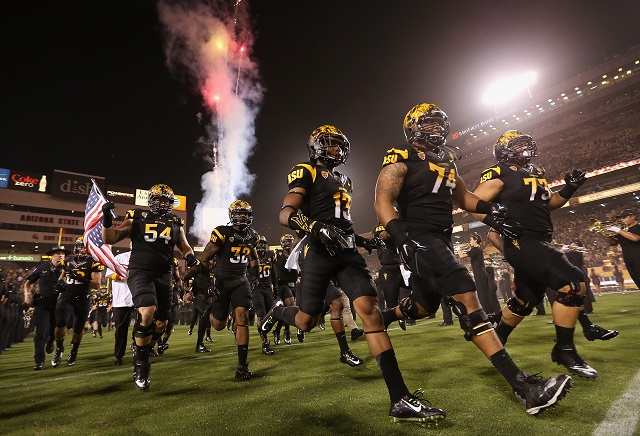 3 p.m. — 4 p.m.
When 3 p.m. rolls around, it's time to start flipping back and forth to see how many frantic finishes you can catch. That includes all of the games listed above, plus, if you're ambitious, you can throw in Iowa-Minnesota (ESPNU), Penn State-Indiana (Big Ten Network), SMU-Tulsa (CBS Sports Network), and whatever other games you can find. As we move toward the bottom of the hour, the next game deserving your focus is a biggie: No. 10 Notre Dame at No. 9 Arizona State (ABC). We're guessing the CFP selection committee members will be paying close attention to that matchup of 7-1 teams as well.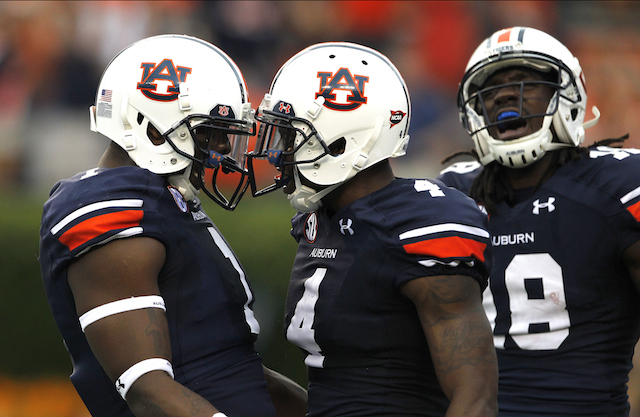 4 p.m. — 5 p.m.
We will definitely understand if you choose to zero in on the Fighting Irish-Sun Devils showdown to the exclusion of any other late-afternoon games, but if you're in the mood for channel-surfing, this is the typical time to tune in to CBS for the SEC game of the week. Saturday's battle comes from the SEC West — surprise! — and features Texas A&M at No. 3 Auburn. The Aggies have been in a freefall for the last month, only beating Louisiana-Monroe in that span (and by just 5 points): Can A&M shock the world on the Plains and take down a three-touchdown favorite?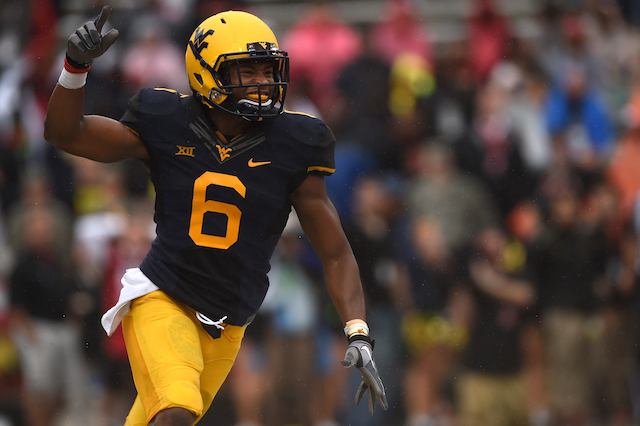 5 p.m. — 6 p.m.
One other game that you might want to keep an eye on takes place in Austin, as Texas hosts No. 23 West Virginia (Fox Sports 1). The Longhorns are 4-5 and just trying to win enough games to get bowl eligible in Charlie Strong's first season (From the 'how the mighty have fallen' department: Predecessor Mack Brown only missed the postseason once in 16 years at the helm), while WVU will be attempting to rebound from a heart-breaking 31-30 loss to TCU on the final play last weekend that snapped the Mountaineers' four-game win streak.
6 p.m. — 7 p.m.
Feel free to spend a few minutes checking in on the nation's top two teams during this hour: No. 1 Mississippi State vs. UT Martin (SEC Network) will be wrapping up somewhere around 6:30 p.m., while No. 2 Florida State vs. Virginia (ESPN) kicks off at the same time. The Bulldogs and Seminoles control their own destiny for a shot at the national championship, but obviously can't afford slip-ups against the weaker teams on their schedules if they want to feel good about their chances to hear their names called in December.
7 p.m. — 8 p.m.
Once all of the late-afternoon games have concluded (and you've grabbed some food to last you through the second half of our 14-hour, one-remote marathon), your next destination should be No. 7 Kansas State at No. 6 TCU (FOX) at 7:30 p.m. The Wildcats are still unbeaten in Big 12 play, and with no conference championship game to worry about, the winner of this game can take one enormous step toward possibly reserving a spot in the four-team bracket.
8 p.m. — 9 p.m.
The Big Ten's best two programs (and it's not really close) square off in East Lansing Saturday night as No. 14 Ohio State visits No. 8 Michigan State (ABC) in a rematch of the league's 2013 title game. With the Big Ten's new East/West realignment, OSU and MSU are now intra-divisional foes, and this game has been circled on both team's calendars for the last 11 months or so. Jim Delany may not be rooting for either team, but with no B1G national champion since 2002, the commish definitely will be hoping Saturday's victor plays well enough to impress the all-important selection committee.
9 p.m. — 10 p.m.
The 2014 version may not be quite up to past Game of the Century levels, but when No. 5 Alabama and No. 16 LSU (CBS) get together, the stakes are always high…and there is always plenty of NFL-caliber talent on the field, so make sure you get to see part of this game as well. The Crimson Tide may be flying a bit under the radar, since they're not currently in the CFP's top four, but 'Bama still has everything to play for, especially with games against Mississippi State and Auburn still to come (and perhaps — gasp? — the SEC Championship Game too?).
10 p.m. — 11 p.m.
We're guessing you'll have plenty of channel-changing to occupy you between K-State/TCU, Michigan State/Ohio State, and 'Bama/LSU, but if you want to really get carried away, use commercials to check out a play or two of No. 18 UCLA-Washington (Fox Sports 1), No. 19 Arizona-Colorado (Pac-12 Network), Boise State-New Mexico (CBS Sports Network), Hawaii-Colorado State (ESPNU), Louisville-Boston College (ESPN2), and/or Florida-Vanderbilt (SEC Network). Just to say you did.
11 p.m. — End
Your viewing marathon concludes out West, per usual, with the last big game of the night (or early morning, if you live in the Eastern time zone). No. 4 Oregon and No. 17 Utah (ESPN) should be well underway by the time your evening slate wraps up, and you don't dare go to bed before finding out if the Utes can upset the league favorite and national championship contender Ducks under the lights. The Utes have been home for the postseason the last two years, snapping a string of nine straight bowl appearances, but Kyle Whittingham's 2014 team seems poised for big things as the calendar turns to November.