Your Hourly Cheat Sheet to Watching Week 12 College Football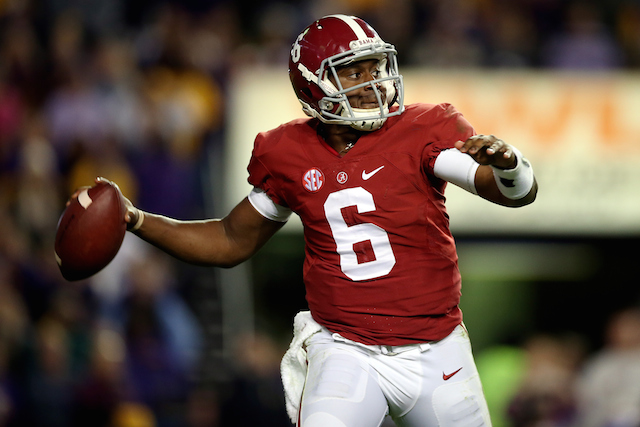 There are different levels of football fanatics. Some take advantage of a fall Saturday to watch their alma mater or favorite school play, then proceed to do useful and productive things with the remaining hours of the day. One or two games per weekend are plenty for this person. Others try and clear as much of their Saturday schedule as they can to watch as many college football games as humanly possible, from the first kickoff until the wee hours of the morning, when many comparatively normal people have already gone to bed.
If you fall into the second category — as we do — this guide is exactly what you need for that itchy trigger finger on your remote. Here is the perfect chronological plan of attack for seeing as much Week 12 college football as you can, meaningful or otherwise.
All times are Eastern and all rankings are from this week's College Football Playoff poll.
Noon to 1 p.m.
This week's viewing slate begins in the ACC, when No. 19 Clemson visits No. 22 Georgia Tech (ESPN) at high noon. Both teams occupy second place in their respective division races, as the Tigers are looking up at Florida State in the Atlantic and the Yellow Jackets are chasing Duke in the Coastal. There haven't been a ton of must-watch games between ACC teams so far this season, so this one deserves your attention early on simply because it's relevant for both squads.
1 p.m. to 2 p.m.
The other big game in the early window is No. 8 Ohio State at No. 25 Minnesota (ABC). Third-year Buckeyes coach Urban Meyer still hasn't lost a Big Ten regular-season game, and the visiting Bucks will attempt to keep that streak intact when they travel to meet the surprising Gophers, who are in a three-way tie for first place in the Big Ten West with Nebraska and Wisconsin. Our guess is if the Buckeyes can win in East Lansing, they can also handle a trip to Minneapolis. But we'll see on Saturday: That's why they play the games, right?
2 p.m. to 3 p.m.
The only other ranked team in action during the early afternoon is No. 21 Duke, as the Blue Devils host Virginia Tech (ESPNU). Other games you might want to check in on during your spare time could include Army-Western Kentucky (CBS Sports Network), Iowa-Illinois (Big Ten Network), Temple-Penn State (ESPN2), or Pittsburgh-North Carolina (ACC Network affiliates). Also, don't forget about South Carolina-Florida (SEC Network), since it's never boring when Gamecocks coach Steve Spurrier (pictured above, on left) squares off against his alma mater and former employer.
3 p.m. to 4 p.m.
Once the early action winds down, you'll want to hustle over to the game of the day by 3:30 p.m. or so: No. 1 Mississippi State at No. 5 Alabama (CBS). The Bulldogs may be the top-ranked team in the land, but they're still two-score underdogs in Tuscaloosa against the 2009, 2011, and 2012 national champions and Crimson Tide head coach Nick Saban, who's won 80 of his last 90 games at the helm. MSU quarterback Dak Prescott (pictured) appears to be losing ground in the Heisman Trophy race behind Marcus Mariota but has the chance to put together a "Heisman moment" on the big stage Saturday at 'Bama.
4 p.m. to 5 p.m.
The other big game in this time slot that you'll want to see as much of as you possibly can is No. 16 Nebraska at No. 20 Wisconsin (ABC). The winner has a legitimate chance to represent the Big Ten West in Indianapolis next month, and the 8-1 Cornhuskers could very well slip into the national championship discussion if they run the table and claim the conference crown. Saturday's showdown also features two of the top five rushers in the country, as Badgers star Melvin Gordon (pictured) and Nebraska running back Ameer Abdullah look to have big days.
5 p.m. to 6 p.m.
There won't be a lot of time for extra games if you're zeroed in on Mississippi State-Alabama and Nebraska-Wisconsin, but just in case you want to take a peek out West, there's No. 14 Arizona hosting Washington (Fox) in a Pac-12 clash. The Wildcats are currently 14th in the country but are only in fourth place in their own division (the Pac-12 South). The Huskies have lost three of their last four — can they keep it competitive against Rich Rod's Wildcats in the desert? Other late-afternoon games, if you're in to quantity over quality: No. 4 TCU-Kansas (Fox Sports 1), Indiana-Rutgers (BTN), Oklahoma-Texas Tech (ESPN), and Kentucky-Tennessee (SEC Network),
6 p.m. to 7 p.m.
This hour is for watching the end of all the other important and/or interesting games mentioned thus far, and, if you get a moment, maybe checking in on the end of Northwestern at No. 18 Notre Dame (NBC). Of course, the Fighting Irish are heavily favored at home and shouldn't have any problem with Pat Fitzgerald's Wildcats — but why does that sound familiar? Oh, yes, we remember. Tune in for a minute or two just to see if history might repeat itself in the first meeting between these programs since 1995.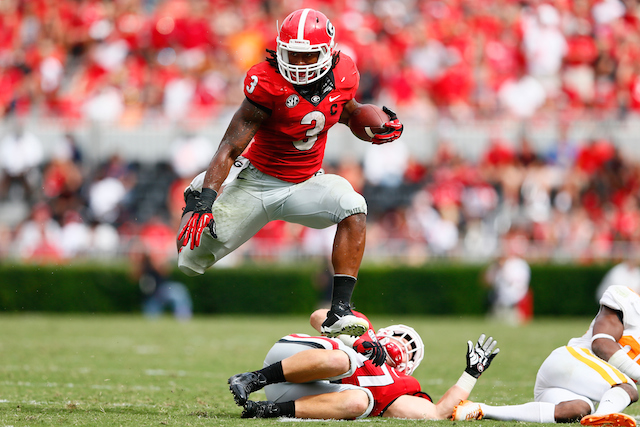 7 p.m. to 8 p.m.
Next up on the list of this weekend's biggest games is an SEC duel pitting No. 9 Auburn against No. 15 Georgia (ESPN) at 7:15 p.m. between the hedges. Both ballclubs are already saddled with a pair of conference losses that could make it difficult to get to Atlanta for December's SEC Championship game. The big storyline here is the return of Bulldogs tailback Todd Gurley (pictured) after a four-game suspension: Will it take long for the Dawgs' best player to shake off the rust? Tune in to find out.
8 p.m. to 9 p.m.
Jimbo Fisher's Seminoles haven't lost a game of any sort since November … 2012. Will the streak continue at Sun Life Stadium this weekend? It's No. 2 Florida State at Miami (ABC) in one of the Noles' toughest tests before a likely trip to the first College Football Playoff final four in an attempt to win a second consecutive national championship. And since Miami's only 6-3 on the season, that gives you an idea how easy the road to an ACC title looks for the team from Tallahassee.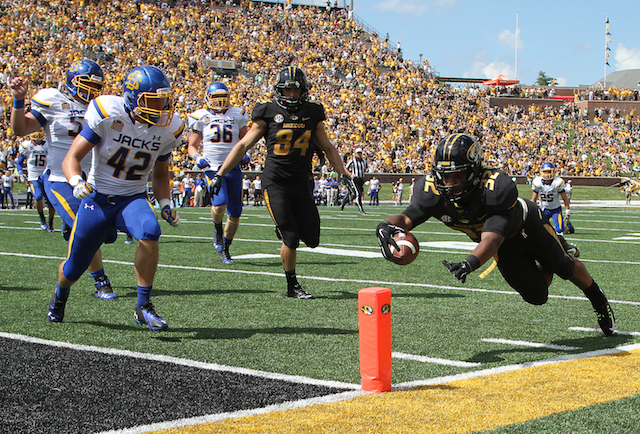 9 p.m. to 10 p.m.
There are two intriguing SEC games to keep an eye on as the evening rolls along: Take your pick of Missouri at No. 24 Texas A&M (SEC Network), No. 17 LSU at Arkansas (ESPN2), or … hey, why not both? Mizzou is currently on top of the SEC East, while the Aggies are riding high after an upset win at Auburn last Saturday. Meanwhile, in Fayetteville, Arkansas is somehow a slight favorite over No. 17 LSU despite being the unranked opponent in the game and — oh, yes — the fact that the Razorbacks have LOST 17 CONFERENCE GAMES IN A ROW.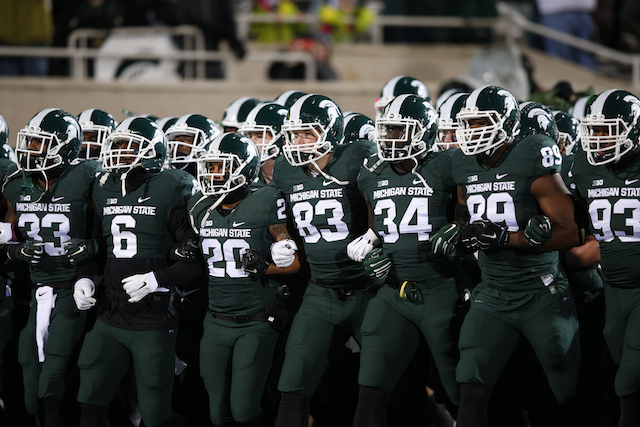 10 p.m. to 11 p.m.
Let's see — what else is happening at nighttime around the college football landscape? How about UNLV-BYU (ESPNU), Texas-Oklahoma State (Fox), South Florida-SMU (CBS Sports Network), North Texas at UTEP (Fox Sports 1), or … ah, here we go … No. 12 Michigan State at Maryland (BTN). Don't look now, but the unheralded Terrapins could pull into a tie for second place in the B1G's East Division with a home win over Sparty. Stranger things have happened (although we can't think of any off the top of our heads).
11 p.m. to end
Once all of the evening games have wound down, there are two late-night battles that you can choose from if, like us, you want to put off going to bed. The logical choice is No. 6 Arizona State at Oregon State (ESPN), as the Sun Devils have planted themselves squarely in the middle of the national title picture after a resounding win over the Fighting Irish a week ago. Your other alternative for finishing this week's "14 hours, one remote" marathon in the wee hours is San Diego State at Boise State, which you can find over on ESPNU.