Your Hourly Cheat Sheet to Watching Week 13 College Football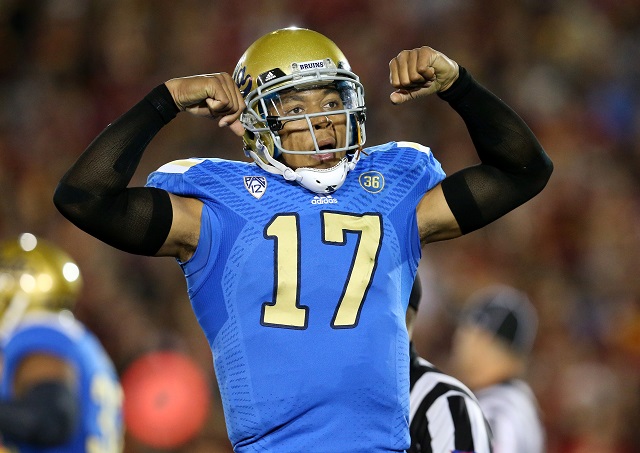 There are different levels of football fanatics. Some take advantage of a fall Saturday to watch their alma mater or favorite school play, then proceed to do useful and productive things with the remaining hours of the day. One or two games per weekend are plenty for this person. Others try and clear as much of their Saturday schedule as they can to watch as many college football games as humanly possible from the first kickoff until the wee hours of the morning, when many comparatively normal people have already gone to bed.
If you fall into the second category — as we do — this guide is exactly what you need for that itchy trigger finger on your remote. Here is the perfect chronological plan of attack for seeing as much Week 13 college football as you can, meaningful or otherwise.
All times are Eastern and all rankings are from this week's College Football Playoff poll.
12:00 p.m. — 1:00 p.m.
This week's college football marathon begins in Big Ten country, as you'll want to tune in to No. 25 Minnesota at No. 23 Nebraska (ESPN). It's the only game between ranked teams in the early window, and could have important Big Ten West ramifications, since the Gophers, Huskers, and Iowa Hawkeyes are all a game back of Wisconsin in the division standings. Minnesota actually controls its own destiny in the West race, but that means the Gophers need to figure out how to win in Lincoln and Madison to close the regular season.
1:00 p.m. — 2:00 p.m.
Elsewhere in the Big Ten, the top two teams in the East division are both in action at home. Pop in on Indiana at No. 6 Ohio State and/or Rutgers at No. 11 Michigan State (both on Big Ten Network channels) to make sure the favorites are taking care of business. The Buckeyes have the inside track on the divisional crown, but Sparty is ready and waiting if OSU stubs its toe. We doubt that happens against an 0-6 Hoosiers team…especially at the Horseshoe in Columbus.
2:00 p.m. — 3:00 p.m.
Other ranked teams in action in the early window: No. 21 Oklahoma vs Kansas (Fox Sports 1) and No. 10 Georgia against Charleston Southern (SEC Network). Coincidentally, I actually stayed in the same hotel as the Charleston Southern team this past weekend in Virginia. I thought about asking the FCS underdogs how they planned to slow down one of the top 10 teams in America, but…then I didn't. While the Buccaneers will be hard-pressed to keep things close (or even competitive) in Athens, Ga., will obviously be missing a major piece with Todd Gurley lost to a season-ending ACL tear.
3:00 p.m. — 4:00 p.m.
By now, you know what the first part of the 3:00 hour is for: Watch the ending of as many close games as you can, including all of those listed so far (as applicable), plus Northwestern at Purdue (ESPNU), Penn State at Illinois (ESPN2), SMU at UCF (ESPNews), Virginia Tech at Wake Forest (ACC Network affiliates), and, oh yes, don't forget about Yale at Harvard (NBCSN). It's the 13th playing of "The Game," and you'll want to make sure you see some of that classic and long-standing rivalry matchup.
4:00 p.m. — 5:00 p.m.
By now, all of the main late-afternoon games will be underway, and we recommend you turn first to No. 15 Arizona at No. 17 Utah (ESPN). The Wildcats are one of four Pac-12 South teams in a logjam with two conference losses, and the Utes come in just behind that quartet with three losses so far after a big 20-17 win at Stanford last time out. It's a big day in the Pac-12: This is one of only two games between top-20 teams this weekend, and both will be played out West.
5:00 p.m. — 6:00 p.m.
Last week, we made a big deal about Arkansas being favored over LSU despite the Tigers coming in ranked No. 17 and the Razorbacks having lost 17 conference games in a row. Well, consider that to be reason No. 17,171 why Vegas knows best. The oddsmakers were right and we were wrong, as Bret Bielema's team not only beat LSU, but did so in shutout fashion (17-0). Can Arkansas start to put together a winning streak now? Tune in to No. 8 Ole Miss at Arkansas (CBS) to find out.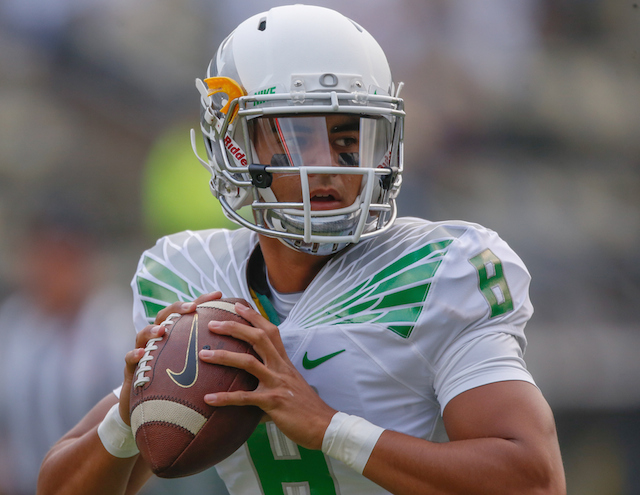 6:00 p.m. — 7:00 p.m.
The top three teams in America will be in action at the same time, so get your channel changer ready and try to bounce between Western Carolina at No. 1 Alabama (SEC Network), Colorado at No. 2 Oregon (Pac-12 Network), and Boston College at No. 3 Florida State (ABC/ESPN2 regional). With all three powerhouses at home against apparently undermatched opponents, there shouldn't be much drama. And if there's not, feel free to check out other ranked teams like No. 16 Wisconsin at Iowa (ABC/ESPN2) or No. 24 Louisville at Notre Dame (NBC) to try to find a more compelling matchup.
7:00 p.m. — 8:00 p.m.
To SEC country we go: Start with Samford at No. 14 Auburn (ESPNU), then move on to No. 20 Missouri at Tennessee (ESPN) and Vanderbilt at No. 4 Mississippi State (SEC Network) toward the bottom of the hour (7:30 p.m. kickoffs for those two). Although Mizzou is only the sixth-highest-ranked team in their own conference, the Tigers (at 5-1 in league play) can wrap up a spot in the SEC Championship Game with wins in their final two regular-season contests.
8:00 p.m. — 9:00 p.m.
The best game of the night is No. 19 USC at No. 9 UCLA (ABC), so you'll want to make sure you've flipped the channel over by the time this one kicks off at the Rose Bowl. The Bruins have won four straight, with three of those victories coming on the road, and now they finish up with back-to-back home games against longtime rivals USC and Stanford. The Trojans could once again have the services of cornerback Josh Shaw (pictured), who had been suspended for the entire season up until now after lying about rescuing a drowning nephew to explain his injuries. Shaw was reinstated this week.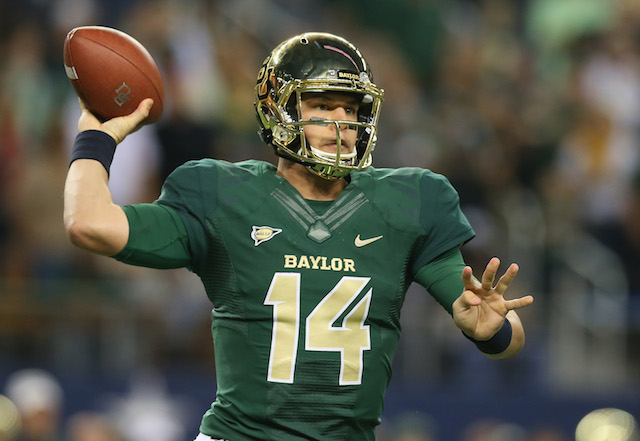 9:00 p.m. — 10:00 p.m.
The only other ranked team in action during prime time this week is No. 7 Baylor, as the Bears host Oklahoma State (FOX). The Bears still (inexplicably?) trail No. 5 TCU in the selection committee's rankings despite both teams having identical records and Baylor winning the head-to-head meeting in a 61-58 thriller. That means Baylor might be running out of time to make a statement that they belong in the inaugural bracket. Look for the Bears to put up as many points as possible on the .500 Cowboys.
10:00 p.m. — 11:00 p.m.
Don't be afraid to flip back and forth to catch the endings of any great games that might possibly develop through the night, including Miami at Virginia (ESPN2) or Cincinnati at UConn (CBS Sports Network). We're not going to sugarcoat it: This isn't the greatest prime-time slate of games. But, hey, Cincinnati is right in the thick of the American race at 4-1, sandwiched between Memphis and UCF in the standings, so that's got to count for something as a storyline, right? Right? (In other words, maybe you should spend the 10:00 hour getting caffeine so you stay awake for the really late games instead.)
11:00 p.m. — End
This week's football marathon ends with your choice of three interesting games, even though there's not a ranked team to be found. Take your choice of Boise State at Wyoming (ESPN2), Fresno State at Nevada (ESPNU), or Oregon State at Washington (Pac-12 Network). The Fresno-Nevada game features two teams tied (with San Diego State) for the MWC's West division lead, even though all three schools are only .500 in league play. (Of course, the NFC South says playing .500 football isn't as easy as it looks). Still, if you don't make it through all 14 hours of our marathon this week, we won't blame you one bit.