Your Hourly Cheat Sheet to Watching Week 14 College Football
There are different levels of football fanatics. Some take advantage of a fall Saturday to watch their alma mater or favorite school play, then proceed to do useful and productive things with the remaining hours of the day. One or two games per weekend are plenty for this person. Others try and clear as much of their Saturday schedule as they can to watch as many college football games as humanly possible, from the first kickoff until the wee hours of the morning, when many comparatively normal people have already gone to bed.
If you fall into the second category — as we do — this guide is exactly what you need for that itchy trigger finger on your remote. Here is the perfect chronological plan of attack for seeing as much Week 14 college football as you can, meaningful or otherwise.
All times are Eastern, and all rankings are from this week's College Football Playoff poll.
Bonus: Thursday
Normally, we zero in on Saturday as the big college football day of the week, but with Thanksgiving coming up, you won't want to miss out on the games that happen before we ever get to the weekend! That starts with a pair of games Thursday night in the same state, as LSU visits Texas A&M (ESPN) and No. 5 TCU travels to face Texas (Fox Sports 1). Both games kick off at the same time: 7:30 p.m. The Horned Frogs are in the thick of a three-team race in the Big 12, and TCU's date in Austin is the biggest obstacle standing between the Frogs and at least a share of the conference crown.
Double bonus: Friday
Make sure you get your Black Friday shopping done early, because you'll want to be in front of the television by noon for a big Friday of college football. In the early slot, check out undefeated No. 24 Marshall against Western Kentucky (FS1) — hey, look, the Thundering Herd finally cracked the top 25! There's also Nebraska-Iowa (ABC), UCF-USF (ESPN2), Houston-SMU (CBS Sports Network), and even some MACtion … Northern Illinois-Western Michigan (ESPNU).
The real fun starts at 3:30 p.m., when No. 13 Arizona State visits No. 11 Arizona (Fox). That's not the only important late-afternoon game, as Arkansas at No. 17 Missouri (CBS) and Stanford at No. 8 UCLA (ABC) both have conference championship ramifications. Then, if you haven't had enough football for one day, finish in primetime with Virginia-Virginia Tech (ESPN).
Noon to 1 p.m.
Whew. We finally made it to Saturday. Your marathon day should definitely kick off with No. 16 Georgia Tech at No. 9 Georgia (SEC Network). This non-conference clash between two teams that could be playing for league titles next weekend should be an enjoyable one, and possibly the most important game the SEC Network has aired to date. The Bulldogs have won three games in a row by at least 27 points, while the Yellow Jackets have captured four straight games by 22 or more points.
1 p.m. to 2 p.m.
Of course, the most-hyped game in the early window is a traditional classic that deserves a good bit of your time, as well. That would be Michigan at No. 6 Ohio State (ABC), or, as it's simply referred to in the Midwest, "The Game." The Wolverines have struggled to a 5-6 record so far in 2014, meaning UM needs a win at the Horseshoe to avoid missing the postseason for the third time in seven years (after a string of 33 consecutive bowl appearances before that span). Will Saturday afternoon be Brady Hoke's final game on the Michigan sideline?
2 p.m. to 3 p.m.
It's Rivalry Saturday, and many of the rivalries are of the intrastate variety. Such is the case in South Carolina, where the Gamecocks travel to No. 21 Clemson (ESPN), as well as in Kentucky, as the Wildcats visit No. 22 Louisville (ESPN2). You can flip over to whichever of those games you prefer during commercials and/or halftime of the Yellow Jackets-Bulldogs and Wolverines-Buckeyes matchups, or take your choice of Illinois-Northwestern (ESPNU), Purdue-Indiana (Big Ten Network), or North Carolina State-North Carolina (ACC Network affiliates) instead — just as long as you're choosing from among the intrastate alternatives.
3 p.m. to 4 p.m.
Finish up with all of the early games, then flip on over to No. 4 Mississippi State at No. 19 Ole Miss (CBS). It's thought to be the first time the Egg Bowl has been on network television in 50 years, and it should be a fitting conclusion to one of the most successful college football seasons in the state of Mississippi's history. The Bulldogs still have an outside shot at the SEC title game, but they need to beat their rival and then root for Auburn in the Iron Bowl on Saturday night. Meanwhile, for the 8-3 Rebels, they're left to wonder what might have been after Laquon Treadwell's heartbreaking injury and fumble at the goal line against Auburn earlier this month cost them any chance at a national title. An Egg Bowl win would be a nice consolation prize.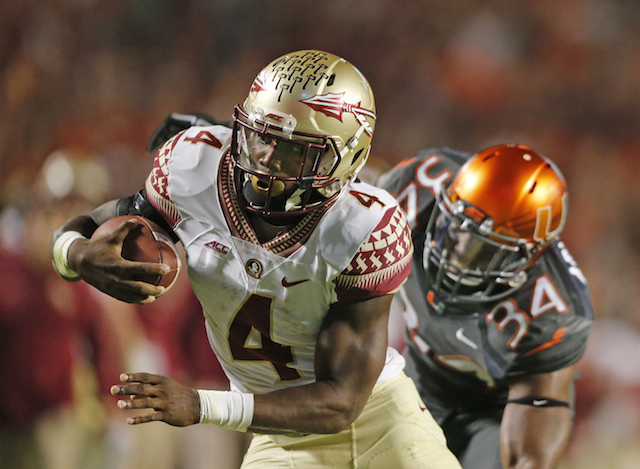 4 p.m. to 5 p.m.
Don't forget about Florida at No. 3 Florida State (ESPN), as the Seminoles look to finish a second consecutive perfect regular season. The 'Noles need to avoid a slip-up against the Gators in what will be departing Florida coach Will Muschamp's last game. With just Saturday's game versus Florida and the ACC title game remaining, we still think there's a chance FSU could lose one and hang on to one of the coveted berths in the four-team playoff bracket, but it's safe to assume Jimbo Fisher, Jameis Winston, and company don't want to find out whether or not that's true.
5 p.m. to 6 p.m.
There's also a big game happening in Big Ten country late Saturday afternoon, as No. 18 Minnesota travels to No. 14 Wisconsin to decide the Big Ten West championship. The Badgers have sewn up at least a share of the title, but if the Gophers prevail Saturday afternoon, Jerry Kill's team will represent the West in next weekend's conference title game against Ohio State. The Heisman race appears to be down to Wisconsin RB Melvin Gordon (pictured) and Oregon's Marcus Mariota, so Gordon needs to put up big numbers and hopefully earn one extra game to impress voters in Indianapolis.
6 p.m. to 7 p.m.
Normally, Notre Dame at USC (Fox) would be one of the showcase games of this or any weekend, but with the Irish having lost four of five and neither team currently ranked, much of the luster has come off the traditional Irish-Trojans matchup. Still, feel free to pop in for a minute or two, and it wouldn't hurt to check in on No. 7 Baylor-Texas Tech (ABC/ESPN2), No. 10 Michigan State-Penn State (ABC/ESPN2), and No. 12 Kansas State-Kansas (FS1), either, especially if it looks like any of the favorites might be on upset alert.
7 p.m. to 8 p.m.
Spend the first part of this hour bouncing around to see the finishes of any of the afternoon games that might demand your attention, then chow down a quick dinner (or at least a snack) and get ready for the Iron Bowl. No. 15 Auburn and No. 1 Alabama (ESPN) kick off at 7:45 p.m., and if it's half as crazy and entertaining a game as the 2013 Kick-Six version was, this will probably be the best football game you see all day. The Tigers have dropped two straight SEC games, but would love to spoil Alabama's conference championship — and perhaps national championship? — chances with an upset in Tuscaloosa.
8 p.m. to 9 p.m.
No. 2 Oregon has already clinched a spot in the Pac-12 championship game, but the one-loss Ducks need to take care of business against rival Oregon State in the "Civil War" on Saturday night to stay on the playoff committee's good side. Although Oregon is a big favorite in Corvallis, the Beavers have been known to pull unbelievable upsets at home before, so Oregon-Oregon State (ABC) should be a fun one to keep tabs on as the evening rolls on. And, as mentioned before, there are obvious Heisman implications for UO's Mariota (pictured), especially in primetime.
9 p.m. to end
With the abundance of Friday games this week, Saturday night isn't quite as full as normal, but with the Iron Bowl to keep tabs on, that's just fine with us. And don't worry: Once Auburn and 'Bama are done, there's still enough late-night football to keep you occupied well past midnight. Our suggestion is that you finish your Saturday marathon with Utah State at No. 23 Boise State (ESPN2), which kicks off at 10:15 p.m. and now features the highest-ranked team from outside the power conferences. Of course, you have options: If, for some strange reason, you're drawn to Washington-Washington State (FS1) or Nevada-UNLV (ESPNU) instead, more power to you.