Your Hourly Cheat Sheet to Watching Week 3 College Football
There are different levels of football fanatics. Some take advantage of a fall Saturday to watch their alma mater or favorite school play, then proceed to do useful and productive things with the remaining hours of their day. One or two games per weekend are plenty for this person. Others try and clear as much of their Saturday schedule as they can to enjoy watching as many football games as humanly possible from the first kickoff until the wee hours of the morning when many comparatively normal people have already gone to bed.
If you fall into the second category — as we do — this guide is exactly what you need for that itchy trigger finger on your remote. Here is the perfect chronological plan of attack for seeing as much Week 3 college football as possible on Saturday, meaningful or otherwise. (All times Eastern and all rankings from this week's AP poll.)
12:00 p.m. — 1:00 p.m.
Our marathon day begins with Kent State at No. 22 Ohio State (ABC or ESPN2, depending on your area of the country). Spend a few minutes watching the Buckeyes (because that's all they'll need to score), then flip on over to Indiana-Bowling Green (ESPNU) or Syracuse-Central Michigan (ESPNews) to check out MAC teams that have a slightly more realistic chance of taking down a Power Five conference school this weekend (for Central Michigan, that would be twice in a row).
When you're ready to see something besides #MACtion (this could be at 12:30 p.m. or 12:03 p.m. depending on your tolerance for that brand of football), we recommend tuning into West Virginia at Maryland for a little bit. This game will likely take you a few minutes to simply locate on your television if you — like us — miss the good old days when the Mountaineers played in the Big East and the Terrapins the ACC. Now, WVU-Maryland is a Big 12 vs. Big Ten showdown and you'll find it on the Big Ten Network. Go figure. Yes, West Virginia-Maryland is a Big Ten Network game. What is the world coming to?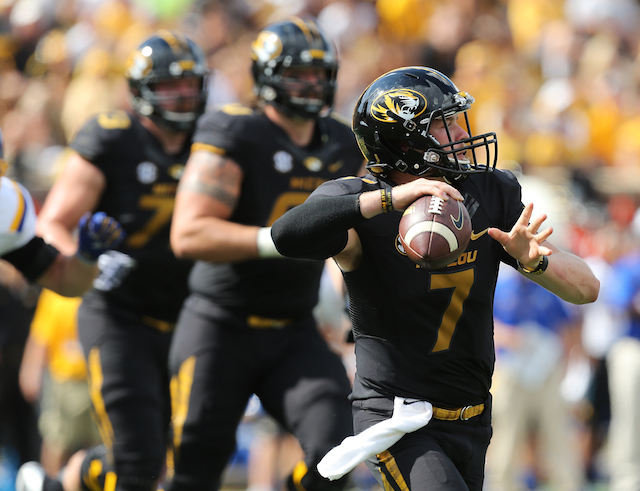 1:00 p.m. — 2:00 p.m.
Your 1:00 p.m. hour is a good opportunity to check in on any ranked teams that might be struggling. Upsets or potential upsets are always worth monitoring, and you'll want to make sure that UCF at No. 20 Missouri (SEC Network) and East Carolina at No. 17 Virginia Tech (ESPN) are going according to plan.
The No. 21 Louisville at Virginia game will be about a half hour behind those, but also falls into the camp of 'ranked team vs. unranked team' matchups to flip back and forth between (if you can find it on a local regional station that carries the ACC Network).
This time slot will be halftime for many of the early games, which is an acceptable break to get off the couch, at least for a moment or two. If you need snacks, that is.
2:00 p.m. – 3:00 p.m.
We haven't yet made it to Boise State at UConn (ABC or ESPN2), but that's worth taking a quick look at the second half (if only for the helmet designs). It's the first time the teams have played, and the Broncos do boast the most wins of any college football team since 2003. (Yes, you're allowed to keep that tidbit as trivia to stump your friends with while you watch part of this game.)
Also at 2 p.m. Eastern time (if you have the Pac-12 Network), the Wyoming-No. 2 Oregon game will be kicking off. Might as well check out a minute or two because all of the early games will be ending shortly and the Ducks will have — for all intents and purposes — put it out of reach by the time you're able to circle back.
3:00 p.m. — 4:00 p.m.
This is always one of the best hours of the day, and you should spend the first part flipping back and forth between any of the games thus far that remain to be decided in the fourth-quarter. On a perfect day, you can see a dramatic goal-line stand, a final play Hail Mary, an unbelievably ridiculous coaching decision, and an unpredictable upset in the matter of mere seconds or minutes. Get that remote ready.
At 3:30 p.m. Eastern time, a whole new slate of games kick off. As soon as possible, make your way to No. 6 Georgia at No. 24 South Carolina (CBS). It's the only game between ranked teams the whole day (it's usually not like this, we promise) and — for that reason alone — deserves your full attention from the outset.
4:00 p.m. — 5:00 p.m.
When the Bulldogs and Gamecocks go to commercial, you're allowed to take a quick scan of the other games in progress. The most appealing options probably include Arkansas-Texas Tech (ABC), Illinois-Washington (FOX), and Iowa State-Iowa (ESPN).
Oh, and there's a Kansas-Duke game (on some regional networks) too, but that would be much more relevant in March than September. Coach K isn't walking through that door.
5:00 p.m. — 6:00 p.m.
If there are any other games in the 3:30 p.m. Eastern time window that you want to see and haven't had time to yet, halftime of Georgia-South Carolina is your best bet. So flip over to Minnesota-TCU (FS1) or North Carolina State-USF (CBSSN) just to say you did.
Or, you can check out UL Lafayette at No. 14 Ole Miss on the SEC Network. Maybe tune in to BTN to see how Michigan-Miami (OH) is going. Can the Wolverines actually score this week? But no matter where you go, don't stay long. The clock is ticking toward the second half in Columbia.
6:00 p.m. – 7:00 p.m.
This is when things get crazy. If Georgia-South Carolina comes down to the final few minutes, you owe it to yourself to see it through to its conclusion. But, having said that, you also have a dozen other games — literally, depending on how many sports channels you get — that should be ending somewhere around 6:30 p.m. or 7:00 p.m.
Keep tabs on the scores, pay special attention to the ranked teams to make sure you don't miss an upset (thankfully there aren't a ton of them at this time, comparatively), and then change channels like crazy. Good luck.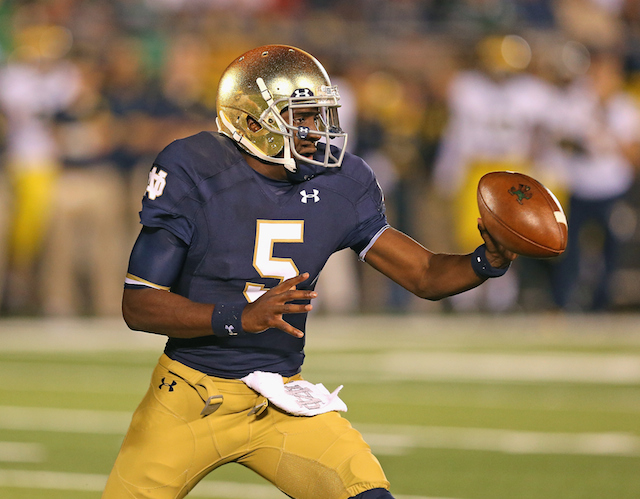 7:00 p.m. – 8:00 p.m.
If you haven't eaten dinner yet, what are you waiting for? The early part of the 7:00 hour — once all of the afternoon games have wrapped up — is the last time you'll have a few calm minutes consecutively. If you're the kind of person that wants to eat in front of the TV, there's always traditional SEC powerhouses to keep you company in the early evening: No. 3 Alabama hosts Southern Miss (ESPN2) and No. 10 LSU welcomes Louisiana-Monroe (ESPNU).
At 7:30 p.m., you'll want to check out Purdue-No. 11 Notre Dame in Indianapolis (NBC) for a little while, if for no other reason than that the series is going on hiatus after this season. The Boilermakers and Fighting Irish first played in 1896 and have met every year since 1946, but won't see each other again until next decade.
8:00 p.m. — 9:00 p.m.
Finally. Prime time. We made it. While this isn't exactly the juiciest prime-time college football schedule you'll ever see, it still provides solid options like Tennessee-No. 4 Oklahoma (ABC) and No. 12 UCLA-Texas (FOX). Take your pick.
Also of note, Rutgers hosts its first-ever Big Ten game when newly postseason-eligible Penn State comes to Piscataway (BTN). You don't have to change the channel necessarily, but at least you know now.
9:00 p.m. – 10:00 p.m.
There are a couple other games you might think about keeping an eye out for as the evening rolls along, starting with No. 9 USC-Boston College (ESPN). The Trojans are back in the Top 10 for the first time in almost two years, and their athletic director says he won't be talking to the officials this week, so that's worth watching if for no other reason than the predictable 'Pat Haden Cam.'
Elsewhere, Kentucky-Florida (SECN) will be heading to the second half in Gainesville by this time. Yes, the Wildcats have lost 27 straight at the Swamp, but don't tell Kentucky RB Jojo Kemp, who surely made Florida bulletin boards this week when he said: "It's going to be fun walking out with a victory and rubbing it in their faces."
10:00 p.m. — 11:00 p.m.
Spend this hour with whichever evening game(s) turn out to be the most compelling. There won't be too many more games kicking off after 10 p.m. Eastern time, so you can afford to flip back and forth between the end of Tennessee-Oklahoma, UCLA-Texas, and whatever else has grabbed your interest.
If you're in the Eastern time zone, you may want to track down some caffeine if you plan on getting emotionally attached to the late-night games still to come. That's what timeouts are for.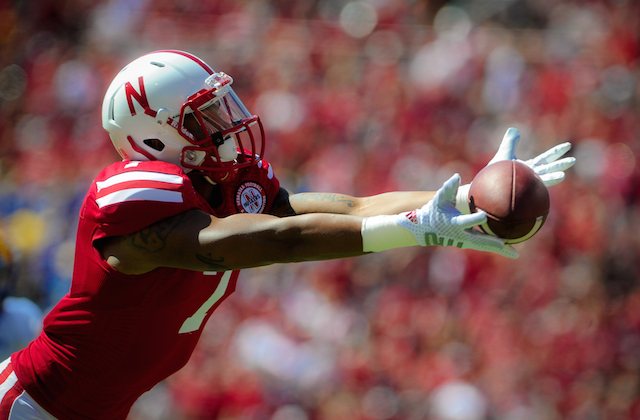 11:00 p.m. — End
After 11:00 p.m., your options are fairly limited. There's No. 16 Arizona State-Colorado in progress on ESPNU and Nebraska-Fresno State on CBSSN. Rice-No. 7 Texas A&M (ESPN2) should be wrapping up in College Station before midnight Eastern time, but who knows how long the Owls will hang around in that one?
If you're a real night owl (sorry, that pun was completely intended), the last televised game of the day is Nevada-Arizona (Pac-12 Network), which gets underway at 11:00 p.m. Eastern time and should keep you busy well past 2:00 a.m. if you're so inclined. But, hey, even diehard football fanatics have their limits, and 14 hours in a row might just be pushing ours.