Your Hourly Cheat Sheet to Watching Week 4 College Football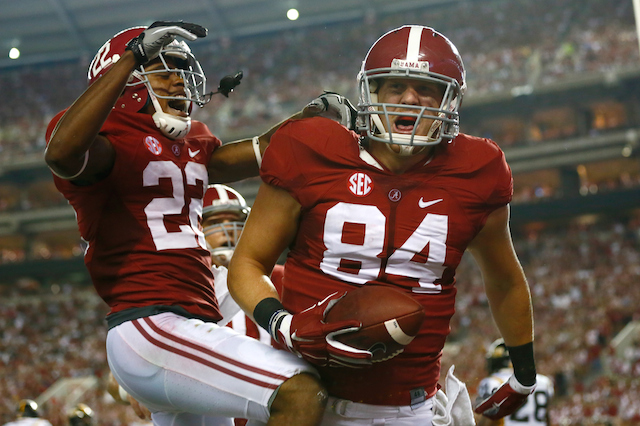 There are different levels of football fanatics. Some take advantage of a fall Saturday to watch their alma mater or favorite school play, then proceed to do useful and productive things with the remaining hours of their day. One or two games per weekend are plenty for this person. Others try and clear as much of their Saturday schedule as they can to enjoy watching as many football games as humanly possible from the first kickoff until the wee hours of the morning when many comparatively normal people have already gone to bed.
If you fall into the second category — as we do — this guide is exactly what you need for that itchy trigger finger on your remote. Here is the perfect chronological plan of attack for seeing as much Week 4 college football as you possibly can, meaningful or otherwise.
All times are Eastern and all rankings are from this week's AP poll.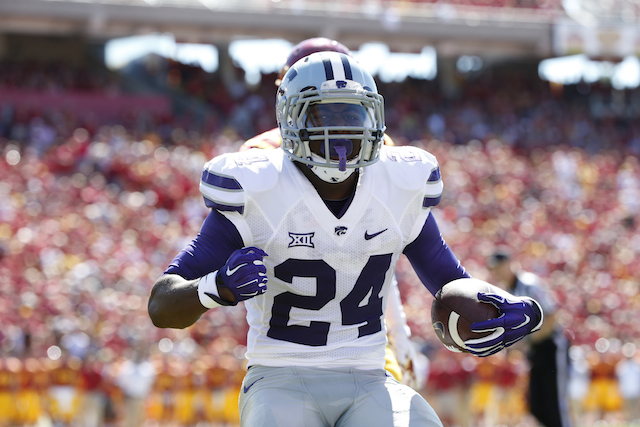 Bonus: Thursday
Before we kick off a marathon Saturday slate, make sure you've set aside some time for perhaps the best game of the week, a Thursday night tilt between
No. 5 Auburn
and
No. 20 Kansas State
(ESPN). The Tigers haven't lost a regular season game since Week 4 of 2013, and they'll be tested with this national TV showdown in Manhattan, Kansas. The Wildcats will have to slow down one of the nation's best rushing attacks (
330 yards per game
) if they want to pull an upset.
12:00 p.m. – 1:00 p.m.
Start your Saturday with a Big Ten contender beating up on a MAC school, either Eastern Michigan at No. 11 Michigan State (ESPN2) or Bowling Green at No. 19 Wisconsin (Big Ten Network). Jim Delany and company have to hope these games aren't close for long, because the conference's reputation has taken a significant hit through the first few weeks of the season. If even his Top-20 programs struggle with non-power conference teams Saturday, there will be that much more fuel for the fire.
1:00 p.m. – 2:00 p.m.
Once you're reasonably confident that the Big Ten powers are taking care of business, take a few minutes to check out
Iowa at Pittsburgh
(ESPNU). In a relatively soft early afternoon schedule, this is — sadly — one of the better matchups, as it at least features a pair of Power Five conference schools. The Hawkeyes are coming off a loss to in-state rival Iowa State, but could surprise undefeated Pitt at Heinz Field. Paul Chryst's program
is trying to go 4-0
for the first time since 2000.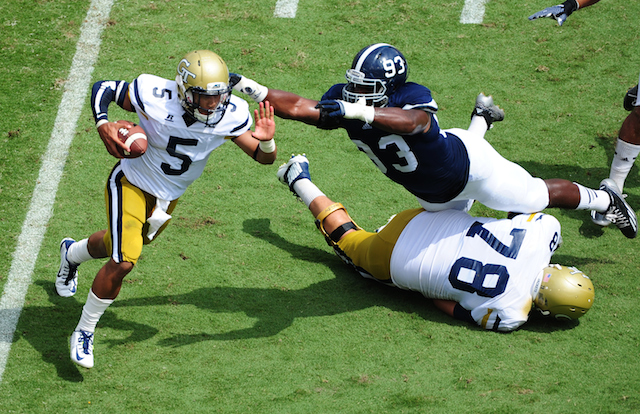 2:00 p.m. – 3:00 p.m.
One other game of note in the early window that deserves a bit of your attention is Georgia Tech at Virginia Tech (ESPN). Which Hokies will show up for their conference opener? The team that won at top-10 foe Ohio State? Or the version that went down 21-0 in the first-quarter to East Carolina? Georgia Tech, as usual, will need to dominate the game on the ground: the Yellow Jackets average over 50 rush attempts per game.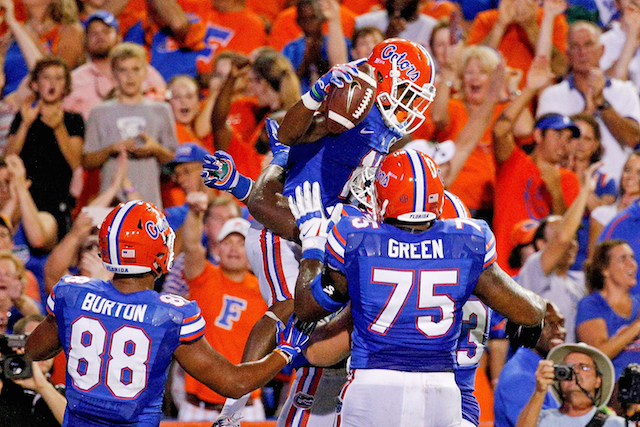 3:00 p.m. – 4:00 p.m.
Spend the first part of this hour catching up on whatever early game is coming down to the wire — hopefully more than one? — then settle in at 3:30 ET for
Florida at No. 3 Alabama
(CBS). Both teams are unbeaten, though the Gators were
fortunate
to escape with an unblemished record after a triple-overtime thriller against Kentucky. The Crimson Tide have won
22 straight
SEC openers heading into Saturday's matchup in Tuscaloosa.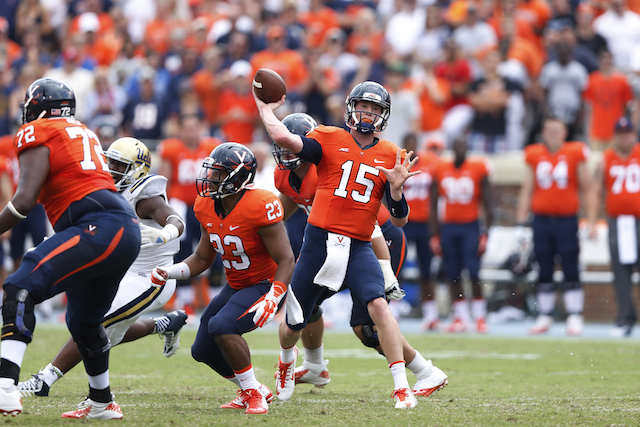 4:00 p.m. – 5:00 p.m.
During commercials/timeouts/other stoppages of play in the Florida-Alabama game, flip around to other action that might catch your fancy, including a trio of contests featuring a ranked team. No. 18 Missouri at Indiana (SEC Network), No. 21 BYU at Virginia (ESPN), and No. 6 Texas A&M at SMU (ABC or ESPN2 depending on your area of the country) in intriguing late-afternoon games. Keep an eye on the Cavaliers in Provo: they'll be looking for a second straight upset after knocking off Louisville a week ago.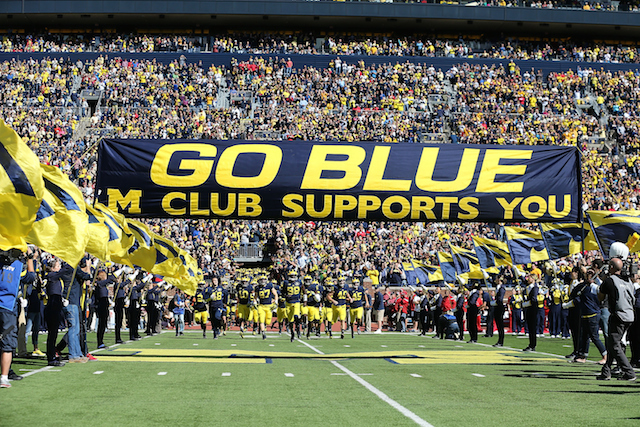 5:00 p.m. – 6:00 p.m.
If you need a change of scenery during halftime of whatever game you're watching, move from the couch to the recliner or vice versa. No, just kidding – you can actually use the break to check in on Utah at Michigan (ABC or ESPN2). So far this season, Michigan's been decent at home and horrific on the road, which means the Wolverines are lucky this game is in Ann Arbor. If you're into quantity over quality, surf quickly through Louisville at Florida International (FS1), Rutgers at Navy (CBS Sports Network), North Carolina at East Carolina (ESPNU), or UMass at Penn State (BTN) before changing the channel back to CBS for more Gators and Crimson Tide.
6:00 p.m. – 7:00 p.m.
No new games that you need to tune in to here. The 6:00 hour is for frantically trying to see as many fourth-quarter plays as possible from Florida-Alabama, Indiana-Missouri, Virginia-BYU, Texas A&M-SMU, Utah-Michigan, Louisville-Florida International, Rutgers-Navy, North Carolina-East Carolina, UMass-Penn State, or any other game that looks like it might be coming down to the wire. That should be enough to keep you relatively busy, right? If you do get a millisecond or two breather, grab some food. Prime time is coming.
7:00 p.m. – 8:00 p.m.
Take your pick of
Miami (Ohio) at Cincinnati
(CBSSN),
Mississippi State at No. 8 LSU
(ESPN), or
Northern Illinois at Arkansas
(ESPNU) at the top of the hour. However, if it's anything besides Mississippi State at LSU, please be prepared to provide an explanation — in writing — as to what possible reason you have for picking the wrong game. At 7:30 p.m., try and catch the start of
No. 4 Oklahoma-West Virginia
(FOX). That could be a good one, and the
Gus Johnson
factor certainly can't hurt.
8:00 p.m. – 9:00 p.m.
It's time for
No. 22 Clemson at No. 1 Florida State
(ABC), the only Saturday matchup between ranked teams this weekend. That alone would make the 'Noles and Tigers a compelling enough game to take note of, but the first-half absence of reigning Heisman winner Jameis Winston (
due to a team suspension
) should make this a very interesting ACC tilt indeed. Clemson will be looking for revenge on the Seminoles' turf after a 51-14 demolition a season ago.
9:00 p.m. – 10:00 p.m.
The second best game of the night, i.e. the one you should be flipping back and forth between during every commercial unless you're streaming it on a second screen so you don't miss a play — which we do highly recommend, although we'd have to write this whole guide differently, so never mind — is
Miami (FL) at No. 24 Nebraska
(ESPN2). The 'Canes and 'Huskers last met in the regular season
way back in 1976
, but the powerhouse programs
have seen each other frequently
in bowl games since then. Usually,
a national title
was on the line for one school or the other. That won't be the case for a September game in Lincoln, but the undefeated Cornhuskers need a win to keep their high hopes for the 2014 campaign alive.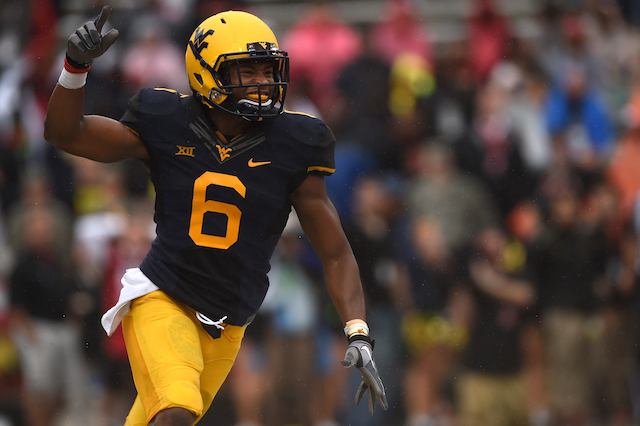 10:00 p.m. – 11:00 p.m.
The only other evening game of note that we haven't yet mentioned is No. 14 South Carolina at Vanderbilt (SECN). But, with the Commdores having lost by 30 and 38 in consecutive home games to open the season, forgive us for not having much faith that 1-2 Vandy can hang with Spurrier's Gamecocks. If we're proven wrong, you're allowed to flip over to this game for a minute. Otherwise, sorry — you're not. Get back to Gus Johnson if the Sooners are on the ropes in Morgantown, or else it's Jameis Winston time in Tallahassee (whatever that will look like).
11:00 p.m. – End
The night is young, right? Before you hit the hay in whatever time zone you're in (sorry, East Coast folks), get at least a taste of California-Arizona (Pac-12 Network), UL Lafayette-Boise State (CBSSN), No. 2 Oregon-Washington State (ESPN), and/or San Diego State-Oregon State (FS1), which will all be well underway at this point. If you're a real diehard, you won't turn the TV off until all four of the super-late games have gone final, pushing somewhere at 2 a.m. ET. If you happen to believe that sleep is better than mediocre football once you've seen 12 or so straight hours of TV in a row, we won't hold it against you. You're allowed to sign off once the Ducks have put WSU away and you're able to rest comfortably knowing you won't miss any crazy upsets by going to bed.