Your Hourly Cheat Sheet to Watching Week 5 College Football
There are different levels of football fanatics. Some take advantage of a fall Saturday to watch their alma mater or favorite school play, then proceed to do useful and productive things with the remaining hours of their day. One or two games per weekend are plenty for this person. Others try and clear as much of their Saturday schedule as they can to enjoy watching as many football games as humanly possible from the first kickoff until the wee hours of the morning when many comparatively normal people have already gone to bed.
If you fall into the second category — as we do — this guide is exactly what you need for that itchy trigger finger on your remote. Here is the perfect chronological plan of attack for seeing as much Week 5 college football as you possibly can, meaningful or otherwise.
Bonus: Thursday
The best game of the weekend — and the only one featuring two Top-25 teams — is a battle of
No. 11 UCLA
and
No. 15 Arizona State
Thursday night at 10 p.m. Eastern time (Fox Sports 1). So before you plan out every last minute of your Saturday afternoon/evening, make sure you set aside some time a couple of days earlier to see this Pac-12 South clash. The Sun Devils
will not have
their starting quarterback (after Taylor Kelly injured his foot at Colorado Saturday)…will the Bruins
have theirs
?
(Double bonus: If you're looking for a doubleheader on Thursday night, start early and treat yourself to an appetizer with Texas Tech at No. 24 Oklahoma State on ESPN at 7:30 p.m. before the evening's marquee game gets underway.)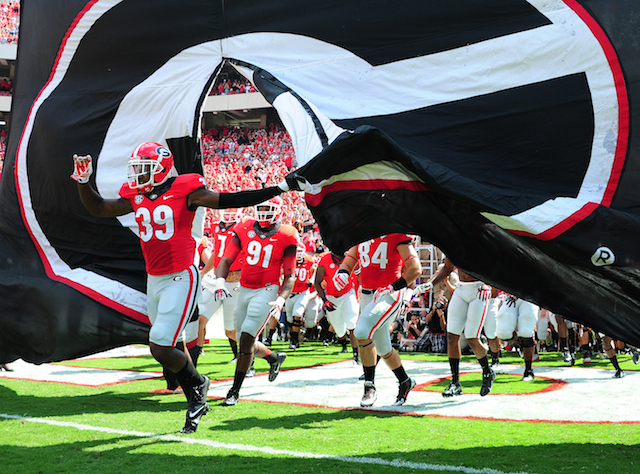 Noon — 1 p.m.
Get your Saturday started off right by watching SEC East foes Tennessee and No. 12 Georgia (ESPN) try to get their conference schedule started off right. Both teams enter this weekend's game 2-1, but the Bulldogs boast the national ranking and are double-digit favorites over Butch Davis's Vols. We'll go out on a limb and predict that even if Georgia wins, it will be a smaller margin of victory than last week's game, when they put a 66-0 hurting on Troy between the hedges.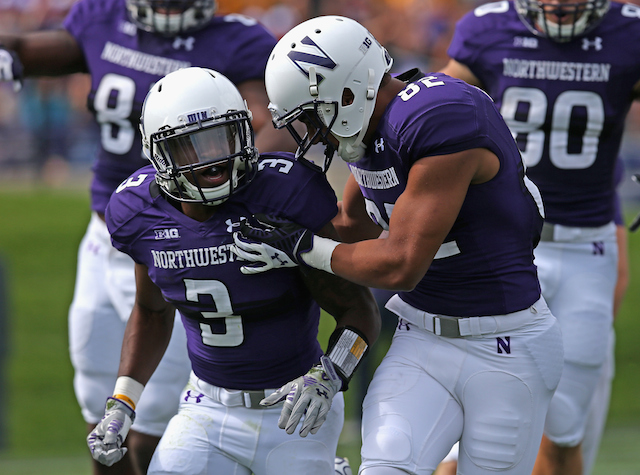 1 p.m. — 2 p.m.
Looking for other conference games to keep you occupied during the early viewing window? Check out Purdue-Iowa, Northwestern-Penn State, or Maryland-Indiana (all Big Ten Network). The Nittany Lions are especially interesting — a victory this weekend should be enough to catapult James Franklin's team into the top twenty-five. If the SEC is more your flavor, there's Vanderbilt-Kentucky too (SECN). Our recommendation: Stick with Tennessee-Georgia, and then use the commercials to monitor the trio of Big Ten games. Vanderbilt-Kentucky makes a good halftime diversion before you circle back to the Vols and Dawgs in Athens in the third quarter.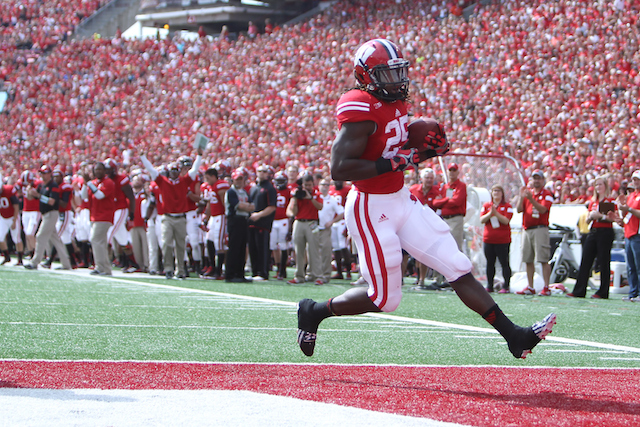 2 p.m. — 3 p.m.
We can't forget the ranked teams in action early Saturday. That would be
No. 9 Michigan State vs. Wyoming
(ESPN2),
No. 25 Kansas State vs. UTEP
(FSN), and
No. 19 Wisconsin vs. USF
(ESPNU). Odds are, the majority of these games won't be close by this point — We're not saying the Spartans won't lose a home game this year, but do you really think it will be the Cowboys to beat them? — but at least check each one out to make sure. Who knows? The Badgers might run for 1,000 yards this week. Literally. (They
set the conference record
with 644 rushing yards last Saturday.)
3 p.m. — 4 p.m.
You know the drill by now: The early part of this hour is set aside for whichever fantastic finish (in a perfect world, finishes) is coming down to the wire from any of the eight Saturday games we've just mentioned. Get your clicker ready, dust off that 'previous channel' button, and try to toggle in such a way that you get to enjoy every single meaningful play. At 3:30 p.m., a whole new slate of games kicks off, and it's time to re-memorize which matchup goes with which channel as you perfect your surfing technique. (An experienced football watcher can use the time between plays in whatever game they're watching to see a play in a different game, and then get back in time to not miss anything from the first game. Practice makes perfect, friends.)
4 p.m. — 5 p.m.
One of the better matchups in the late window is Arkansas vs. No. 6 Texas A&M (CBS), just the most recent in a string of college football games at the Dallas Cowboys' AT&T Stadium in Arlington. Bret Bielema's Razorbacks are 3-1, but they haven't played anybody in the Aggies' class yet. Arkansas is looking for its first conference win since October 2012 (yes, really), and if the Hogs can compete on this stage, we may just have found a game worthy of the majority of your attention. Still, the key word in the previous sentence is 'if.'
5 p.m. — 6 p.m.
Elsewhere around the country, you'll be able to find a pair of intriguing games on ABC/ESPN2 (regional) and take a quick look at two of the biggest early-season college football storylines. Jameis Winston will be in uniform for the first time in two weeks (well, except the couple minutes before kickoff when he
decided to be in uniform
for a game he was suspended from playing in) as
No. 1 Florida State visits North Carolina State
in the top-ranked Seminoles' first true road game of 2014. In Big Ten country, Brady Hoke will be coaching
Michigan against Minnesota
, at least when the game starts.
With the way his season's gone
, we don't feel comfortable 100 percent guaranteeing that he'll still have his job by the end of the game. The outcome of the Wolverines' quarterback
battle/controversy/problem
could have a lot to do with that.
6 p.m. — 7 p.m.
If Arkansas-A&M, FSU-NC State, and Minnesota-Michigan can't capture your interest or keep your attention, never fear. You can always try to catch up on No. 16 Stanford at Washington (FOX), Louisiana Tech at No. 5 Auburn (SECN), Texas at Kansas (FS1), Colorado at California (Pac-12 Network), or Temple at UConn (ESPNews). We don't really recommend getting this low on the food chain of games to watch — Really? Temple at UConn? On ESPNews? — but to each, his own. Just do yourself a favor and don't miss an exciting ending on CBS, ABC, or ESPN2 (if there's one in store) to satisfy your curiosity about the Owls and Huskies, alright?
7 p.m. — 8 p.m.
This is usually one of the slower hours of the day — a time to get off the couch, stretch, find dinner, and reboot — but instead, we have no less than four solid games underway by 7 p.m. this Saturday that you can choose from. No rest for the weary, friends. Two of the four involve ranked teams, including No. 22 Ohio State hosting Cincinnati (BTN) and No. 13 South Carolina welcoming Missouri (ESPN). The other options are Boise State at Air Force (CBSSN) and North Carolina at Clemson (ESPNU). Get to as many as you can now, because there are still plenty more games about to kick off in the next hour. Remember, this '14 hours, one remote' thing is a marathon, not a sprint — plan accordingly.
8:00 p.m. — 9:00 p.m.
It's time to flip over to ESPN2 and see how the first quarter of the Duke-Miami (FL) game is going. You know the traditional storylines when these teams get together: Undefeated ACC power tries to dispose of pesky .500 perennial underachiever. And tonight, playing the role of undefeated ACC power, will be…Duke? The 4-0 Blue Devils are still underdogs in Vegas, but can make a statement with a nationally televised road win over the 2-2 'Canes. During commercials, there's New Mexico State at No. 17 LSU (SECN). Can the disappointed Tigers rebound after falling short against Mississippi State a week ago?
9 p.m. — 10 p.m.
The 8 p.m. kickoffs always seem to have one or two can't-miss games. This week, they don't. So you're welcome to wait until later in the night before you even bother to check in on
No. 8 Notre Dame-Syracuse
(ABC) or
No. 7 Baylor-Iowa State
(FOX). The sole redeeming value of these games is that they both feature top-ten opponents playing away from home, which gives fans at least a tiny prayer of upset recipe potential. Iowa State is coming off a bye week, and that means the Cyclones have had two weeks to prepare for the Bears' aerial attack (which is
third-best in the country
at over 400 yards per game). Whether that extra prep time will matter in the slightest remains to be seen.
10 p.m. — 11 p.m.
On paper, a matchup of a 3-1 team and a 4-0 team in the same power conference division looks like it could be something special. But when we dig into the records of Big Ten West foes Illinois and No. 21 Nebraska (BTN), we see that the Illini own wins over Youngstown State, Western Kentucky, and Texas State. So, we're going to call Illinois 0-1 against real football teams we've heard of before, and then we'll check out this game from Lincoln to see if the visitors can — for all intents and purposes — even their 2014 record against legitimate competition. (The guess here is, no, probably not.)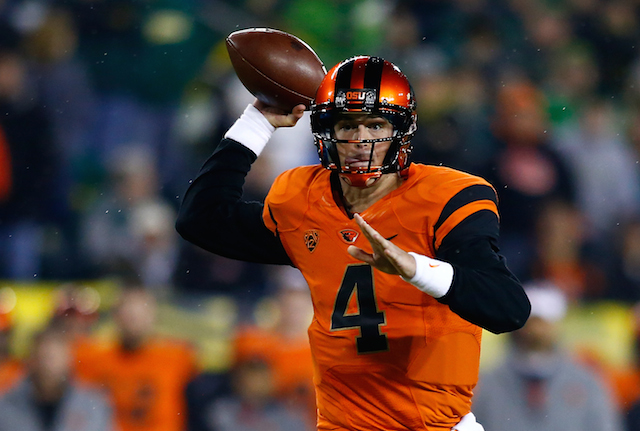 11 p.m. — End
Once you've caught the final play of any close evening games, finish your day out with
Oregon State at No. 18 USC
  (ESPN). The undefeated Beavers could pose some problems for the Trojans in the Coliseum, especially if new all-time
school passing leader
Sean Mannion plays well on the road. The bottom line: Watching this Pac-12 matchup, whether it comes down to the last play or not, certainly beats two the logical alternatives: Tuning in to
Nevada at San Jose State
(CBSSN) or going to bed.