Your Hourly Cheat Sheet to Watching Week 6 College Football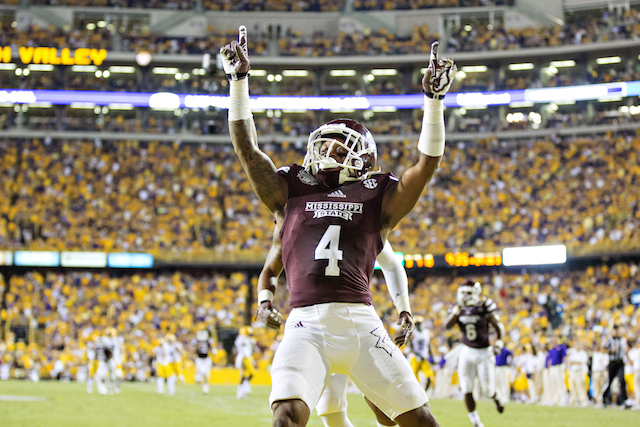 There are different levels of football fanatics. Some take advantage of a fall Saturday to watch their alma mater or favorite school play, then proceed to do useful and productive things with the remaining hours of the day. One or two games per weekend are plenty for this person. Others try and clear as much of their Saturday schedule as they can to watch as many football games as humanly possible, from the first kickoff until the wee hours of the morning, when many comparatively normal people have already gone to bed.
If you fall into the second category — as we do — this guide is exactly what you need for that itchy trigger finger on your remote. Here is the perfect chronological plan of attack for seeing as much Week 6 college football as you possibly can, meaningful or otherwise.
All times are Eastern, and all rankings are from this week's AP poll.
Noon to 1 p.m.
This is as good a day of college football as you'll find in the regular season, and it kicks off with a bang at noon. No. 6 Texas A&M visits No. 12 Mississippi State (ESPN) in a battle of SEC unbeatens, and that game is worthy of your primary attention and focus for the next three-and-a-half hours. The winner takes a giant step forward in a loaded division boasting five undefeated teams. If the Bulldogs want to come out on top, they'll have to slow down an Aggies offense that's scoring more than 51 points a game.
1 p.m. to 2 p.m.
When you get a quick break — commercial, halftime, or delay for instant replay qualifies — flip around for a minute to see how the other Top 25 teams are faring. Don't forget: It's your responsibility as an educated football fan to not miss a potential upset. You can choose from No. 22 East Carolina hosting SMU (ESPNU), No. 20 Ohio State at Maryland (ABC), or No. 21 Oklahoma State versus Iowa State (Fox Sports 1). Actually, on second thought, scratch the ECU game from that list, since the Pirates are slight 41-point favorites over the winless Mustangs.
2 p.m. to 3 p.m.
If you're into nostalgia, make sure you dedicate a minute or two to Florida at Tennessee (SEC Network). Not because the Gators or Vols are good in 2014 — news flash: they're not — but in honor of the good ol' days, when that used to be a can't-miss game and one of the marquee match-ups of the entire season. What in the name of Danny Wuerffel and Peyton Manning has happened to these once-proud programs? You can ponder that question while you turn the channel back to ESPN for more A&M at MSU, all right?
3 p.m. to 4 p.m.
This hour is for wrapping up the early games — an all-time classic finish or two would be nice; here's hoping — and then it's time to turn your attention to No. 3 Alabama at No. 11 Ole Miss (CBS) at 3:30 p.m. Another showdown between undefeated teams in the SEC West? Yes, please. The Rebels are looking for their first win over 'Bama since 2003, when their quarterback was none other than Eli Manning. Given Alabama's success under Nick Saban (.847 win percentage to date), let's just say it won't be easy.
4 p.m. to 5 p.m.
The other main game to keep your eye on in this late-afternoon time slot is every bit as tantalizing a matchup: that would be No. 14 Stanford at No. 9 Notre Dame (NBC). The Fighting Irish are unbeaten since the last time they played the Cardinal (November 2013), and this revenge match will take place on friendly turf, in the shadow of Touchdown Jesus. Is Notre Dame a legitimate national championship contender? We'll find out Saturday afternoon.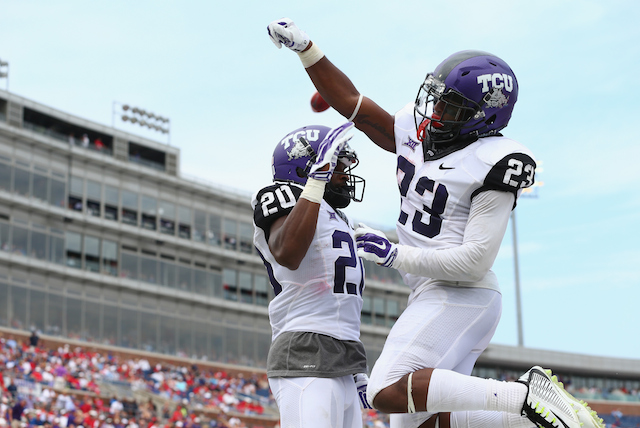 5 p.m. to 6 p.m.
How amazing is this Saturday's schedule? We haven't even talked about No. 4 Oklahoma at No. 25 TCU (FOX) yet, despite it being a matchup of ranked teams and unbeaten teams. Any other weekend, that'd be one of the best can't-miss games of the day. Here, it's only the third most-compelling contest in its own time slot! Hopefully, the last five weeks of training your remote clicker finger will pay off as you try to keep tabs on all three of these games at once: All those hard-earned calluses should came in handy.
6 p.m. to 7 p.m.
If you're a really advanced channel-changer and flipping back and forth between three can't-miss games isn't enough excitement for you, keep an eye on your favorite scoreboard app or device to see if any other Top 25 team is in trouble. No. 1 Florida State versus Wake Forest (ABC regional), No. 7 Baylor at Texas (regional), No. 17 Wisconsin at Northwestern (ESPN2), and No. 13 Georgia versus Vanderbilt (SECN) are the teams to be aware of. We know most of you will have your hands full with Alabama-Ole Miss, Stanford-Notre Dame, and Oklahoma-TCU, but any of the other four games could be fun to see the final minute of if your schedule — and skill with the remote control — allows.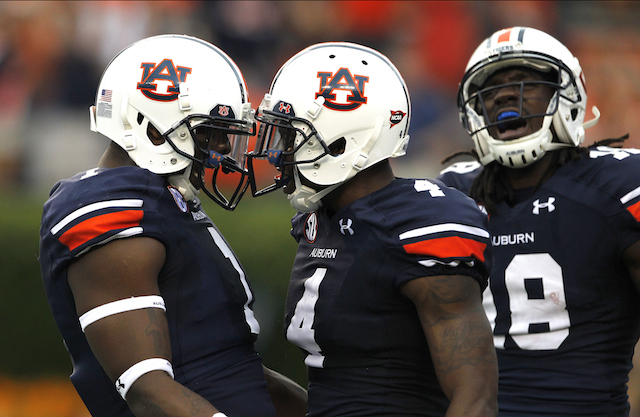 7 p.m. to 8 p.m.
No time to catch your breath, because we aren't done yet with Top 25 match-ups of SEC teams. The most important game of the evening is No. 15 LSU at No. 5 Auburn (ESPN), and it kicks off at 7 p.m. sharp. If we're lucky, you'll have just finished flipping from a game-winning field goal to a Hail Mary to a field-storming in the three big afternoon games, and you'll get the channel changed just in time for kickoff at Auburn. Even the best-laid plans probably won't work out quite that nicely, but the bottom line's the same: When you finish the second window of games, LSU-Auburn is your next destination.
8 p.m. to 9 p.m.
The last battle of ranked squads on Saturday comes over the airwaves from East Lansing, Michigan, as No. 19 Nebraska visits No. 10 Michigan State (ABC). Both teams have legitimate designs on a College Football Playoff berth, but with the Big Ten being down this season, this could very well be an elimination game for the loser. From the "immovable object meets irresistible force" department: The story of this game will be the Huskers' second-ranked rushing offense (354.8 yards per game) against the Spartans' fourth-ranked rushing defense (78.3 yards per game). Something's got to give.
9 p.m. to 10 p.m.
Other ranked teams in action Saturday night include No. 16 USC versus Arizona State (Fox) and No. 23 Kansas State versus Texas Tech (ESPNU). Will this be the week USC finally allows a touchdown pass for the first time all year? Will Red Raiders quarterback Davis Webb (most touchdown passes in the Big 12) be able to play? You're allowed to flip to these games just long enough to find the answers to these questions, but then make sure you get back to LSU-Auburn and/or MSU-Nebraska, please. Remember: A game with two ranked teams is better than a game with one ranked team. It's a rule to live by.
10 p.m. to 11 p.m.
You'll mainly use this hour to watch the end of whichever evening game is the closest, but we'd also forgive you if you want to check in on the closing moments of Miami at Georgia Tech (ESPN2), South Carolina at Kentucky (SECN), or Michigan at Rutgers (Big Ten Network) if the circumstances dictate that. Honestly, we're just curious to see if the Wolverines' Brady Hoke is still coaching by the end of the game. You know, we've never seen a coach get fired on the field before…
11 p.m. to end
Whew, we made it. Congratulations to you for surviving a day featuring six games between ranked teams. We hope you enjoyed it thoroughly (and were able to time food and bathroom breaks accordingly). Close the book on your "14 hours, one remote" marathon with Utah at No. 8 UCLA (ESPN) and use the commercials to tune in to Boise State at Nevada (CBS Sports Network). When both games have been decided, you're finally allowed to shut the TV off and go to sleep — after you change the batteries in your now worn-down remote to get ready for next week, of course.