Your Hourly Cheat Sheet to Watching Week 7 College Football
There are different levels of football fanatics. Some take advantage of a fall Saturday to watch their alma mater or favorite school play, then proceed to do useful and productive things with the remaining hours of the day. One or two games per weekend are plenty for this person. Others try and clear as much of their Saturday schedule as they can to watch as many football games as humanly possible, from the first kickoff until the wee hours of the morning, when many comparatively normal people have already gone to bed.
If you fall into the second category — as we do — this guide is exactly what you need for that itchy trigger finger on your remote. Here is the perfect chronological plan of attack for seeing as much Week 7 college football as you possibly can, meaningful or otherwise.
All times are Eastern, and all rankings are from this week's AP poll.
Noon to 1 p.m.
"Let's start at the very beginning, a very good place to start." What better way to kick off the No. 1 slot in your day of football viewing than tuning in to see the No. 1 team in the land? No. 1 Florida State visits Syracuse (ESPN) at noon, and just in case this one turns into a blowout early, you'll want to begin there. Reigning Heisman winner Jameis Winston's completion percentage (66.7%) is nearly identical to what he did a season ago, but his touchdown-to-interception ratio (8-5 in 2014 versus 4-1 in 2013) is not. Will the 24.5-point underdog Orange be able to slow down Winston and the 'Noles? (Or at least stay competitive?)
1 p.m. to 2 p.m.
The best game in the early window (and the only one featuring two ranked teams) is No. 13 Georgia at No. 23 Missouri (CBS). Mizzou is the lone team in the SEC East that doesn't have a conference loss yet, but the Tigers are still home underdogs against Mark Richt's Bulldogs. Georgia enters the weekend reeling after the news of Heisman hopeful Todd Gurley's suspension, and the 'Dawgs offense will have to show it can still move the ball without its superstar running back.
2 p.m. to 3 p.m.
Make sure you dedicate at least some of your screen time to the annual Red River Showdown game between Texas and No. 11 Oklahoma (ABC). While this game doesn't feature a top-10 team, as it often does, the neutral site at the Cotton Bowl always makes for one of the best atmospheres of the college football season. As Texas's game notes point out: "Dallas' Cotton Bowl is located an equal distance from Austin and Norman, Okla. The stadium is split evenly among Longhorn and Sooner fans at the 50-yard line." The teams have met in Dallas every year since 1929.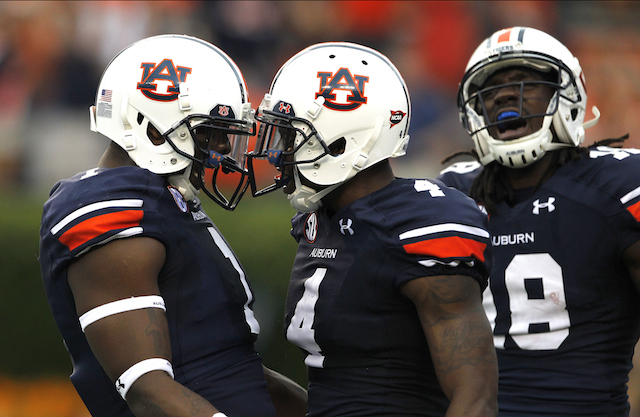 3 p.m. to 4 p.m.
Around 3 p.m., it's time to turn the channel surfing to warp speed as you attempt to catch the end of every close game, including the ones previously mentioned, as well as perhaps Illinois-Wisconsin (ESPN2), Indiana-Iowa (ESPNU), Northwestern-Minnesota (Big Ten Network), West Virginia-Texas Tech (Fox Sports 1), and a few minutes behind those, No. 22 Georgia Tech-Duke (ACC Network affiliates). Make it quick, though, because the game of the day starts at 3:30 p.m. That's No. 2 Auburn at No.3 Mississippi State (CBS). The Bulldogs are enjoying their highest ranking in school history after knocking off Texas A&M, but things don't get any easier when the defending SEC champions visit Starkville.
4 p.m. to 5 p.m.
The late-afternoon time slot is jam-packed with quality games, so as much as you might want to, you can't sit back and dedicate all of your attention to Auburn and Mississippi State. If you did that, you'd miss out on another top-10 battle happening just a few channels over: No. 9 TCU at No. 5 Baylor (ABC or ESPN2, depending on your region of the country). While we might not have been expected this scenario two months ago, the Horned Frogs and Bears are the only two unbeaten teams left in the Big 12, and Saturday may very well be an elimination game for two teams dreaming of the College Football Playoff.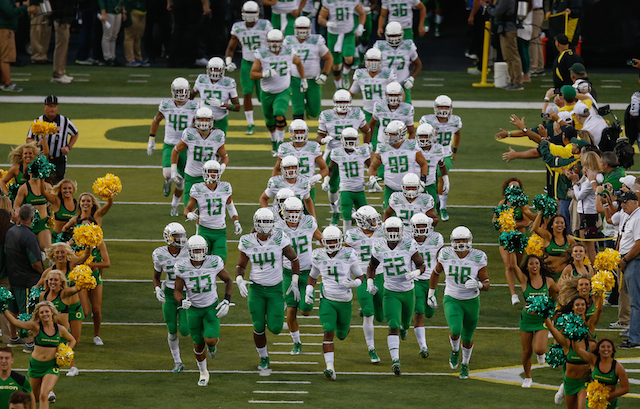 5 p.m. to 6 p.m.
Take advantage of any brief opportunity you get during Auburn-Mississippi State or TCU-Baylor — halftime, perhaps? — to flip over to yet another quality game that deserves some of your attention. Preseason Pac-12 favorites are squaring off at the Rose Bowl as No. 12 Oregon takes on No. 18 UCLA (Fox). Both teams have gotten off to underwhelming 1-1 starts in conference play and can't afford a second consecutive October loss. And, of course, we're big fans of Gus Johnson around here, so the Law of Gus says Bruins-Ducks should be exciting — and high-pitched — down the stretch.
6 p.m. to 7 p.m.
Good luck keeping tabs on all three of those marquee games as they wrap up nearly simultaneously, but if you want to get really adventurous, be on the lookout for any other upset-alert scores that could pop up in the fourth quarter. With No. 8 Michigan State visiting Purdue (ABC/ESPN2), No. 6 Notre Dame hosting North Carolina (NBC), and No. 16 Oklahoma State heading to Kansas (FS1), you wouldn't want to miss out on a shocking finish should one to happen. (Sure, upsets might not seem likely, but hey, 11 of the top 25 teams lost a week ago. That's why they play the games, right?)
7 p.m. to 8 p.m.
Once the afternoon games have concluded — and, if we're lucky, that may even include an overtime somewhere — catch up on No. 7 Alabama at Arkansas (ESPN), already in progress. We would try to predict how the Crimson Tide bounce back after a tough regular-season loss, but, let's face it, there's not a lot of sample size to work with there, since it so rarely happens. (Entering 2014, 'Bama had dropped exactly six regular-season games in its last six seasons combined.) One other ranked team in action during this window, if you're so inclined: No. 19 East Carolina at USF (ESPNU).
8 p.m. to 9 p.m.
So far this season, the Michigan Wolverines have been shut out by Notre Dame, lost at home to Utah in front of a bunch of empty seats, lost at home to Minnesota in front of even more empty seats, and lost at Big Ten newcomer and not-exactly-football-powerhouse Rutgers. And it's only early October! Each week, it doesn't seem like the winningest program in college football can sink any lower, and each week the Wolverines prove us wrong and find a way. That said, you should probably flip over to Penn State at Michigan (ESPN2) for a bit just to see what happens next.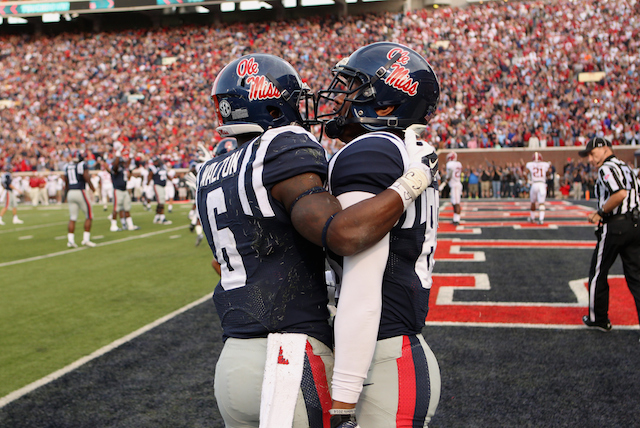 9 p.m. to 10 p.m.
The remainder of your evening should be dedicated to No. 3 Ole Miss at No. 14 Texas A&M (ESPN) once that game kicks off at 9 p.m. (Don't let the rankings confuse you: Yes, both Mississippi State and Ole Miss are ranked No. 3 in the AP poll this week. See, there can still be ties in football.) By the time the night ends, there should be a great deal more clarity at the top of the SEC East standings. But with Southern powerhouses beating each other up week in and week out, will the SEC hurt its chances to place multiple teams in the end-of-year playoff? Of the league's 14 universities, if the Rebels lose in College Station, only the Mississippi State-Auburn winner will exit Week 7 undefeated.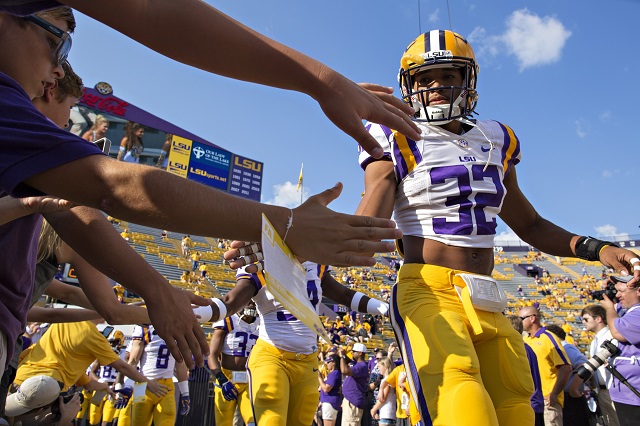 10 p.m. to 11 p.m.
You might want to tune in to the fourth quarter of LSU at Florida (SEC Network), if for no other reason than to get a little glimpse of history. It's the first time since 1989 that the tradition-rich programs have met with both schools unranked. The good news for the Gators: Their road to a possible SEC Championship Game appearance is more plausible than the Tigers', due to the East being so much weaker than the West. The bad news for the Gators: They're having quarterback issues. Lots of quarterback issues.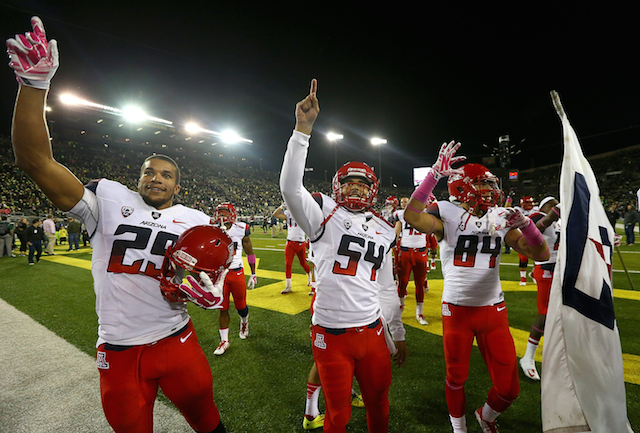 11 p.m. to end
Finish your college football marathon with a Pac-12 game, per usual. Tonight's tilt is USC-No. 10 Arizona (ESPN2). We're not shocked that this game features a top-10 team, but we sure wouldn't have predicted that it would be the Wildcats boasting such a lofty ranking and unblemished record. If the Trojans can hand Arizona its first loss of the season (and USC is favored in the game despite not being ranked), every Pac-12 team will have at least one loss, and the Pac-12 South will once again be anybody's for the taking. (Well, except Colorado's. Let's not get too crazy here.)