Your Hourly Cheat Sheet to Watching Week 8 College Football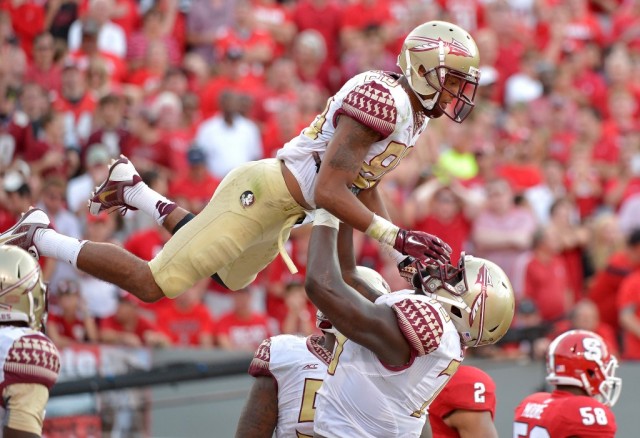 There are different levels of football fanatics. Some take advantage of a fall Saturday to watch their alma mater or favorite school play, then proceed to do useful and productive things with the remaining hours of the day. One or two games per weekend are plenty for this person. Others try and clear as much of their Saturday schedule as they can to watch as many football games as humanly possible, from the first kickoff until the wee hours of the morning, when many comparatively normal people have already gone to bed.
If you fall into the second category — as we do — this guide is exactly what you need for that itchy trigger finger on your remote. Here is the perfect chronological plan of attack for seeing as much Week 8 college football as you can, meaningful or otherwise.
All times are Eastern, and all rankings are from this week's AP poll.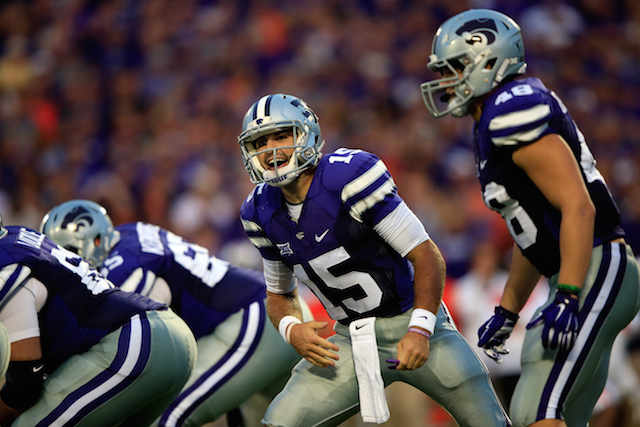 Noon to 1 p.m.
Your viewing day begins with one of five matchups pitting ranked teams against each other. (Yes, five! We're getting excited for Saturday already!) That would be No. 14 Kansas State at No. 11 Oklahoma (ESPN). The Wildcats are one of three Big 12 teams that haven't lost a conference game yet, but they're still underdogs in Norman. The Sooners didn't look very impressive in a 31-26 Red River escape over Texas last weekend but still control their own destiny in the conference race.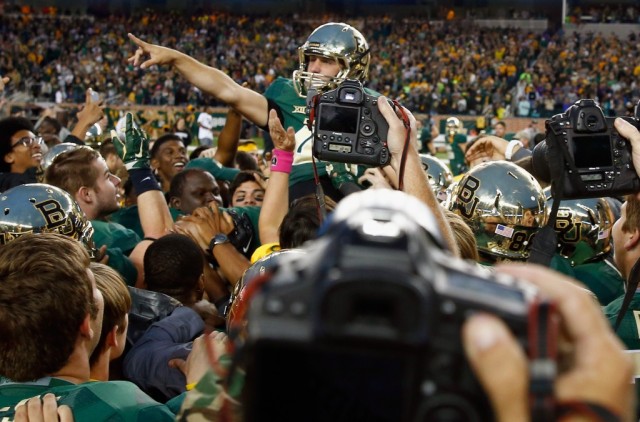 1 p.m. to 2 p.m.
The only other game in the early window featuring a Top 25 team is No. 4 Baylor at West Virginia (Fox Sports 1). By the time you flip the channel there, the Bears might have scored 60 already. On the other hand, they may very well be down three touchdowns instead. Last week, they did both. Whatever works, though: Art Briles's team is one of only six in the country with an unblemished record. But will Baylor be vulnerable to an upset in Morgantown after a crazy 61-58 win over TCU last weekend?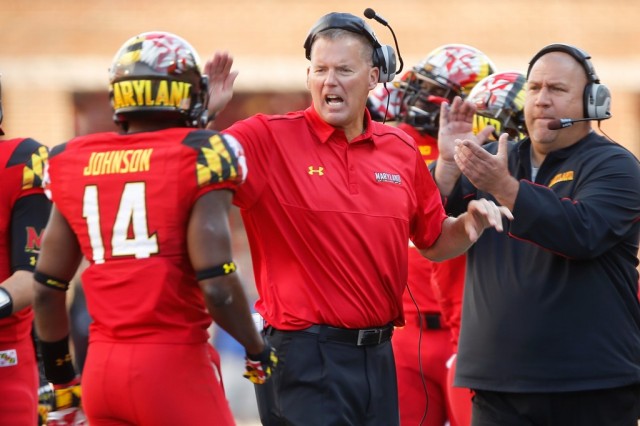 2 p.m. to 3 p.m.
The aforementioned Big 12 games aren't the only action taking place early Saturday afternoon. For variety's sake, you're welcome to check in on Iowa-Maryland (ESPN2), Purdue-Minnesota (Big Ten Network), USF-Tulsa (ESPNews), Furman-South Carolina (SEC Network), Syracuse-Wake Forest (FSN), or Tulane-UCF (ESPNU). But don't lose sight of Kansas State-Oklahoma for long: That should be a slightly different level of football — with no offense intended to the Green Wave, Golden Hurricane, or any of the other teams playing at the same time.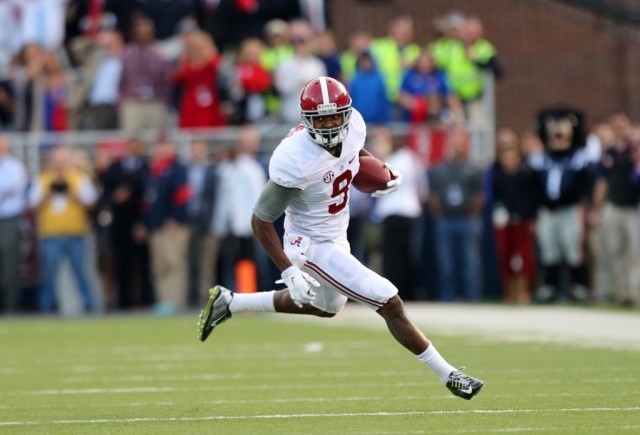 3 p.m. to 4 p.m.
When the early games have ended, your next stop should be No. 21 Texas A&M at No. 7 Alabama (CBS). The Crimson Tide haven't lost in Tuscaloosa since the Aggies' last visit in 2012, when a young quarterback named Johnny Manziel made the nation sit up and take notice. Manziel's gone, but A&M has still been a fixture in the Top 25 this year. A loss Saturday, which would be the school's third of 2014, might change that. On 5-1 'Bama's side, with both teams from Mississippi still unbeaten, Nick Saban and company need a win to stay firmly in the SEC West hunt.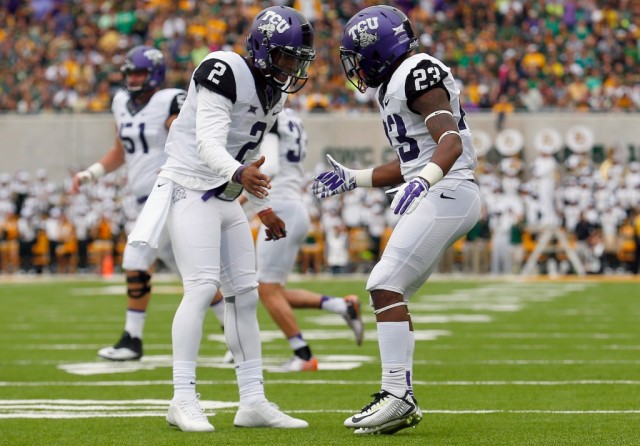 4 p.m. to 5 p.m.
At 4 p.m., yet another big game kicks off, with No. 15 Oklahoma State at No. 12 TCU (Fox Sports 1). We already touched on the Horned Frogs' bitter 61-58 defeat: Saturday should tell us whether TCU can rebound after blowing a three-score lead a week ago in that devastating loss. Oklahoma State has been hot of late, winning its last five contests by an average of two touchdowns a game since a tough six-point loss in the opener to then-No. 1 Florida State.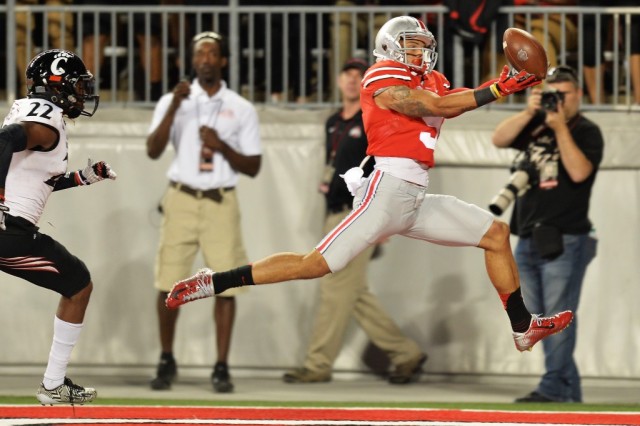 5 p.m. to 6 p.m.
If the Big Ten, with no undefeated teams, is going to manage to get one school into the College Football Playoff bracket, its best shot is for the Buckeyes or Spartans to run the table. Both squads continue to inch toward their November 8 showdown in East Lansing but can't afford slip-ups Saturday afternoon. When you get a second, tune in to No. 8 Michigan State at Indiana (ESPN) and then No. 13 Ohio State versus Rutgers (ABC or ESPN2, depending on your region of the country) to make sure the B1G is taking care of business.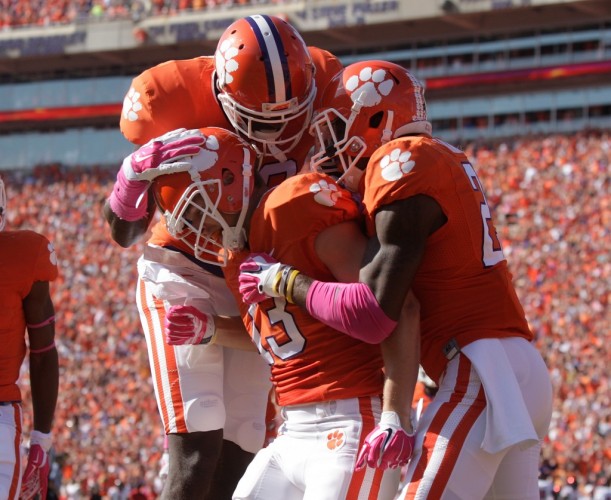 6 p.m. to 7 p.m.
It's one of our favorite hours of the day each Saturday, as all of the late games wrap up in short succession. Try to see every meaningful fourth-quarter play of A&M-'Bama and OKSt-TCU, make sure neither Big Ten favorite gets upset, and then, if you're daring and brave, expand your horizons to any close games late among No. 24 Clemson at Boston College (ESPNU), No. 10 Georgia at Arkansas (SEC Network), Cincinnati at SMU (CBS Sports Network), UCLA at California (ABC or ESPN2), Kansas at Texas Tech (FSN), etc. That should keep you busy.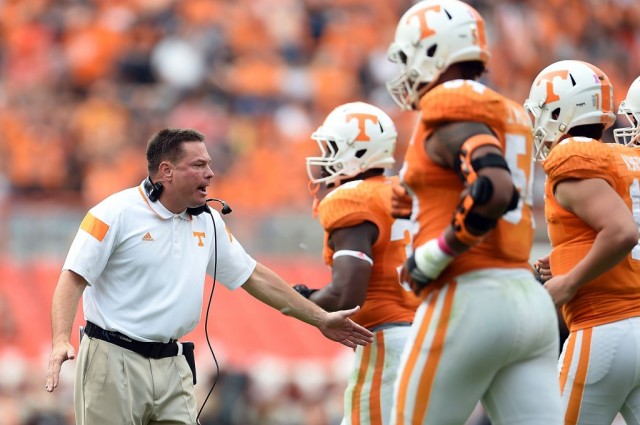 7 p.m. to 8 p.m.
Take a minute to stuff some food in your face and/or get off the couch to stretch, then settle back in for the long night ahead. Remember, this is a marathon, not a sprint. Next on the docket is an SEC clash between Tennessee and No. 3 Ole Miss (ESPN). The Rebels have looked unbeatable in wins over Alabama and Texas A&M the last two weeks, and it's easy for Mississippi supporters to start looking ahead to upcoming games against LSU, Auburn, and, of course, the Egg Bowl versus No. 1 Mississippi State. But you know what they say: Don't count your chickens before they're hatched. (Sorry, that was the best egg pun we could come up with.) Ole Miss can't afford to look past the Vols.
8 p.m. to 9 p.m.
The best game of the day, and one that deserves your full attention, is a battle of undefeated top-five teams in prime time. No. 5 Notre Dame and No. 2 Florida State (ABC) square off in Tallahassee, and all eyes will be on the star quarterbacks. Reigning Heisman winner Jameis Winston has seemingly been making more headlines off the field than on, but he'll need to shake off the distractions and play well to upend Everett Golson and the visiting Irish. Golson boasts the best winning percentage of any starting quarterback in Notre Dame's long and glorious history (.941). Settle in and enjoy this one until its conclusion.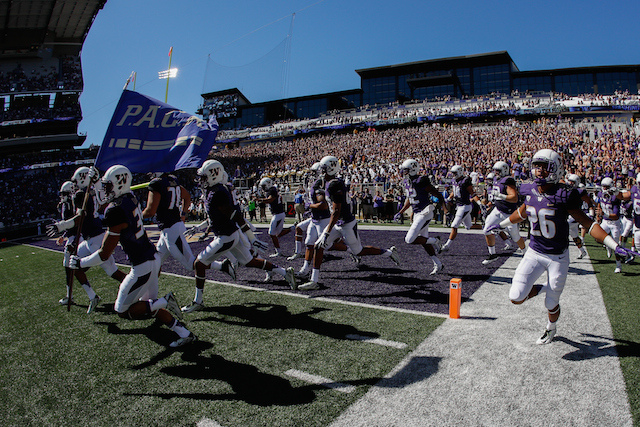 9 p.m. to 10 p.m.
If you're like us and can't stand watching commercials, you're allowed to flip over every now and again — as long as you don't miss a play of the Irish and 'Noles — to Washington at No. 9 Oregon (Fox Sports 1). The Ducks went on the road and dominated UCLA a week ago but can't afford to let up back in Eugene against the 5-1 Huskies. We're not quite sure what to make of Washington yet, as UW's schedule has been less than intimidating. (Non-conference slate: Hawaii? Eastern Washington? Illinois? Georgia State?) Still, Chris Petersen's team can become bowl eligible and grab the attention of the country if it can pull a stunner at Autzen.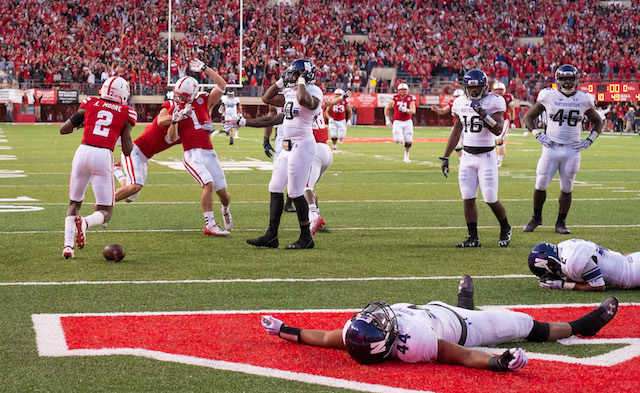 10 p.m. to 11 p.m.
With the obvious disclaimer that your primary focus should be ND-FSU, see if you can time things out to at least see the final play of No. 19 Nebraska at Northwestern (Big Ten Network). Knowing the recent history those two teams have — including a game-deciding Hail Mary on the final play in 2013 — it should be an exciting one. Other evening games that you might want to see at least one play of, if circumstances dictate, could include Georgia Tech at North Carolina (ESPNU), Missouri at Florida (ESPN2), and Kentucky at LSU (SEC Network).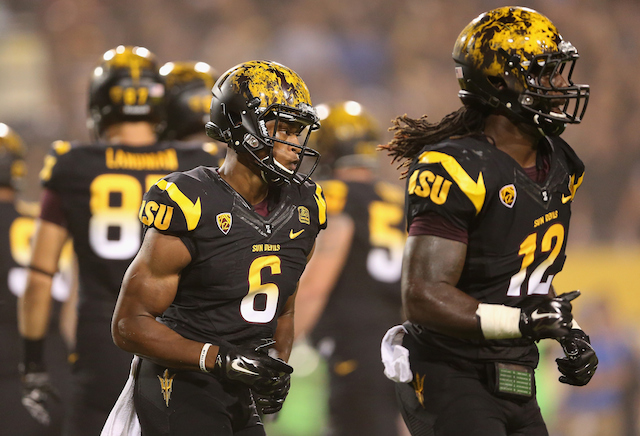 11 p.m. to end
We're not done yet! Grab some caffeine — it's going to be a late night. The final assignment of the day is to change the channel for a late Pac-12 showdown between No. 23 Stanford and No. 17 Arizona State (ESPN) in the desert. This game should be well underway by the time Florida State or Notre Dame suffer its first loss of the season, but it will still provide a few hours of enjoyment long after the majority of less-devout college football fans have already gone to bed. You never know if the Cardinal and Sun Devils could provide one of the most exciting finishes of the day, so that alone should give you the energy needed to stay up until 2 a.m. or so. (Well, that plus some Red Bull or Mountain Dew.)