Your Hourly Cheat Sheet to Watching Week 9 College Football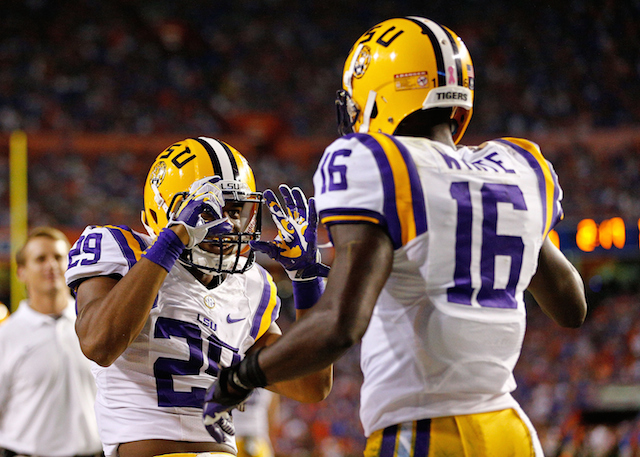 There are different levels of football fanatics. Some take advantage of a fall Saturday to watch their alma mater or favorite school play, then proceed to do useful and productive things with the remaining hours of the day. One or two games per weekend are plenty for this person. Others try and clear as much of their Saturday schedule as they can to watch as many football games as humanly possible, from the first kickoff until the wee hours of the morning, when many comparatively normal people have already gone to bed.
If you fall into the second category — as we do — this guide is exactly what you need for that itchy trigger finger on your remote. Here is the perfect chronological plan of attack for seeing as much Week 9 college football as you can, meaningful or otherwise.
All times are Eastern, and all rankings are from this week's AP poll.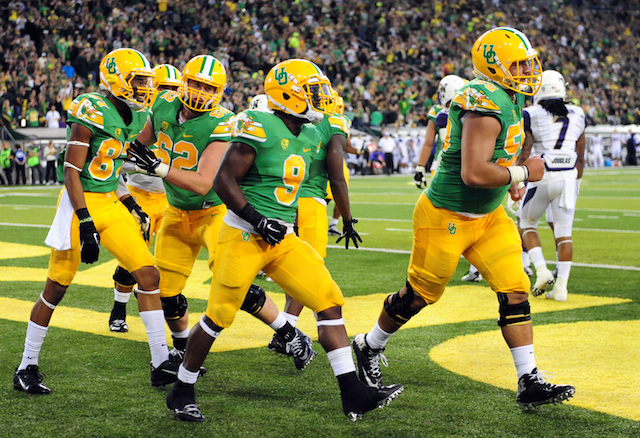 Bonus: Friday
Before we actually make it to Saturday, there's a surprisingly full (and good) slate of weeknight football Friday. The best part? The start times are staggered, so you can watch six or seven straight hours of football to get you ready for a marathon Saturday and see part or all of four different games on four different networks: USF at Cincinnati (ESPN2, 7 p.m.), Troy at South Alabama (ESPNU, 7:30 p.m.), BYU at Boise State (ESPN, 9 p.m.), and then No. 6 Oregon at California (Fox Sports 1, 10 p.m.). OK, you don't really need to worry about Troy at South Alabama if you don't want, but the other three matchups are at least intriguing and could make for quality viewing.
Noon — 1 p.m.
The theme of this week's viewing guide is going to be quantity over quality. Why? Because there aren't many great games to speak of. In fact, after last weekend, when we were treated to five battles between Top 25 teams in the same day, this week's Saturday slate looks downright 'blah' by comparison (just two). Still, without many stellar options, we still have to start somewhere, and we suggest you tune in to the best teams in the early slot first. So, take your pick of No. 11 Kansas State versus Texas (ESPN) or No. 16 Nebraska versus Rutgers (ESPN2).
1 p.m. — 2 p.m.
"How the mighty have fallen." Do you think Bret Bielema ever has second thoughts about leaving Wisconsin to take the Arkansas job? In Madison, Bielema led his team to seven bowl games in seven seasons, capped by three straight trips to Pasadena. In Fayetteville, Bielema is saddled with a subpar Razorbacks team that's now lost 16 straight conference games and counting. Compare the two situations — and commiserate with Bielema or laugh at him, whichever you prefer — by checking out Maryland-Wisconsin (Big Ten Network), then flipping over to UAB-Arkansas (SEC Network).
2 p.m. — 3 p.m.
Hopefully you found one of the previously mentioned early games appealing, because we're not sure where else to tell you to turn. Minnesota-Illinois (ESPNU)? Memphis-SMU (ESPNews)? North Carolina-Virginia (ACC Network affiliates)? San Jose State-Navy (CBS Sports Network)? UCLA-Colorado (Pac-12 Network)? Penn at Yale (NBC Sports Network)? On the bright side, 19th-century Yale won a lot of national championships and 20th-century Yale a few more. On the not-so-bright side, this is neither the 19th nor the 20th century. 3:30 p.m. (and slightly better games) can't get here fast enough.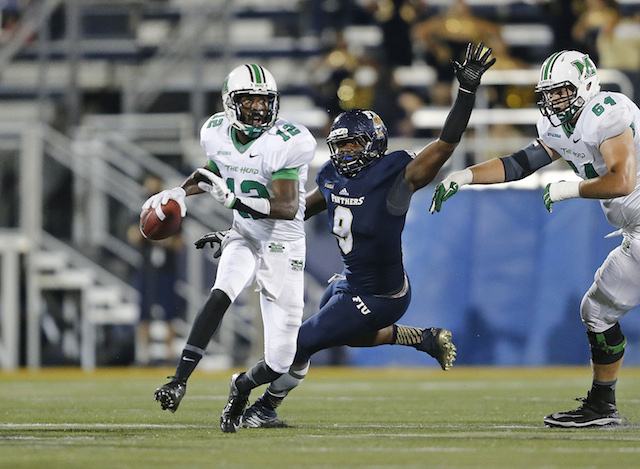 3 p.m. — 4 p.m.
There are only four undefeated FBS teams left in the country: No. 1 Mississippi State, No.2 Florida State, No. 3 Ole Miss, and … No. 23 Marshall. (Sometimes the college football rankings just don't make a lot of sense.) The Thundering Herd don't always get a chance to show off on national television, so make sure you flip over at 3:30 to see a few minutes of Florida Atlantic versus No. 23 Marshall (Fox Sports 1) to decide for yourself how high the Herd should be ranked. With the opposing Owls under .500 and a four-touchdown underdog, this one probably won't be a game for long.
4 p.m. — 5 p.m.
Michigan has dominated the all-time series against in-state rival Michigan State, with then-Wolverines RB Mike Hart famously referring to the Spartans as 'little brother' after a U-M win in 2007. However, since Hart's comment, MSU has taken five of the last six meetings as both programs seem headed in opposite directions. Can the Wolverines stop the slide and upset the No. 8 team in the country? Only one way to find out: Tune in to Michigan at No. 8 Michigan State (ABC).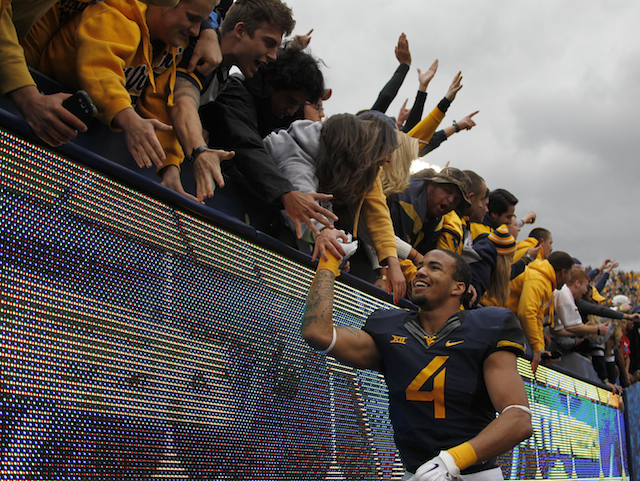 5 p.m. — 6 p.m.
Also of interest in this late-afternoon window: There are a pair of Big 12 games that you might want to investigate for a bit. Choose between No. 22 West Virginia at Oklahoma State (ESPN) or No. 10 TCU vs. Texas Tech (FOX). Or, if you're experienced with the 'previous channel' button on your remote, you don't need to choose at all. Just toggle back and forth between every play. The Mountaineers, Cowboys, and Horned Frogs are all bunched together with Baylor in the conference standings at one loss apiece, and Saturday should help decide which team has the best chance of chasing down leader Kansas State.
6 p.m. — 7 p.m.
Is there a better chance of No. 1 Mississippi State winning the national title or star quarterback Dak Prescott winning the Heisman Trophy? Prescott and the Bulldogs will attempt to continue marching toward both of those goals Saturday when No. 1 Mississippi State visits Kentucky (CBS). While the game might be in the fourth quarter by this time, you can still flip over to make sure the Bulldogs aren't on upset alert — or to see exactly how many yards and points Prescott's high-flying offense will end up with.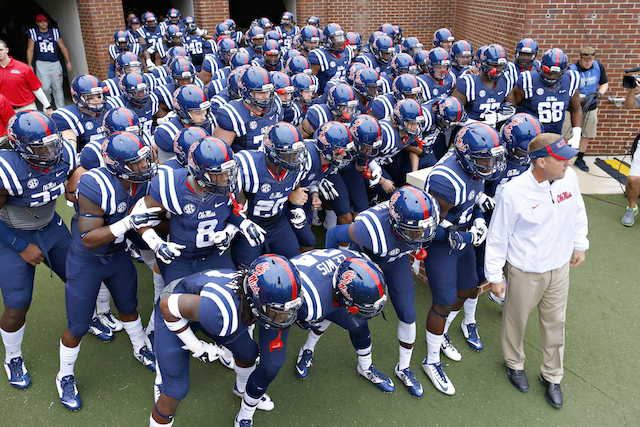 7 p.m. — 8 p.m.
Once all of the important afternoon games have ended — as well as any unimportant ones you might want to check in on if they're close, like Georgia Tech-Pittsburgh (ESPNU), Oregon State-Stanford (ESPN2), UNLV-Utah State (ESPNews), or Vanderbilt-Missouri (SEC Network) — it's time to turn your attention to Death Valley. No. 3 Ole Miss at No. 24 LSU (ESPN) kicks off at 7:15 p.m. and appears, on paper, to be one of the best games of the day. How good is the SEC West this year? The Tigers are 6-2 overall, ranked in the Top 25, and in fifth place in their division. (Of course, when the four teams in front of you are all in the top five in the country, that's pretty much how it goes.)
8 p.m. — 9 p.m.
Continuing with the SEC theme, you're welcome to flip around and see some of those other top-five teams in action this evening. There's No. 4 Alabama at Tennessee (ESPN2), or, if you prefer, No. 5 Auburn vs. South Carolina (SEC Network). The nation's best league is nearly guaranteed of getting multiple teams in the inaugural College Football Playoff, but, with the West division so dominant, is there a scenario where the conference could somehow get three or even four schools into the four-team bracket? Glad you asked.
9 p.m. — 10 p.m.
Continuing with the 'Valley' theme, LSU's Death Valley isn't the only stadium hosting an important college football game Saturday night. The other Death Valley — no , we've never figured out why there are two places with the same nickname — has Syracuse at No. 21 Clemson (ESPNU), while Happy Valley hosts No. 13 Ohio State at Penn State (ABC). Buckeyes QB J.T. Barrett, a backup two months ago, is now among the top 10 players in Heisman odds and will be looking to add to his 20 touchdown passes.
10 p.m. — 11 p.m.
10 p.m. means kickoff of the day's other game between top-25 teams, which means you'll want to get there sooner as opposed to later (maybe after Ole Miss-LSU wraps up). It's No. 20 USC at No. 19 Utah (Fox Sports 1), a critical Pac-12 South clash. Trojans QB Cody Kessler threw a school-record seven touchdowns last weekend. To put that jaw-dropping performance in perspective, no Utes QB has more than seven touchdown passes in the entire 2014 season.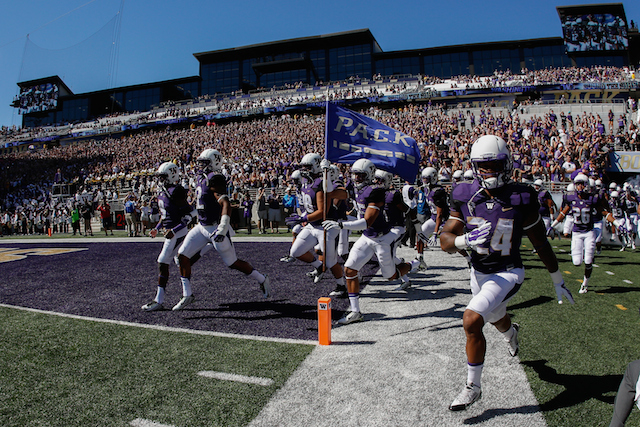 11 p.m. — End
We're guessing the Utes and Trojans will occupy most of your late night, but if you're the kind of person that's not going to bed until the football day is completely over, there's one other Pac-12 game to keep tabs on. No. 14 Arizona State visits Washington (ESPN) in the final game of the night, which will probably end after 2 a.m. ET. But who needs sleep when there's football on TV? (After all, if you're afraid you won't be able to stay up that late, you can always take a power nap on the couch or recliner during the Yale game. Who are we to judge?)