Your Olympics Party Menu: 6 Dishes From 6 Competing Countries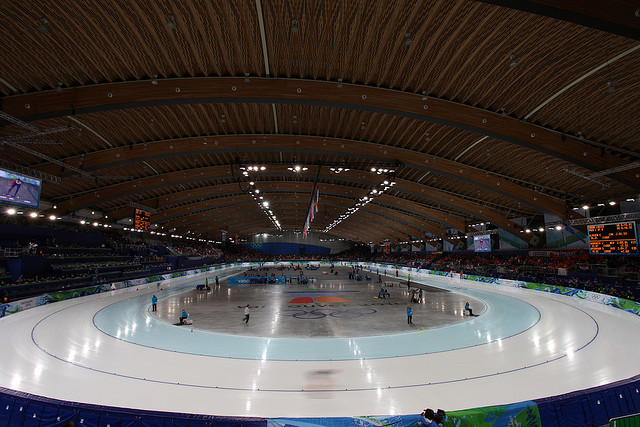 The 2014 Winter Olympics are finally here, and it's safe to say that anticipation has been mounting for a while now. People all over the world are gearing up to watch the nations' greatest athletes go head to head in Sochi, and there's no better way to celebrate ultimate athleticism than by chowing down on some medal-worthy Olympics food.
Sure, you can always cheer on the Olympians by running alongside them on the treadmill or by pretending to ski this weekend — but you could throw a Olympics-themed party and serve your guests food inspired by all the athletes' respective home countries.
Of course, we're still rooting for all the Americans at the Winter Games this year, but we still don't think they'll mind if we indulge in some Mexican or Asian-inspired fare while doing it. If you can't compete with the Olympians, you might as well eat for them, and today we're highlighting six recipes that have been perfected by food lovers living in six of the competing countries. We don't always agree with what our sports rivals are eating, but these dishes are something we all can agree on.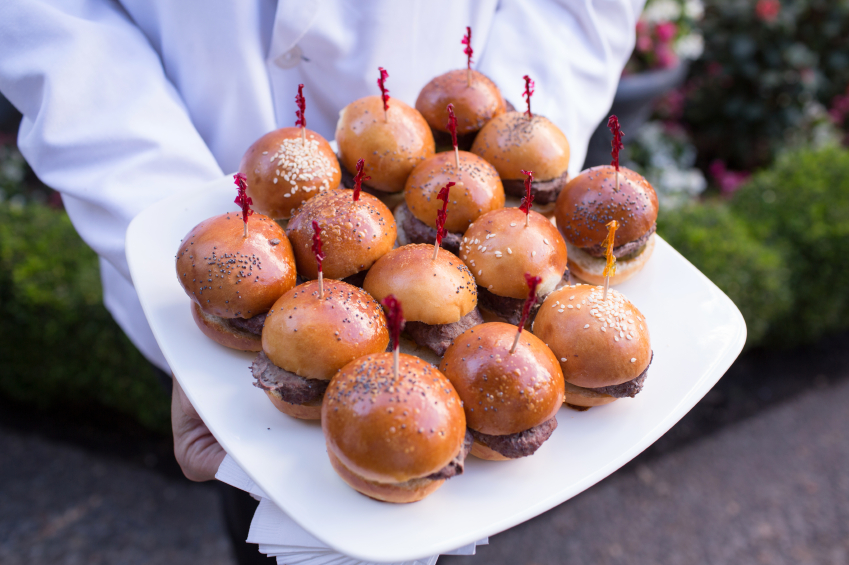 First, we need to pay tribute to the Americans competing in the Olympic games, and that's why you need to make the All-American food: hamburgers in appetizer form, or beef sliders. These things are the real deal but made a little smaller so your guests can leave room for other countries' delicacies. A burger is the quintessential American food, and although it's too cold in most parts of the country to grill outside, sliders can easily be perfected inside, whether you employ your oven or your skillet.
This beef slider recipe from Martha Stewart comes together fast, is the perfect finger-friendly food, and is sure to appeal to all guests. Even the pickiest of eaters love a mini burger (aside from the vegetarians), and these sliders will convince Olympics junkies everywhere that they need to be rooting for the U.S. As if they weren't already.
Ingredients:
9 ounces ground beef
Coarse salt and freshly ground pepper
1 tablespoon Clarified Butter
2 tablespoons canola oil
2 medium onions, thinly sliced
3 mini brioche buns, halved crosswise
Pickle spears (optional) for serving
Directions: Season beef with salt and pepper. Form into three equal-size patties; set aside. In a large skillet, heat butter over medium-high heat, add onions. Cook, stirring occasionally, until caramelized, about 10 minutes. In a cast-iron skillet, heat oil over medium-high heat. Add beef patties and cook about 1 1/2 minutes for medium-rare. Place patties between brioche halves; top with onions. Serve immediately with pickles if desired.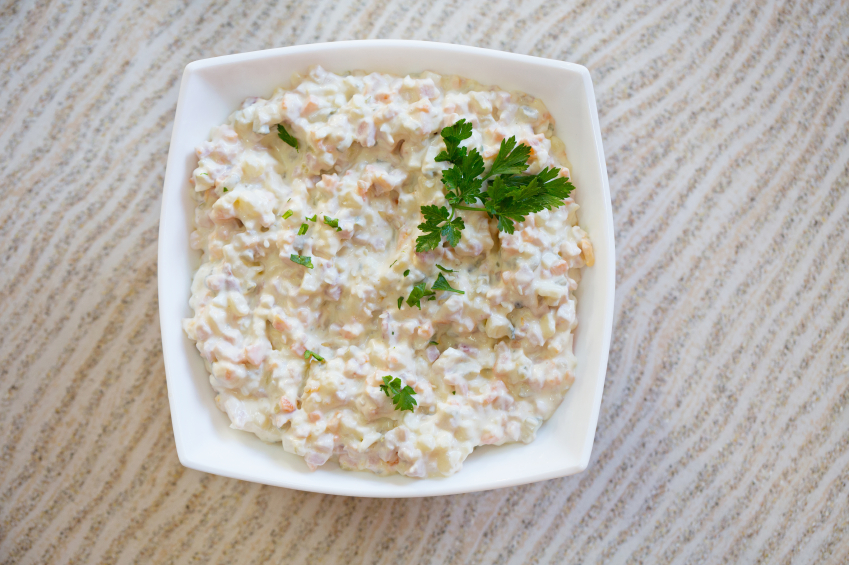 Next up is a nod to Russia, as we feel compelled to cook up some dishes that are inspired by the generous host of the 2014 Olympics. Not all of Russia's traditional dishes appeal to us Americans, but the country does have a couple classics that party hosts can get away with — and no, they don't involve vodka. One such Russian favorite is the country's famous potato salad, or Salad Olivier. This potato salad was named after the  chef, M. Olivier who created it, but many cooks have since put their own take on it.
This recipe, from SmittenKitchen.com, involves all ingredients that Americans are used to eating (potatoes, eggs, onion, peas, carrots, pickles), and it's tossed in a mayonnaise-based dressing, so even though the thought of Russian food may sound intimidating, this classic dish proves the cuisine isn't anything to be afraid of. Though this salad isn't exactly finger food, it's the perfect party recipe in that it is easy to make in bulk, and as long as your guests have utensils, they can easily pick up what you put down.
Ingredients:
2 pounds Russet potatoes, boiled, peeled and finely diced (1/4- to 1/2-inch for this and all chopped ingredients)
2 eggs, hard-boiled, finely diced (optional)
1 small red or white onion, finely diced
3/4 cup mayonnaise (low-fat, or a mixture of mayo and sour cream work great here)
3 small dill pickles, finely diced
1 cup canned peas and carrots, drained or 1/2 cup cooked peas and 1 carrot, chopped and cooked
Salt and pepper
Directions: Mix all ingredients and season to taste.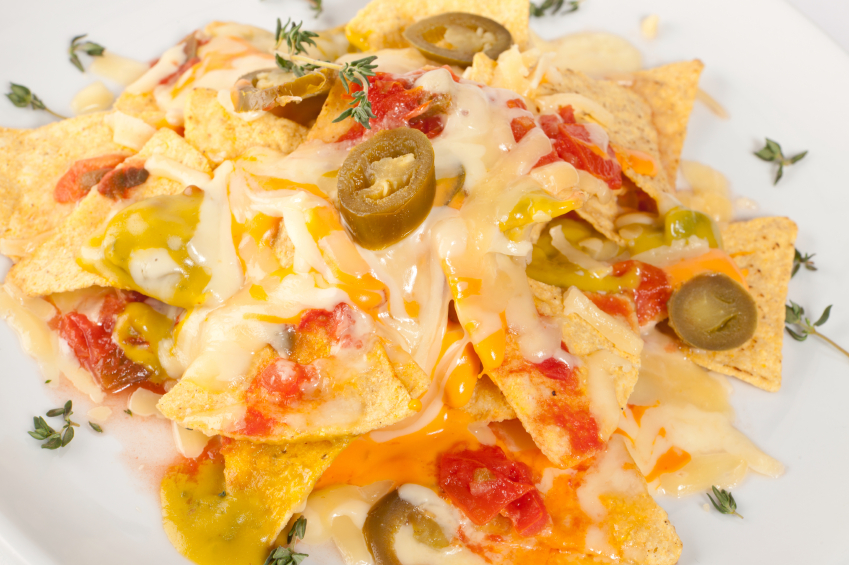 Traveling South of the border, we come to Mexico: a country whose food we can definitely work with. Mexican food is definitely an American favorite — just ask Chipotle executives — and this country makes it easy to find a palatable Mexican-inspired dish for your party. Though you can also go the guacamole or quesadilla route, you could also put that crockpot to use and try this recipe via Betty Crocker for slow-cooker southwestern chicken nachos.
This dish is one that all of your guests are bound to love, and better yet, you don't even have to slave away in the kitchen to make it. Simply pop the ingredients in your slow cooker three or four hours before your party, and then serve them up when your guests arrive. As Americans, we have to say that classic American dishes are our favorite, but this recipe from Mexico definitely makes it a close call.
Ingredients:
1 package (16 ounces) mild Mexican pasteurized prepared cheese product with jalapeño peppers, cut into cubes
3/4 cup Old El Paso Thick 'n Chunky salsa
1 can (15 ounces) black beans, rinsed and drained
1 package (9 ounces) frozen cooked Southwest-seasoned chicken breast strips, thawed and cubed
1 container (8 ounces) Southwest ranch sour cream dip
1 medium green bell pepper, chopped (1 cup)
1 medium red bell pepper, chopped (1 cup)
12 ounces large tortilla chips
Directions: Place cheese, salsa, beans and chicken in 3- to 4-quart slow cooker. Cover and cook on Low heat setting 3 to 4 hours, stirring halfway through cooking, until cheese is melted and mixture is hot. Stir in sour cream dip and bell peppers. Increase heat setting to High. Cover and cook about 30 minutes or until mixture is hot. Serve over tortilla chips. Topping will hold on Low heat setting up to 2 hours; stir occasionally.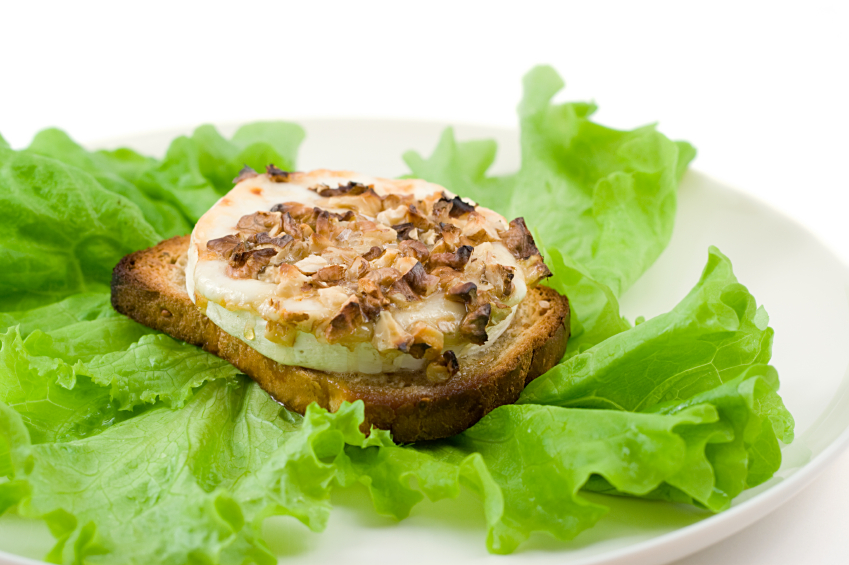 Next up is another country that knows a thing or two about food. Though recent studies report that the Frenchies' latest favorite food group is hamburger, we're guessing you want to go a different route for your France-inspired fare, considering you already have beef sliders on the menu.
When it comes to serving up a French dish, you can easily go either sweet or savory, but this recipe from Betty Crocker for caramelized onion and goat cheese crostinis is the best of both worlds, and what two foods scream French more than bread and cheese? These dainty little finger foods are bound to be a hit at your Olympics soirée, and here's a secret — they look a lot more fancy than they really are.
Ingredients:
2 tablespoons olive or vegetable oil
2 medium sweet onions, thinly sliced (about 2 cups)
1 teaspoon salt
1 tablespoon packed brown sugar
1 tablespoon balsamic vinegar
24 slices (1/4-inch thick) French bread baguette
Nonstick cooking spray
1 package (4 oz) chèvre (goat) cheese, softened
1 package (3 oz) cream cheese, softened
1 teaspoon chopped fresh thyme or oregano leaves
Directions: In 12-inch nonstick skillet, heat oil over medium-high heat. Stir in onions; cook uncovered 10 minutes, stirring every 3 to 4 minutes. Reduce heat to medium-low. Stir in salt, brown sugar, and vinegar. Cook 30 to 35 minutes longer, stirring every 5 minutes, until onions are deep golden brown (onions will shrink during cooking.) Cool slightly.
Heat oven to 325 degrees Fahrenheit. Place bread slices on ungreased cookie sheet; spray lightly with non-stick cooking spray. Bake 6 to 9 minutes or until crispy. Meanwhile, in small bowl, combine goat cheese and cream cheese; blending until smooth; set aside. Place 1 teaspoon caramelized onions onto each bread slice; top with 1 rounded teaspoon cheese mixture. Sprinkle with herbs.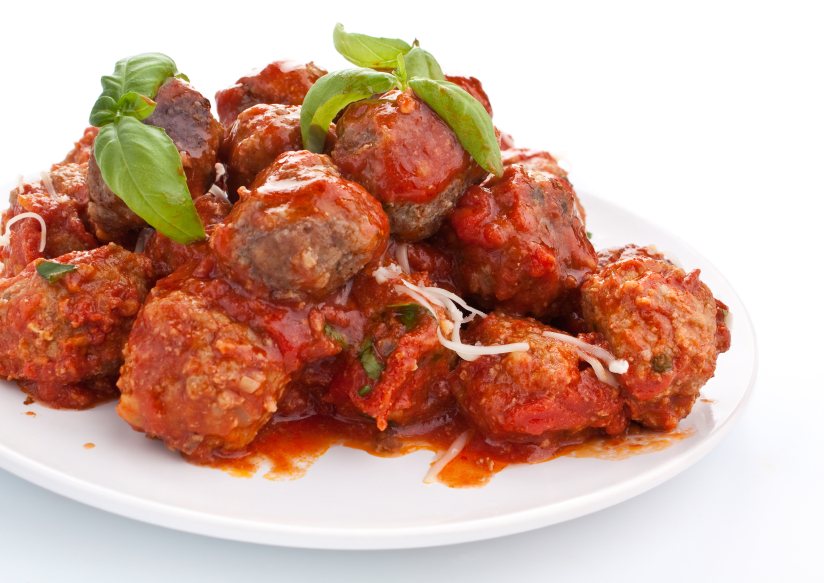 Italy is next on the docket, and you're making spicy Italian meatballs to represent this country that is famous for its indulgent dishes. When it comes to food at parties, everyone knows that the most popular items are those that are the most convenient to grab and graze, and these meatballs are not only easy to make, they're easy to eat. As long as you have a crockpot, you're good to go.
Make sure you serve these spicy Italian meatballs from Better Homes and Gardens with toothpicks nearby so your guests have no problem diving in. This dish might not be your prettiest, but it'll definitely be your tastiest.
Ingredients:
1 egg, lightly beaten
1/2 cup fine dry bread crumbs
1/4 cup finely chopped onion
1/4 cup finely chopped bottled pepperoncini salad peppers
1 teaspoon Italian seasoning, crushed
1 clove garlic, minced
1 pound lean ground beef
1 pound bulk Italian sausage
1 28 ounce can crushed tomatoes
1/2 cup finely chopped onion (1 medium)
1 tablespoon balsamic vinegar
2 cloves garlic, minced
1/2 teaspoon dried oregano, crushed
1/4 teaspoon crushed red pepper
Directions: Preheat oven to 350 degrees Fahrenheit. In a large bowl combine egg, bread crumbs, 1/4 cup onion, pepperoncini peppers, Italian seasoning, and the 1 clove garlic; mix well. Add ground beef and sausage; mix gently until combined. Shape mixture into twenty-four 2-inch meatballs. Place meatballs in a 15x10x1-inch baking pan. Bake for 30 minutes; drain well.
Meanwhile, in a 4- to 5-quart slow cooker combine crushed tomatoes, 1/2 cup onion, the vinegar, 2 cloves garlic, oregano, and crushed red pepper. Add baked meatballs to slow cooker; stir gently to coat. Cover and cook on low-heat setting for 4 to 6 hours or on high-heat setting for 2 to 3 hours. Skim fat from sauce before serving.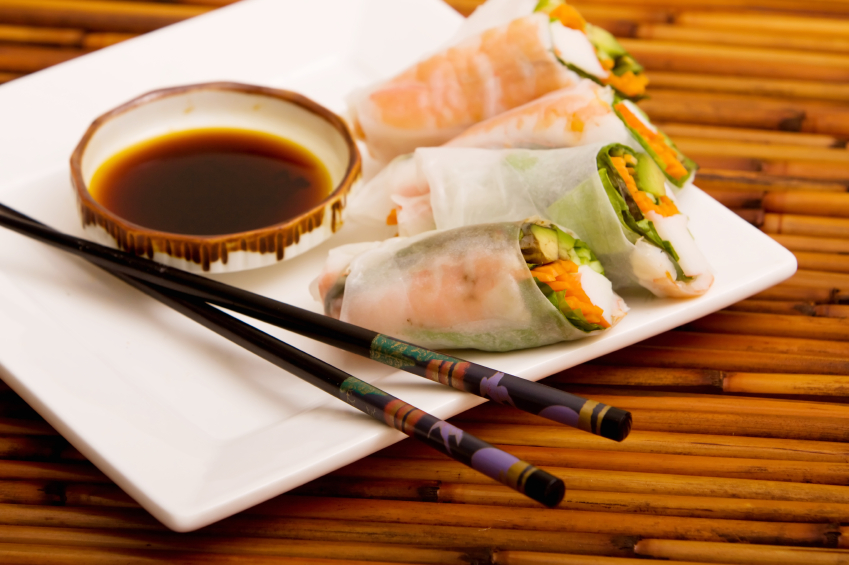 Rounding it out at No. 6 — although you could feature many, many other country-inspired recipes — we come to China, a country that is definitely known for its good, albeit intimidating food. Everyone loves themselves some Chinese, but unfortunately, many Americans find the fare too daunting to make at home (enter: Asian takeout.) Before you count yourself out, though, try your hand at this dish and impress your guests. Not all Asian foods are only possible of being perfected by the experts, and you can easily wow your guests if you test your skills with these easy Asian spring rolls.
Granted, this recipe takes time and patience, but it's not difficult, and the end result is definitely worth it. The recipe comes from Taste of Home and we've also included their directions for the peanut sauce that can accompany the spring rolls.
Ingredients:
3 tablespoons lime juice
1 tablespoon hoisin sauce
1 teaspoon sugar
1 teaspoon salt
3 ounces uncooked thin rice noodles
1 large carrot, grated
1 medium cucumber, peeled, seeded, and julienned
1 medium jalapeno pepper, seeded and chopped
1/3 cups chopped dry roasted peanuts
8 spring roll wrappers or rice papers (8 inches)
1/2 cup loosely packed fresh cilantro
2 garlic cloves, minced
1/2 to 1 teaspoon crushed red pepper flakes
2 teaspoons canola oil
1/4 cup hoisin sauce
1/4 cup creamy peanut butter
2 tablespoons tomato paste
1/2 cup hot water
Directions:
In a small bowl, combine the lime juice, hoisin sauce and sugar; set aside. In a large saucepan, bring 2 quarts water and salt to a boil. Add noodles; cook for 2-3 minutes or until tender. Drain and rinse with cold water. Transfer to a large bowl and toss with 2 tablespoons reserved lime juice mixture; set aside. In another bowl, combine the carrot, cucumber, jalapeño, and peanuts. Toss with the remaining lime juice mixture; set aside.
Soak spring roll wrappers in cool water for 5 minutes. Carefully separate and place on a flat surface. Top each with several cilantro leaves. Place 1/4 cup carrot mixture and 1/4 cup noodles down the center of each wrapper to within 1 to 1/2-inch of ends. Fold both ends over filling; fold one long side over the filling, then carefully roll up tightly. Place seam side down on serving plate. Cover with damp paper towels until serving.
In a small saucepan, cook garlic and pepper flakes in oil for 2 minutes. Add the remaining sauce ingredients; cook and stir until combined and thickened. Serve with spring rolls. Yield: 8 spring rolls (1 cup sauce.)