Max Verstappen Recalls F1 Moments With 'Uncle' Michael Schumacher
To a 3-year-old Max Verstappen, his father's friend, Michael Schumacher, was not one of the greatest drivers in Formula 1 history.
He was just "Uncle Michael."
Max Verstappen treasures youthful relationship with F1 icon Michael Schumacher
Now 24, Verstappen fondly recalls the vacations the two families spent together while he matured into the reigning F1 champion.
Verstappen's father, Jos, befriended Schumacher during their time with Benetton's race team. The drivers' young families bonded, often hanging out in paddocks. Verstappen and Haas driver Mick Schumacher grew up in the fast-paced, often whip-lashing lifestyle of F1.
They embraced it and made it their own.
But before Verstappen maturely overcame Lewis Hamilton in one of the most drama-filled seasons in industry history, the future world champion once sat in Schumacher's lap in diapers.    
In an interview with F1-Insider.com, reported by planetf1.com, Verstappen described his youthful relationship with the eventual seven-time F1 drivers' champion. 
"I was three or four years old at the time," he said. "I just knew that was Uncle Michael. Who was very nice. Who was an extremely big family man.
"But I never saw him as a record world champion; I didn't know that."
To little Max, he was just "Uncle Michael."
Young Verstappen, Schumacher familes race karts while vacationing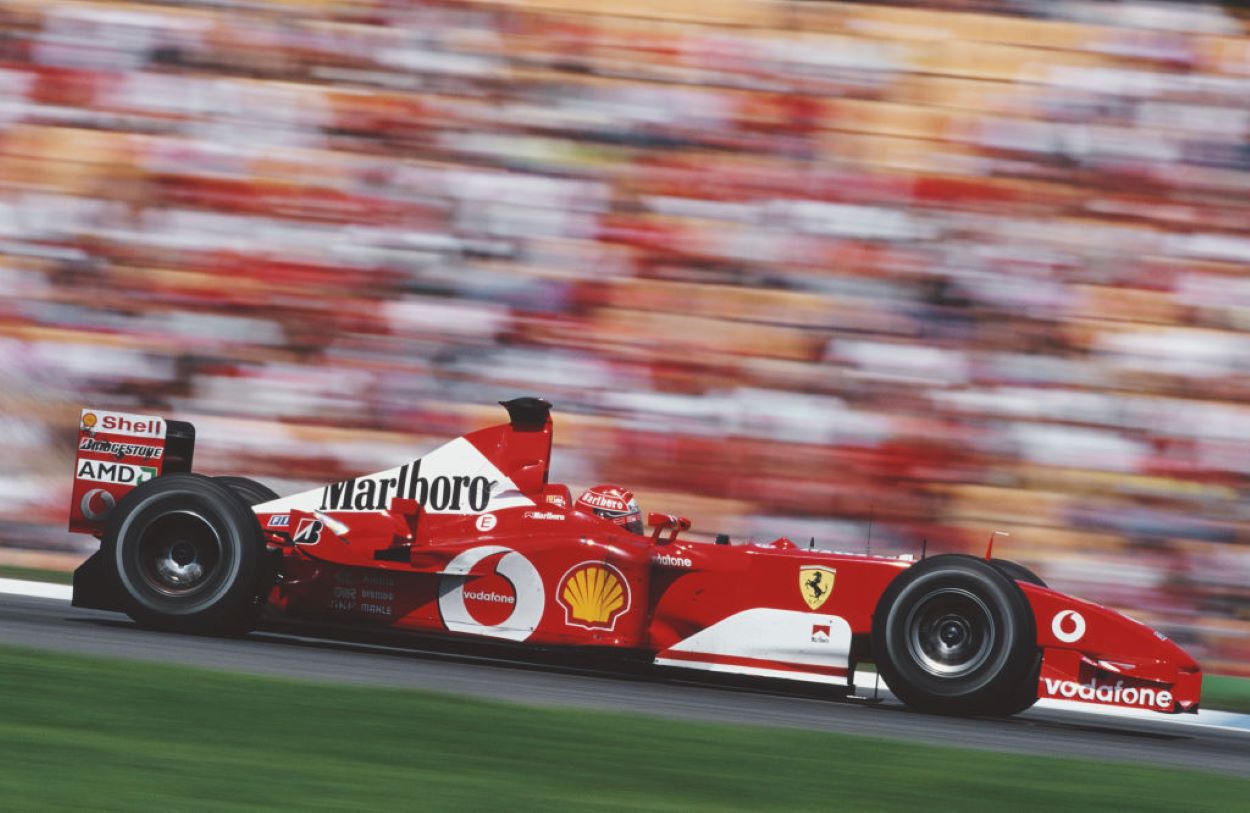 Of course, when the families vacationed together, inevitably, a race would break out. Verstappen recently recalled watching old home movies displaying kart races with the kids and F1 fathers. Mick still honors his father.
Lining up the two-seater karts, Verstappen said he and Mick and his sister, Gina, revved up the engines, and off they went. "You can see that in the old photos and videos we have at home, …" Verstappen said. "It was great. I still have positive memories of those weekends today.
"We always drove two-seater karts, Michael, with Mick or Gina, my father with me."
While the dads often started out allowing the kids to drive. Most of the time, they ended up taking over in the heat of competition. "If it became too dangerous, the fathers took over very quickly," Verstappen said with a laugh.
Verstappen understands the pressure Mick Shumacher faces with his family ties 
Through the years, Verstappen has watched his childhood friend, Mick, attempt to forge his F1 career. While Verstappen has developed into a series champion, Schumacher, 22, has struggled with slower cars and a sluggish and costly career opening. In 22 F1 events, he has failed to produce a top-10 finish.
Verstappen, meanwhile, has 20 wins and 60 podiums in 141 starts.
Personally, Verstappen understands the pressure Schumacher must deal with, considering his father shares the all-time drivers' title mark with Hamilton.
"It was different for Mick than it was for me," Verstappen said. "His father is the record world champion, with seven world championships. That is a difficult starting position at first.
"Even in his karting days, there was always press around him. In Formula 4, Formula 3, and Formula 2, the hype became even greater. But he has a good environment, good people who care about him."
Verstappen should know. He's been one of them since he was in diapers.
Like Sportscasting on Facebook. Follow us on Twitter @sportscasting19.