Zach Ertz Can Help the Cardinals Accomplish a Feat They Somehow Haven't Achieved Since Their Head Coach Was in Elementary School
The Philadelphia Eagles lost to the Tampa Bay Buccaneers on Thursday Night Football in what will now be known as the final game Zach Ertz played in Philly. On Friday, Ertz was traded to the Arizona Cardinals to join Kyler Murray and the NFL's only remaining undefeated team.
The timing is perfect. Ertz just scored a touchdown in his Eagles' finale, and the Cardinals lost Maxx Williams to a season-ending knee injury, opening the door even more for their need at tight end.
That brings in Ertz, and strangely enough, he should help the Cardinals achieve a feat they haven't done since Kliff Kingsbury was in elementary school: have a tight end go for 100 yards or more in a game.
The Cardinals tight ends have been a trainwreck and Zach Ertz is the guy to get it back on track
Yeah, that is bizarre. Somehow, it has been over 30 years since the Cardinals have had a tight end go over 100 yards. Murray wasn't even born, and Kingsbury was a little kid when this happened, which speaks to the sheer ineptitude of this feat.
A long, long list of players have come and gone. Maxx Williams picked up steam before suffering an injury, which led to the Ertz trade after an offseason full of trade buzz surrounding the former Pro Bowl tight end.
Dan Arnold didn't do it, neither did Jermaine Gresham, Todd Heap, or Darren Fells. For all the success Arizona had in that time– including a trip to the Super Bowl– a 100-yard tight end is nowhere to be found.
Sorry, Ertz won't be able to suit up against the Browns
The Cardinals face the Cleveland Browns in the "Oklahoma Bowl" as former Sooners Kyler Murray and Baker Mayfield face-off. Questions swirled about Ertz's eligibility for Sunday's game, but unfortunately, he won't be able to go after just playing on Thursday night for the Eagles.
Either way, this is a massive get for Arizona and a move that had been in the cards for quite some time. For years they have needed a tight end badly, and they watched Arnold dash for the Carolina Panthers in the offseason. Ertz had been on the block all offseason long before deciding to play another year for the Eagles, and both sides finally get it done.
He can still play and has tallied 18 catches for 189 yards and two scores while competing for targets with Dallas Goedert.
The lone undefeated team gets even more talent with this trade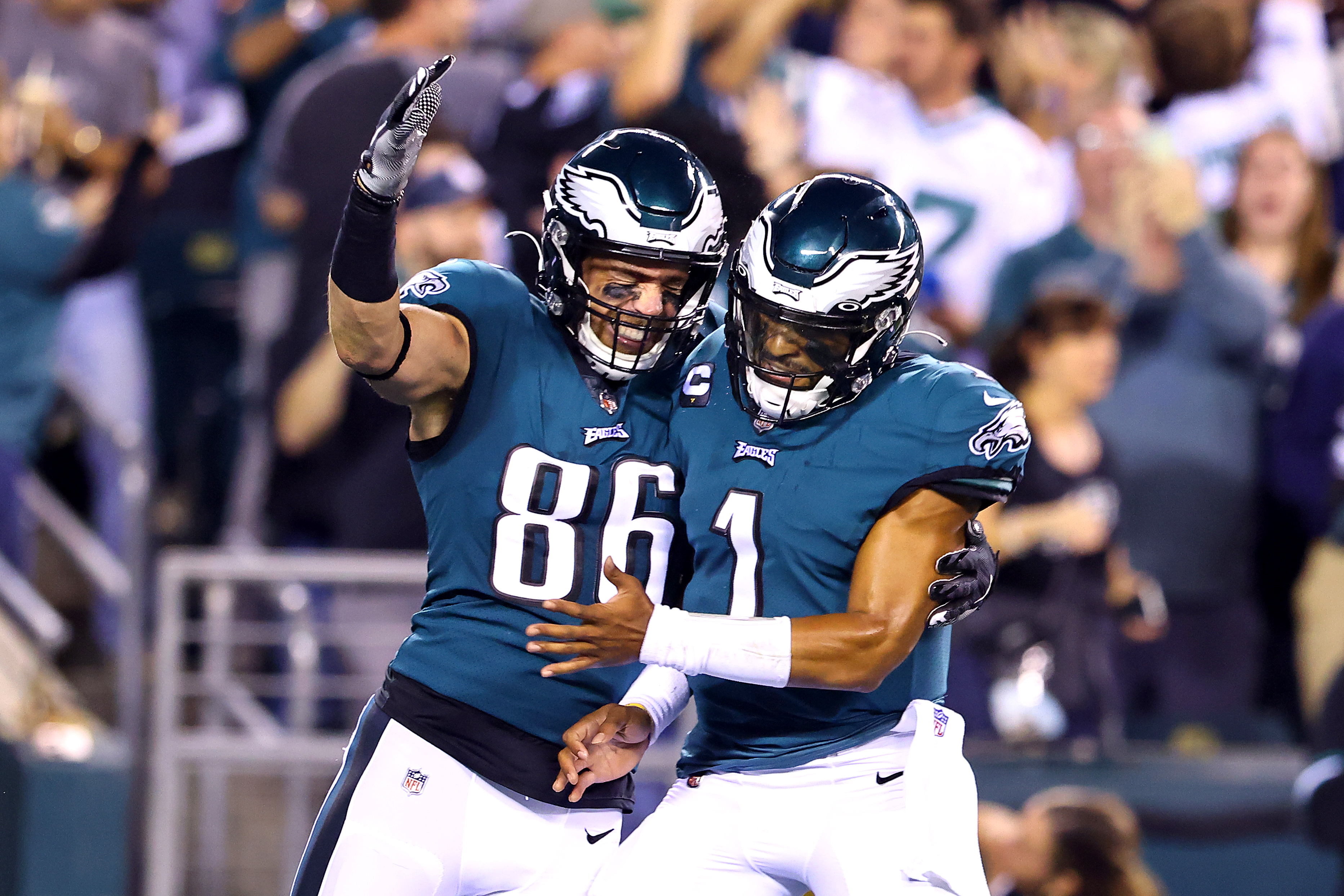 The Cardinals did not need any more talent. Kingsbury's team has yet to lose a game through five weeks and are sitting atop the NFC and the NFC West. Murray has played at an MVP level, and the receiving core of AJ Green, DeAndre Hopkins, Christian Kirk, and Rondale Moore has flourished thus far.
Now they add Ertz to fill their tight end void, and Kingsbury has to be smiling from ear to ear after years of tight end mediocrity in Arizona.
Unfortunately, the first game for Ertz in a Cardinals uniform will be against the Houston Texans, and that could very well be the day that the franchise breaks their unfathomable streak and get a tight end over 100 yards.
Stats courtesy of Pro Football Reference
RELATED: The Arizona Cardinals Can Emphatically Fix Their Biggest Roster Hole by Giving the Philadelphia Eagles a Call