Zach LaVine Still Has Absurd Confidence Amid Persistent Knee Soreness
These next few months are nothing short of monumental for Chicago Bulls All-Star guard Zach LaVine.
Aside from his role in keeping the Bulls near the top of the Eastern Conference standings, LaVine is preparing to enter unrestricted free agency for the first time in his career. The 26-year-old suggested he wants to receive what he feels he deserves, which could well be a contract in excess of $230 million. He must also deal with the specter of a knee issue that continues to give him trouble.
LaVine, who first injured his knee in January, admitted he might not ever feel 100% until he has more time to address the problem this summer. Despite the frustration of playing somewhat hurt, LaVine maintains supreme confidence in his abilities and has placed all his energies on the remainder of this season.
But while LaVine's conviction is admirable, his less-than-stellar physical condition could all but eliminate any chance the Bulls might have had of winning the NBA championship.
Zach LaVine feels less than 100%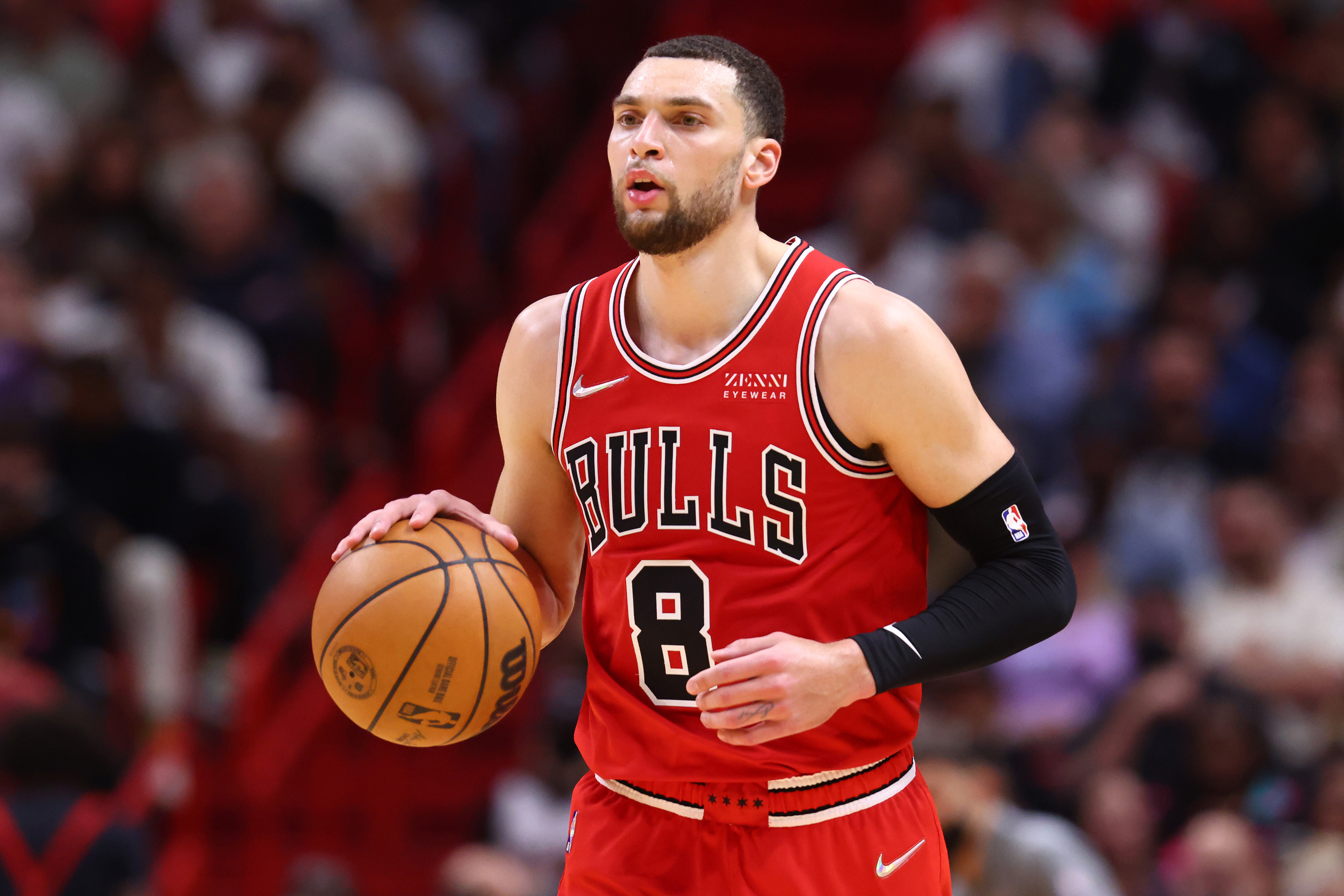 LaVine is not under the illusion that the soreness from his knee will magically disappear before the playoffs.
Although doctors drained fluid from LaVine's knee and reduced swelling, he's still not quite himself. The two-time Slam Dunk champion understands (h/t NBC Sports Chicago) he probably won't feel completely whole until he gets a full offseason to recover. Still, LaVine is committed to giving the Bulls his all down the stretch.
"You can go look at it from my game with Golden State on. I'm not going to be 100 percent the same way. Now can I still go out here and contribute? I can still do that, but it's just something I've got to fight through until the end of the season. I'm not going to be a person that shuts it down. We're having a great year. I'm having a good year, so I'm going to go out there and help my team anyway I can."

–Zach LaVine on his injured knee, via NBC Sports Chicago
The UCLA product called the injection a "bandaid," a temporary solution to a bigger problem. The good news is that all of LaVine's MRIs have come back clean, so it doesn't appear to be a structural issue.
However, playing hurt can result in All-Stars failing to live up to that caliber of play. LaVine does not believe that's even a possibility in his case.
LaVine remains supremely confident
Zach LaVine only needs about 70% to get the job done. Or so he says.
LaVine explained that he feels he is still one of the best players in the NBA even when his body isn't quite as responsive. The Washington native believes he can help the Bulls win.
"I might not be 100%. But me at 80%, 70%, whatever it is, it's still one of the best players in the NBA. So, damn sure one of the best players on the court when we play."

–Zach LaVine, via NBC Sports
There's no question LaVine is as gifted as anyone in the sport. Even though DeMar DeRozan has commanded most of the national attention in Chicago with his sublime mid-range scoring, LaVine is having a terrific season in his own right.
Through 50 games, the Bulls 2-guard is averaging 24.5 points, 4.8 rebounds, and 4.5 assists. He is shooting 48.1% from the field and nearly 40% from beyond the arc. According to StatMuse, he's scoring a stellar 1.23 points per possession.
But while LaVine's numbers look strong, he's been fairly underwhelming as of late.
The Bulls' title hopes are in jeopardy
If LaVine still played dominant basketball, then the status of his knee wouldn't matter all that much. But he's looked noticeably less comfortable on the court, which ultimately hinders the Bulls' chances of contending for a championship.
LaVine has averaged over 23 points in three games since the All-Star break. But it's been a struggle to get those points. The normally efficient sniper is a combined 7-of-19 from beyond the arc. He's mostly had to rely on getting downhill and scoring at the rim or earning free throws. That's not exactly ideal for a guy nursing a knee issue.
Additionally, LaVine's numbers are slightly deceiving. He shot 50% from the field and scored 22 points in Monday's loss to the Miami Heat. But eight of those points came in the fourth quarter, with the game already out of reach. LaVine went 0-for-5 from beyond the arc in the first half and missed some easy looks.
This version of LaVine is not the one Bulls fans are accustomed to. He hasn't shown signs of "popping," per se, which Chicago could use given its defensive struggles and the burden DeRozan has carried in recent weeks.
The Bulls cannot win a championship with this version of LaVine. They need more, particularly with Lonzo Ball and Alex Caruso still out and Nikola Vucevic once again struggling to shoot the ball from deep (20.4% in February). He still thinks he can contribute to winning, but it's hard to see how a depleted Chicago team can realistically contend unless LaVine digs even deeper.
Stats courtesy of Basketball Reference unless otherwise noted.