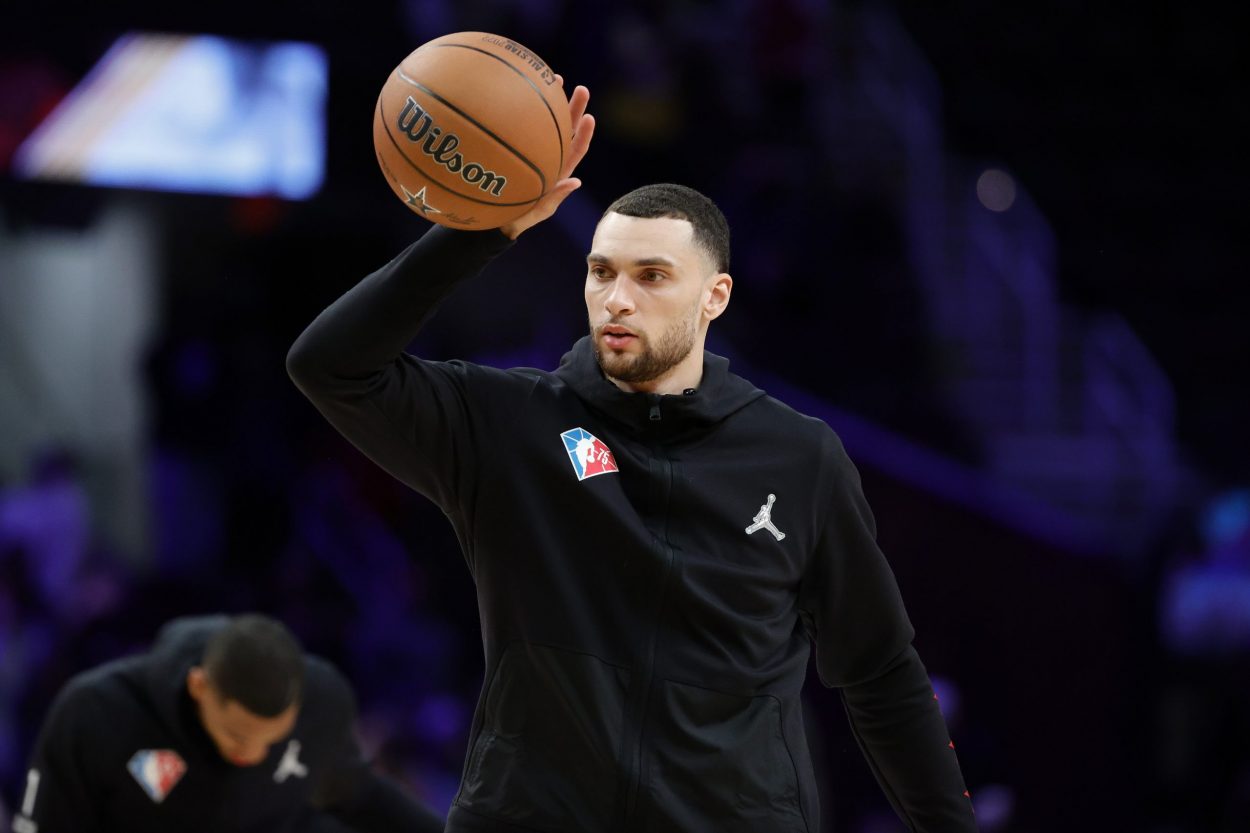 Zach LaVine's All-Star Showing Had Critical Importance Beyond the Box Score
Chicago Bulls star Zach LaVine hardly played in the 2022 NBA All-Star Game, but his time on the floor showed he's healthy and ready for the home stretch.
Chicago Bulls star Zach LaVine didn't have a ton of activity during NBA All-Star Weekend in Cleveland. When he did pop up, the appearances lacked impact. Or so it seemed.
LaVine posted the worst score in the Three-Point Shootout on Saturday night. He played just 11 minutes during the All-Star Game on Sunday, also finding himself with the unfortunate distinction of guarding LeBron James as the Los Angeles Lakers star rose up for a game-winning jumper at the end of the contest.
However, none of those details matter much to the Bulls and their fans. Chicago merely wanted to see its combo guard look healthy. He did all that and then some, and now the Bulls can head into the final stretch feeling even more optimistic.
Zach LaVine had not played in over a week before heading to NBA All-Star Weekend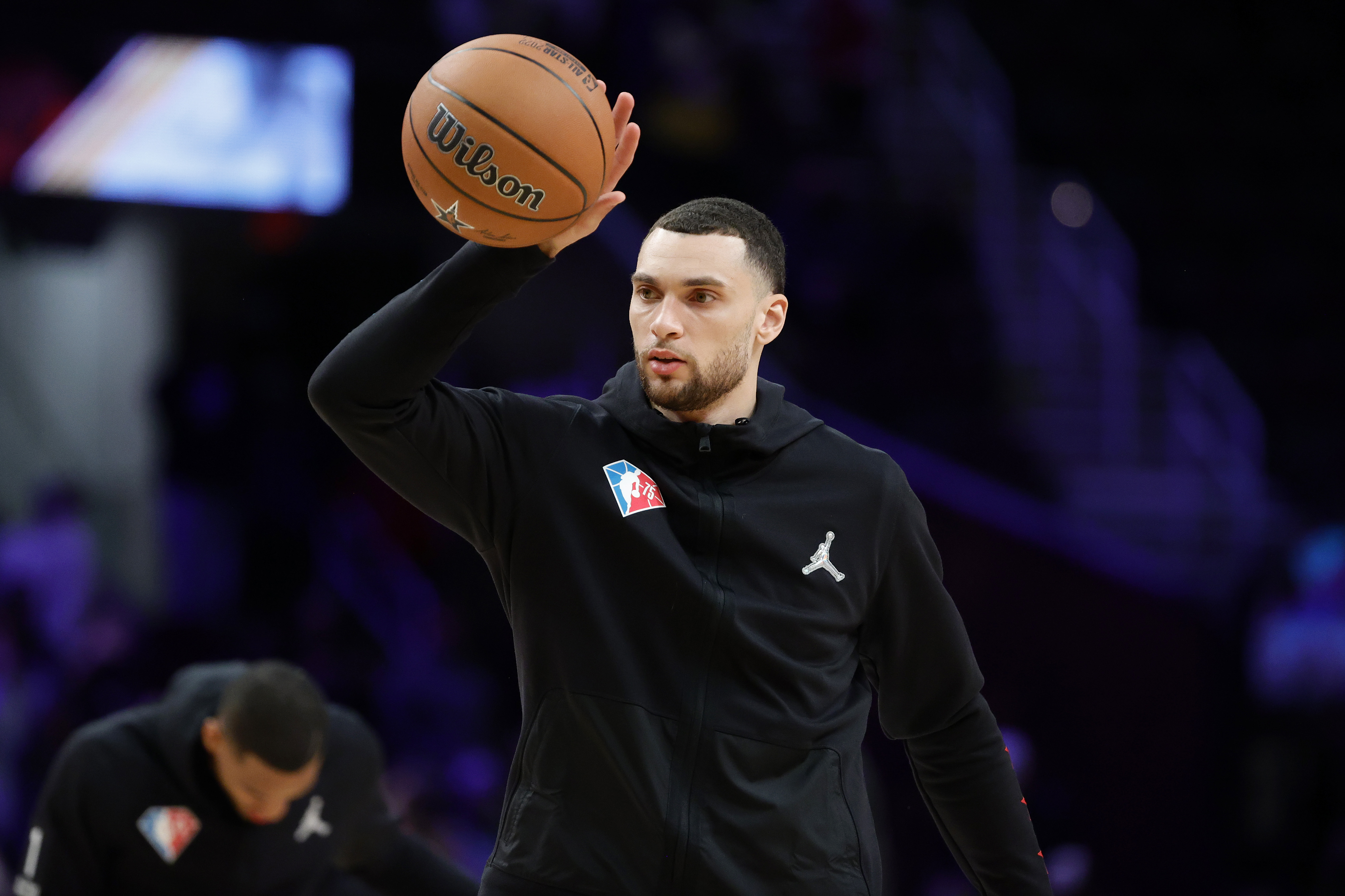 LaVine came to Cleveland feeling a little rusty.
The two-time NBA All-Star had not played since a Feb. 11 win over the Minnesota Timberwolves. Lingering knee soreness — which stemmed from an original injury in January — sent him to the bench. Bulls fans had reason to feel worried.
Chicago announced it planned to hold LaVine out of its three games before the break. Some concern lingered when reports revealed that the 26-year-old planned to see medical specialists. Fortunately for LaVine and the Bulls, he received a plasma injection and clearance to play. Still, that did not stop the fretting over whether he should partake in All-Star Weekend.
While LaVine technically risked reinjury by participating, he also more than deserved the right to make that call. After all, he worked his entire career to be a perennial All-Star.
Alas, LaVine did play, albeit sparingly. It's for the best he did, too, because Bulls fans got to see that he is healthy beyond a shadow of a doubt.
LaVine played only 11 minutes but still showed critical flashes
Zach LaVine found himself surrounded by legends on Sunday night as the NBA celebrated the 75th Anniversary Team at this year's All-Star Weekend. Like everyone else, he became enveloped by the spectacular shooting performance from Stephen Curry and an emphatic display by an MVP-hungry Joel Embiid.
Sometimes, guys get lost in the mix of so much star power. Indeed, LaVine himself played just 11 minutes, the fewest of any player on Team Durant. But they were important minutes.
LaVine looked healthy during his time on the floor. He showed tremendous burst by throwing down a 360-dunk on the break in the first quarter and played pretty staunch defense down the stretch, including on James' game-winning fadeaway.
It would have been one thing for LaVine to look physically limited. On the contrary, he played freely and even moved well without the ball, acting engaged on both ends.
If nothing else, LaVine's performance took on something of a symbolic meaning. He'll now try to help lead the Bulls to the No. 1 seed in the Eastern Conference and earn his big payday in the process.
Everything to play for
Having balled out with DeMar DeRozan in Cleveland, Zach LaVine is ready to get back to work with Deebo and the Bulls. Can he also earn his keep in the process?
LaVine is a free agent this summer and said over the weekend that he wants to receive a dollar figure he feels he deserves. If the UCLA product makes an All-NBA team, that figure could be well over $200 million.
But, first things first: The Bulls are trying to win now.
Chicago headed into All-Star Weekend in a tie with the Miami Heat atop the Eastern Conference. The Bulls have withstood injuries to key players like LaVine, Lonzo Ball, and Alex Caruso. Now, with LaVine healing up, Ball and Caruso nearing their returns, and Chicago adding Tristan Thompson in the buyout market, the team is primed to cement its contender status.
LaVine's All-Star showing probably didn't mean much to the casual fan. But it meant absolutely everything to the Bulls, who will hope their All-Star guard brings all of his scoring dynamism and efficiency over the final few months and into the playoffs.
Stats courtesy of Basketball Reference.