DeMar DeRozan, Zach LaVine, and the Chicago Bulls Fall Flat Against the Brooklyn Nets and Must Respond
Maybe, just maybe, Zach LaVine, DeMar DeRozan, Nikola Vucevic, and the Chicago Bulls got lulled into a false sense of security with their feel-good start to the season. Maybe the recent nine-game winning streak — the franchise's best in 11 years — or the 46-point beatdown of the rebuilding Detroit Pistons the night before had the Bulls believing their hype.
That balloon got burst on a forgettable Wednesday night, and the hot air inside sprayed all over a dour United Center crowd. With ESPN's cameras televising Chicago's showdown against the Brooklyn Nets to a nationally televised audience, the Bulls fell flat on their faces and didn't quite look ready for the white-hot glare of prime time.
The Bulls didn't just get beaten; no, they got humiliated by Kevin Durant, James Harden, Kyrie Irving, and the Nets to the tune of a 138-112 score.
How out of control did things get late in the night for the collapse-a-Bulls? Well, during one stretch spanning the third and fourth quarters, Brooklyn outscored Chicago, 42-8. The Windy City's infamous frigid gusts would have felt like a warm front compared to the chill inside the United Center on Wednesday.
After further review, the Bulls had a lot of factors against them on Wednesday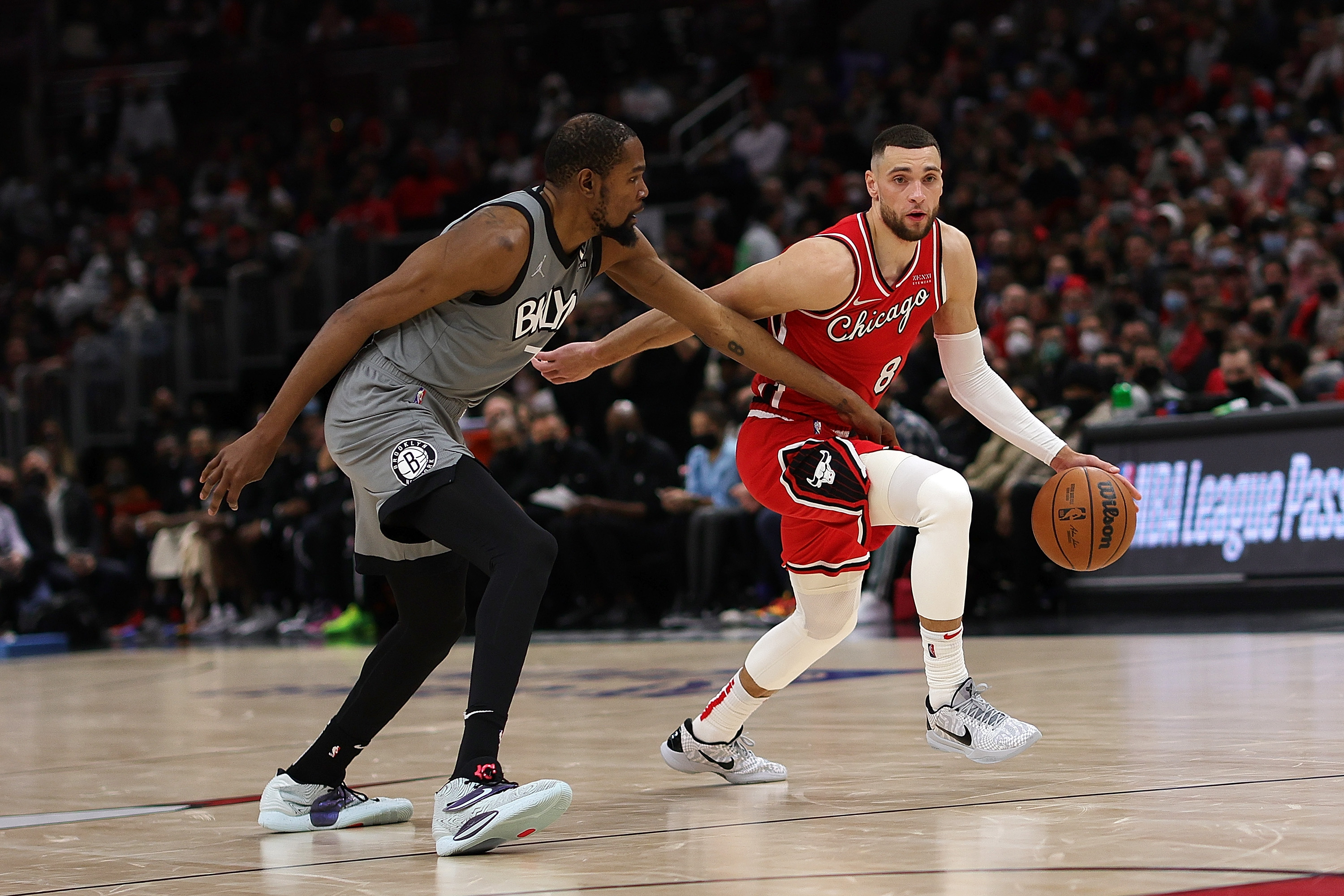 For some perspective, the Bulls were playing on the second night of a back-to-back after whipping the Pistons on Tuesday. And maybe Wednesday's game didn't hold the same significance to them as it did to the Nets, considering that Chicago had already won the previous two meetings over Brooklyn.
It couldn't have helped, either, that starting forward Derrick Jones Jr. went down 36 seconds into the game with what looked to be a severe knee injury. Out on the break, Jones jumped high to catch a pass, and his knee hyperextended to the point that he couldn't put much weight on it while leaving the floor.
Jones Jr., who had started the previous six games for Javonte Green (groin strain), escaped serious injury and suffered a bone bruise, Shams Charania of The Athletic reported. Jones Jr., one of the league's most suffocating one-on-one defenders, will likley miss four-to-six weeks.
Chicago's stars and starters were primarily to blame for the lopsided loss to Brooklyn
Chicago's starting five, one of the most consistently productive and efficient groups in the NBA all season, picked a poor time to struggle all at once.
DeMar DeRozan, who set some NBA history earlier in the season with buzzer-beating, game-winners on consecutive nights, missed nine of his 16 shots and was a minus-24 while on the floor. Center Nikola Vucevic, who authored a historical performance in late December, didn't make a 3-pointer and was a minus-22.
The exceptions were Zach LaVine (22 points and six assists) and Lonzo Ball (nine points, seven rebounds, and seven assists), but they still had hideous plus/minus ratios.
Defensively, the Bulls proved to be no match for the high-powered Nets, who shot 56.3 percent from the floor, hit 17 3-pointers, and got the foul line 28 times. With seven minutes to go in the game, the Bulls had already surrendered their most points allowed on the season, and the Nets kept pouring it on.
"That third quarter was evident of how good teams come out and … put teams to sleep," LaVine said in Wednesday's postgame news conference. "We've done that to teams before. But we had it done to us tonight."
In their toughest stretch of games of the season, the Bulls must now respond
Bulls head coach Billy Donovan didn't mince words following the blowout loss and said his team must fully digest the result and use it to promote change.
"I think you own it," Donovan said in the postgame news conference. "I think our guys have worked hard up to this point to be where we are in the standings, and with that there's a greater responsibility."
Primarily, there's a greater responsibility for the Bulls to defend like a top team. Throughout the nine-game winning streak — a first since Derrick Rose was starring for his hometown team — Donovan kept emphasizing that the Bulls couldn't continue to get away with the defensive slippage that's been happening for a couple of weeks.
Chicago is now in a stretch of games that will likely define its season. Dead ahead are games against Golden State (Friday), at Boston (Saturday), at Memphis (Monday), against Cleveland (Wednesday), and at Milwaukee (Jan. 21).
The Bulls have been solid against top-tier competition thus far, going 16-9 against teams with winning records. However, this is equally important: They are just 2-5 against their four closest competitors in the Eastern Conference standings (Nets, Heat, Bucks, and 76ers).
Chicago failed its first major test of this crucial stretch against top teams. Time will soon tell whether it was just a blip or a sign of trouble ahead. Get DeRozan, LaVine, Vucevic, and Ball back to playing well offensively, and rediscover a defensive edge that has left them of late, and the Bulls can hang onto their top spot in the East. Fail to do those things, and the Bulls could be in for more embarrassment like they had to endure on Wednesday at the hands of the Nets.
Statistics are courtesy of ESPN.com.
RELATED: Is Chicago Bulls Star DeMar DeRozan a True MVP Candidate? Or Instead a Potential Most Improved Winner?