Zach LaVine Erases Any Doubts He Is a Winning Player Amid Chicago Bulls' Success
Zach LaVine already earned the "star" label in his past few seasons with the Chicago Bulls. He can finally call himself a winner, too.
The Bulls have seen red and stampeded to the top of the Eastern Conference as one of the biggest surprises in the NBA. Time will tell whether LaVine and Co. can sustain such a high level of success. For now, the 26-year-old has shown, beyond a shadow of a doubt, that he is a winning player.
Zach LaVine improved every season with the Bulls, but Chicago struggled to win
Early in his career, Zach LaVine had a reputation as a bouncy player who dazzled in Dunk Contests. However, being that he came to Chicago in the Jimmy Butler trade in June 2017, LaVine faced enormous pressure to rapidly realize his potential.
Indeed, LaVine's star rose in a hurry. He made a giant leap during the 2018-19 season, averaging 23.7 points, 4.7 rebounds, and 4.5 assists. In 2020-21, the former UCLA product made his first All-Star team, averaging 27.4 points, 5.0 rebounds, and 4.9 assists on an astounding 63.4% true shooting clip.
But while LaVine thrived, the Bulls struggled to rack up wins.
Chicago built almost zero momentum during the lamentable Jim Boylen era, winning 22 games during the 2018-19 and 2019-20 campaigns. The Bulls made strives in their first season under head coach Billy Donovan and an overhauled front office consisting of Arturas Karnisovas and Marc Eversley, winning 31 games. Still, they finished 11th in the East.
Alas, LaVine's brilliance appeared to matter very little in the grand scheme of things. Reporters like Chicago Sun-Times writer Rick Morrissey and others wondered whether the Bulls could build around their star guard, or if they missed an opportunity to trade him.
With LaVine entering a contract year, Karnisovas' front office got to work. The Bulls made sign-and-trades for Lonzo Ball and DeMar DeRozan while also signing Alex Caruso. Those moves have paid dividends.
As it turns out, LaVine only ever needed a bit of help.
LaVine continues to shine as the Bulls rack up the W's
Zach LaVine isn't doing anything differently. His numbers are very similar to last season.
LaVine is averaging 26.2 points, 4.9 rebounds, and 4.1 assists on 61.2% true shooting. He has a 30.4% usage rate, which is slightly down from the 2020-21 campaign. Yet the Bulls are having greater team success. The difference is rather simple: LaVine is finally playing with other winners.
Chicago's spacing gives DeRozan more freedom to get to his spots in the midrange and break down on-ball defenders. Nikola Vucevic's status as an elite passing big allows for greater ball movement, and his ability to step out and shoot the 3-ball opens up driving lanes. The Bulls' "Big 3" looks nearly as dangerous as the dynastic squads of the 90s.
However, it's not just the stars who help to drive winning. Lonzo Ball is on pace to make NBA history, while Alex Caruso — who is currently in health and safety protocols — provides tremendous defensive acumen. Rookie Ayo Dosunmu might be the steal of the 2021 NBA Draft. Coby White is averaging 16.2 points on 50.9% shooting in his last 10 games.
This is the most complete Bulls roster LaVine has ever been part of, and now his success is finally contributing to the greater team goal.
The "winning player" label is an unfair one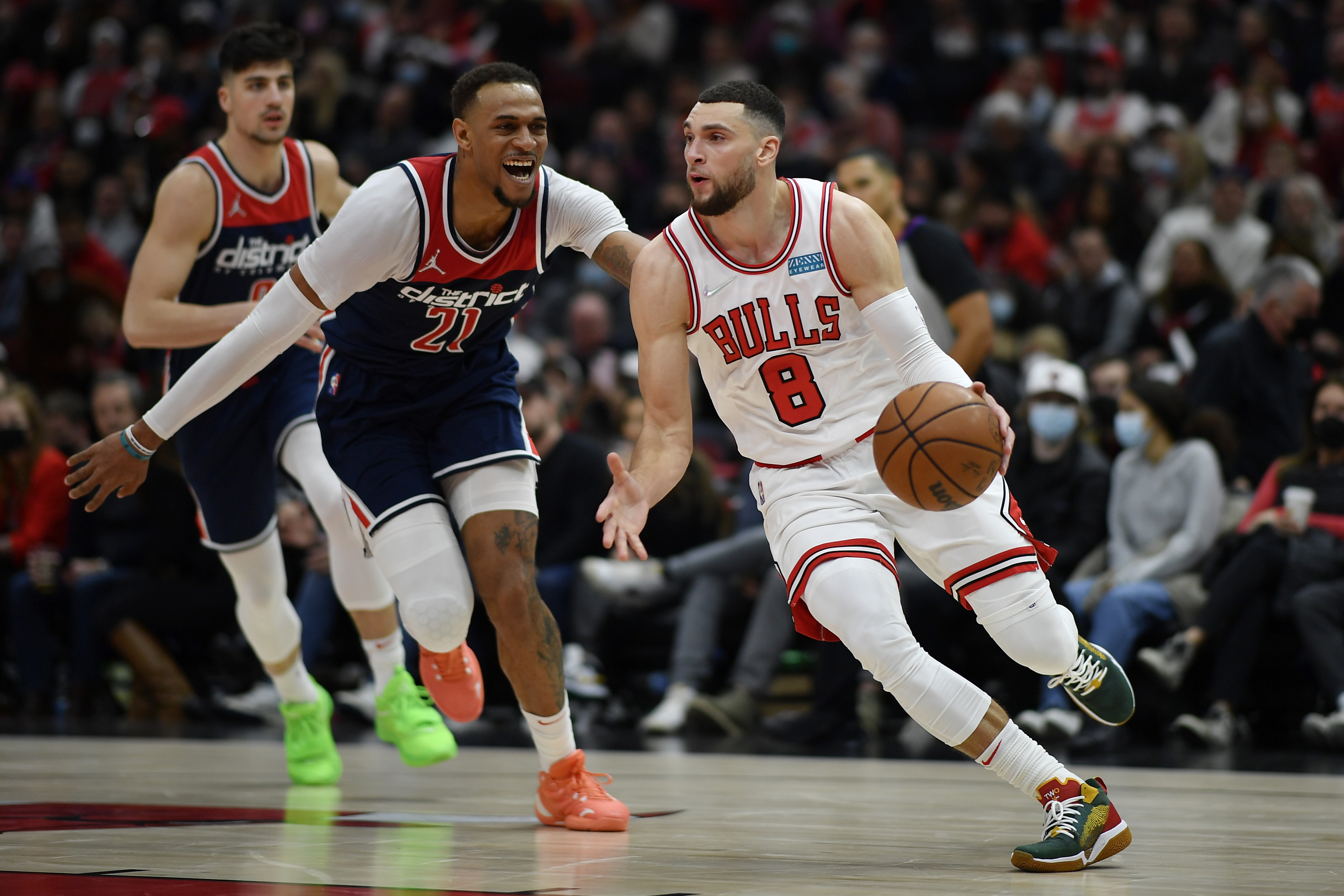 Let's draw some parallels for just a second.
Michael Jordan is one of the foremost winners in NBA history. But for the first several seasons of his career, he languished as the lone true star on below-average Bulls teams. It doesn't detract from his legacy, because MJ ultimately did reach the pinnacle of the sport time and again. Still, there was a point when he faced questions about being a winner in the same ilk as Larry Bird and Magic Johnson.
Nobody would dare compare Zach LaVine to Jordan in greatness and iconism. Still, the similarities are somewhat evident, which further illustrates why the "empty stats" narrative is rather foolish. Just as Jordan needed a sidekick in Scottie Pippen, LaVine needs DeRozan as his 1A.
Especially in the modern NBA, teams need at least two stars to win. Because of that, judging LaVine on team success before this season almost feels irrelevant.
The Bulls finally have the pieces to contend. LaVine could well go the path of MJ as he hopes to bring about a new era of championship basketball in the Windy City. Either way, the detractors can no longer claim he is an "empty stats" guy.
Stats courtesy of Basketball Reference.