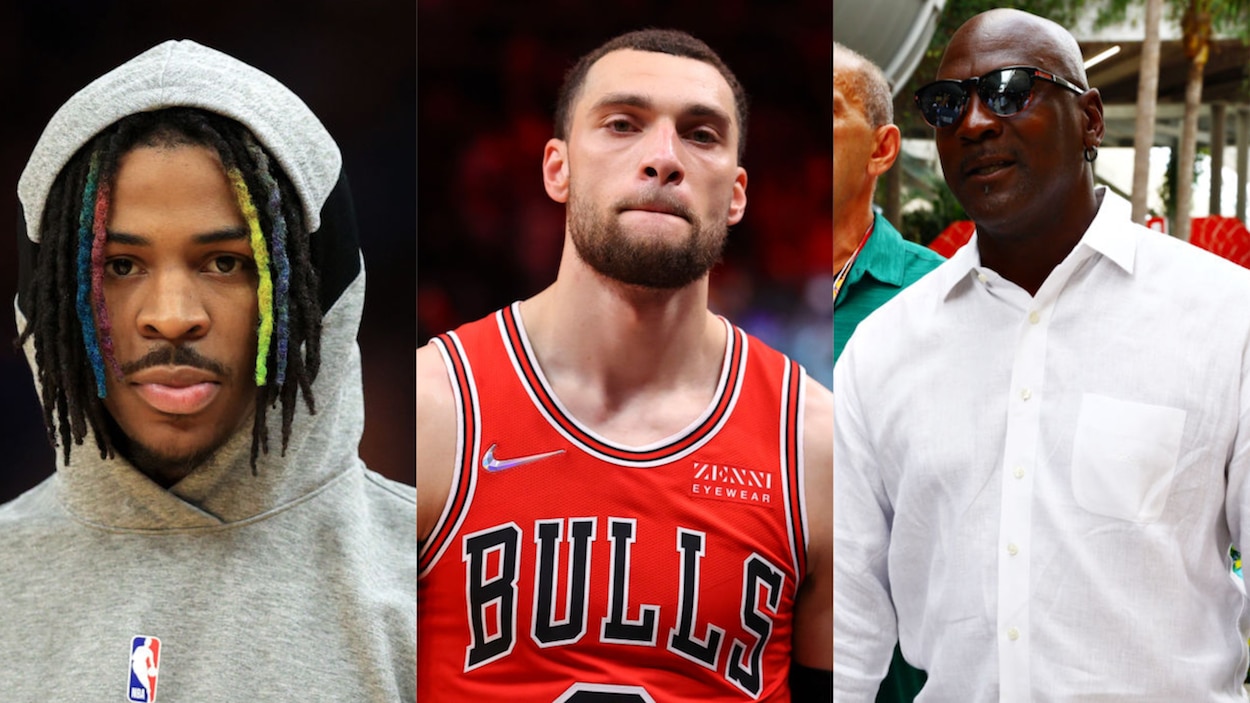 Zach LaVine Has the Perfect Take on Ja Morant's Michael Jordan Comments
If you took issue with Ja Morant claiming he could cook Michael Jordan, then Zach LaVine has some important perspective for you.
We've now reached the point of the basketball season where things get a bit desperate. The Summer League has come to a close, most players have temporarily left the spotlight, and, based on the way Kevin Durant's trade request has been trending, we probably won't see any major news break until the fall. In that context, a single interesting quote can take over social media. Take, for example, Ja Morant's claim that he could "cook" prime Michael Jordan.
While that take caused quite the stir, Zach LaVine actually produced the perfect response. Rather than getting sucked too deeply into a debate, the Chicago Bulls star noted that Morant was probably coming from a place of "love and fun."
Zach LaVine provides some much-needed perspective on Ja Morant cooking MJ
Whenever anyone makes a comment that even appears to disrespect Michael Jordan, it's going to make headlines in the basketball world. That's exactly what happened when Ja Morant said he'd be able to take His Airness. Fans and pundits alike felt the need to weigh in and (largely) explain why that wouldn't ever happen.
Zach LaVine, however, took a different approach. Whether it's because he's a player, he didn't want to deal with TMZ, or something else, the Chicago Bulls guard had a rather reasonable take on the matter.
"I wish I had Ja, I wish I had Ja's confidence," LaVine told TMZ. "I think it's just all love and fun at the end of the day, man. Just talking about stuff that you'll never know because I guess you'll never get to play him."
Although LaVine did note that he'd pick Jordan in a hypothetical one-on-one matchup and called him "the best all time," we can all learn a thing or two from his response. He didn't get sucked too far into a meaningless debate and made an astute, if concise, point.
At the risk of stating the obvious, sports are supposed to be fun. That's not especially apparent during the dog days of summer, but these things aren't supposed to be life and death. When Ja made his Michael Jordan claim, he did so with a chuckle. If you watched the video clip, it was clear that the Grizzlies guard didn't mean any disrespect.
To circle back to LaVine's comments about love, let's consider another aspect of Morant's claim. He wouldn't have spoken about wanting to play against an opponent who he didn't love and respect. There's a reason, after all, that no one really cares about debating who was the greatest bench warmer of the 1990s.
You could also argue that being confident was, in a roundabout way, a show of respect to Jordan. His Airness, based on everything we know of him, wouldn't want today's stars to blindly kiss his ring. You can back your own talent without being arrogant or otherwise disrespectful.
And, if nothing else, we can hone in on the final part of LaVine's point. This matchup isn't going to happen, so there's no need to stress out about it. It's the offseason; we can all afford to chill out and have a little fun.
Like Sportscasting on Facebook. Follow us on Twitter @sportscasting19 and subscribe to our YouTube channel.