Zach LaVine Issues His Support For DeMar DeRozan and Forecasts a $235 Million Contract With 1 Emoji
The Chicago Bulls knew they had to get aggressive in finding a true No. 2 for Zach LaVine this offseason. As it turns out, they actually found a 1A or 1B in DeMar DeRozan. With the two superstars excelling on the floor and cultivating a strong bond off the hardwood for one of the NBA's best teams, it looks all the more likely LaVine will re-sign with the Bulls when he becomes a free agent this summer.
LaVine hinted as much with a single tweet in support of DeRozan on Tuesday afternoon.
DeMar DeRozan and Zach LaVine are perhaps the best superstar tandem in the NBA this season
The prolific offensive talents of Zach LaVine and DeMar DeRozan have made the Bulls into one of the better offensive teams in the league.
Both men rank in the top six in scoring average, with DeRozan (26.9 points) at No. 5 and LaVine just behind him (26.3 points) at the No. 6 spot. They each score the ball efficiently.
DeRozan is one of the best midrange scorers in basketball and ranks first in points per possession among all players who run isolation with at least 10% frequency, per NBA.com. He's shown a knack for pulling up off the dribble or using his footwork to spin off defenders and free himself up for jumpers while also getting all the way to the rack.
LaVine, meanwhile, might be the most efficient scorer in the NBA. He is scoring 1.26 points per possession this season, per Stat Muse, the best mark for someone with his volume. The former UCLA standout is shooting nearly 50% from the field and 42% from beyond the arc.
The strong efficiency helped Chicago's star duo enter Kobe Bryant-Shaquille O'Neal territory through the first 24 games. The Bulls' tandem has led the team to eight straight wins, with Chicago surprisingly sitting atop the Eastern Conference.
LaVine and DeRozan aren't just propelling the franchise to new heights. They're establishing a connection that is vital to the future success of the Bulls.
LaVine tweeted out his annoyance after Joel Embiid won Eastern Conference Player of the Month over DeRozan
DeRozan appeared to stand a terrific chance of winning Eastern Conference Player of the Month for December.
The Bulls went 9-2 for the month. They went undefeated (8-0) with DeRozan in the lineup. The 32-year-old averaged 29.3 points, 5.6 assists, and 4.3 rebounds in those games, shooting 51.5% from the field and leaving his teammates awestruck with a one-legged, game-winning jumper on New Year's Eve. He hit another game-winning buzzer-beater on New Year's Day.
But despite the individual brilliance and team success, DeRozan apparently was not present enough to get Player of the Month honors. They instead went to Philadelphia 76ers center Joel Embiid.
Embiid also had a terrific month. In 13 games, he averaged 29.2 points, 11.2 rebounds, and 3.9 assists on 62% true shooting. He also averaged 1.5 steals and 1.3 blocks, posting a +19 net rating for December. The Sixers went 8-5 with JoJo in the rotation.
Despite Embiid's strong case and the fact he played more games, LaVine clearly felt his teammate deserved recognition. LaVine tweeted out "Wow …." with an angry-face emoji shortly after the NBA announced the honor.
DeRozan could have been just the fifth player in Bulls history to win Player of the Month. Instead, he merely received an honorable mention. Even so, LaVine's unprompted tweet is quite telling. It speaks to his fondness for his new co-star, which in turn should ultimately lead to him re-signing with the Bulls.
Continued winning and a successful partnership with DeRozan should add up to LaVine re-signing with the Bulls this summer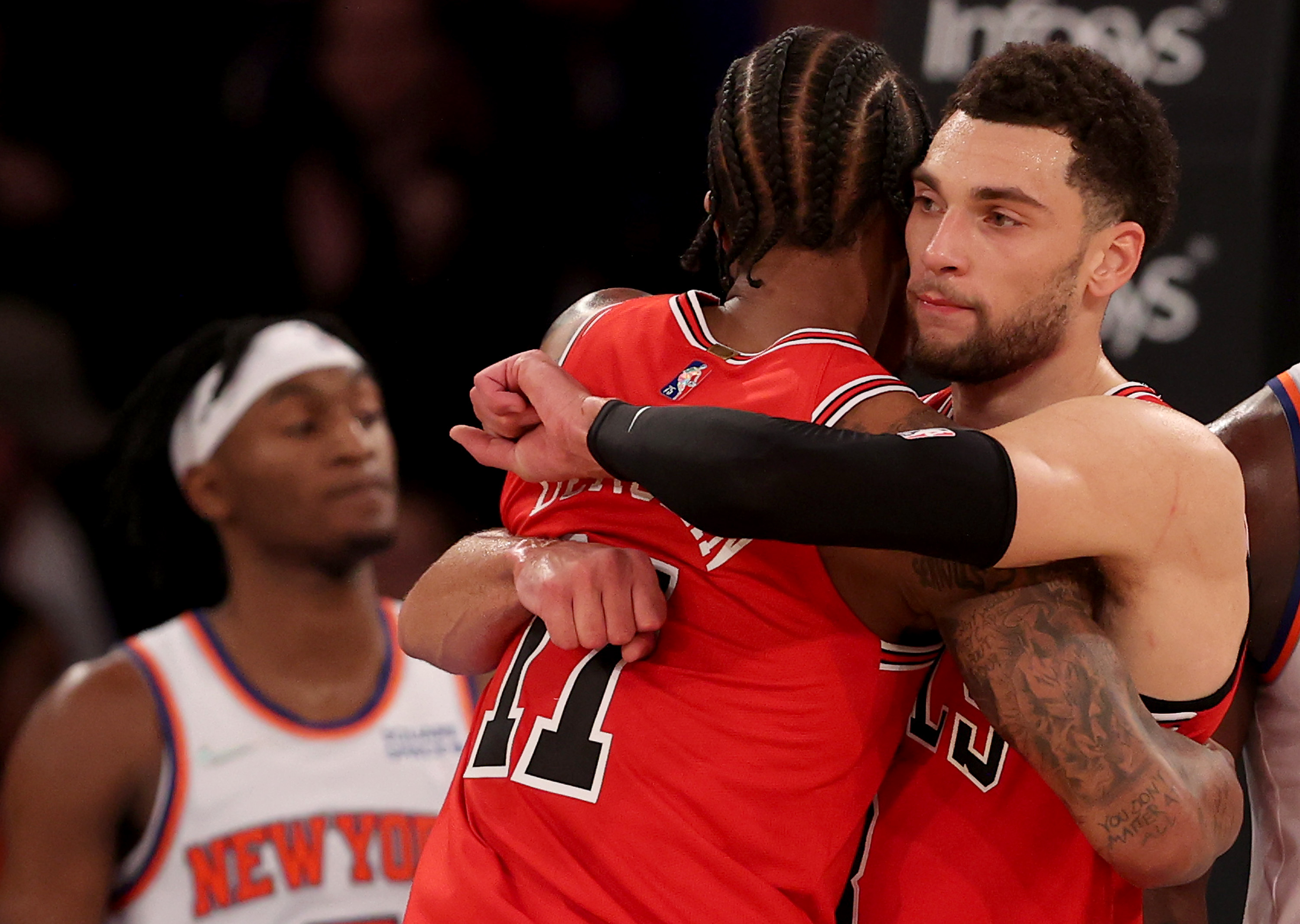 Zach LaVine made it clear since the offseason that he hoped to stay in Chicago when his current contract expired this summer. But his mindset could easily have shifted if the Bulls struggled to win through the first half of the season.
However, Chicago is winning. Indeed, the Bulls look more and more like a legitimate championship contender, and have the chance to solidify the roster ahead of the NBA trade deadline next month.
Lonzo Ball and Alex Caruso give the Bulls a communicative backcourt that excels defensively. Though consistency has been an issue for Nikola Vucevic, he's been an ideal fit as a third star alongside LaVine and DeRozan because of his passing ability. Chicago is also getting a boost from bench guys like Javonte Green and rookie Ayo Dosunmu.
Still, the Bulls ultimately rely on LaVine and DeRozan. That one-two punch has borne plenty of fruit thus far, which has to be incredibly encouraging for LaVine in particular. Their collective success shows Bulls executive Arturas Karnisovas pulled all the right strings this past summer, which means quite a bit as Chicago hopes to build a sustainable contender.
LaVine can make up to $235 million with his next contract if he makes an All-NBA team. Either way, it's looking more and more likely he stays in the Windy City, judging by his affinity for DeRozan and the duo's winning efforts thus far.
Stats courtesy of Basketball Reference unless otherwise noted.