Zach LaVine and Michael Jordan Are 2 of Only 4 NBA Players to Pull off a Unique, Improbable Feat
Zach LaVine plays for the Chicago Bulls. Michael Jordan used to play for the Chicago Bulls. So the two have at least that in common.
Earlier this season, LaVine actually passed The Goat in terms of franchise 3-pointers made. Jordan was no Reggie Miller or Stephen Curry, but hey, passing MJ in any category counts for something.
But the two also share another commonality — one that proves both players are (were) on another plane athletically.
LaVine and Jordan are two of only four players in league history to win back-to-back slam dunk contests. And each of them was part of two of the most legendary, memorable dunk contests in NBA history.
Zach LaVine has been a key part of the Chicago Bulls' resurgence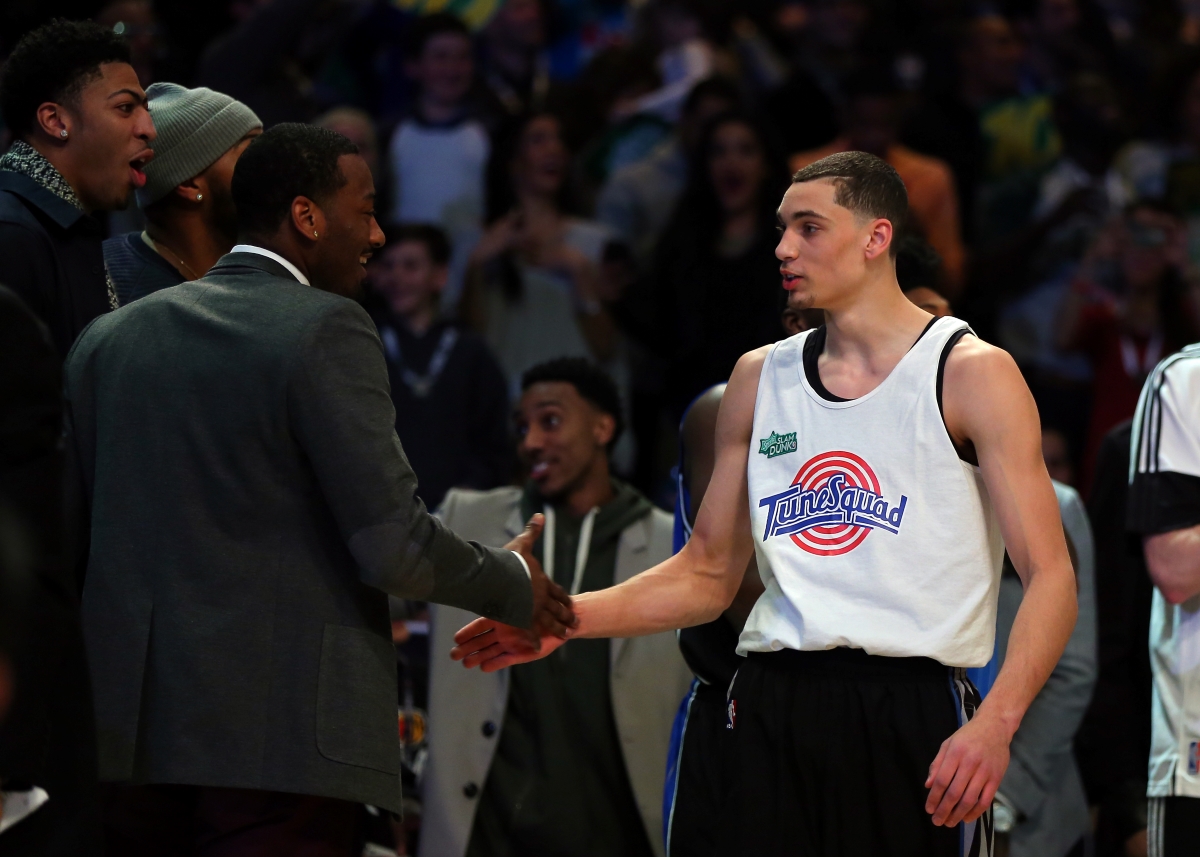 At the near midway point of the season, the Bulls are 25-10 and atop the Eastern Conference. Chicago is 1.5 games ahead of the Brooklyn Nets, who just got Kyrie Irving back (half the time), and 2.5 games up on the defending-champion Milwaukee Bucks.
The Bulls own the third-best record in the league, behind only Golden State and Phoenix.
DeMar DeRozan has been getting most of the pub nationally, especially after hitting back-to-back buzzer-beaters. The veteran guard has at least thrown his hat into the NBA's MVP conversation.
But LaVine has been just about as crucial.
Zach Attack is third on the team in minutes (35.1 behind DeRozan's 35.3 and Lonzo Ball's 35.4). He's the Bulls' second-leading scorer at 26.3 points per game, is second in shot attempts, and second in free-throw attempts.
He also leads the team in attempts from three and has splits of 49.7/42.0/85.7.
If DeRozan is Batman, LaVine isn't Robin. He's another Batman.
Before becoming a key cog on one of the best teams in the NBA, though, LaVine was known as an all-around scorer. And, just like MJ himself, he was known as a high-flyer before anything else.
LaVine and Jordan each won consecutive dunk contests early in their careers
LaVine was the 13th overall pick in the 2014 NBA Draft by Minnesota. He showed promise as a scorer but wasn't uber-efficient and wasn't a great defender or facilitator.
What he could do, though, was fly.
The 6-foot-5 guard was invited to the 2015 and 2016 dunk contests as part of the NBA's All-Star Weekend. He put on a show and won both of them.
LaVine and Aaron Gordon, then of the Orlando Magic, had one of the most incredible dunk contests in history, wowing fans and fellow NBA All-Stars alike. But Flight 8 came out on top in his age 20 and 21 seasons.
Similarly, MJ was invited to multiple dunk contests and stole the show as an up-and-coming star. Jordan took flight and won in 1987 and '88, the second of which was the most significant dunk contest in NBA history, a back-and-forth battle with Dominque Wilkins that put the contest on the map.
Jordan was just a relative baby when he won his his back-to-back titles as well. Mike's first win came at age 24 and the second at 25.
Oh, by the way — LaVine's first dunk in the 2015 contest was an off-the-bounce between-the-legs finish in a Jordan No. 23 Tune Squad jersey.
If you're going to dunk every which way, might as well pay your respects. And if you're going to do that, might as well do it in a Space Jam jersey.
Now it's up to the current Bulls' two-guard to get Chicago another championship
Air Jordan (fitting nickname in this case) went on to much bigger and much better things in his career. He became more than a dunker and more than an offensive juggernaut. He became an NBA champion.
Similarly, LaVine has moved on from a dunker and one of the league's best individual offensive players to a more well-rounded star with eyes on a second All-Star Game appearance.
He's even transforming into a better defender.
But the 26-year-old has at least one more step (technically six more) to take before he can really put himself next to MJ in Bulls lore. He has to help his team go from the top of the East to the last one standing in July.
Like Sportscasting on Facebook. Follow us on Twitter @sportscasting19.