Zach LaVine Owes His $50 Million NBA Career to a Classic Sports Movie
Before being recognized as a rising NBA star, Zach LaVine was known for his insane leaping ability. He has pulled off some ridiculous dunks during his career, sometimes defying the laws of gravity. He's added more to his game, improving his scoring, playmaking, and shooting. 
Before becoming a rising star, LaVine wasn't sure he wanted to become an NBA player. His mind completely changed after watching a classic kids movie featuring a basketball legend.
Zach LaVine was a multi-sport star as a child
Zach LaVine was born an athlete, which can be attributed his parent's athletic history. His father, Paul LaVine, was a football player in USFL and the NFL. Cheryl Johnson, his mother, was a softball player. LaVine started sports at an early age, beginning basketball at the age of five.
LaVine's father played an important role in developing his basketball career. He would work with his son in their backyard, going through rigorous training routines. One of the activities they'd do is imitate the NBA's 3-point contest. Even though he had internal motivation, LaVine realizes how his dad's help impacted his basketball growth.
"My dad was my biggest influence. He's the reason why a lot of this stuff happened for me. He put the time in, and he had a plan from the get-go when I was four, five years old. I know it sounds crazy, but he had a plan to try to make me a pro…I'd play in a Little League game, and he'd interview me in the car," LaVine said, per NBA.com.
Basketball wasn't Zach LaVine's first love growing up. He initially was trending toward baseball. His father also had experience on the diamond, having played in a professional softball league. After watching a classic kids movie, LaVine chose basketball as his sport of choice.
Space Jam inspired Zach LaVine to pursue his NBA dream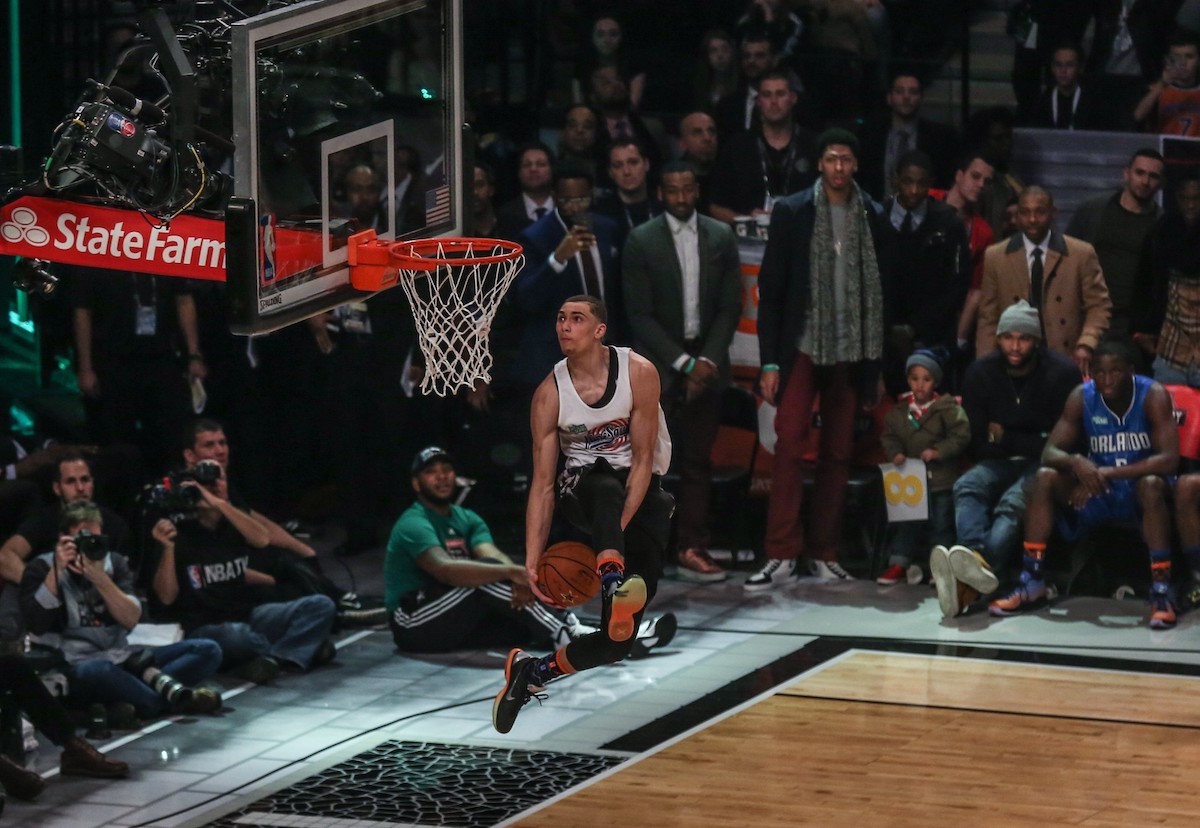 All players have that moment that makes them committed to pursuing their dreams. For Zach LaVine, it was watching Michael Jordan beat the Monstars. After watching the classic sports-comedy Space Jam, becoming a basketball star become LaVine's only obsession. 
"My sport choice changed dramatically when I saw the movie Space Jam. I became fixated with Michael Jordan. I watched hours of videotape of him desiring to be a skilled basketball player like MJ. I would go outside and try to emulate all types of his dunks. I wanted to do anything and everything I could to be like him…At that moment, I knew I had found my sport," said LaVine via his website.
His father claims his son has seen the film close to 200 times. He also looked to the late Kobe Bryant as inspiration for his basketball career. When Space Jam came out in 1996, LaVine was like most of the kids wanting to be like Mike.
"Michael Jordan was that guy – he was Michael Jordan. So whatever he did, we followed…we were all kids, and it was Looney Tunes. It mixed perfectly. I think that's the creative genius right there," said LaVine per Rolling Stones.
Watching Space Jam has proven beneficial for Zach LaVine and his career. Although he was a solid baseball player, it looks like he chose the right sport with basketball. When LaVine got his spot in the NBA limelight, he made sure to pay homage to Jordan and the classic sports movie.
Zach LaVine throws down "Space Jam Dunk" at the NBA slam dunk competition
Space Jam is a classic film that perfectly captured the NBA at the height of its popularity. It was an inspiration for Zach LaVine and many other kids. At 19 years old, Lavine used the movie as the theme for his mind-blowing dunk during the 2015 slam dunk competition.
Walking out to the iconic Space Jam theme song by the legendary Quad City DJs, LaVine wore Jordan's No. 23 Tune Squad jersey for his performance. Whatever dunk he was preparing to throw down had to be special wearing Michael Jordan's jersey.
LaVine proceeded to throw down a between the legs dunk, which was sensational. Watching the phenomenal dunk does it more justice. Appropriately called the "Space Jam Dunk," LaVine earned a perfect score of 50 en route to winning the dunk contest.
For Zach LaVine, it took watching Space Jam for him to pursue an NBA career. He wanted to be like Mike, which was almost every kid's dream during the 1990s. The two-time dunk champion is ascending toward stardom thanks to Looney Tunes, Michael Jordan, and the Monstars.