Zach LaVine Will Put His Superstar Status to the Test With DeMar DeRozan in COVID-19 Protocols
Chicago Bulls stars Zach LaVine and DeMar DeRozan wasted no time proving they are among the best duos in the NBA this season. However, LaVine must prepare to go it alone, at least for a bit.
Earlier this week, DeRozan entered into health and safety protocols. He could possibly come back before the allotted 10-day period if he returns consecutive negative tests in 24 hours, but he did not travel with the team to Cleveland and is unlikely to be in Miami for a Dec. 11 matchup with the Heat.
With the slashing swingman sidelined, LaVine has the opportunity to help Chicago sustain its momentum. The 26-year-old is having another strong season and already showed plenty of toughness in playing through a ligament tear. But, given he's in a contract year, LaVine can elevate his superstar status even higher should he and the Bulls continue to thrive even in DeRozan's absence.
Zach LaVine keeps putting up tremendous numbers for the Bulls
With the Bulls adding Nikola Vucevic before last season's trade deadline and orchestrating a sign-and-trade for DeRozan this past summer, it appeared Zach LaVine might have to go through an adjustment period. But while the former UCLA standout struggled a bit with his scoring efficiency early, he is putting up excellent numbers.
Through 25 games, LaVine ranks sixth in scoring average at 25.9 points. He has seen only a slight dip from last season in terms of efficiency, shooting 49% from the field and nearly 38% from beyond the arc. Interestingly, DeRozan's insertion into the lineup isn't costing LaVine any shots.
The Bulls combo guard is averaging the same number of field-goal attempts (19.4) as he did during the 2020-21 campaign. His 30.1% usage rate marks a decrease, but only a slight one.
Moreover, LaVine is showing signs of progression in decision-making. He is averaging nearly a full turnover less than last season and committing more of his energies to getting to the basket. That lessens his demands to be a sniper off the dribble and put up ridiculous scoring efficiency numbers as he did in 2020-21.
In many ways, DeRozan's ability to get to the rim and devastate opponents with his midrange scoring opened things up for LaVine. The two feed off each other and even made franchise history earlier this season.
But even without DeRozan on the floor, LaVine proved he's capable of carrying the load.
LaVine took over against the Denver Nuggets with DeMar DeRozan in COVID-19 protocols
Zach LaVine had difficulty finding his rhythm from beyond the arc in Monday's game between the Bulls and Denver Nuggets. He found it in a hurry.
After scoring 14 points in the first half, LaVine poured in 12 points in the third quarter. Amazingly, all 12 points came in the final four minutes of the period and included three explosive drives to the basket, with the Bulls guard finishing through contact at the rim.
LaVine added six more points in just over six minutes of run to finish with 32 for the game. He also had eight assists, finding Vucevic on dives to the rim or fades to the elbow and spotting baseline cutters like Derrick Jones Jr. for easy dunks and layups.
LaVine didn't do it on his own. Rookie and Chicago native Ayo Dosunmu gave a depleted Bulls backcourt a big lift. Vucevic struggled to score the ball efficiently but played strong on-ball defense on Nikola Jokic. Meanwhile, Lonzo Ball added 20 points and helped the Bulls clear the boards, grabbing 10 rebounds.
Still, it's evident that LaVine must carry the brunt of the scoring lost in DeRozan's absence. He can do just that and, in the process, emphatically remind fans and front offices around the NBA that he's one of the elite superstars in basketball.
Can the Bulls keep rolling?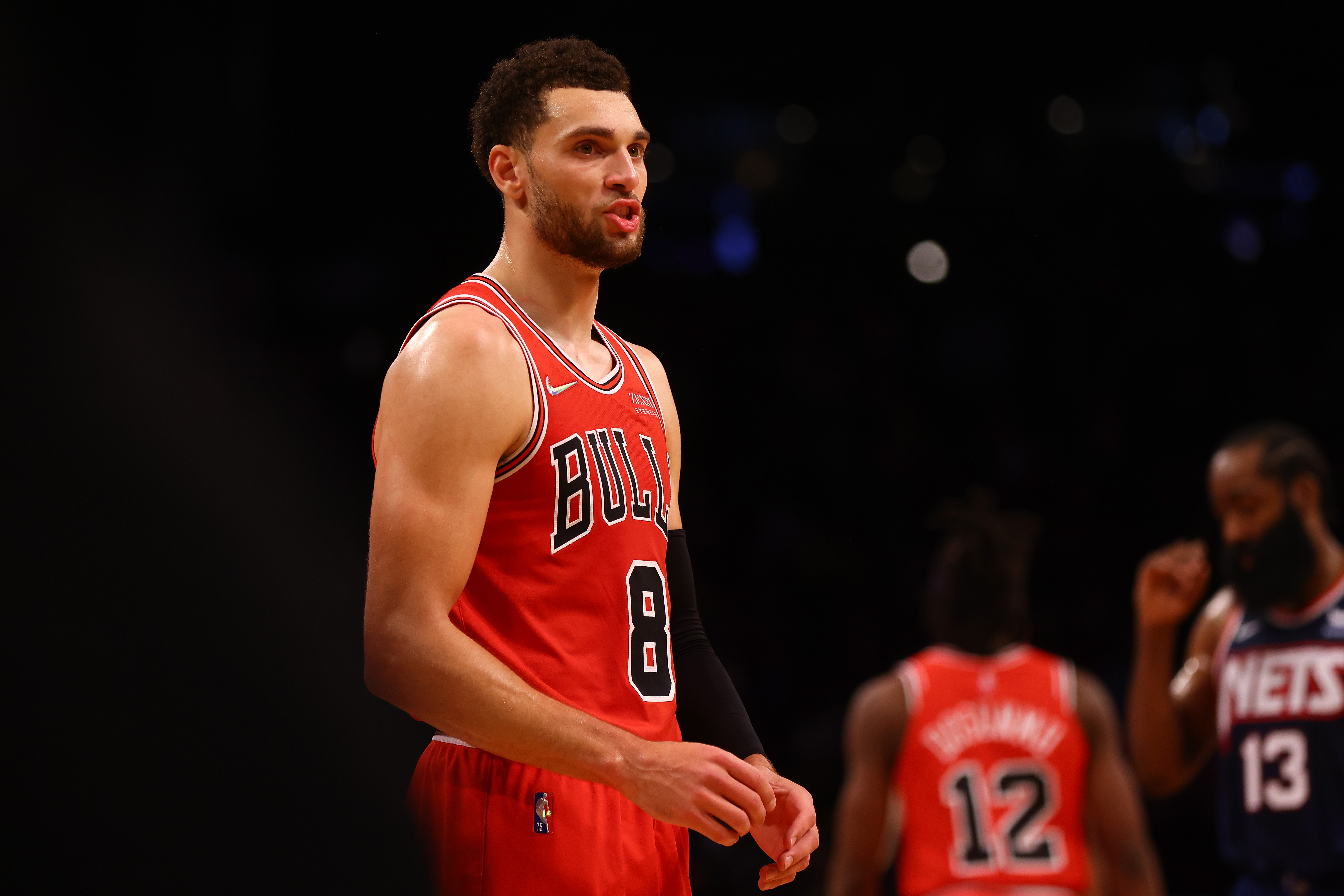 The Bulls are winners of four straight heading into a Dec. 8 showdown with the Cleveland Cavaliers. They are second in the Eastern Conference. Can Chicago stay on the winning track?
Although the Bulls are finding ways to win, they're being robbed of depth. Alex Caruso is out with a hamstring injury. Coby White and Javonte Green are inactive after testing positive for COVID-19, with DeRozan joining them in health and safety protocols. However, while Chicago needs added contributions from Dosunmu, Jones, and Troy Brown Jr., it has the luxury of rostering one of the NBA's top talents.
Zach LaVine said this past summer that he's "not worried" about his impending free agency and believes winning will take care of everything in terms of his future with the Bulls. He can gently remind Chicago's front office why he's a supermax player by anchoring the Bulls in DeRozan's absence.
Stats courtesy of Basketball Reference.