Zach LaVine Validates the Bulls' $80 Million Gamble in Lonzo Ball
The Chicago Bulls needed to do everything they could to show Zach LaVine they were committed to winning this past offseason, especially with LaVine entering a contract year. Executive Vice President of Basketball Operations Arturas Karnisovas did just that, spending aggressively to land Lonzo Ball and DeMar DeRozan as well as reserve guard Alex Caruso.
Chicago's offseason acquisitions seemed to generate mixed reactions around the league. But LaVine already appears to be thrilled with his new teammates. He's especially excited about having Ball as a true point guard, which is something he's never had during his Bulls tenure.
LaVine isn't the only one in the organization to express enthusiasm about Ball, but his endorsement alone validates the $80 million Chicago invested in Lonzo.
Lonzo Ball is Zach LaVine's first true point guard
Zach LaVine typically generated the majority of the offense for the Bulls in recent seasons.
LaVine had to be Chicago's top scorer and shot creator. He also had to be the top playmaker. The All-Star led the Bulls in assists (4.9) last season after ranking second on the team in dimes during the 2019-20 campaign. Although the numbers might serve to highlight LaVine's offensive growth, they also illustrate Chicago's past weaknesses at the point guard position.
Consider some of the point men LaVine shared the floor with in recent seasons. Coby White is a scoring guard. Tomas Satoransky has split time as a starter and reserve. Kris Dunn was more of a defensive-minded player who struggled to shoot from the perimeter.
Lonzo Ball gives the Bulls offense a different dynamic. He boasts exceptional court vision and hunts transition scores for his teammates. The small things play here, as well. Ball's outlet passes routinely lead to opportunities or alley-oops when guys run the floor. He can score and space the floor as a spot-up shooter, but he's more of a facilitator who is adept at picking out the right pass.
LaVine hasn't played with a guy like that before. He sure seems to be excited about playing with one now.
LaVine is just one of the many Bulls enthused about playing with Ball
The early returns on Ball in Chicago are quite positive.
LaVine praised Ball after Chicago's preseason win over the Cleveland Cavaliers on Tuesday, saying it is a "treat" to play with the former UCLA star.
"We've had some good chemistry in practice. To come out here and play with pace, have Lonzo get the ball off the rim and run, it's good. It fits our game pretty well," LaVine said, via KC Johnson of NBC Sports Chicago. "He gets the ball out of his hands so fast. He's such a high IQ guy. I think we're all on the right mindset of going out here and playing hard, setting the tone from the beginning. So it's been a treat to play with him."
The Bulls 2-guard was hardly alone in his glowing assessment. DeRozan said Ball's desire to get everyone involved is "contagious" and lauded his humble attitude and work ethic.
Chicago paid Ball close to $80 million to be its point guard of the future. It was a risk worth taking as the Bulls pushed for a playoff berth. All indications are that investment could pay major dividends and might go a long way in convincing LaVine to stay in the Windy City.
Ball could help set the tone for a winning season in Chicago and prompt LaVine to re-sign with the Bulls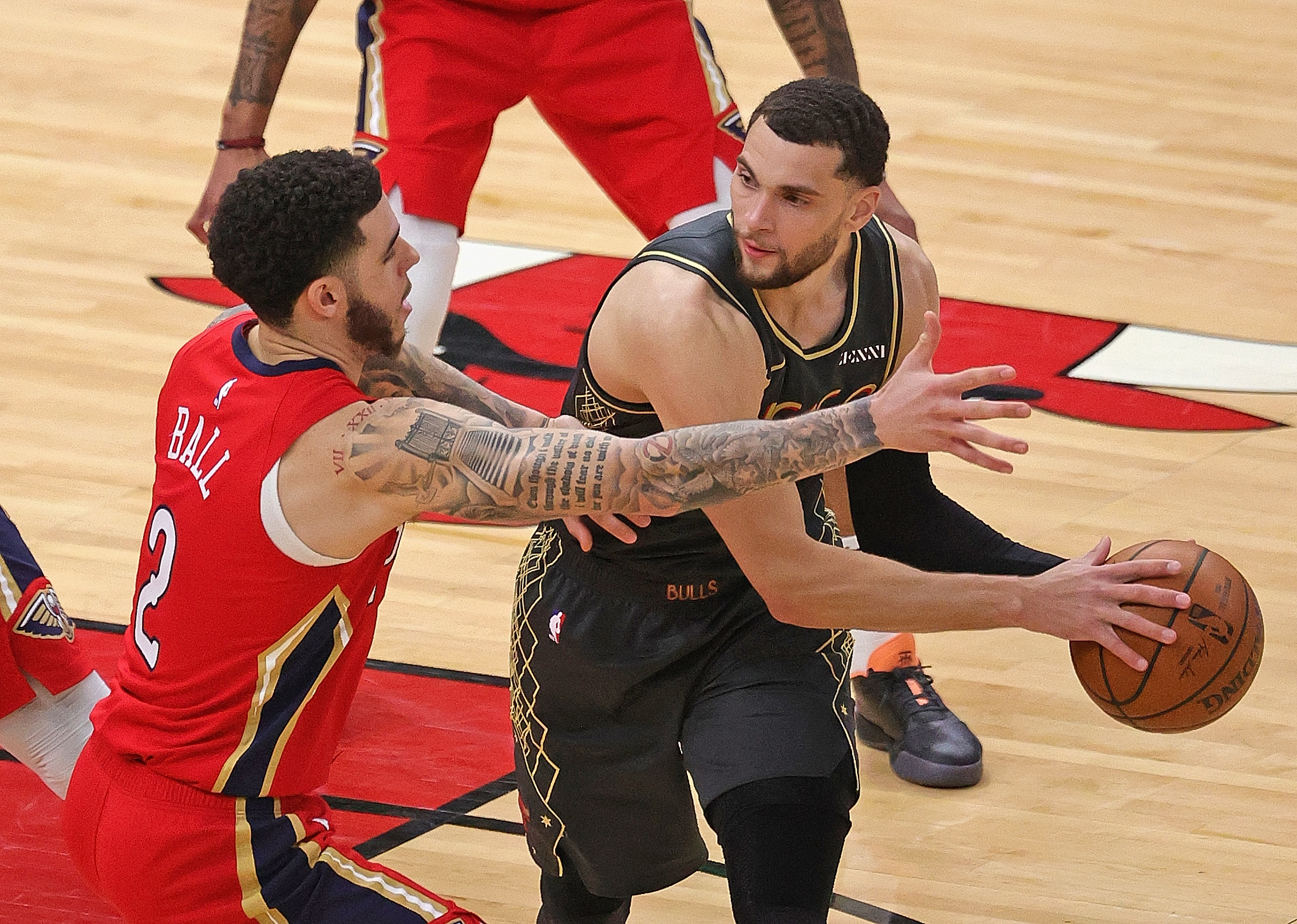 Lonzo Ball might hold the keys to Chicago's offense this season.
Ball has the potential to take some of the ball-handling and playmaking burdens off both LaVine and DeRozan. His efficiency as a catch-and-shoot guy could go a long way in making DeRozan and LaVine that much more effective as slashers, as well.
Lonzo's ability to make the offense go — not to mention his upside as a perimeter defender — should have a significant impact on winning for the Bulls this season. That, in turn, could be a critical determinant in LaVine's upcoming free agency.
The 26-year-old has hinted at a desire to build sustainable success in Chicago and be the franchise player the Bulls have long thirsted after. There won't be a ton of incentive to re-sign if the team cannot take a step forward. Still, it's encouraging knowing Ball, DeRozan, and Nikola Vucevic are all under contract for multiple seasons, particularly if the newcomers thrive.
The Bulls took steps to maximize the team's potential by aggressively pursuing Ball, who could maximize LaVine's offensive skill set while convincing Chicago's centerpiece that he's the kind of player who can help LaVine and the Bulls win a championship.
Stats courtesy of Basketball Reference.
RELATED: DeMar DeRozan Silences Doubters Saying He Can't Play Alongside Zach LaVine on the Chicago Bulls: 'It's Not Rocket Science'