Zach LaVine Wants His 'Respect' and it Might Influence the Chicago Bulls in NBA Free Agency
Monday marks the start of NBA free agency, and the Chicago Bulls might be somewhat restricted because of ongoing contract talks with star guard Zach LaVine.
The 26-year-old will be a free agent at the end of the 2021-22 season and is in a position to get a big payday. LaVine is fresh off a season during which he averaged 27.4 points, 5.0 rebounds, and 4.9 assists while shooting over 50% from the field and 41.9% from beyond the arc. He is building a reputation as one of the best scoring guards in the NBA.
Chicago appeared to indicate its intentions to build around LaVine upon trading for All-Star big man Nikola Vucevic before the trade deadline last March. However, it is unknown whether LaVine and the Bulls can get a deal done before he enters a walk year.
Regardless, the Bulls might intend to preserve future cap space for a possible LaVine extension while still trying to find players who can help them win both now and down the road. Chicago's star 2-guard plays a big role in the team's actions ahead of NBA free agency.
Zach LaVine wants to be paid like one of the best players in the NBA
LaVine is currently hoping to lead Team USA men's basketball to a gold medal at the 2020 Tokyo Olympics, but he's got one eye on his NBA future.
The Bulls All-Star spoke about the status of his contract talks with the team and his desire to stay in Chicago after Team USA practice on Monday. LaVine noted he outplayed the four-year, $78 million extension he signed ahead of the 2018-19 season and wants to be paid accordingly. He did, however, express a sense of patience and said he is in communication with the front office.
"I just want my respect. I think that's the main thing," LaVine said, via Rob Schaefer of NBC Sports Chicago. "Like you said, I outplayed my contract; I've been very loyal to Chicago. I like Chicago. I just want my respect. If it's now, later, it's something that we gotta work out internally and we'll go from there. We'll have some conversations going forward. I think free agency's going to play a big part in that with other players and constructing the roster."
LaVine might actually benefit more from declining an extension and becoming an unrestricted free agent. Brian Windhorst of ESPN noted the max LaVine can make in an extension with the Bulls is $105 million over four years, unless Chicago uses current cap space to increase his salary and then devises an extension off that figure.
The former UCLA product will undoubtedly be curious to see how the Bulls approach free agency and build out the roster. Chicago has an opportunity to create cap space, but some of that cap could go toward a LaVine extension.
LaVine's situation might impact the Bulls' approach in free agency
All indications are the Bulls will still be active in free agency.
Recent reports suggest Chicago hopes to sign Lonzo Ball, though there is also a possibility the Bulls could sign both Ball and franchise icon Derrick Rose. The front office will likely need to clear space before inking especially Ball, with Tomas Satoransky and Thaddeus Young seemingly the candidates to be moved.
The impact LaVine has on the Bulls' free-agency approach is two-sided. Firstly, he is likely looking to see whether Chicago is active in making roster upgrades as the team tries to get back to the playoffs. Secondly, though, the Bulls (while hoping to sign impact players) could try to clear as much excess cap as possible and keep future cap space mostly intact so as to ensure they can offer LaVine a big contract.
The Bulls will be sure to appease LaVine in some capacity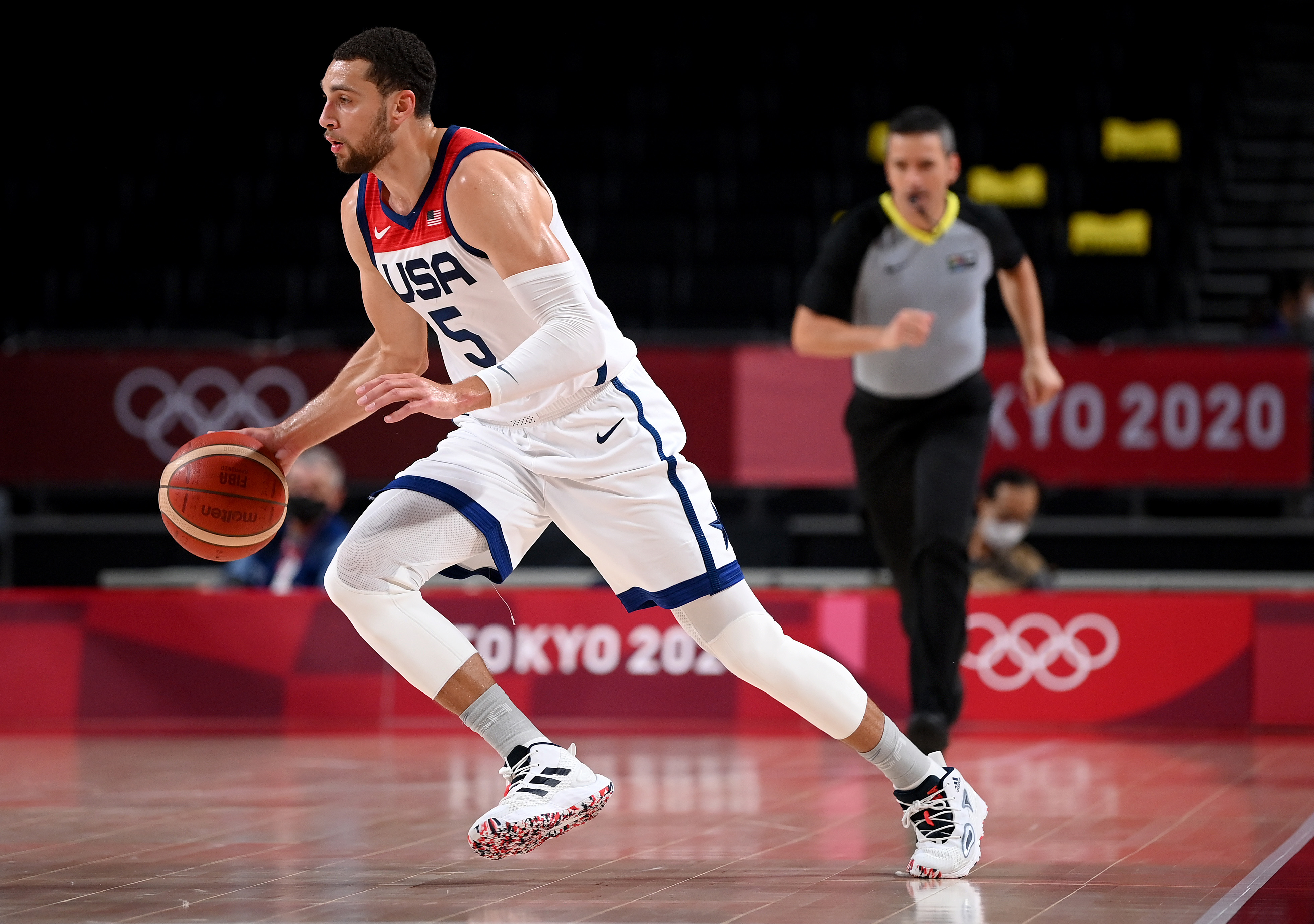 Zach LaVine is a franchise player. Bulls president of basketball operations Arturas Karnisovas seems to understand that. Transparency and communication will be key in determining LaVine's future with the franchise.
The money is important to LaVine and is a reflection of feeling respected. However, winning would also elevate LaVine's national profile that much higher, so it's important for Chicago's front office to be aggressive in putting winning players around both LaVine and Vucevic.
Karnisovas and general manager Marc Eversley will do well to show LaVine they are intent on building something for the future while also keeping his contract closely in mind. The Bulls could do a lot of moving and shaking at the start of NBA free agency, and LaVine might be at the center of it all.
Stats courtesy of Basketball Reference.