Zach Wilson's Chances of a Strong Finish to His Shaky Rookie Season Just Took a Devastating Hit
The No. 2 overall pick in the 2021 NFL Draft, Zach Wilson isn't having the type of rookie season most New York Jets fans were hoping for. He's thrown a whopping 11 interceptions compared to just six touchdowns, and his completion rate sits at a measly 58% heading into Week 14.
For what it's worth, Wilson wasn't exactly set up for success this year. The Jets still have one of the worst offensive lines in football, and their recent hiring of head coach Robert Saleh is quickly proving to be a mistake. Add in a midseason knee injury, and Wilson has undoubtedly not had it easy the past few months.
Zach Wilson was hoping to finish his rookie season with momentum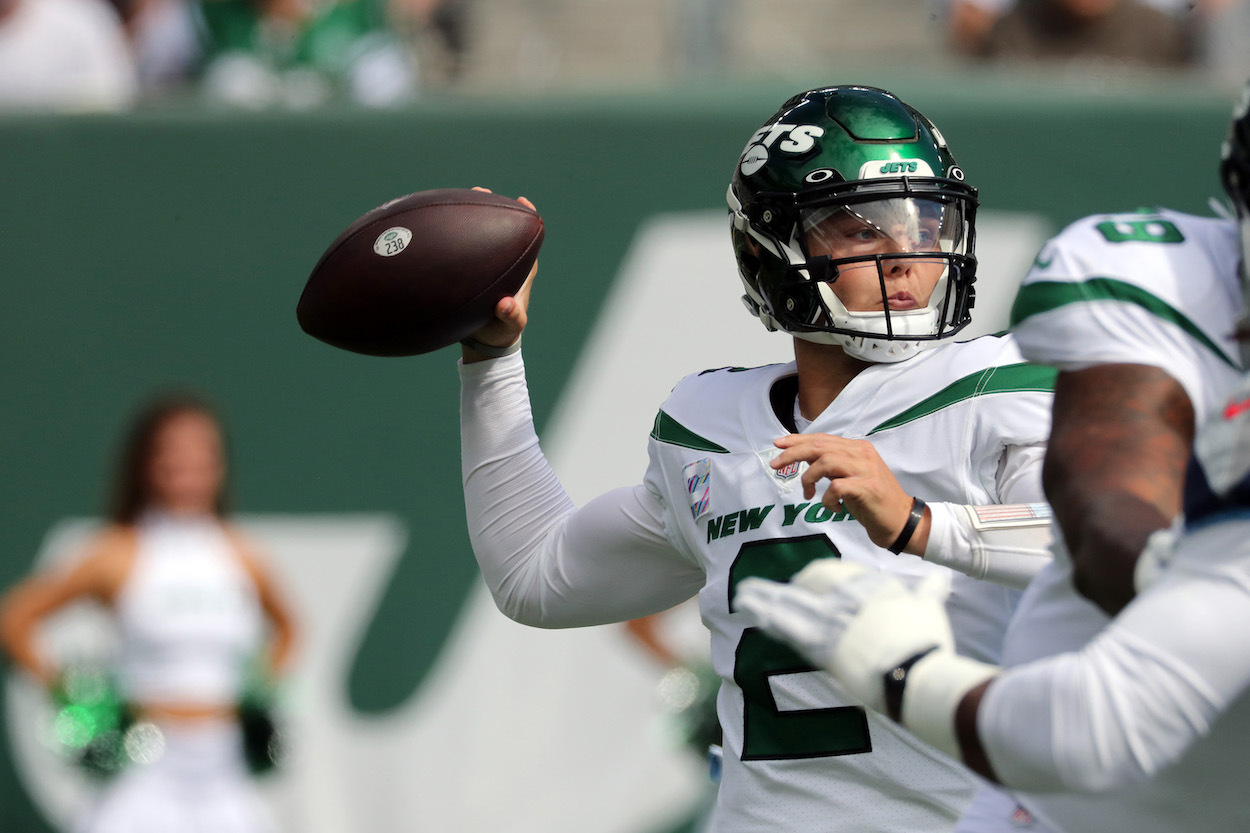 With the Jets' 2021 season dead and dusted (they're 3-9), attention has entirely shifted toward developing and getting ready for next year. This is good news for Wilson. The pressure has been completely removed. Instead, the rookie QB can focus solely on getting better and improving his ability to make reads and dissect NFL defenses.
After missing Weeks 8-11 due to his before-mentioned knee injury, Wilson returned to the Jets lineup with the hope of having a much better second-half, something that could be used as a launching point into a strong sophomore year.
Wilson won his first game back against the Houston Texans and had one of his better passing games the following week against the Philadelphia Eagles. Despite the loss, Wilson passed for 226 yards and two touchdowns against a Darius Slay-led Philly defense.
The Jets still have a long ways to go before they can be considered a serious threat in the AFC. However, Wilson showed signs of slight improvement, and that's all that mattered.
Zach Wilson just loss his top WR
In typical Jets fashion, the team lost its No. 1 wide receiver to injury right as things were starting to look up. A second-round pick this past spring, rookie Elijah Moore had established himself as a legitimate WR1 for New York over the past few weeks. He's racked up 43 catches for 538 yards and five touchdowns this season, and that's while catching passes from some not-so-great passers (Mike White, Joe Flacco).
According to reporters Adam Schefter and Connor Hughes, the Jets are placing Moore on injured reserve with a quad injury. Moore is eligible to return after three weeks. However, with the season so close to ending, there's a half-decent chance the Jets shut down their promising rookie altogether and begin preparing him for 2022.
The Jets' offense is depleted
For Wilson, this is a concerning development. Right as he started to pick up momentum, he lost his top wide receiver.
The Jets' offense, in general, is extremely depleted at the moment. They're missing multiple starters at vital positions, setting their rookie quarterback up for another couple of painful weeks to round out the regular season.
Ultimately speaking, Wilson was drafted for moments like these, to carry an offense when the odds are stacked against him. However, this feels like a lose-lose situation for the former BYU quarterback. He simply doesn't have enough weapons around him to make things work.
All stats courtesy of Pro Football Reference.