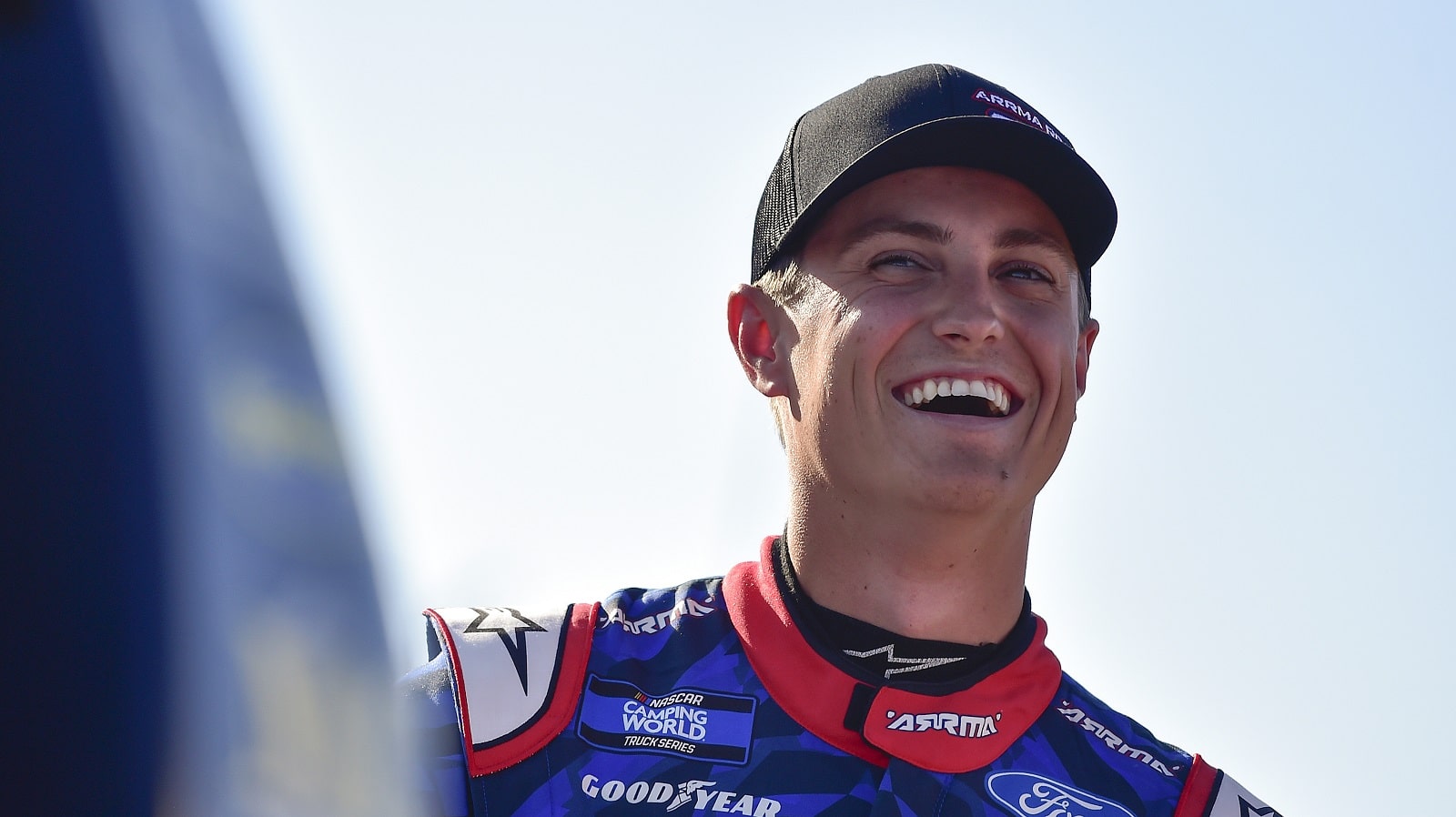 Zane Smith's Path to the NASCAR Cup Series Suddenly Comes Into Focus
Zane Smith seemingly has a logical two-step journey ahead to a spot in the NASCAR Cup Series.
At the rate he's going, Zane Smith will work his way up to the NASCAR Cup Series in the not-too-distant future based solely upon his performance in the truck series.
However, the timeline that previously had him landing there by 2026 has likely been sped up by developments completely out of his hands, the latest of which is the news about Tyler Reddick.
Zane Smith appears destined for a successful NASCAR career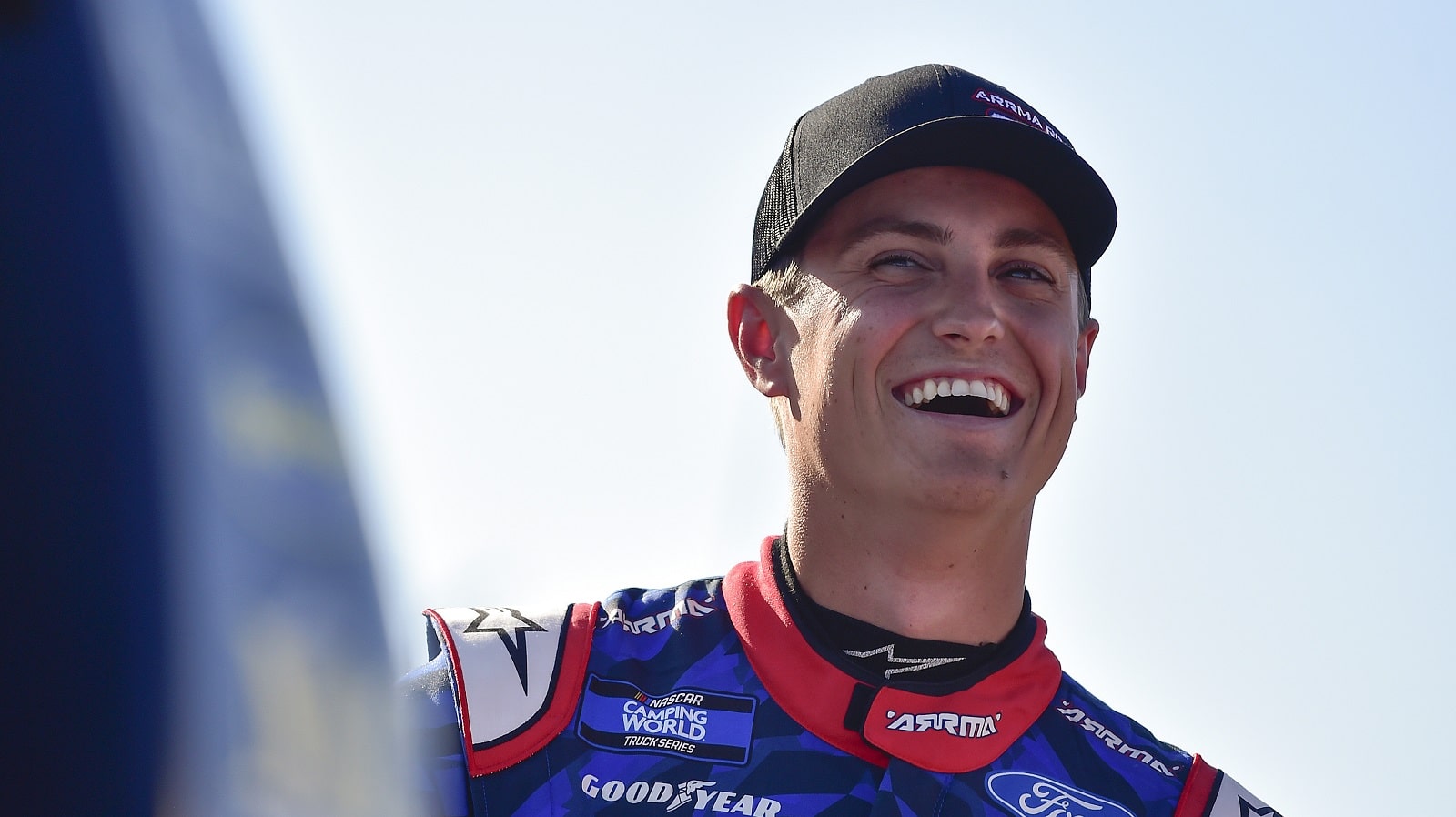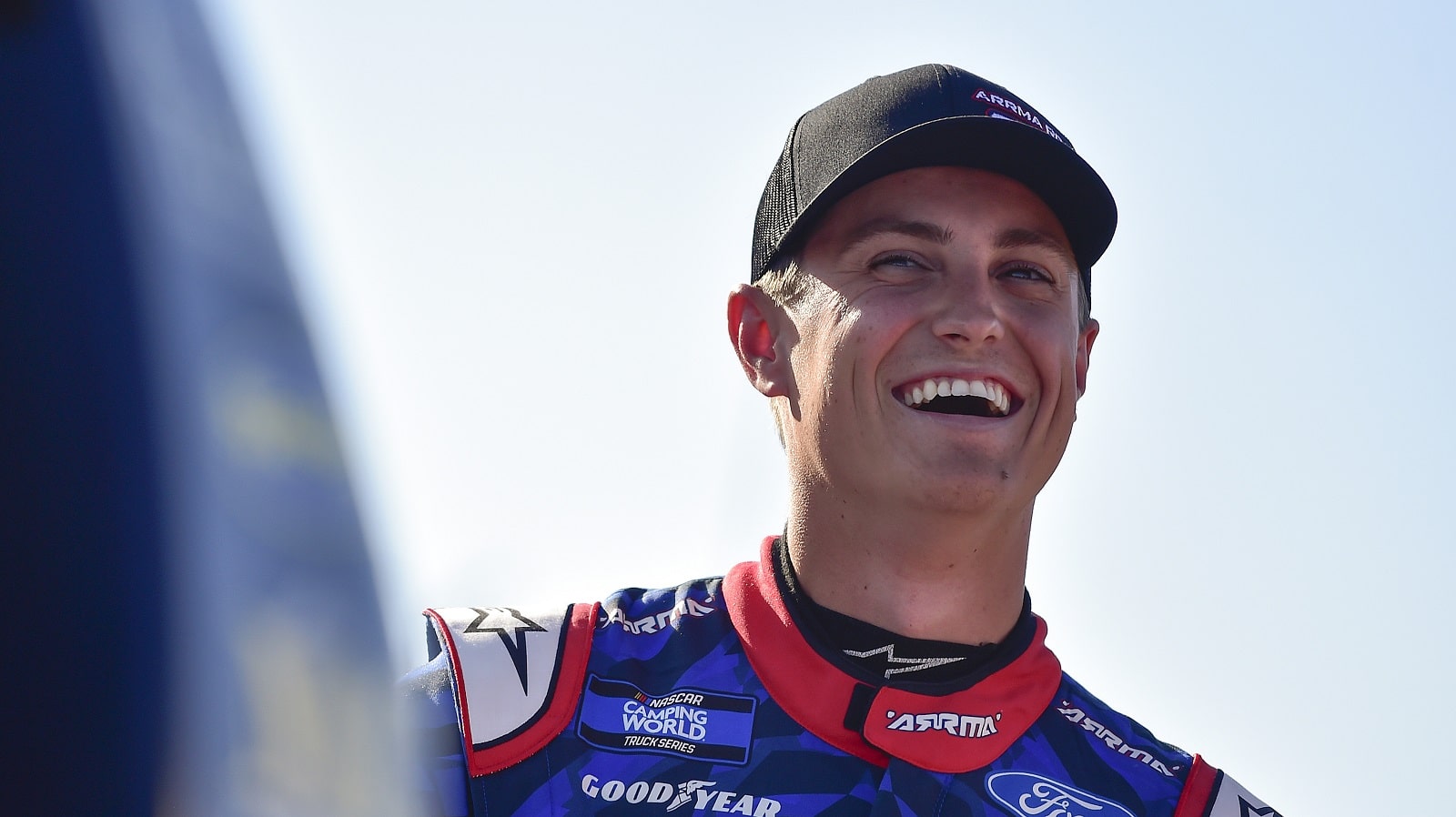 Zane Smith was already a rising star in NASCAR, and nothing we've seen in 2022 dissuades us from the notion. Smith is the runaway leader in points in the NASCAR Camping World Truck Series with one regular-season race to go, which is on top of back-to-back runner-up finishes in the series.
At 23 years old, the driver of the No. 38 Ford for Front Row Motorsports has already made 61 truck starts, winning six times. Additionally, he raced half a season in the Xfinity Series in 2019, posting seven top-10 results in 10 appearances.
And, of course, there was the emergency appearance this season for RFK Racing when Chris Buescher tested positive for COVID-19. Smith drove the No. 17 Ford to a respectable 17th place in his Cup Series debut at World Wide Technology Raceway.
The Huntington Beach, California, native already owns the resume of someone worthy of the next level, but Front Row doesn't have an Xfinity program. The classy way he battled eventual winner Parker Kligerman down the stretch last time out at Mid-Ohio serves to confirm he possesses the necessary maturity to be both successful and a good representative of a team.
That door to the next phase of his career, as well as the one after it, may have already opened, regardless of how the remainder of the truck series plays out.
Landon Cassill's misfortune may present an opportunity
Finance and finish lines intersected last week when Voyager Digital filed for Chapter 11 bankruptcy following a plunge in liquidity for the cryptocurrency lender. Voyager officials revealed they had issued a notice of default for failing to make payments on a loan totaling over $650 million, Reuters reported.
The development is potentially a bad one for NASCAR veteran Landon Cassill, who is in his first season with Kaulig Racing. Voyager has sponsored nine of the No. 10 Chevy's 17 Xfinity Series starts, and crypto-related ventures Carnomaly and StormX, each with a connection to Voyager, have also been race sponsors.
While Cassill, teetering on the playoff cutline, and Kaulig Racing presumably are covered for this season, the driver obviously appears at risk for losing crucial backing in 2023. Given the expense of running two cars in the Cup Series plus one of the most successful Xfinity operations, Kaulig understandably would have to consider its options if Cassill can't lock down a sponsorship package for next season.
Given that the rest of its Xfinity team consists of defending champion Daniel Hemric and current points leader AJ Allmendinger, Kaulig is a coveted landing spot. The opportunity would fit Zane Smith just fine. In fact, Kaulig called upon him last season at Dover when Justin Haley tested positive for COVID-19.
Though he's in a Ford now, Smith has driven mostly Chevys in NASCAR, so the manufacturer would almost certainly look favorably upon a Kaulig-Smith marriage.
Zane Smith's path to the NASCAR Cup Series just became clearer
Tuesday's Tyler Reddick news will reverberate across the NASCAR Cup Series for weeks and perhaps months. His decision to jump to 23XI Racing in 2024 opens up the No. 8 Chevy at Richard Childress Racing.
Speculation on the seat will result in a lot of names being thrown into the conversation. Zane Smith would fit nicely, particularly if he were coming off a strong Xfinity Series season. And the bond would be even stronger if that Xfinity season was as part of Kaulig Racing, which has enjoyed a productive technical alliance with Richard Childress Racing almost since the day Matt Kaulig started his team.
Obviously, there are so many moving parts that this is all just spitballing. And given that Reddick has plotted his path far into the future, who's to say that Smith hasn't already made different plans for 2023 and beyond.
Still, it's a viable scenario that could benefit all the involved parties.
All stats courtesy of Racing Reference.
Like Sportscasting on Facebook. Follow us on Twitter @sportscasting19 and subscribe to our YouTube channel.
Got a question or observation about racing? Sportscasting's John Moriello does a mailbag column each Friday. Write to him at [email protected].