Zion Williamson Is a $10.2 Million Star but Can't Quite Describe His First Encounter With Michael Jordan: 'It Was Like Meeting Black Jesus'
Zion Williamson is one of the brightest young stars in the NBA, and he has already proved on the New Orleans Pelicans that he can compete with the best of the best.
While many fans probably get starstruck meeting him, Williamson himself got starstruck when meeting an NBA legend. That legend, of course, was Michael Jordan.
Zion Williamson is a $10.2 million NBA superstar with the Pelicans
RELATED: Zion Williamson Finally Has a Teammate Who Is as Strong as Him
Even before playing one second of college ball at Duke, Zion Williamson was already a household name. He then lived up to the hype in his lone college season.
In 2018-19, Williamson averaged 22.6 points, 8.9 rebounds, 1.8 blocks, and 2.1 steals for the Duke Blue Devils. He earned AP Player of the Year honors and was the ACC Tournament MVP. He then ultimately led Duke and a loaded roster that included RJ Barrett to the Elite Eight in the 2019 NCAA Tournament.
His play in college made Williamson the most hyped NBA prospect in years, and the New Orleans Pelicans selected him with the No. 1 overall pick in the 2019 draft.
However, injuries and the COVID-19 pandemic limited Williamson to only 24 games in his rookie season. The young star still put on a show, averaging 22.5 points and 6.3 rebounds.
Williamson has since taken that next step in his second season, even earning his first career All-Star selection. He is averaging 26.9 points, 7.2 rebounds, and 3.7 assists through 53 games and has improved his shooting from 58.3% to 61.7%.
The 6-foot-7 forward may be young, but he has already become an absolute star — and a wealthy one at that. Williamson is earning an estimated $10.2 million in 2020-21 after making around $9.14 million in 2019-20, according to Spotrac.
His first encounter with Michael Jordan was indescribable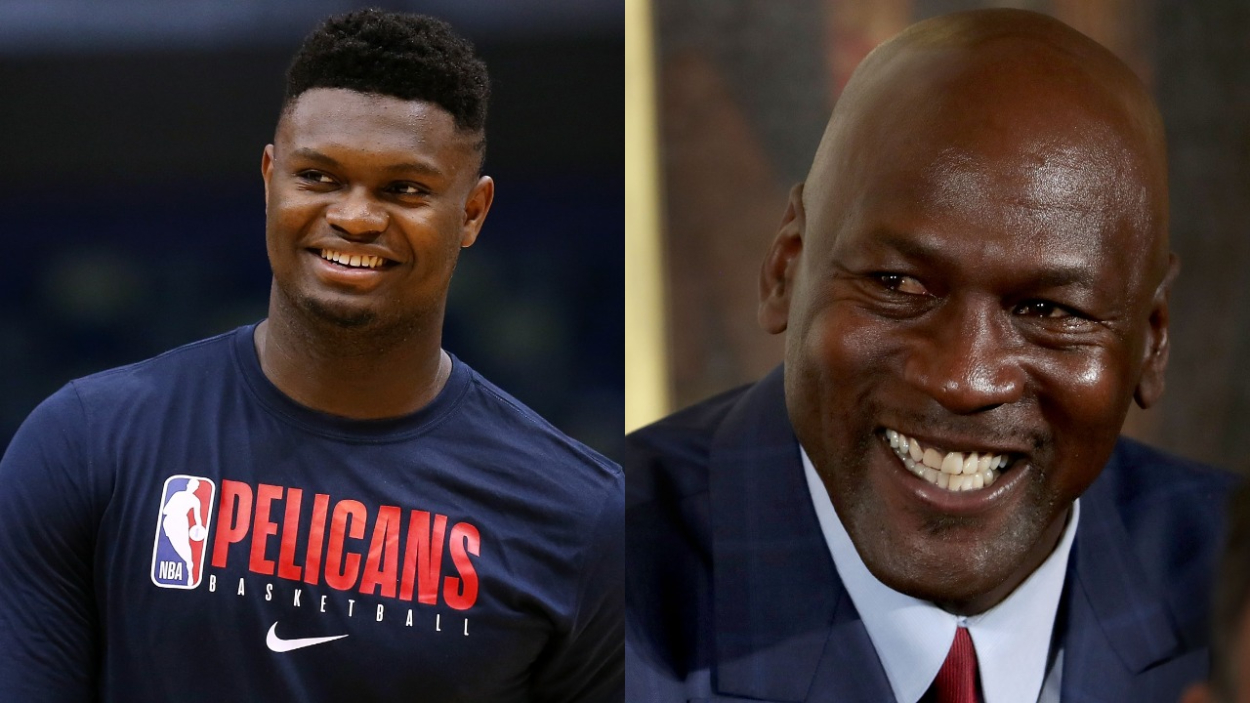 RELATED: Karl Malone's Hypocritical Zion Williamson Rant Isn't the Only One He Went On As He Blasted the New York Knicks and Even the Utah Jazz
Zion Williamson may be an absolute superstar, but he doesn't compare to the NBA GOAT.
He recently appeared on Shannon Sharpe's Club Shay Shay to promote his new signature shoe, and Sharpe asked the Pelicans star about his first-ever encounter with NBA legend Michael Jordan.
"When I met him for the very first time, it was at All-Star Weekend my rookie year, and it was at his Jordan Brand party," Williamson said on the April 20 episode. "It's like you said; you can't describe that. You can't describe that feeling you get. It's one of those, 'That's him.' He don't even play no more, and you're like, 'That's him. That's the guy.' It's like you said; it was like meeting Black Jesus or something. I'm like 'that's him right there.'"
It may sound like Williamson is exaggerating a bit, but he's not the only one who has said meeting Jordan is like an out-of-world experience. Sharpe said that it looks like Jordan just levitates, while Jamal Crawford has previously said that "it looks like there's white smoke around him."
It sounds like being around Jordan is an indescribable experience. Williamson, though, better get used to seeing MJ as he is now one of Jordan Brand's biggest stars.
Zion Williamson launched his signature shoe with Jordan Brand
RELATED: A Physicist Once Revealed Exactly What It Would Feel Like to Take a Charge From Zion Williamson
After going to the Pelicans with the first overall pick in 2019, Zion Williamson announced he was signing with Jordan Brand, joining superstars like Russell Westbrook and Chris Paul.
Now, the high-flying dunker has his own signature shoe.
On April 20, Williamson revealed his first signature shoe, the Jordan Zion 1. According to NBA.com, the sneakers become available for purchase on April 23.
ESPN's Eric Woodyard reported that Williamson's shoe has a "'Z' design on the lateral side," which is used to "harness power in the heel and enable speed in the forefoot."
You aren't really an NBA superstar until you have a signature shoe, right? If that's the case, Williamson has officially reached that next level of stardom.
Stats courtesy of Sports Reference and Basketball Reference