Zion Williamson Declares His Love for New Orleans and Absolutely No One Buys It
The big revelation coming out of media day for the New Orleans Pelicans was that young star Zion Williamson broke his foot, and no one found out. But Williamson also made a bold declaration about his future with the Pelicans that almost no one believed. A recent report claimed there are problems between Williamson and the president of basketball operations, David Griffin. Zion tried to play that off, but social media was having none of it.
2021–22 is a significant season for Williamson. He's entering the third season of his rookie contract, meaning he becomes extension eligible next summer. Without an All-NBA bid on his resume, he's eligible for a maximum of 25% of the salary cap. That translates to five years and $181 million. The terms are contingent upon New Orleans exercising its fourth-year option for Zion, which is right up there with death and taxes in terms of certainty. What is unsure is whether Williamson wants to remain in New Orleans, despite what he said on the subject.
Zion Williamson flashed tremendous potential last season
Zion Williams was a beast for the New Orleans Pelicans on the offensive end last season, fully healthy and unencumbered by a minute restriction. In 61 games, he averaged 27.0 points, 7.2 rebounds, and 3.7 assists in 33.2 minutes per game. He also shot 61.1% from the floor, doing much of his work inside.
Only 4.7% of his shots were outside of 10 feet last season. Bullying one's way to the rim becomes less daunting when one is 6-foot-7 and 284 (ish) pounds.
Williamson was a first-time All-Star last season, but the Pelicans were a bottom-10 team defensively under former coach Stan Van Gundy. That was even worse than Zion's rookie season when they were 19th in the NBA with Alvin Gentry at the helm. Now former Phoenix Suns assistant coach Willie Green has the big whiteboard.
That's three coaches in three seasons for Williamson, which is less than ideal if the idea is selling your potential franchise player on a long-term commitment to a franchise which both Chris Paul and Anthony Davis eventually asked to depart.
Williamson debunks talk of a rift between himself and Griffin
Reports surfaced during the NBA Playoffs that Zion Williamson was frustrated with the direction of the New Orleans Pelicans. Per The Athletic, members of his family want him out of NOLA because of the turmoil.
However, Williamson sang a different tune at media day, per NOLA.com:
"Per me, I love it here. I love the city of New Orleans. I don't want to be anywhere else.
"It's all love with me and Griff. It ain't much to dive into. It's just love between us. We're both competitors. We both want to win. Do we disagree on some things? Yeah. Who agrees on everything? We don't. I think that's what makes our relationship great. We both bring the best out of each other, and we're just going to keep building off that."
However, George Hathaway of FanSided's Pelican Debrief site made a startling parallel between Williamson's statements and those of Davis three years earlier. Social media observers were skeptical, at best. However, at least one of Zion's teammates smells a potential rat.
New point guard Tomáš Satoranský questions the media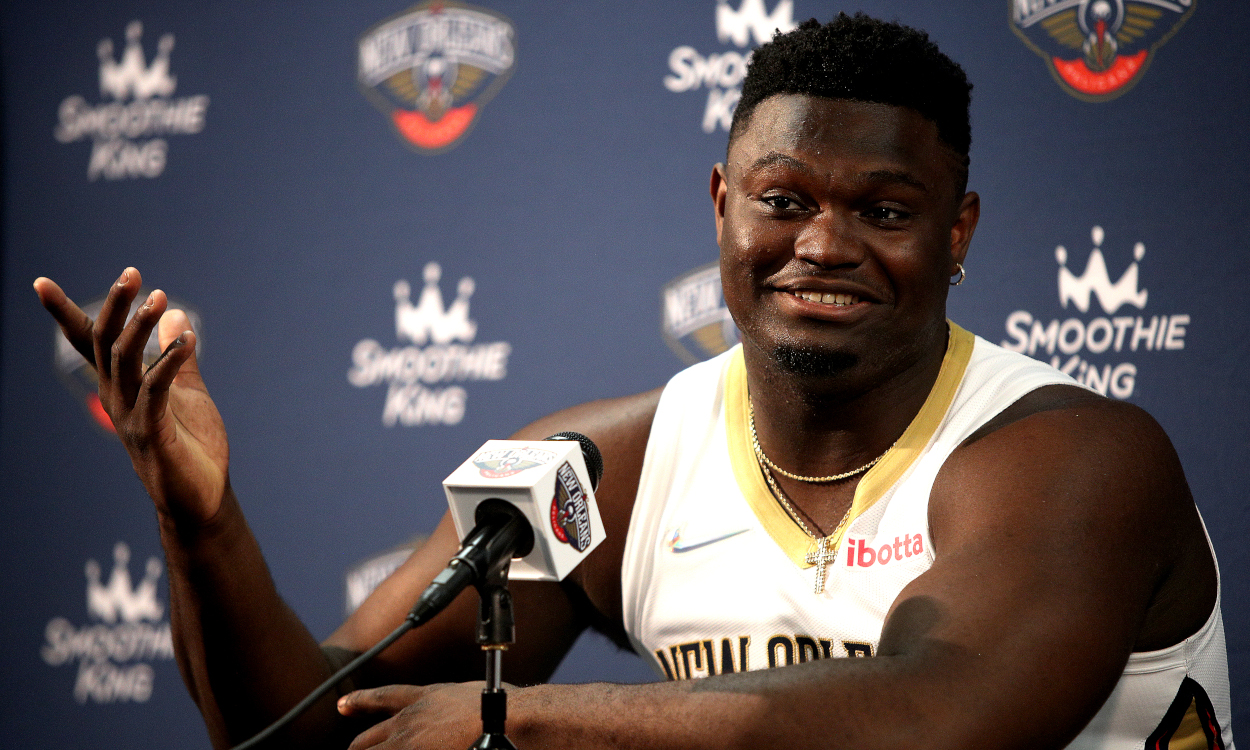 Tomáš Satoranský came to the New Orleans Pelicans as part of the sign-and-trade package that sent Lonzo Ball to the Chicago Bulls. Satoranský doesn't believe there is any fire behind the smoke claiming Zion Williamson is unhappy in The Big Easy.
After the trade, he told Czech Daily (via TalkBasket.net) that he sees much posturing by the media behind the Williamson rumors.
"I have a feeling that some American media which cover the NBA want to via TalkBasket.net. "This one's dissatisfied. This one wants to leave. Most of the time, the truth is elsewhere or in the middle."
As for Williamson, he likes what he's seen so far from his new coach.
"I feel like me and him are going to have a great relationship," Williamson said. "Like coach said, our relationship is just getting started. What I do like about him is, he's a straightforward guy. There's not much beating around the bush. He wants to come in and do what he's supposed to do, get done what he's supposed to get done, and move on. So I respect a guy like that."
New Orleans has only made the playoffs twice in the last 10 years and has one series victory to show for it, a first-round sweep of the Portland Trail Blazers in 2018. Ultimately, some postseason success could go a long way toward keeping Zion Williamson happy and wealthy with the New Orleans Pelicans.
Statistics courtesy of Basketball Reference. Contract information courtesy of Spotrac.
RELATED: The New Orleans Pelicans Need to Keep Zion Williamson From Making a Historic $181 Million Power Move