Zion Williamson's 'Detached' Sentiment Echoed by Stan Van Gundy: 'I Think He Just Wants to Be by Himself'
For a guy who hasn't seen NBA action since May, Zion Williamson has been a popular figure in the news cycle.
The New Orleans Pelicans superstar has been away from the team for several weeks as he continues to rehab from a broken foot suffered last offseason. Yet with each passing day, his presence looms more and more over the franchise that selected him first overall in 2019 … and for all the wrong reasons.
Zion is reportedly unhappy with the Pelicans, stemming from how his rehab was handled to having complete mistrust in the front office. But New Orleans isn't thrilled with its star either, as he struggles with durability, conditioning, and a complete disregard for how to be a good teammate.
The 21-year-old is currently facing a lot of heat for the last point, so much so that former teammates are throwing the young star under the bus. In addition, one of Zion's former coaches isn't exactly defending the All-Star's actions either.
Zion Williamson was called out by former teammate JJ Redick for being 'detached' from the New Orleans Pelicans
Despite a sub-.500 record, the Pelicans made an aggressive trade deadline deal to acquire CJ McCollum from the Portland Trail Blazers. The move was a clear attempt to surround Williamson with All-Star-caliber talent, yet McCollum told TNT last weekend that he had yet to hear a word from his teammate.
On Tuesday, 11 days after McCollum came to the Bayou, former Pelicans guard JJ Redick made an appearance on ESPN's First Take to talk about Zion. Redick, the recently-retired vet who played with Williamson in his rookie year and part of his second year, was extremely disappointed in his former teammate's actions, or lack thereof.
"This is something I addressed with Zion in front of the team," Redick said. "This is going back to his rookie year … a pattern of behavior with Zion that we are seeing again and again. I was his teammate. I can describe him as a detached teammate; That is an accurate statement."
Redick also called out his fellow Duke Blue Devil for displaying a lack of commitment to his team, his teammates, and his own personal fitness.
"There's a responsibility that you have as an athlete when you play a team sport to be fully invested," Redick explained. "You're fully invested in your body, you're fully invested in your work, and you're fully invested in your teammates. That is your responsibility, and we have not seen that from Zion."
For what it's worth, Zion heard Redick's words one way or another. The third-year forward eventually reached out and spoke to McCollum earlier this week, according to ESPN's Malika Andrews.
Stan Van Gundy shared very similar thoughts on Williamson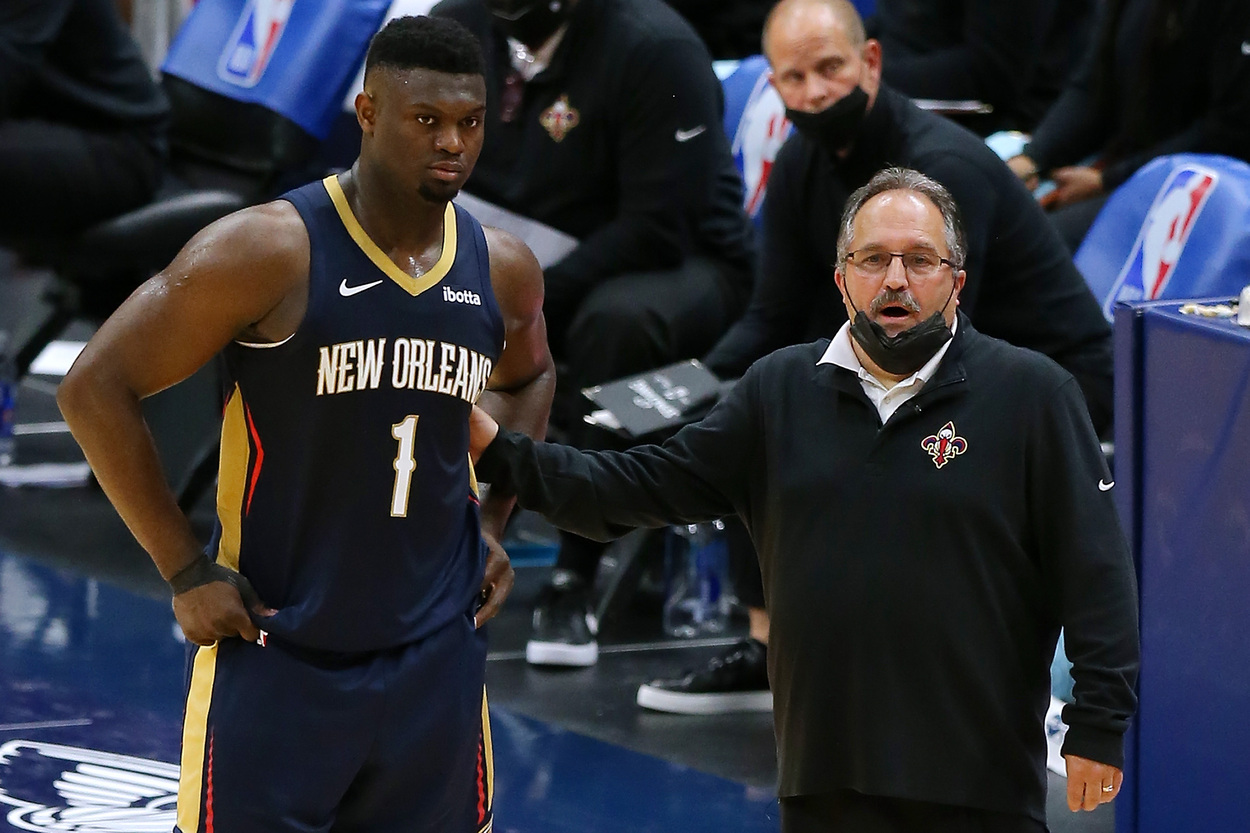 Redick didn't hold back on Williamson, making it known that this has been a persistent issue with the disgruntled star. Now, his ex-coach Stan Van Gundy has a few things he'd like to chime in with.
Van Gundy coached Zion for the 2020-21 season. While New Orleans went 31-41, which ultimately led to Van Gundy's firing, Williamson averaged 27.0 points on 61.1% shooting. He also played in 61 of a possible 72 games and made the All-Star team.
During an appearance on The Dan Le Batard Show with Stugotz, SVG was asked about Redick's comments and his experience with Zion.
"Zion at times can certainly be detached. When he's playing I didn't think he was detached at all last year. But when he's not playing — off-season, breaks, injured, whatever — I think he just wants to be by himself. I think he doesn't like not playing, he wants to be by himself and get ready, [and] that's a big part of it. And at that point all he wants to do is get back and play to re-attach. So I don't know that he's always detached, but I think when he's not playing he is."

Stan Van Gundy
While the former coach-turned-analyst didn't disagree with Redick, he also explained why he has a degree of compassion for the young star.
"I feel bad for him quite honestly," Van Gundy said. "I think he's come under a lot of criticism about his inability to stay healthy and play and things like that. And now about being attached and detached. He's caught a lot of flack."
Zion Williamson's time in New Orleans could be coming to an end
Even though Van Gundy feels for his former player, it's hard to be totally sympathetic. While Zion's injuries are unfortunate, they're also the result of improper conditioning and a lack of care.
So as much as Williamson wants no part of the Pelicans, they might be getting tired of him as well.
The 21-year-old is eligible for a contract extension this summer; one that would pay him $181 million over five seasons according to Spotrac. Would Williamson dare become the first player in league history to turn down a rookie max, thus making him a restricted free agent in 2023?
Better yet, what if the Pelicans decide the relationship is more headache than anything and don't offer him the extension? At that point, you can expect the 2021 All-Star to become the hottest name on the trade market this summer.
Either way, Zion does in fact look detached, just as Redick and Van Gundy have described. And the way things are headed, the Pelicans may realize the juice is no longer worth the squeeze.
All statistics courtesy of Basketball Reference and contract figures courtesy of Spotrac.
RELATED: Pelicans Need to Face the Ugly Reality That Zion Williamson Wants Out