Zion Williamson Gained 100 Pounds Over a Two-Year Period in High School: 'I Wouldn't Know I Was 250 Until I Stepped on the Scale'
Not only is Zion Williamson the new face of the New Orleans Pelicans, but he is also quickly establishing himself as one of the brightest stars in the entire NBA.
The former Duke prospect is reaching national superstardom with his highlight-reel dunks, dominant athleticism, and impressive stat lines. It won't be long until Williamson is thrusting his name into the MVP conversation.
Rewind just a few years to Williamson's high school days, and the future NBA All-Star was already beginning to see he was different than his classmates.
Zion Williamson gained 100 pounds in high school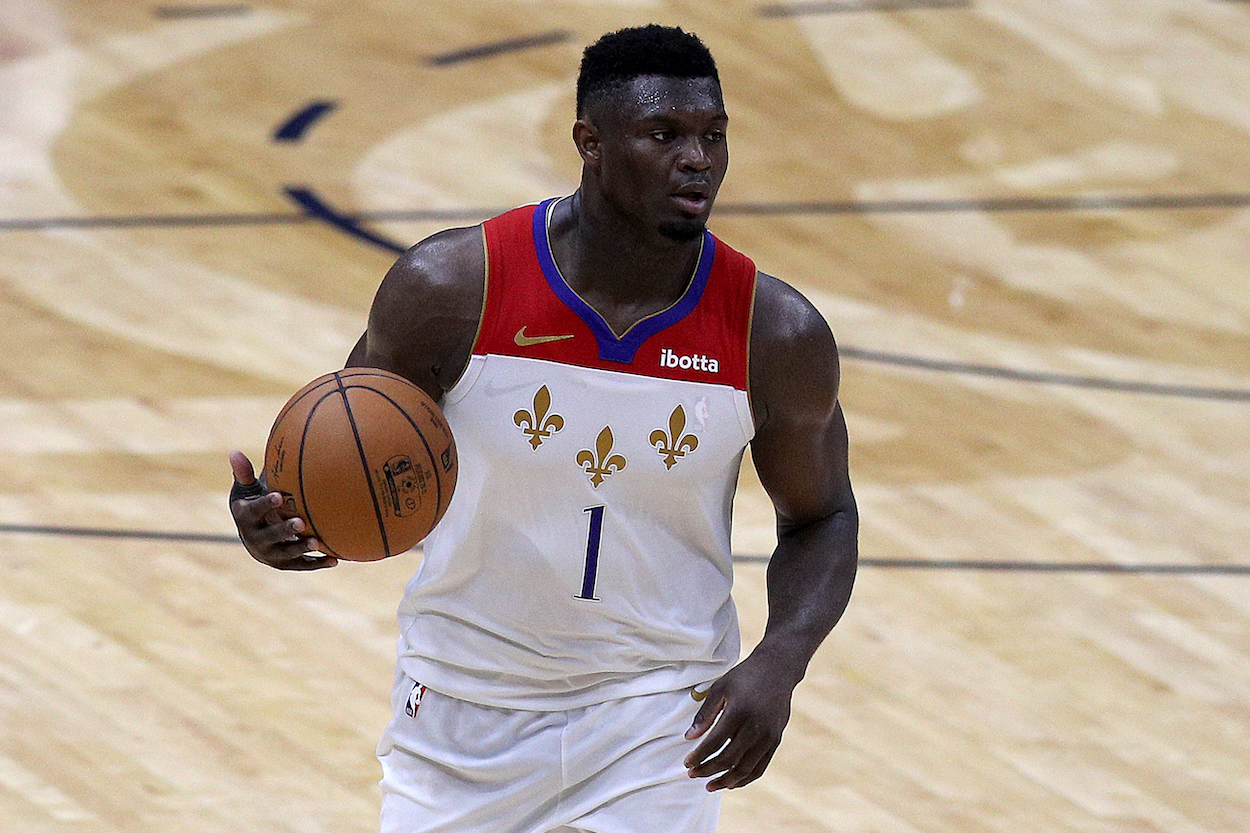 During a 2019 interview with GQ Magazine, Williamson went into detail about his body's drastic transformation in high school.
When did you realize you were unusually big?
I'm gonna say…my…my junior year.

Really? That late?
I didn't pick up all this weight until junior year. Freshman year, I was small. I was 6-3, 175—like, I was small. And over the course of about two years, I picked up a hundred pounds. I mean, I wouldn't look at myself and go, Wow, I'm 250! I wouldn't know I was 250 until I stepped on the scale, and then I'm like, Oh. I'm 250? I don't feel 250. I don't feel slow.

Des Bieler, GQ Magazine
Williamson may be exaggerating just a tad when it comes to how much weight he stacked on as a junior (putting on 100 pounds in a year is creeping toward the realm of impossible). Still, his transformation during high school is impressive, no matter how you slice it. Williamson's early highlights playing high school ball picture him looking like the next "Mr. Olympia" compared to his competition.
Williamson's drastic transformation was more than just a growth spurt
What's most surprising about Williamson's revelation is how skinny he claimed to be entering high school. The All-Star forward says he entered at 175 pounds — he's currently listed at 280-plus pounds.
For the sake of context, Williamson also grew an additional three inches between his freshman year of high school and the time he enrolled at Duke. He's currently listed at 6-foot-6. Still, it's an unbelievable amount of growth for someone to undergo in such a short amount of time.
This extraordinary growth spurt (can it even be described like that?) is the main reason Williamson experienced such an easy time working his way to the NBA. High school basketball was a walk in the park, college was a breeze, and professional basketball looks relatively easy to the Pelicans' star.
Williamson averaged 27 points and 7.2 rebounds per game last season while shooting north of 60% from the floor. MVP-caliber numbers had New Orleans finished with a better win-loss record.
The Pelicans need to do a better job building around their generational talent
Williamson has done his part establishing himself as one of the best players in the NBA since being drafted. Now it's the Pelicans' turn to live up to their end of the bargain.
New Orleans has yet to crack the postseason since drafting Williamson, and they don't appear any closer after a lackluster offseason. Banking on their All-Star forward to drag them to the promised land is a dangerous game to play.
While Williamson may have a career in professional bodybuilding post-NBA, his current goal is to make the playoffs and ultimately win a championship. He needs the Pelicans front office to help make that happen.
All stats courtesy of Basketball Reference.
RELATED: Basketball Legend Jamal Crawford Teased Returning to the NBA With a Recent Tweet