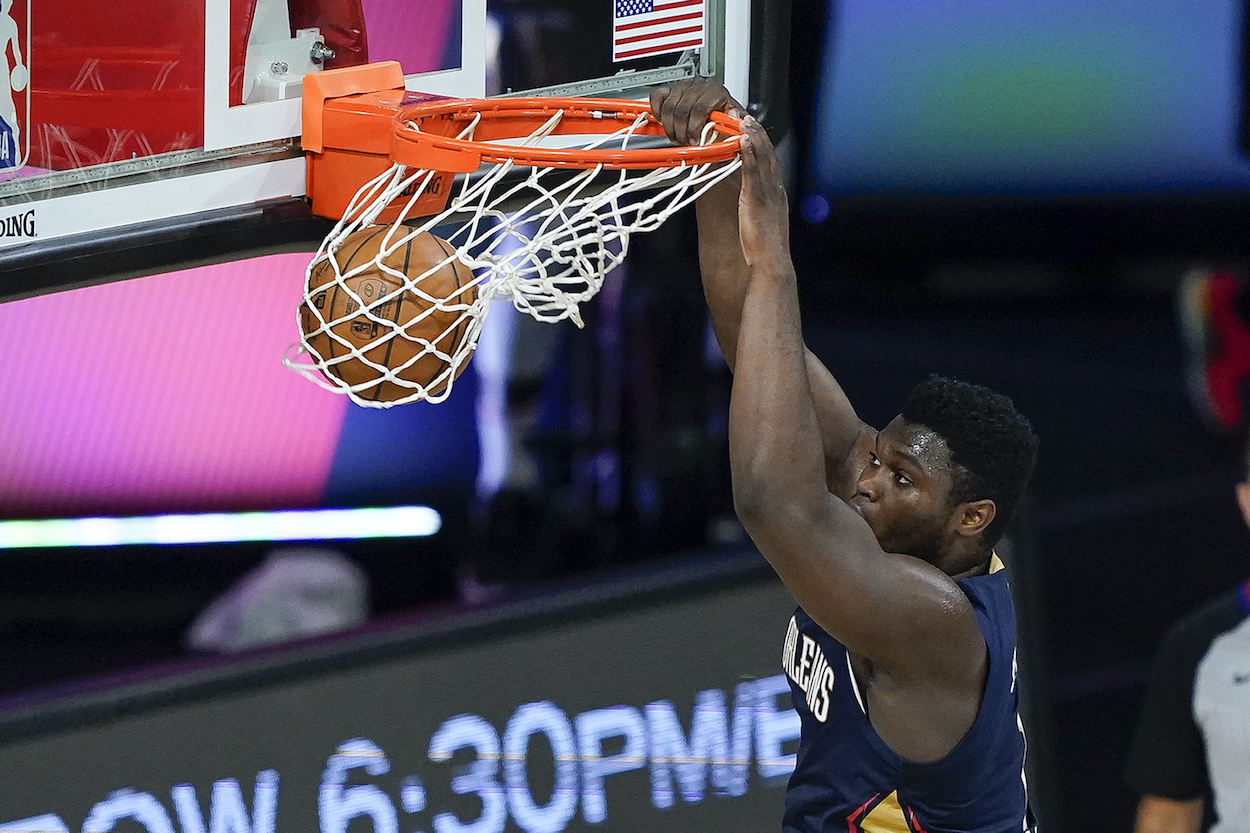 Zion Williamson Hints at Major Announcement NBA Fans Have Been Dying to Hear
Zion Williamson would be a dream NBA Slam Dunk Contest participant, and fans might finally be getting their wish this year.
There might not be anything more electrifying in today's NBA than a powerful Zion Williamson dunk. The 6-foot-7, 284-pound mutant shakes the entire hoop when he throws down one of his patented two-handed slams, and the backboards hang on for dear life as shades of Jerome Lane flood their memories.
NBA fans have been begging Williamson to enter the Slam Dunk Contest ever since he entered the league in 2019, and he just hinted that it might be time.
Zion Williamson is already a dunking legend
Williamson is taking over the NBA today with his elite athleticism, rhino-like strength, and high-flying dunks, but he was a dunking legend far before he signed with the New Orleans Pelicans.
Williamson became a dunking sensation when he was just a teenager at Spartanburg Day School. He was the No. 2 ranked recruit coming out of high school, and his dunks were a huge reason why. His high school highlight tapes are littered with disrespectful posters, breakaway windmill jams, and the most jaw-dropping athleticism you'll ever see from an 18-year-old.
Williamson was a household name before he even stepped foot on Duke's campus, but that's where his popularity exploded. Those who thought his dunking ability wouldn't translate to the college game were quickly proven wrong, as Williamson racked up even more highlights with the Blue Devils for his career reel.
Now, he's doing the same with the Pelicans, and fans can't get enough.
Zion Williamson hasn't competed in an NBA Slam Dunk Contest
If fans are wondering why Zion Williamson hasn't taken his talents to the big stage and competed in the NBA Slam Dunk Contest, it's because he's only been in the league for a season and a half. In his rookie year, Williamson teased competing in the event, but he ended up deciding against it.
Williamson had an injury-riddled first season as a pro. He underwent knee surgery before the season even started and ended up playing just 24 games for the Pelicans. He just wasn't confident enough at the All-Star break to risk his health on a silly competition.
But this year might be different.
Zion Williamson hints at joining the 2021 NBA Slam Dunk Contest
Williamson was just named an NBA All-Star for the first time in his young career. He'll already be in Atlanta for the All-Star festivities on March 7, so why not have a little fun beforehand?
When asked Wednesday whether he'll be competing in the 2021 Slam Dunk Contest, Williamson left the door open for the opportunity.
"Who knows? That's all I can say," Williamson told reporters Wednesday. "Who knows? I might. You never know."
Is Williamson hinting at an appearance while trying to keep it a secret at the same time? Will we finally see his legendary dunking prowess on display in competition? No one knows for sure, but NBA fans are foaming at the mouth at the possibility.