Zion Williamson's Newest Teammate Can Help Lead Him and the Pelicans Toward Western Conference Playoff Contention
The New Orleans Pelicans failed miserably during the Anthony Davis era. They only made it to the playoffs twice in seven seasons and eventually saw him leave and win a championship with the Los Angeles Lakers. Now, Pelicans fans must hope their team doesn't mess things up with Zion Williamson.
Williamson has proven throughout the last two years that all the hype around him was warranted, but the Pelicans have yet to build a winner around the former Duke star. However, their latest move may have them heading in the right direction.
The New Orleans Pelicans acquired Devonte' Graham
Some eyebrows instantly went up when the Pelicans lost point guard Lonzo Ball to the Chicago Bulls. But the team filled that hole by acquiring Devonte' Graham from the Charlotte Hornets.
The Pelicans will receive Graham in a sign-and-trade, and his new deal will be for four years, $47 million, per ESPN. New Orleans is also reportedly sending Charlotte a 2022 lottery-protected first-round NBA Draft pick.
Graham was a candidate for the Most Improved Player award in 2019-20, but his numbers took a dip a bit last season. If his production can get back to where it was two years ago, though, the Pelicans have a chance to become a dangerous force over the next few years.
Devonte' Graham can help Zion Williamson and the Pelicans make the playoffs
When just looking at last year's numbers, Graham doesn't look like that much of a step up from Ball. He averaged 14.8 points and 5.4 assists compared to Ball's 14.6 points and 5.7 assists.
However, that was Ball's best season scoring-wise. Graham, on the other hand, averaged 18.2 points and 7.5 assists in 2019-20 and only saw his numbers decrease after the Hornets drafted LaMelo Ball. Graham went from shooting 15.3 shots per game to only 12.2.
On the Pelicans, Graham should get the chance to have a larger role at the point guard position, and his skill set could be perfect for Williamson and Brandon Ingram.
Williamson and Ingram both scored at a high rate in 2020-21, averaging 27.0 and 23.8 points, respectively. But over 65% of Ingram's shots came within 2-point range, despite him shooting 38.1% from outside. Williamson, on the other hand, attempted 96.7% of his shots from inside the arc. So, the Pelicans could use someone who can catch and shoot whenever teams double-team those two inside.
Graham can ultimately give that to them.
He not only shot over 37% from 3-point range each of the last two years, but he made 42.6% of his catch-and-shoot attempts from long range, per ESPN. 
All in all, Graham not only has the skill set to score at a higher rate than Ball — as he did two seasons ago — but he was one of the best shooters in the NBA in catch-and-shoot opportunities last year and can bail Williamson and Ingram out when needed.
That could be the difference between New Orleans finishing two games back from a play-in tournament spot (as it did last year with Ball on the team) and actually making the playoffs.
Zion Williamson can become an all-time great with the Pelicans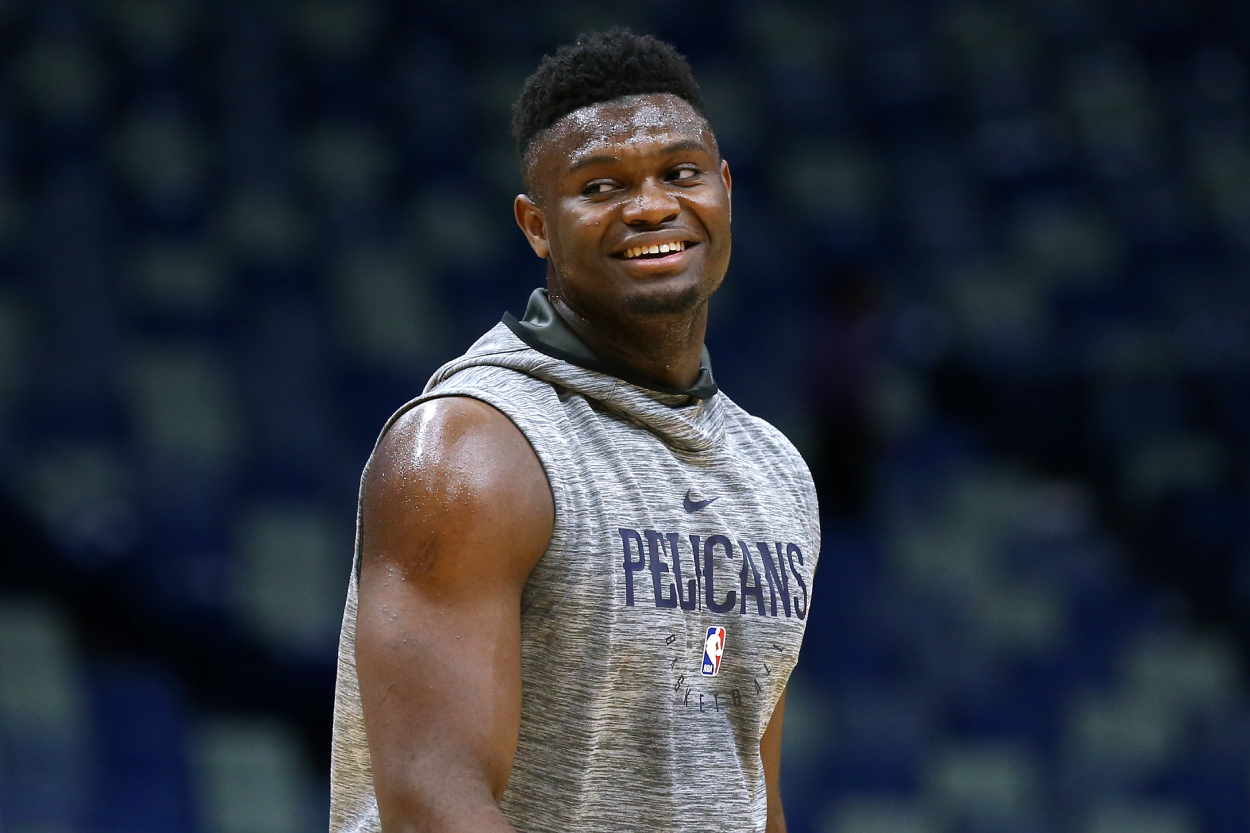 No, Graham won't fix everything and make the Pelicans a top Western Conference team right away. He has areas where he can improve, as he hasn't shot over 38.2% from the field in any of his first three seasons in the league. But his ability to score and even facilitate after dishing out 7.5 assists per game in 2019-20 can help Zion Williamson and the Pelicans head toward playoff contention.
Like Anthony Davis, Williamson has a chance to be an all-time great. After averaging 22.5 points, 6.3 rebounds, and 2.1 assists in 24 games as a rookie, Williamson earned an All-Star selection in 2020-21 with 27.0 points, 7.2 rebounds, and 3.7 assists per game. He proved he can become one of the league's best players and that he and Ingram can be one of the most dominant scoring duos in the NBA.
But New Orleans must do whatever it takes to keep him and build a winner.
We have seen players leave teams year after year due to the franchises failing to build championship squads around them. LeBron James leaving the Cleveland Cavaliers twice, Kevin Durant leaving the Oklahoma City Thunder, and, of course, Davis parting ways with New Orleans are just a few examples. There have also already been reports alluding to Williamson's unhappiness, as The Athletic reported in June that some members of Williamson's family want him on another team.
So, if the Pelicans want Williamson to stay, they must start winning and adding Graham is a step in the right direction
Williamson is the Pelicans' second franchise-changing player within the past decade. They better not mess this situation up as well.
Stats courtesy of Basketball Reference