Zion Williamson's Path to the Knicks Brilliantly Laid out by Former NBA Front Office Executive
The relationship between Zion Williamson and the New Orleans Pelicans is rocky, to say the least. Should it fracture completely, the New York Knicks could be first in line to pick up the pieces.
New York nearly landed Zion back in 2019, finishing third in the 2019 NBA Draft lottery behind the Pelicans and Memphis Grizzlies. Although its hopes of landing the generational forward were dashed, the window is open for the superstar to come to the Big Apple, according to former NBA executive Amin Elhassan.
On the newest episode of Basketball Illuminati, hosts Elhassan and Tom Haberstroh discussed Williamson's current situation with the Pelicans and how it could result in a trade with the Knicks. But as Elhassan also explained, Zion's arrival to New York could happen far sooner than any of us previously expected.
Amin Elhassan explains the connections between Zion Williamson and the Knicks
Zion's entire third season has been spent on the sidelines. The 21-year-old is still recovering from a broken foot suffered last offseason, and there's no guarantee he'll play at all in 2021-22. Additionally, the former Duke star is reportedly at odds with the franchise, namely Executive VP of Basketball Operations David Griffin.
Elhassan, a former ESPN analyst and assistant director of basketball operations for the Phoenix Suns, doesn't buy that this is simply a case of a star player being unhappy with his team. Instead, he sees a giant ploy to get Williamson to Broadway.
"The real story they're trying to hide from us isn't 'Zion isn't going so well in New Orleans' and isn't 'Zion is unhappy in New Orleans,'" Elhassan said on Basketball Illuminati. "The story they're trying to hide from you is 'Zion is destined to be a New York Knickerbocker.'"
Elhassan then connected to dots on Zion and the Knicks. In a nutshell, it can all be summarized by three letters: C. A. A.
"Zion Williamson is represented by CAA (Creative Artists Agency)," Elhassan said. "Out in New York, you got Leon Rose, formerly of CAA. He's the president of basketball ops. He's assisted by William Wesley, also a former CAA person. Their head coach, Tom Thibodeau, is a CAA client as well. Look through their roster at the number of CAA players they have. That's just the bare, basic, formulaic level at the top of how this franchise is so heavily influenced by this agency that desperately wants to move this client to a bigger platform."
As Elhassan explained, the heavy CAA influence within the Knicks makes them a natural landing spot for Williamson, a CAA client himself. The Los Angeles Lakers have the same type of quasi-arrangement with Klutch Sports Group, which represents LeBron James, Anthony Davis, and several other players who wore the Purple and Gold over the last few seasons.
Additionally, it's not hard to notice who New York already has on its roster. After drafting Barrett in 2019, the team acquired Cam Reddish from the Atlanta Hawks earlier this season, giving the Knicks both of Zion's significant running mates from their lone year together at Duke.
There's a major financial reason why a Zion deal between the Pelicans and Knicks could happen very soon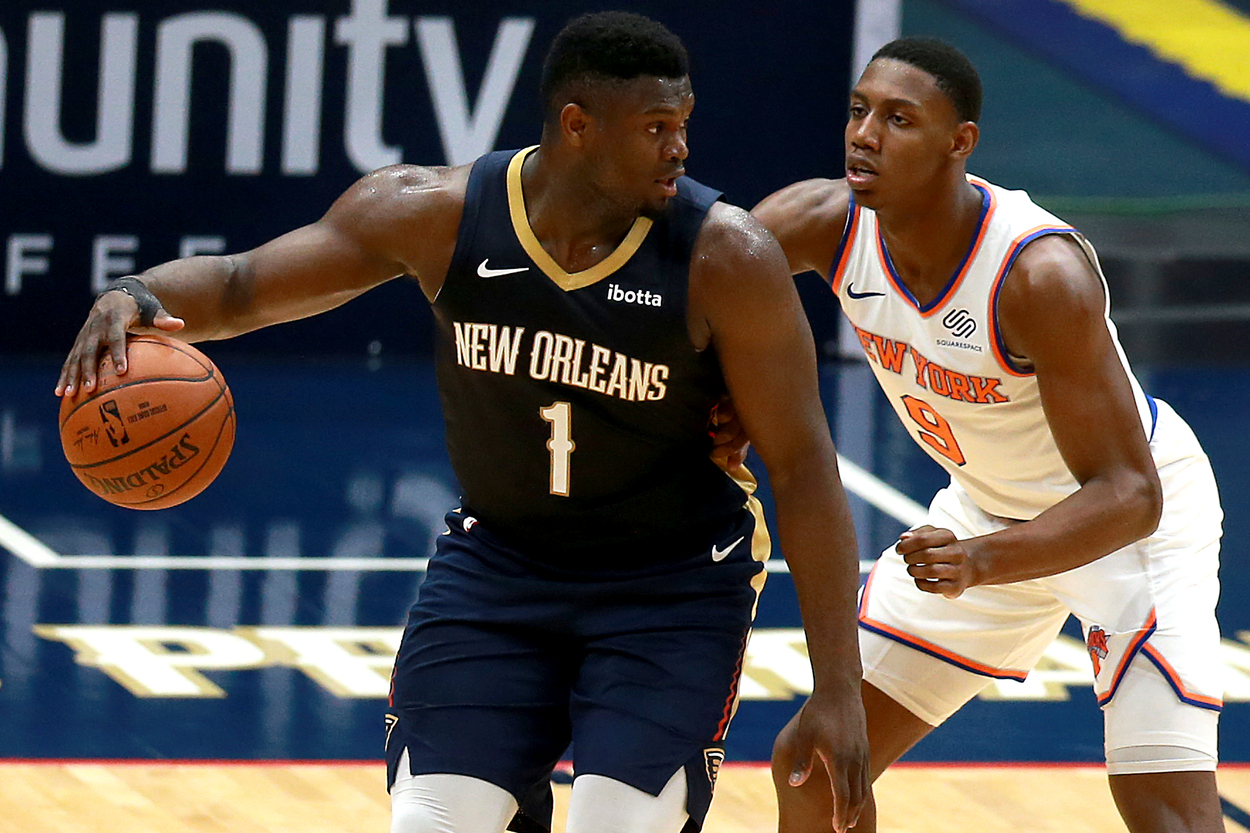 Based on the CAA connection, it stands to reason that Zion could eventually find himself becoming the Knicks' long-awaited superstar. Though how soon could a deal happen?
According to Elhassan, both Williamson and his agency are heavily incentivized to orchestrate his departure from New Orleans sooner rather than later. That's because of a little-known loophole involving young stars getting traded within their first four seasons and still maintaining eligibility for a supermax contract (h/t: Basketball Illuminati).
"If Zion were to sign his [rookie] extension in New Orleans, and then two years from now say, 'I don't like it in New Orleans, get me out of here,' they could trade him. He'll go somewhere else and they can give him a max deal and a fifth year. But what [his new team] can't do is give him the supermax if he's eligible for it. He can't get to that 35% sooner than 10 years if he gets traded two years from now. But if he gets traded now within the first four years of his career, he's eligible for that 35% down the road without having to play 10 years."

Amin Elhassan
Elhassan's explanation reveals how Zion, now in his third season, could be eligible for a supermax deal sooner than expected. But only if he's traded between now and next year's trade deadline. After that, he'll either have to stay put or wait until he has 10 years of experience in order to earn the full 35% of his team's salary cap.
Given his injury issues, he and his representation should prioritize getting his money as soon as possible.
"So for Zion," Elhassan summarized, "the window of time to get out of New Orleans and still ensure his future money is between now and February of next season. [He] basically has 11 months."
The Knicks still have to make it worthwhile for the Pelicans to entertain trading Zion Williamson
Elhassan gives enough reason to believe the Knicks want Zion and that both parties would prefer a deal to happen in the very near future. But it takes two to tango, meaning the Pelicans would still want a healthy package of players and picks in return.
So what could interest New Orleans? The Knicks aren't giving up Barrett, especially with a golden opportunity to reunite him and Williamson sitting at their fingertips. But they would have to include Julius Randle.
The 2020-21 All-Star is quickly falling out of favor in NYC. But New Orleans' familiarity with Randle from their lone season together in 2018-19 makes him a fascinating option to start alongside Brandon Ingram and CJ McCollum.
Additionally, New York would have to offer more young players and draft picks. Obi Toppin and Immanuel Quickley, two second-year players, might help sweeten the deal for the Pels. Additionally, the Knicks boast all of their first-round picks through the next several years along with a plethora of second-rounders.
Could the Pelicans hold out for more? They sure can. But what happens if Zion demands a trade and refuses to play unless it's granted? New Orleans is young, but Ingram and McCollum are there to win now. The team can't afford to just have Williamson sit there without getting anything in return.
Zion and CAA are holding all of the cards. Don't be surprised if the Knicks are the first ones at the table ready to deal.
RELATED: Pelicans Need to Face the Ugly Reality That Zion Williamson Wants Out