Zion Williamson Return: What Does A Zion Comeback Mean for the New Orleans Pelicans' Playoff Push?
Zion Williamson has reportedly rejoined the New Orleans Pelicans. After months of rehabbing a foot injury away from the franchise, the 2019 No. 1 overall pick is back with his own NBA organization.
Rumors and innuendo have run wild recently over Zion's future with the Pels. Was he trying to push his way out? Would he eventually ask for a trade? How much was his injury legitimately affecting his decision to stay away from the team?
All of that is put on the backburner now that Williamson is back in New Orleans. But the Pelicans have been ripping off wins and pushing the Los Angeles Lakers for a higher seed in the play-in tournament, even without their franchise star.
Zion's future in NOLA is still to be decided. But what would a possible return mean for his team in the immediate?
Zion Williamson has rejoined a rising New Orleans Pelicans team
The supposed savior of the franchise hasn't played a single game this year. He hasn't even been near the team — he's been rehabbing his foot in Portland, which in case you were wondering, is a 37-hour drive and 2,509.5 miles from New Orleans, according to Google Maps.
Zion has been trying to heal a foot injury but hit a snag in his rehab toward the end of 2021. Via Andrew Lopez of ESPN, Williamson was cleared for contact on Nov. 16 and had a setback early in December.
Now, according to The Athletic's Shams Charania, the 21-year-old has finally returned to New Orleans to work with the organization.
On the court, though — especially as of late — the Pelicans haven't missed him.
The team is hanging onto the 10th seed in the Western Conference standings, which would make it the last to earn a spot in the play-in tournament. However, as of March 5, New Orleans is only a half-game back of the struggling Lakers and has been on a hot streak since the trade deadline.
The Pels acquired CJ McCollum from Portland just before deadline day on Feb 8. Since arriving, CJ has been the team's leading scorer, averaging more than 26 points per game, and New Orleans has won six of its 10 games.
What would Zion's return mean for the Pels in the postseason?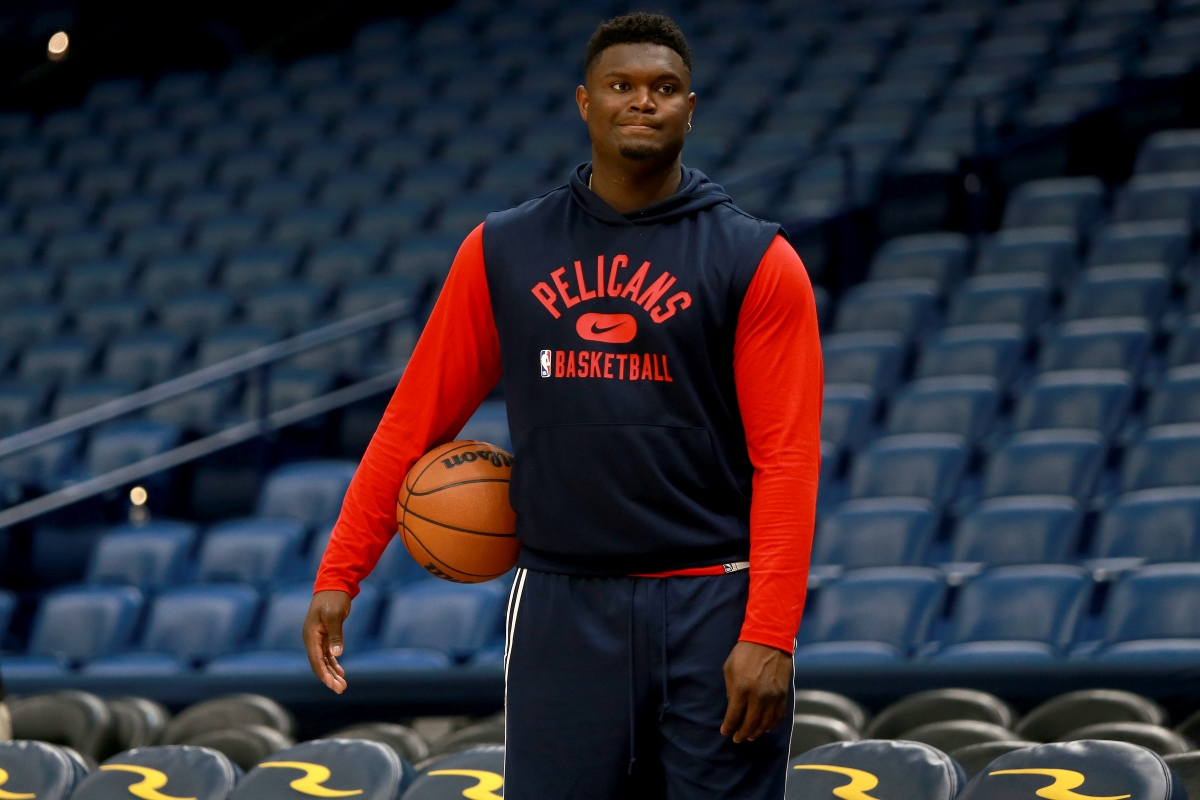 There's more than a puncher's chance head coach Willie Green's team passes LeBron James and LA at some point to move into ninth place in the West. They're still six games back of the Clippers, though, so ninth is likely as high as the Pelicans get.
But there's a pecking order and balance that's been set since McCollum arrived. He's the main scorer, but Brandon Ingram is also averaging 21.2 points since the trade. Both players are also averaging more than five rebounds and five assists.
Jonas Valanciunas has become a significant part of Green's rotation as well. He's averaging better than 17 points and 11 rebounds this year.
Center Jaxson Hayes has received more run, and 6-foot-7 forward Herb Jones has been one of the league's most pleasant surprises as a do-it-all rookie who was drafted in the second round.
Ingram and Valanciunas would theoretically start alongside Zion, while Hayes and Jones are also frontcourt players. If and when Williamson returns, he will soak up some of their minutes and, without a decent outside shot yet, will be another presence standing near the basket.
Green would surely make room for someone with Zion's skill set and talent level, regardless — no one else on the team possesses what he does. He would simply make the Pelicans better.
But he would also upset a rotation that's been working since McCollum arrived and steal minutes from established players.
Zion's best role, until he gets fully healthy and acclimated — which may not happen this season — could be coming off the bench. It would certainly be a boost and give New Orleans a better chance at getting through the play-in tournament and into the actual playoffs. But it wouldn't come without its drawbacks.
The franchise star's return is a good sign for the future
Regardless, the organization isn't setting up for a championship run this season. The plan is to continue to build for the future. Zion's return to the team is a step in the right direction on that front.
And as the team has shown with its recent play, there's a foundation now set alongside a player who's still finding his footing in the NBA (literally) but has the upside of a generational superstar.
Fitting Williamson in alongside McCollum and Ingram would instantly give the franchise a top-level core. With Valanciunas and Jones also in the fold, there's real potential for the Pelicans to become one of the top teams in the West.
It all depends on Zion, though. New Orleans is likely stuck hanging out around the bottom half of the West playoff race without him.
But the positivity surrounding the Pels' play and now Williamson's return gives real hope to the franchise's future, which hasn't been the case as of late.
All statistics courtesy of Basketball Reference.
RELATED: Zion Williamson's Path to the Knicks Brilliantly Laid out by Former NBA Front Office Executive