Zion Williamson Remains Sidelined but a Career-Saving Miracle Could Be on the Way for the New Orleans Pelicans Star
New Orleans Pelicans franchise centerpiece Zion Williamson remains sidelined with his latest injury, this time a bum foot. He may return in December to help the team try and recover from its terrifyingly awful start, but even if he does, New Orleans will remain in trouble as a franchise.
Pels general manager David Griffin took over the team after a stint in Cleveland where he helped LeBron James win a championship. However, his time in New Orleans has been a far cry from the success he had alongside Bron-Bron.
But there's now a glimmer of hope in Zion's darkness after the latest news surrounding his GM.
Griffin's job with the Pelicans is in jeopardy
New Orleans is off to a woeful 1-11 start. With two consecutive seasons of mediocrity (to be gentle) already under Griffin's belt, the front-office grim reaper was approaching his door anyway.
But Griff's hot seat has now become scalding after reports surfaced about a heated (can we keep using that adjective?) exchange between him and former Pelicans head coach Alvin Gentry.
Gentry — now an assistant with the Sacramento Kings — was the head coach in NOLA when Griffin arrived. According to Bleacher Report, Gentry helped the current GM land the job in the first place.
And then Griffin fired him after one season.
Now all the juicy details of a souring relationship have surfaced. Exhibit A — Griffin reportedly told others around the league that he'd given his former head coach "all the answers to the test, and he still" failed. Ouch.
Then, when the Kings beat the Pelicans in New Orleans late last month, Griffin apparently went to say what's up to Gentry, who wasn't in the mood for pleasantries.
"You must not have given Stan the answers to the test, either," Gentry shouted in reference to Griffin's hiring and firing of head coach Stan Van Gundy after one season.
To continue with the overuse of the adjective — there's water under Griff's seat that was already simmering due to poor job performance. The latest reports of an altercation with former pal Gentry have brought it to a boil.
New Orleans firing its GM would be the best thing to happen to Zion Williamson's career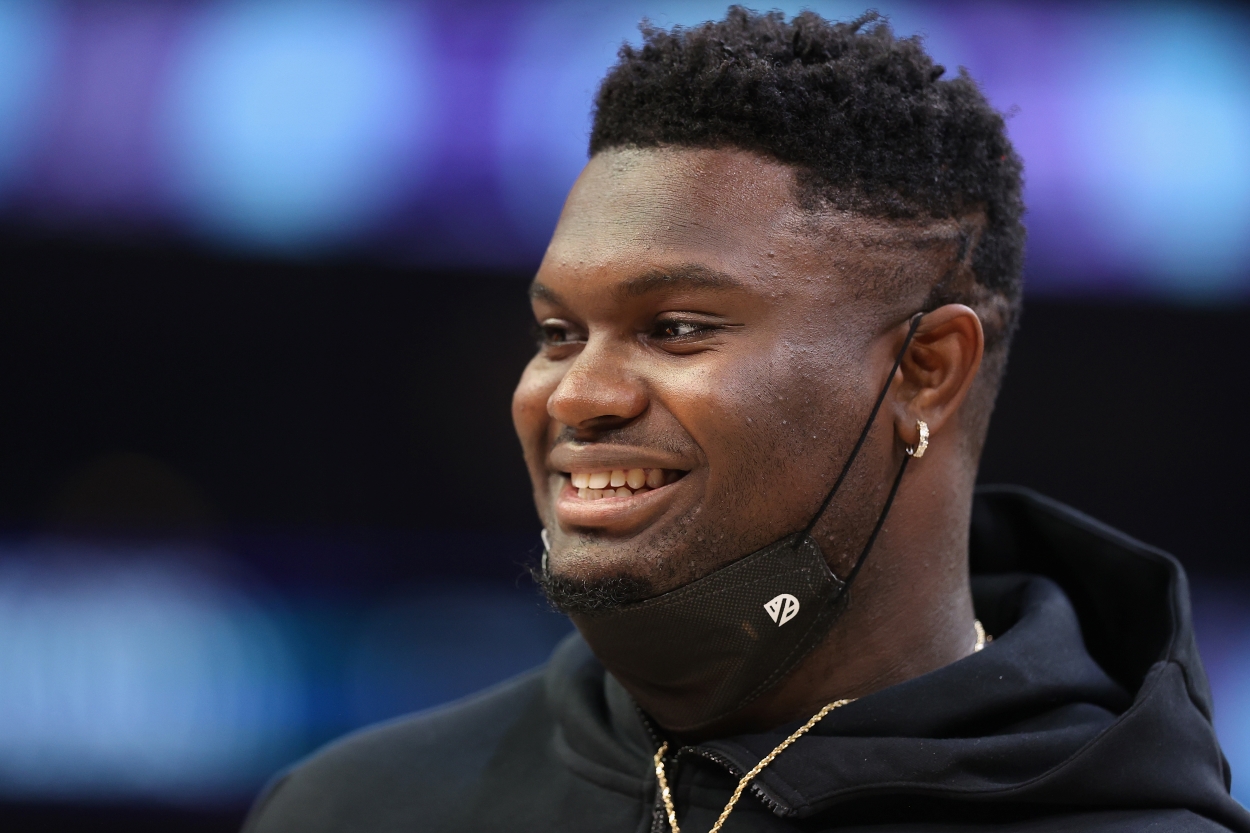 In the current NBA climate, wasting two years of a supposed franchise superstar's career is serious cause for concern. That's what Griffin has done while in charge of Williamson's Pelicans.
A brief recap of some of his moves paints an ugly picture:
After drafting Zion, Anthony Davis was traded to the Los Angeles Lakers in exchange for Lonzo Ball, Brandon Ingram, Josh Hart, and a slew of picks, including what became that year's No. 4 overall selection, De'Andre Hunter — who immediately became a regular starter for the Atlanta Hawks.
Griffin let Ball walk for essentially nothing, and the former UCLA star is now starting for a Chicago Bulls team that's tied atop the Eastern Conference.
The aforementioned Van Gundy was hired and fired after one year. Jrue Holiday was dealt to the Milwaukee Bucks and went on to win an NBA championship. In return, Eric Bledsoe and Steven Adams landed with the Pelicans.
Bledsoe now plays for the Clippers, and Adams is a member of the Memphis Grizzlies. Griffin needed to move back seven spots in the 2021 draft in order to rid the team of the mistakes he made in acquiring the two in the first place.
The Pelicans grabbed Alabama point guard Kira Lewis with their lottery pick in 2020 and ended up with Trey Murphy III in 2021 after dropping from pick 10 to 17.
Murphy has averaged five points per game in 19.5 minutes as a rookie, while Lewis has yet to start in 66 career games and has averages of six points, 1.8 rebounds, and 2.1 assists in even fewer minutes than Murphy.
And that's not counting the complete bumbling of Zion's foot injury. In summation, Williamson didn't have a ton of help to begin with, and two years later, it appears he has even less. It's staggering what Griffin has done in such a short period.
The Pels need to make some changes to prevent Zion from becoming the latest superstar to leave the franchise
Chris Paul was the first to peace out. Then Anthony Davis demanded a trade out of New Orleans. There have already been rumblings that Williamson could be the next to eventually depart, which could come in the form of an unprecedented decision.
As an organization, the Pelicans need a significant overhaul. Too many bad moves have been made since New Orleans handpicked Zion to become the face of the franchise. Griffin's departure would be a start.
The former Cavs GM had a great run alongside James. But it's been mistake after mistake since he arrived with the Pels. For the good of everyone involved, the organization needs a clean break.
Only then can New Orleans try and rebuild some semblance of trust with Zion and have a chance at becoming relevant again.
All statistics courtesy of Basketball Reference.