Zion Williamson's Superstardom Led to a Famous Actor Nearly Naming Their Child After Him
When basketball fans think of some of the most talented young superstars in the NBA today, Zion Williamson almost immediately comes to mind. His high-flying athleticism on Duke and the New Orleans Pelicans over the past few years has made him one of the most exciting players in the league. In fact, Williamson has become such a popular player that a famous actor even nearly named their child after him. That famous actor was Entourage and Power star, Jerry Ferrara.
Zion Williamson is one of the NBA's most talented stars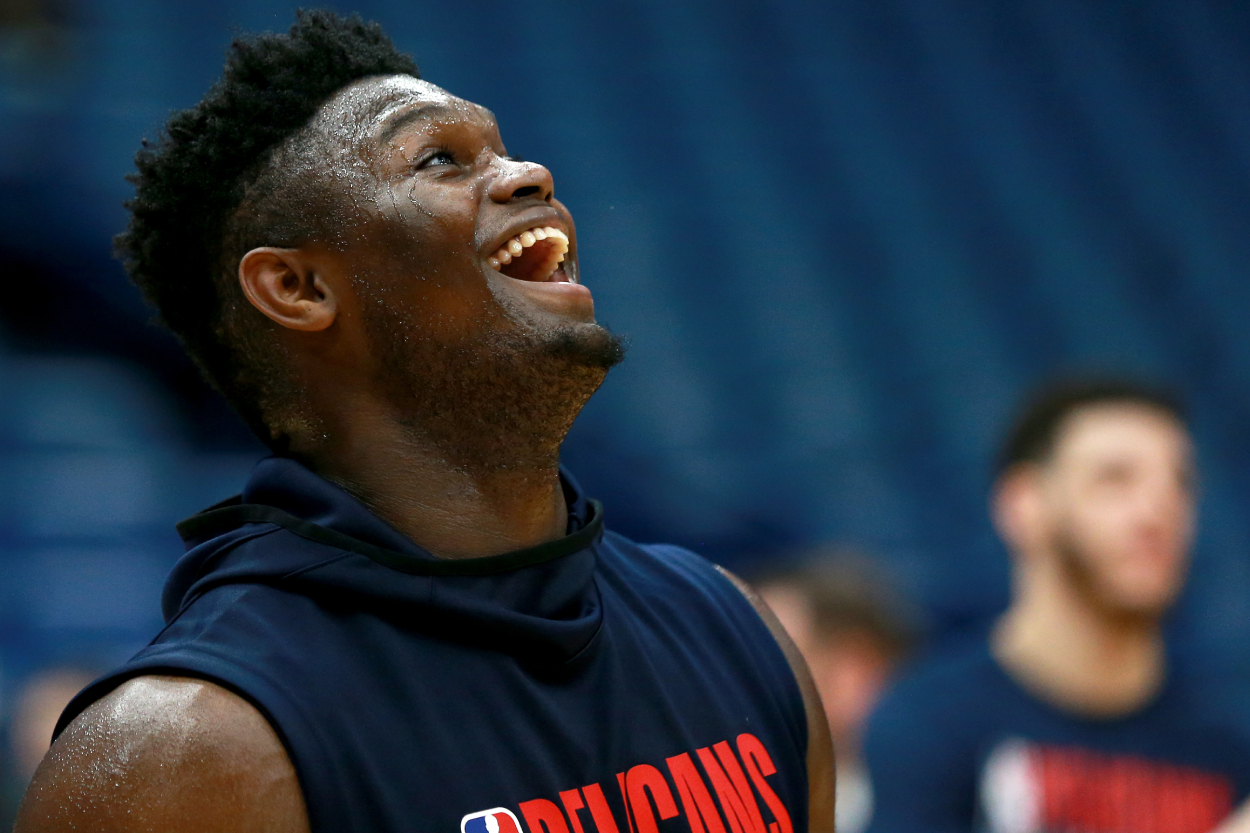 RELATED: Zion Williamson Left Scratching His Head After a Former Knicks Star's Bizarre Criticism
Many people already knew the name Zion Williamson before he even played a second of college basketball. Once he got to Duke, though, he lived up to all of the hype and then some.
Williamson averaged 22.6 points per game, 8.9 rebounds, 2.1 steals, and 1.8 blocks for Duke in 2018-19, as he ultimately became the face of college hoops for that one season. He even won the AP Player of the Year award that year and was the ACC Tournament MVP.
His stellar play then made Williamson one of the most talked-about NBA prospects in years, which led to the New Orleans Pelicans selecting him No. 1 overall in the 2019 NBA draft.
Williamson ended up playing well in his rookie season with the Pelicans, but he only played in 24 games due to injury and COVID-19. He ultimately recorded 22.5 points and 6.3 rebounds. However, the former Blue Devil has taken that next step progression-wise in 2020-21. Through 56 games so far, Williamson is averaging 26.9 points, 7.2 rebounds, and 3.6 assists. His play this season even helped him earn his first All-Star selection.
If anyone had their doubts about Williamson prior to his pro career, they have since been proven wrong. Zion has shown that he potentially has the brightest future out of maybe all of the young stars in the NBA today.
Jerry Ferrara nearly named his child after Zion
RELATED: Zion Williamson Finally Has a Teammate Who Is as Strong as Him
Zion Williamson hasn't just become a prominent name among NBA and basketball fans, but also Hollywood stars.
This includes Jerry Ferrara, who recently admitted that he nearly named his child after him.
"I was thinking about (Zion being on the Knicks) before the draft," Ferrara, a Knicks fan, recently said on the April 24 episode of Keyshawn, JWill, and Zubin. "I remember even telling my wife, our first son was right around that time to be born, and I'm like, 'If the Knicks get the No. 1 pick, we're naming this kid Zion. That's happening.' She shut that down, and we didn't get the No. 1 pick."
So, Ferrara sadly didn't get to name his kid Zion nor see Williamson go to the New York Knicks, but — if it's any consolation — his Knicks team is actually better than Williamson's Pelicans this year. New York is 34-28 so far, while the Pelicans are 27-34. The Knicks' pick from Williamson's draft is still working out nicely, too, as RJ Barrett is averaging 17.5 points and 5.7 rebounds this season.
However, is there a chance Ferrara could still see Williamson in a Knicks jersey in the future?
Jerry Ferrara and other Knicks fans still hope to see Zion Williamson in New York
RELATED: A Physicist Once Revealed Exactly What It Would Feel Like to Take a Charge From Zion Williamson
Williamson raised some eyebrows recently with some interesting comments he made about New York, as he ultimately left Knicks fans hopeful about potentially seeing him in the Big Apple in the future.
"New York is the mecca of basketball," Williamson recently said, according to the New York Post. "I love playing here. I played here in college [at Duke]. This is my first time playing in the pros. This atmosphere, whether they're cheering for you or booing you, it's amazing. Outside of New Orleans, obviously, this might be my favorite place to play. I can't lie to you.''
Ferrara isn't getting his hopes up, as Williamson won't even be a restricted free agent until 2023, but he would still love to see the young superstar in New York one day.
"It's that smile that just can light up the whole skyline in New York that Zion has when he was asked about the Knicks," Ferrara said. "… Of course every player loves playing in [Madison Square Garden], but what Zion was saying, that was just different. His face was telling me different things than more just like, 'MSG's a cool place to play.'"
Williamson is still a ways away from even having an opportunity to move to the Knicks, but this is a storyline we should certainly keep an eye on over the next few seasons.
Stats courtesy of Sports Reference and Basketball Reference