Zion Williamson Gets a Surprising Endorsement From NBA Executives Despite Growing Health Concerns
New Orleans Pelicans star Zion Williamson's health and weight are among the hot topics of the 2021-22 season. Negativity seemingly envelops the 2019 No. 1 overall pick at every turn as Pels fans eagerly await his return to the floor. But while the glum outlook surrounding Williamson persists, NBA executives recently gave him a surprising endorsement, which speaks volumes about his generational talent.
Zion Williamson remains sidelined with a foot injury, though noise about his physique is becoming deafening
Zion Williamson underwent surgery on his right foot during the offseason, but the Pelicans initially penciled him in to open the 2021-22 season in the starting rotation.
Foolish or not, Executive Vice President of Basketball Operations David Griffin expressed confidence about Zion's availability during the preseason. He claimed Williamson would be ready for Opening Night. That never happened. The Pelicans are still unsure just when their star forward will return.
Williamson had another set of scans on the injured foot, but New Orleans said it could be a few more weeks before a timeline is established. Meanwhile, the focus has since shifted to Zion's physique.
Numerous former NBA players commented on Williamson's weight in recent days amid recent reports he (at one point) came in over 300 pounds as he continued to rehab. These include Walt Frazier and Charles Barkley, among others.
Zion missed several months with a knee injury during his rookie season. He's dealing with yet another physical setback while questions about his playing shape abound.
Yet for all the health concerns, NBA executives feel the Pelicans still made the right choice in 2019.
NBA executives still prefer Williamson over a surging Ja Morant
The 2019 NBA Draft featured a pretty clear 1-2 at the top of the board. Williamson became the consensus No. 1 pick, with former Murray State star Ja Morant pretty easily distinguishing himself as the second selection.
Indeed, Zion and Ja went first and second, respectively. But while durability questions keep hampering Williamson's status, Morant is rapidly ascending to superstar status.
The Memphis Grizzlies point guard is playing at an MVP level this season. Through seven games, Morant is averaging 28.7 points, 7.7 assists, and 5.4 rebounds. He's shooting over 52% from the floor and 38.5% from deep on a career-high 5.6 attempts per contest.
However, despite Morant's third-year leap, NBA executives still acknowledge they wouldn't have passed on Williamson back in 2019.
Substack writer and former New York Times columnist Marc Stein asked 10 league execs whether they'd take Ja over Zion. Nine still sided with Williamson.
It goes to show just how talented Zion is when healthy. Last season, he made his first All-Star team, averaging 27.0 points, 7.2 rebounds, and 3.7 assists while ranking fourth in the NBA in player efficiency rating (PER) and 10th in value over replacement player (VORP).
Zion's dynamism is unprecedented. He also showed a knack for playing a point forward role late in the 2020-21 campaign, which could unlock an entirely different element of his game.
Still, considering the importance of star guards in today's NBA, the Williamson-Morant debate is a fair one.
Zion or Ja? Let the debates begin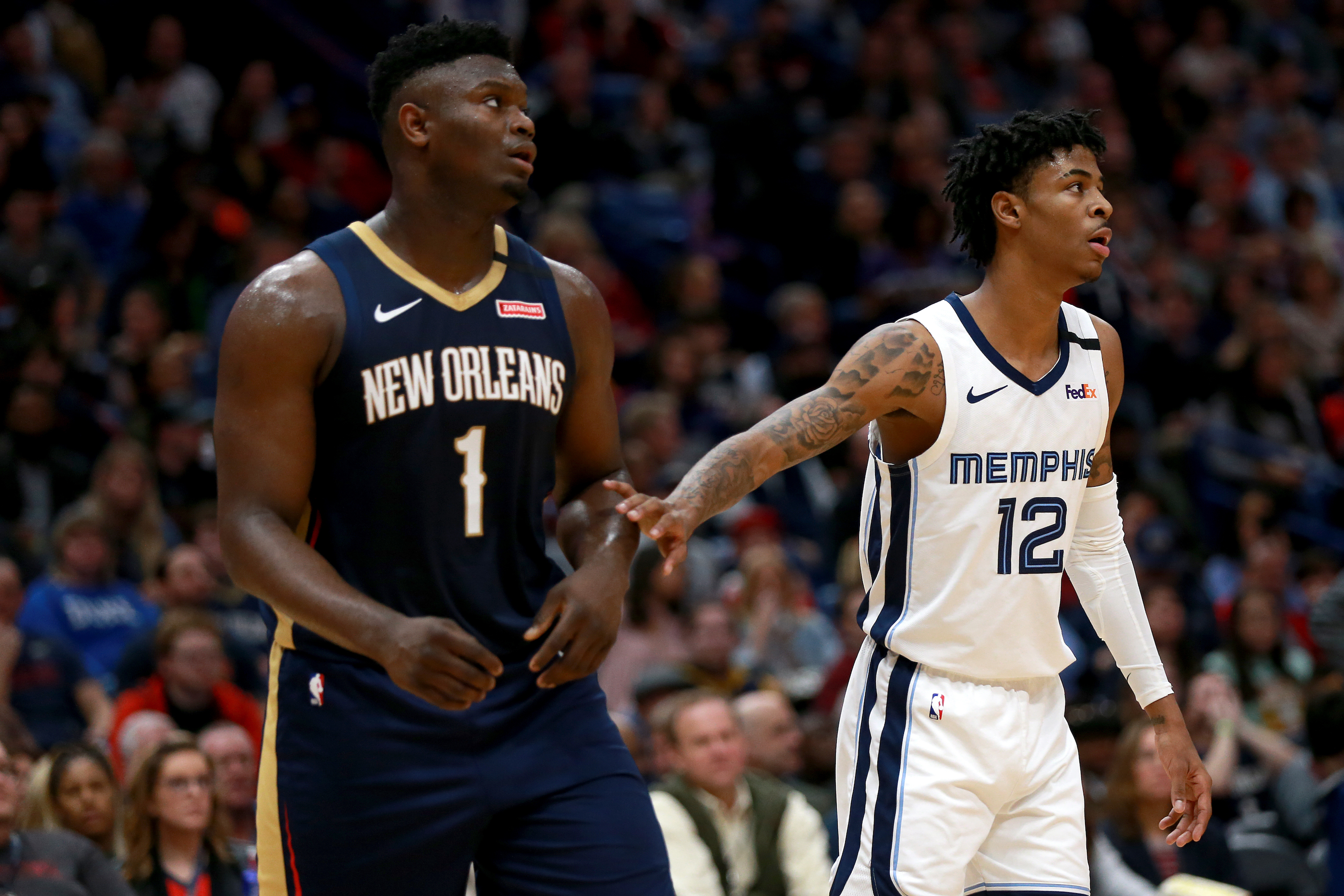 The modern NBA prioritizes playmaking guards capable of scoring and elevating their respective franchises. Does this mean Morant might have been the better No. 1 pick in 2019? Hindsight is 20-20, of course. But there are a couple of matters worth discussing.
Firstly, Morant led the Grizzlies to the brink of the playoffs in his rookie campaign before helping Memphis navigate the play-in and advance to the standard playoff bracket. Moreover, for all the talk of Williamson's blend of size and athleticism, Morant's own blend of athleticism and skill is every bit as notable.
Ja is capable of exploding to the basket or finishing with a nifty blend of floaters and runners. Morant takes his time and makes the right basketball play in pick-and-roll, scouting his options when he gets into the paint and waiting for passing lanes to open. If his improved efficiency from the three-point line is real, then the sky is the limit.
But despite NBA trends and Morant's evolution, it's hard to bet against Zion. He became an unstoppable force when instilled as the Pelicans' primary ball-handler last season, getting downhill and scoring easily in pick-and-roll or finding rim-runners and shooters for clean looks at the basket or on the perimeter. There's untapped potential if only Williamson can just back on the floor.
Executives still profess faith in Zion's talent. New Orleans can only hope he skirts recent durability questions and returns to the court in reasonably short order.
Stats courtesy of Basketball Reference.
RELATED: Zion Williamson's Frustrating Recovery Guarantees More Losing for the Hapless New Orleans Pelicans