Zion Williamson Might Become This Summer's Version of Damian Lillard
Zion Williamson and the New Orleans Pelicans face a potential crossroad this offseason. The uncertainty of the injury-laden forward's future in the Bayou could lead to him starring in a drama-filled soap opera much like the one Damian Lillard found himself in last summer.
Lillard's desire to compete for an NBA championship and the urgency of the situation manifested all sorts of rumors about him possibly heading elsewhere, even though Dame consistently denied wanting a trade.
Given the tumultuous nature of Williamson's prolonged absence and the fact that he is eligible for a rookie extension this summer, he might have to fend off trade rumors. Then again, the Pelicans also need to decide whether they're willing to make a sizable financial commitment to Zion.
The upcoming offseason should prove every bit as hectic as a Mardi Gras parade for Williamson and the Pels.
A pivotal offseason awaits Zion Williamson and the Pelicans
The 2022 NBA offseason marks a critical juncture for Zion and the Pelicans.
Williamson has yet to play a game this season because of a foot surgery that required surgery last summer. He may need a second operation, which further clouds upcoming extension talks.
The No. 1 pick in the 2019 NBA Draft is eligible for a five-year, $181 million rookie-scale extension this summer. Usually, signing a player of Williamson's magnetic talent would seem like a no-brainer for New Orleans. When healthy, the 21-year-old dominates as a hyper-athletic scorer who can get downhill in the half-court offense and routinely makes plays in transition.
However, durability questions loom over upcoming talks.
Zion missed all but 24 games in his rookie season because of a knee injury. Shortly after news broke regarding his foot surgery, reports about his weight increase grew more prevalent. The Pelicans might show concern for his physical stature and how that could impact his availability in the future.
New Orleans wants to speed up the competitive timeline. It acquired CJ McCollum in an effort to do just that. However, that move has not prevented league personnel from speculating about Williamson eventually seeking a trade.
Executives believe New Orleans will receive trade offers for Williamson
People around the NBA are already anticipating that Zion Williamson could dominate the trade chatter likely to ensure after the solstice.
Howard Beck of Sports Illustrated reported that rival teams are "bracing" for Williamson to become available in the coming months. This closely resembles how teams approached Lillard's — another player Beck reported various squads are eyeing — future several months ago.
Last July, the optics suggested that the Philadelphia 76ers refrained from trading Ben Simmons in the hopes they could eventually package him in a deal for Lillard. The rumblings persisted through the early part of the 2021-22 campaign, though the Sixers ultimately dealt Simmons to acquire James Harden from the Brooklyn Nets.
Will something similar happen to Williamson?
Even if Zion refrains from asking out, the precarious circumstances might result in teams making overtures to the Pelicans. The ball is in New Orleans' court.
The clock is ticking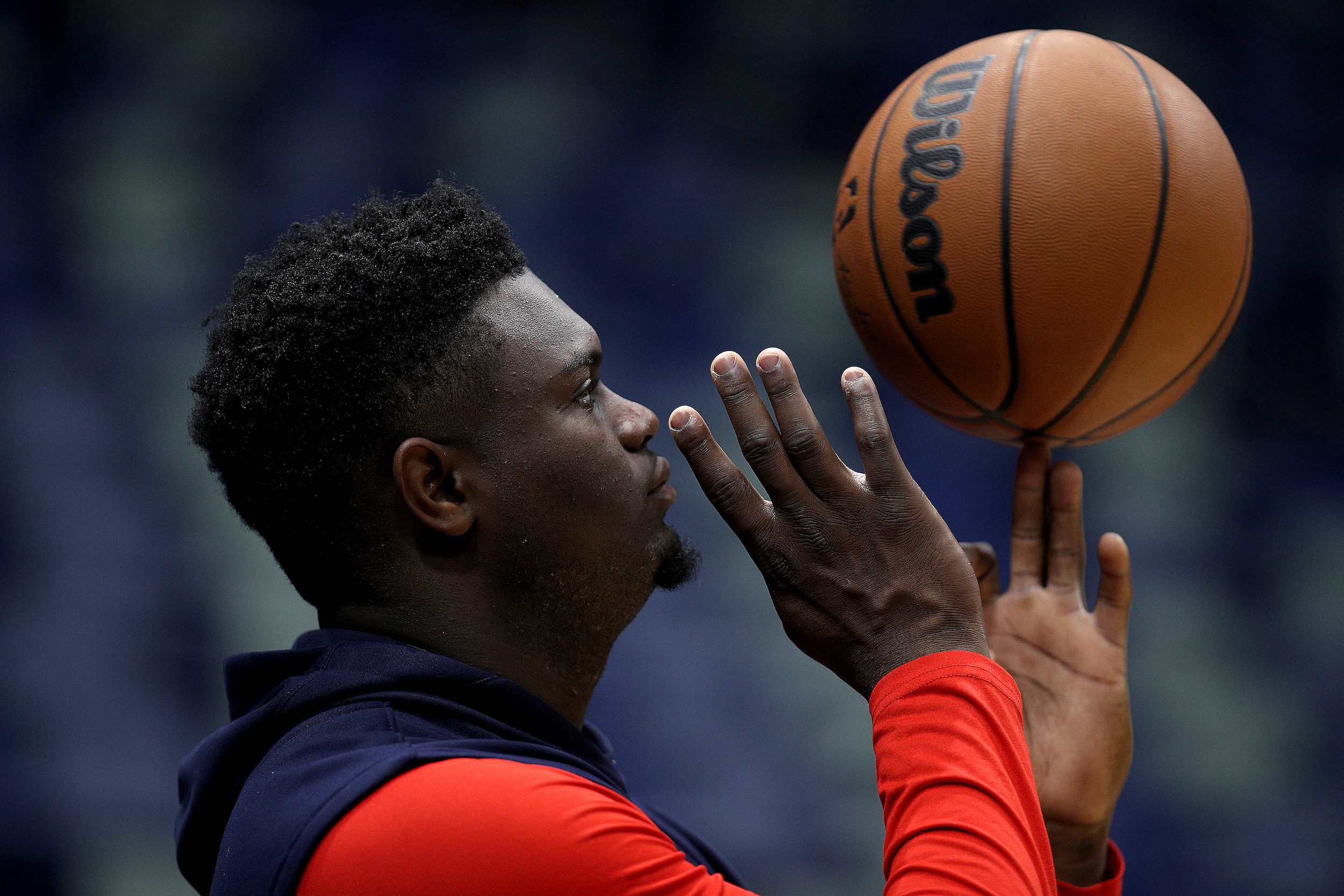 Zion Williamson has franchise cornerstone upside. Will the Pelicans bank on his talent, or will they show hesitations with respect to his durability.
Williamson is practically unstoppable in the restricted area and made tremendous gains as a playmaker when deployed in a point forward role late in the 2020-21 campaign. A team built around Zion, another shot-creating wing in Brandon Ingram, a pure scorer in CJ McCollum, and a floor-spacing big in Jonas Valanciunas should, in theory, compete in the Western Conference.
But there are a lot of question marks.
McCollum turns 31 in the fall. Valanciunas turns 30 in May. The Pels struggle defensively and parted with their best individual defender (Josh Hart) to acquire McCollum. Even still, the most pressing issue is how Williamson is already eliciting comparisons to notable NBA bust Greg Oden.
Ultimately, everything revolves around Zion. If New Orleans refuses to hand him the max and elects to keep its options open, he could become the top trade target in the league this summer.
RELATED: NBA Trade Deadline: CJ McCollum Is a Significant Name but Doesn't Address the Pelicans' Most Glaring Weaknesses