Zion Williamson Is the Victim of 'Fake Stories' Alleging His Dissatisfaction in New Orleans, According to Pelicans Teammate
Zion Williamson's apparently uncertain future in New Orleans has risen to the forefront this offseason, with the Pelicans struggling to build in recent seasons and failing to add impact players in the summer. However, one Pels newcomer thinks rumors about Zion's frustration with the organization are all smoke.
Point guard Tomas Satoransky has yet to share the floor with Williamson. Yet, he seems quite convinced the media have contorted the young superstar's place in New Orleans.
Zion Williamson's family reportedly expressed dismay regarding his future with the New Orleans Pelicans
The New Orleans Pelicans were supposed to have a legitimate young core to build around, with Zion Williamson being the centerpiece of those future plans.
New Orleans made Zion the No. 1 overall pick in the 2019 NBA Draft. A couple of months later, Pelicans general manager traded disgruntled star Anthony Davis to the Los Angeles Lakers in exchange for Brandon Ingram, Lonzo Ball, and Josh Hart. The trio of Williamson, Ingram, and Ball figured to make the Pels more competitive.
Only, New Orleans hasn't taken that expected step forward. Williamson was an All-Star this past season, with Ingram developing into an All-Star-caliber player and Ball making gains. But the Pels struggled this past season under Stan Van Gundy. The team promptly parted ways with SVG but lost Lonzo Ball in the offseason, replacing him with Devonte' Graham.
Even before New Orleans lost Ball, with whom Zion appeared to have great chemistry, those close to Williamson were reportedly expressing reservations about his future with the organization.
The Athletic reported earlier this summer that some members of Williamson's family wanted the former Duke star on another team. Guillory added Williamson was irked by the Pels' decision to trade veteran J.J. Redick ahead of the trade deadline.
The report called into question whether the Pelicans were doing enough to build around Zion. That skepticism has only been more prevalent this offseason, as New Orleans whiffed on Kyle Lowry and replaced Ball with a volume shooter in Graham.
Despite all the uncertainty, one of Williamson's new teammates believes the media has an agenda in stirring up drama between Zion and the Pelicans organization.
Tomas Satoransky doesn't believe the noise surrounding New Orleans' young superstar
Tomas Satoransky refuses to engage with the notion that Williamson is already trying to find a path out of New Orleans.
The Pelicans acquired Satoransky as part of the Lonzo Ball sign-and-trade with the Chicago Bulls. He recently told Czech Daily that he feels the rumors about his new teammate being disgruntled are severely exaggerated.
"I have a feeling that some American media which cover the NBA want to break up teams and create fake stories so that something's happening," Satoransky said, via TalkBasket.net. "This one's dissatisfied. This one wants to leave. Most of the time, the truth is elsewhere or in the middle.
"It's definitely not true that Zion in his third season is thinking about not having good players around him. I'm convinced of it."
Satoransky is expressing optimism here and putting forth a popular theory about the media fabricating stories about turmoil. Still, it's curious that he would go out on a limb when he's yet to spend a season with the Pelicans or play a single game alongside Williamson.
Again, the Pelicans have struggled to make tangible progress under Executive Vice President of Basketball Operations David Griffin. Perhaps new head coach Willie Green can maximize the talent on the roster, but New Orleans only has so much time to show Williamson it can be a competitive franchise.
Can the Pelicans build around Zion Williamson?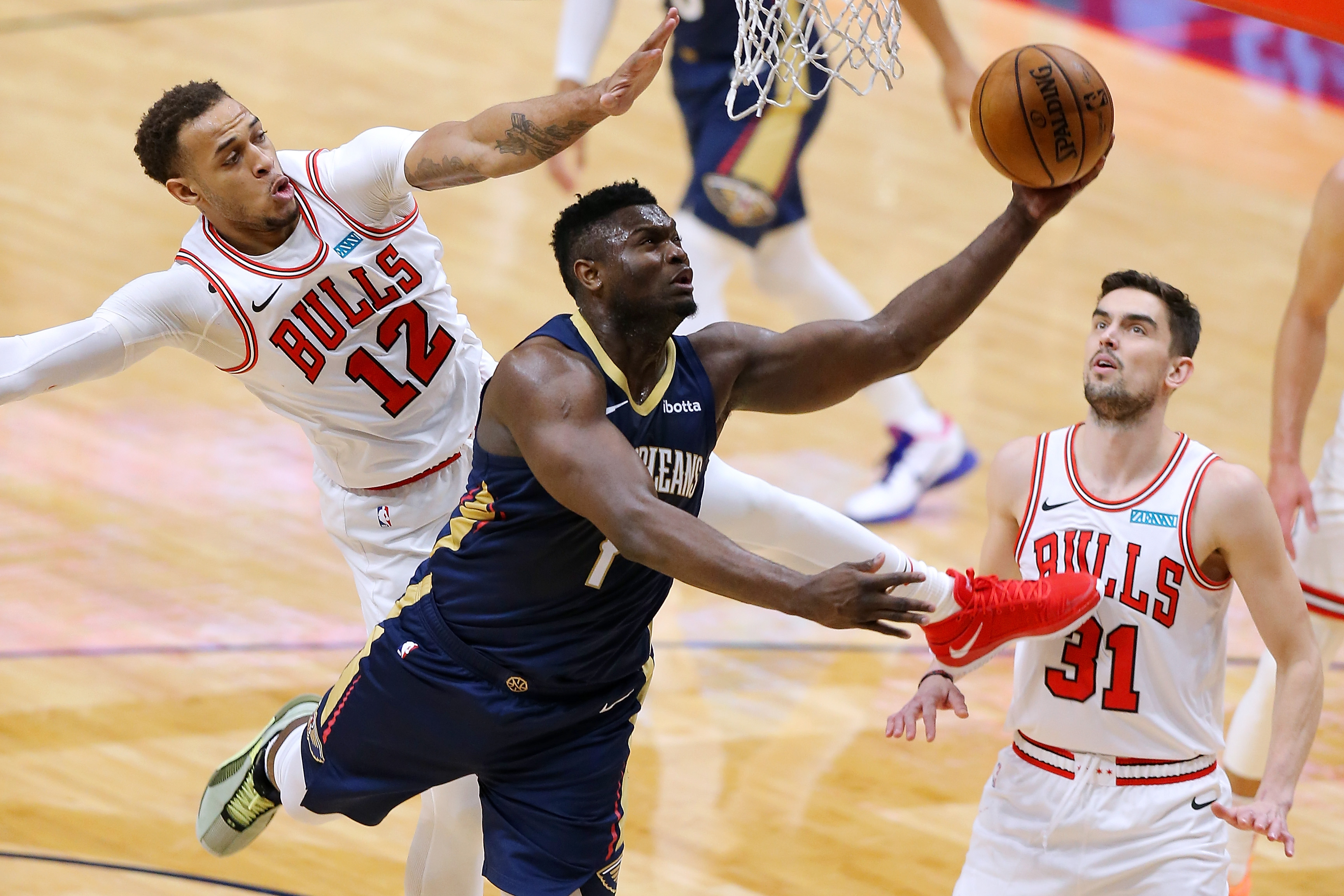 The 2021-22 season will be critical in the Pelicans' hopes of convincing Zion they are taking the next steps in building a contender.
Although New Orleans will be hard-pressed to make the playoffs this season, it undoubtedly needs to experience year-over-year improvement to assuage some of Zion's alleged doubts. Satoransky and some of the other newcomers will play a key role in helping the Pels be competitive.
Zion Williamson is no longer at the point of being an "emerging" superstar. He has fully emerged. The rest of the Pelicans' organization must similarly maneuver to rapidly improve the team's trajectory.