Zion Williamson's Foot Delivers More Bad News For Free-Falling New Orleans Pelicans
There aren't enough Jonas Valančiūnas 3-point barrages to take the sting out of the latest body blow incurred by the New Orleans Pelicans. The erstwhile face of the franchise, Zion Williamson, won't be returning soon to a court near anyone. Sidelined by a broken foot that was somehow kept quiet until media day in late September, Williamson experienced a setback in his recovery. There is no timetable for his return.
If you're of the gambling persuasion, take the over on the number of games Williamson will miss before he returns. It's just the latest wound for a team that is last in the Western Conference and shows few signs of emerging from that dank dungeon. It's as if the franchise's offices sit at the corner of Bad and Worse.
The New Orleans Pelicans have been awful but consistent
Only the Orlando Magic have displayed a worse bad offense combined with terrible defense than the New Orleans Pelicans. Through Dec. 10, the Magic are 28th in the NBA in offensive rating and have the 29th-best defense. The Pelicans are 25th and 26th, respectively.
First-round pick Kira Lewis tore his right ACL on Dec. 8. He's done for the season. Because it's the Pelicans, he also sprained his MCL in the process. He was injured attempting a shot and went down without contact. Two-way swingman Daulton Hommes has a stress fracture in his right leg and remains out indefinitely. Reserve Didi Louzada is serving a 25-game suspension after a positive test for performance-enhancing drugs.
Throw in Williamson's foot, and new coach Willie Green must be blue.
Then there's the regression of Brandon Ingram. With increased playing time and volume — necessitated at least in part by Williamson's absence — he's scoring less and shooting worse. It's especially telling from inside the arc, where Ingram has dipped from 53.1% last season to 47.4%.
The most significant drop-off is the dreaded long 2-pointer. Ingram hit 51.0% of his attempts from 16 feet out to the 3-point arc last season. This season, he's at 39.8%. But at least he's taking more of those shots in 2021–22. So there's that. Combining fewer attempts at the rim with a decrease in 3-point volume with more deep mid-range jumpers seems like a less-than-stellar formula for success.
And we haven't even gotten to the Zion Williamson theatre of the absurd.
Zion Williamson has gone from All-Star to punch line in near-record time
Last season, a healthy Zion Williamson made the leap from intriguing rookie to All-Star. He shot 61.1% overall, took 8.7 free throws a game, and was a devastatingly effective 70.1% shooter in the restricted area. Williamson took more than 95% of his shots inside 10 feet and dared defenses to stop him. Spoiler alert: They seldom did.
The New Orleans Pelicans made several offseason changes. Lonzo Ball left in a sign-and-trade deal with the Chicago Bulls. Free agent Devonte' Graham signed to take over the point guard duties. Steven Adams went to the Memphis Grizzlies, with Valančiūnas coming down the Blues Highway in return.
Then we all learned Williamson had a broken foot. Pelicans' president of basketball operations David Griffin was confident Zion could be back in time for opening night on Oct. 20.
On Dec. 11, the team announced a setback in Williamson's recovery:
"After experiencing persistent soreness in his right foot, Zion Williamson underwent medical imaging which showed a regression in the bone healing of his fifth metatarsal. As a result, the volume and intensity of his training will be reduced for an extended period to help allow for further bone healing."

New Orleans Pelicans statement
At this point, Griffin could express confidence in Williamson's availability for opening night in October 2022 and not be taken seriously.
The last thing Zion's critics needed was another piece of ammunition.
Zion Williamson and the New Orleans Pelicans are a punching bag for pundits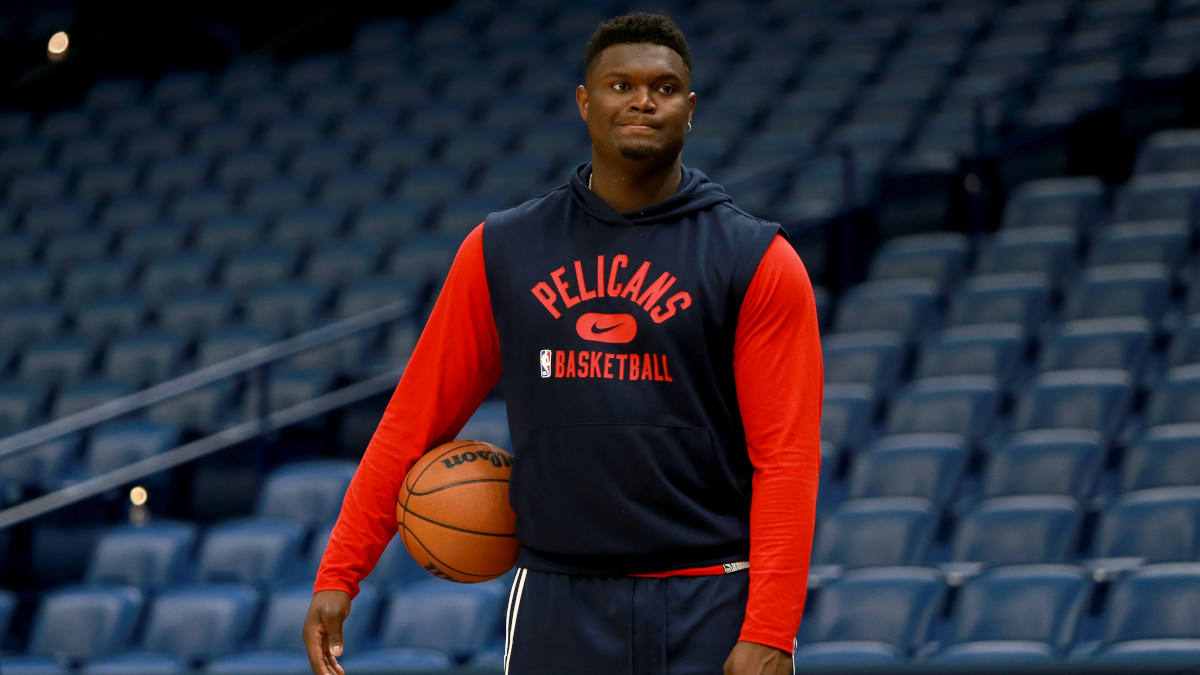 The weightiest question for the media regarding the New Orleans Pelicans is just how heavy Zion Williamson may have gotten during his recovery from a broken foot.
There were reports he topped 300 pounds following surgery. Former players-turned-analysts have piled on, with Kendrick Perkins and Charles Barkley openly mocking Williamson's apparent conditioning (or lack thereof).
All of this is happening with the clock ticking down to Williamson's eligibility for a rookie extension. Assuming he's out of the running for All-NBA, MVP, or Defensive Player of the Year honors this season, Williamson is eligible for 25% of the team's salary cap on an extension, up to five years and $181 million.
If they go the Ben Simmons route, Williamson could sign the extension and still qualify for a supermax by meeting any of the qualifying standards in 2022–23.
Despite Zion's insistence he's happy in New Orleans, the operating theory in the media is that he is not. That puts Griffin and the Pelicans in a precarious spot. The franchise has a dark history of keeping its stars in the Big Easy. Chris Paul and Anthony Davis signed extensions, then asked out before those deals expired. There's no guarantee Williamson even gets that far.
One annoying reality complicates the situation: building a team around an injured player is challenging. Williamson missed more than half his rookie season with a knee injury sustained in the first game of the Summer League. The tally is 28 games this season and climbing due to the foot.
Maybe Zion Williamson and the New Orleans Pelicans will catch some good luck soon. Goodness knows it's overdue.
Statistics courtesy of Basketball Reference and NBA.com. Contract information courtesy of Spotrac.