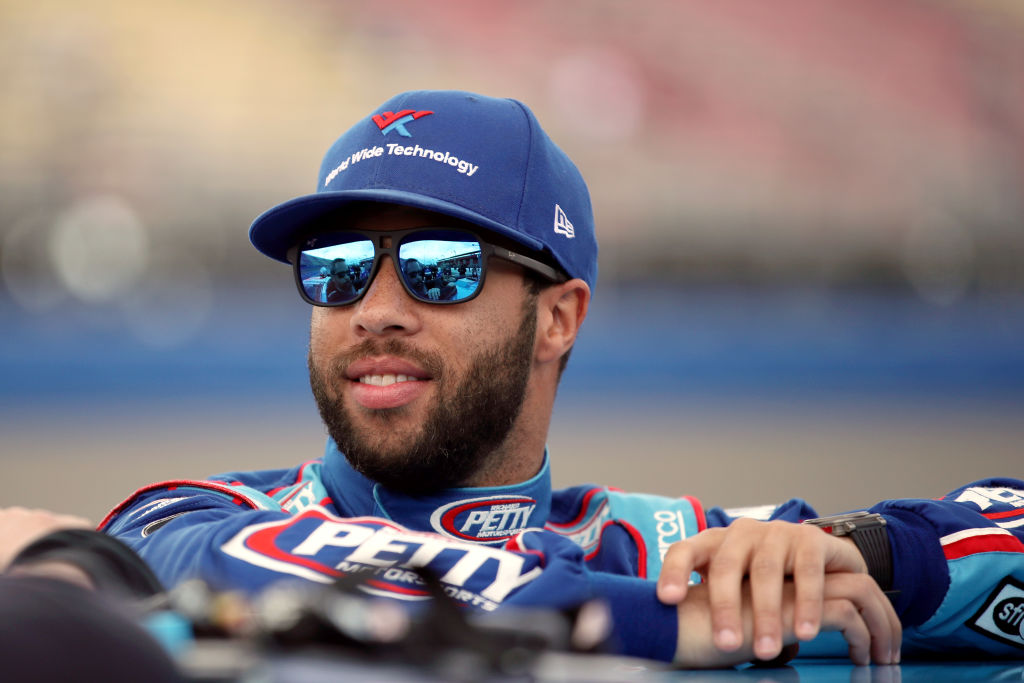 Bubba Wallace Admits Some Recent Critiques Have Hurt Him
NASCAR driver Bubba Wallace has become an activist in recent months. With his new role, some have started to question his driving ability, which Wallace has admitted bothers him.
NASCAR driver Bubba Wallace has become a split personality in the last four months. For veteran NASCAR fans, he's the young driver who has shown some flashes of brilliance, but has yet to capture a win on the Cup Series. For many new fans of racing, Wallace is the main reason they've started following the sport due to his outspoken voice on racial injustice and his stance on the Confederate flag in NASCAR. 
While Wallace welcomes all fans, he said it's been a challenge managing both roles as driver and activist. He admits, at times, it's daunting and can even be hurtful to hear those who question his driving ability. However, in the end, he just uses that as motivation.
Bubba Wallace's NASCAR career 
Bubba Wallace has had a successful career in NASCAR. It just hasn't been at the highest level on the Cup Series, which is what most fans watch. Before joining the Cup Series full time in 2018, Wallace raced on the two lower NASCAR series with the Gander Outdoors Truck Series, and the Xfinity Series.
With the Gander Series, Wallace excelled. In the two years he raced trucks full time, he won five races and had nine other top-10 finishes. He was more than ready to make the move up to the Xfinity Series.
In 2015, Bubba Wallace joined the Xfinity Series full time. He had 14 top-10 finishes that first season, but a trip to victory lane remained elusive. The following two years was much of the same — numerous top 10s, but no wins. 
Wallace made the transition to the top Cup Series in 2018 against the best of the best. After managing just three top-10 finishes in that first season, he's steadily improved each of the last two years. The 2020 season has easily been his best on the Cup Series so far, with four top 10s just over halfway through the schedule.    
Bubba Wallace becomes activist
While Bubba Wallace has yet earn his first Cup Series victory, you would never know it by his popularity in 2020. Unfortunately for Wallace, it's come as a result of tragedy and the death of George Floyd. Since that time, Wallace, the lone Black driver on the NASCAR Cup Series, has become the unofficial spokesman for NASCAR.
He has used his platform in recent months to speak out against racial injustice and police brutality. In addition to sharing his own personal experiences of racism with his fellow drivers and the NASCAR community, he's appeared on various media outlets, including CNN, Good Morning America, and The Jimmy Kimmel Show.
Through it all, his voice has increased in its power. This was most evident during an interview with CNN when he suggested removing the Confederate flags from all NASCAR-related events. A couple of days later, NASCAR announced it was doing just that. 
Wallace admits criticism has been tough to endure
Bubba Wallace has never shied away from his role as a spokesperson and activist. He's accepted it and tried to use it for good. But he said the last few months have been particularly challenging as he's had to endure attacks from the President and listen to some question his driving ability.
"I can't just let what I'm doing off the track be my legacy," Wallace said in a Time Magazine interview. "There are comments out there that a person who's never won is being more of an icon than people that have won—that I'm using [activism] because I can't win. It's tough to read that stuff."
While painful to read and hear, Bubba Wallace said he uses those doubters and their comments as motivation.
"So there's nothing that's more motivating to go out there and compete every weekend, to go out and get a win. So I can just shut everybody up."
Wallace has yet to make it to the winner's circle, but if his improved performances in 2020 since he took on the additional responsibilities as a NASCAR spokesman are any indication, that could happen sooner rather than later.