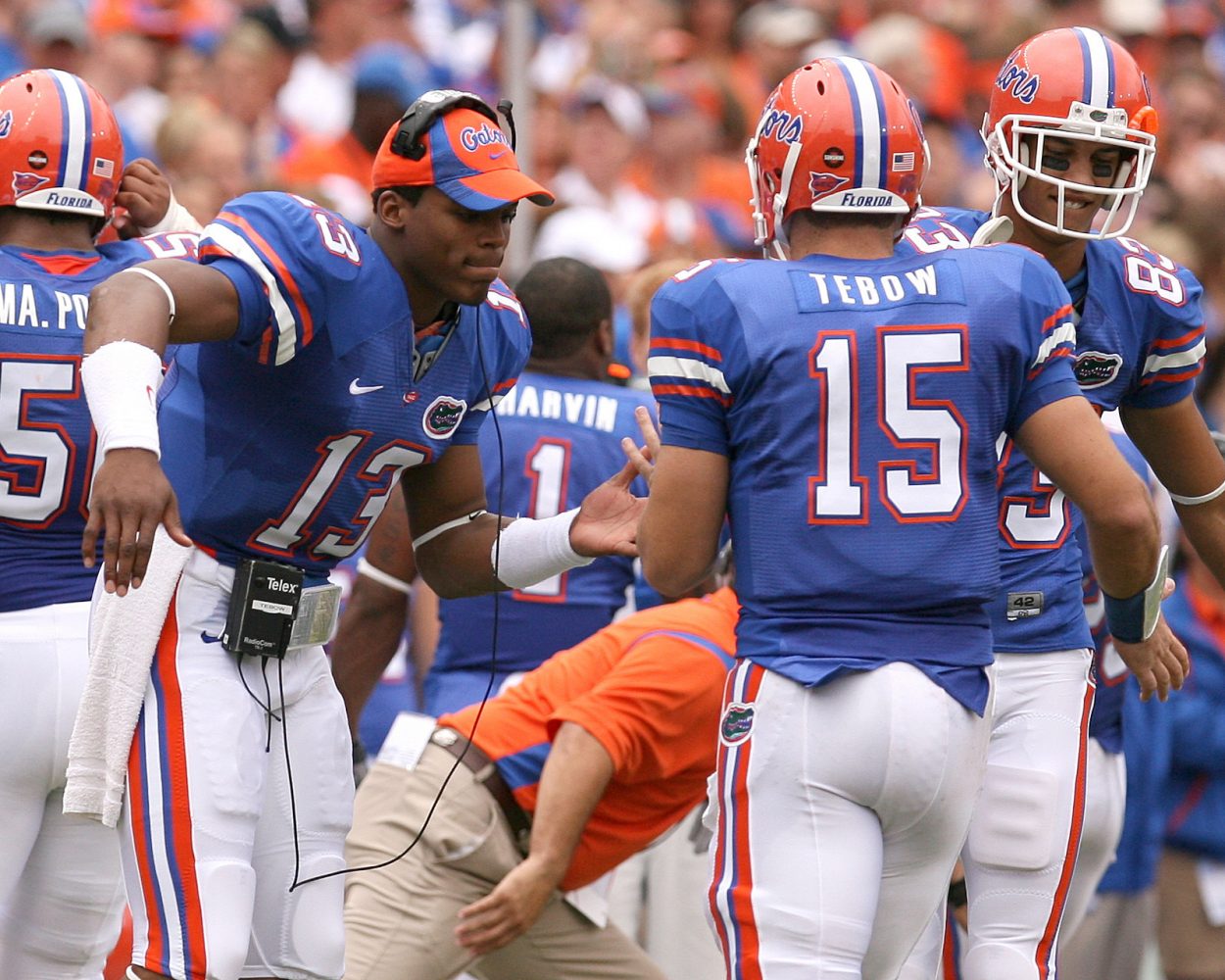 Cam Newton Played Behind Tim Tebow At Florida But Gave Him Humble Praise Despite Enjoying a Better NFL Career
Cam Newton was Tim Tebow's backup at Florida and had great things to say about his former college teammate.
Cam Newton hasn't played in the NFL since a less-than-memorable return to the Carolina Panthers for the 2021 season, but his football journey remains one of the most intriguing stories in recent memory. He went from playing behind Tim Tebow in college to earning the NFL's Most Valuable Player Award.
Playing behind one of the most successful college football players of the past 20 years, Newton learned a lot. The unique experience prepared him for college football and NFL stardom.
Cam Newton and Tim Tebow were 5-star prospects out of high school
Tim Tebow was a standout quarterback at Ponte Vedra High School, earning a 5-star rating by 247Sports. He was rated as the top dual-threat quarterback in the country and the No. 21 overall prospect in the class of 2006.
The Phillippines native garnered attention from several major college programs but eventually committed to Urban Meyer and the Florida Gators.
Cam Newton was part of a loaded 2007 recruiting class just one year after Tebow arrived in Gainesville. He starred at Westlake High School in Atlanta, Georgia, and 247Sports rated him as the No. 2 dual-threat quarterback and the No. 26 overall prospect in the class.
Newton was also highly-recruited but spurned several other SEC schools to join the Gators. His high school highlight tape was unreal; he appeared to be a man playing among boys. The Atlanta native consistently made opposing defenders pay with his arms and legs.
Tebow and Newton each dominated at the high school level and ended up in the same quarterback room at Florida.
Newton was Tebow's backup at Florida
Tim Tebow played behind Chris Leak as a freshman with the Gators, but he appeared in all 14 games. He threw for 358 yards and five touchdowns on just 33 attempts. He impacted the game with his legs in a major way, though, carrying the ball 89 times for 469 yards and eight touchdowns.
After waiting his turn, No. 15 took over as the full-time starting quarterback as a sophomore. He was dominant, too. Tebow passed for 3,286 yards and 32 touchdowns while completing nearly 67% of his throws. He threw just six interceptions and also added 895 yards and 23 touchdowns on the ground. After a stellar 2007 season, he won AP Player of the Year and the Heisman Trophy.
Cam Newton served as Tebow's backup in 2007. He attempted 10 passes but ran for three touchdowns. He appeared in just one game during the 2008 season and then transferred to Blinn College, a Texas junior college, in 2009.
In his one season at Blinn, Newton dominated. He was the No. 3 JUCO prospect, per 247Sports. He landed at Auburn in 2010 and put together one of the most impressive single seasons in college football history.
Newton joined the All the Smoke podcast in September 2021 and discussed his time at Florida. He spoke about his experience playing behind Tim Tebow.
"Tim Tebow was everything as advertised — and some," he said. "I can say I sat on the bench behind a Heisman Trophy winner."
Newton praised his teammate as one of the best college football players ever but wanted his moment.
"It just wasn't a good fit for me," he said of Florida.
Cam Newton ended up being a better NFL quarterback than Tim Tebow
Despite Tim Tebow enjoying a longer reign at the top of the college football landscape, Cam Newton displayed more longevity at the next level.
After running through the competition at Auburn, Newton was ready for the NFL. Regarded by many as the best player in the 2011 NFL Draft, he went No. 1 overall to the Carolina Panthers.
The Auburn standout earned the starting quarterback role in his first season. He threw for 4,051 yards and 21 touchdowns with 17 interceptions. He also ran for 706 yards and 14 touchdowns. Newton's dual-threat success led to AP Offensive Rookie of the Year honors.
Tim Tebow's rookie season didn't go nearly as well. The Denver Broncos took him with the No. 25 overall pick in the 2010 NFL Draft. He appeared in nine games as a rookie, throwing for 654 yards and five touchdowns. He added 227 yards and six touchdowns on the ground.
Tebow took over as the starter in 2011, but his limitations as a passer were exposed. He started two games for the New YorkJets in 2012, but that was it for his career. He attempted a comeback before the 2021 season but was relegated to trying out (unsuccessfully) for the Jacksonville Jaguars as a tight end.
Newton spent 11 seasons in the NFL (10 as a starter). He earned three Pro Bowl selections and was named the NFL's Most Valuable Player in 2015 after leading the Panthers to the Super Bowl.
The quarterback may have been Tebow's backup at Florida, but he used it as motivation. And it paid off in the long run.