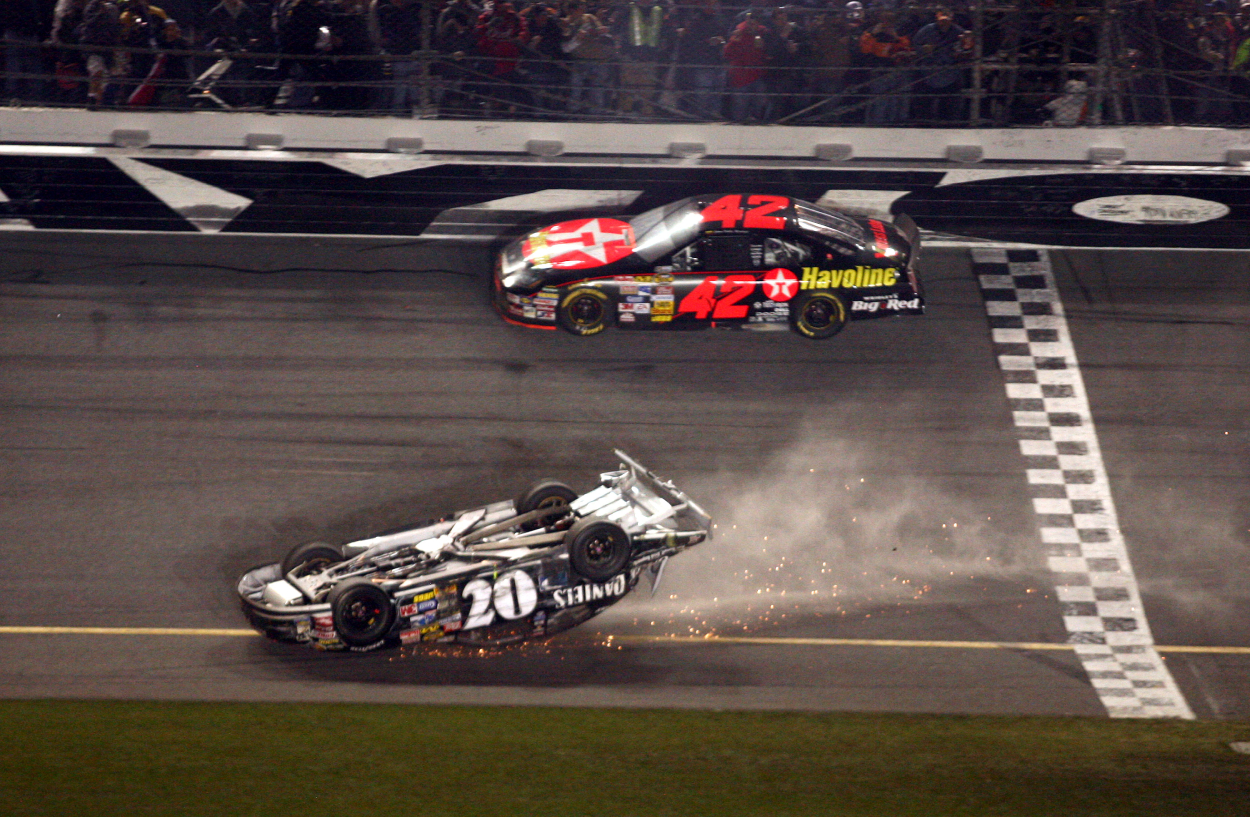 Clint Bowyer's Dramatic 2007 Daytona 500 Finish Found Him Upside Down and on Fire as He Crossed the Line
Clint Bowyer ended the 2007 Daytona 500 in dramatic fashion when he crossed the finish line with his car upside down and on fire.
It wasn't the prettiest finish in NASCAR history, but Clint Bowyer made it. He managed to cross the finish line at the 2007 Daytona 500, but it wasn't in typical fashion. Bowyer's 2007 season began with a crash on the final lap and he managed to cross the finish line with his car flipped upside down and on fire.
The 2007 Daytona 500 was the closest race in its history
It was filled with controversy and crashes, but the Daytona 500 in 2007 was one of the most exciting races in the history of the Great American Race. On a final green-white-checkered restart, Kevin Harvick started seventh. On the white flag lap, he made his way up front and then got some drafting help from Matt Kenseth in Turn 3.
Harvick, racing for Richard Childress Racing, was able to hold off Mark Martin by .020 seconds, the closest Daytona 500 finish since 1993, according to Daytona International Speedway. "I've been coming here since 1965 and it's the most exciting Daytona 500 finish that I've ever seen," Childress said the following day. "With the cars wrecking and side by side, and Kevin coming from seventh, it was an amazing finish and I'm just glad we were in front."
Martin was seeking his first Daytona 500 win, but just couldn't get the help he needed. "When I looked up there at the end, I was minus any pushers," Martin said. "I didn't have any help to get it done and that's the way it goes."
Clint Bowyer finished the race in unusual fashion
In 2007, Clint Bowyer was a newcomer to NASCAR. Although he was new to the scene, he had been making his mark. Bowyer had four top-five finishes, and 11 times he was in the top 10 the previous season. He was an up-and-comer and he managed to find a way to finish the 2007 Daytona 500 in dramatic fashion.
During the final lap of the Great American Race, there was a multi-car pileup on the final lap. There was a chain reaction caused by a collision between Kyle Busch and Matt Kenseth, and that caused Bowyer's car to flip over.
Although the car was turned upside down, it managed to skid across the finish line. Not only was the car upside down, but it was also on fire. Bowyer walked away unharmed while earning an 18th-place finish. "If you can't win, be spectacular," he said, according to CBS News.
Bowyer described that final lap
Clint Boyer saw the crash in front of him and he knew he would wind up being a part of it. "I tell you, it was a wild last lap," Bowyer said in 2007, according to CBS News. "You know, I knew we were probably going to wreck. I just hoped I was going to get through it when we did. I was almost through it, you know. The wreck had happened. I saw the (No.) 5 car go low, the (No.) 17 went high, and I went through the middle. By the time I thought I was through it, they clipped me in the right rear, and away she went."
Bowyer was concerned. He wasn't sure if he'd be able to walk out of the car with it on fire. Despite the chaos, he found the situation "interesting."
"Thankfully, it just slid and then caught on fire," he said. "Then I was a little worried about that, you know, getting out with it on fire. The weirdest thing was how much dirt that came inside that car. I had probably, you know, 30, 40 pounds of dirt on top of me, trying to get out of it. So that was interesting."