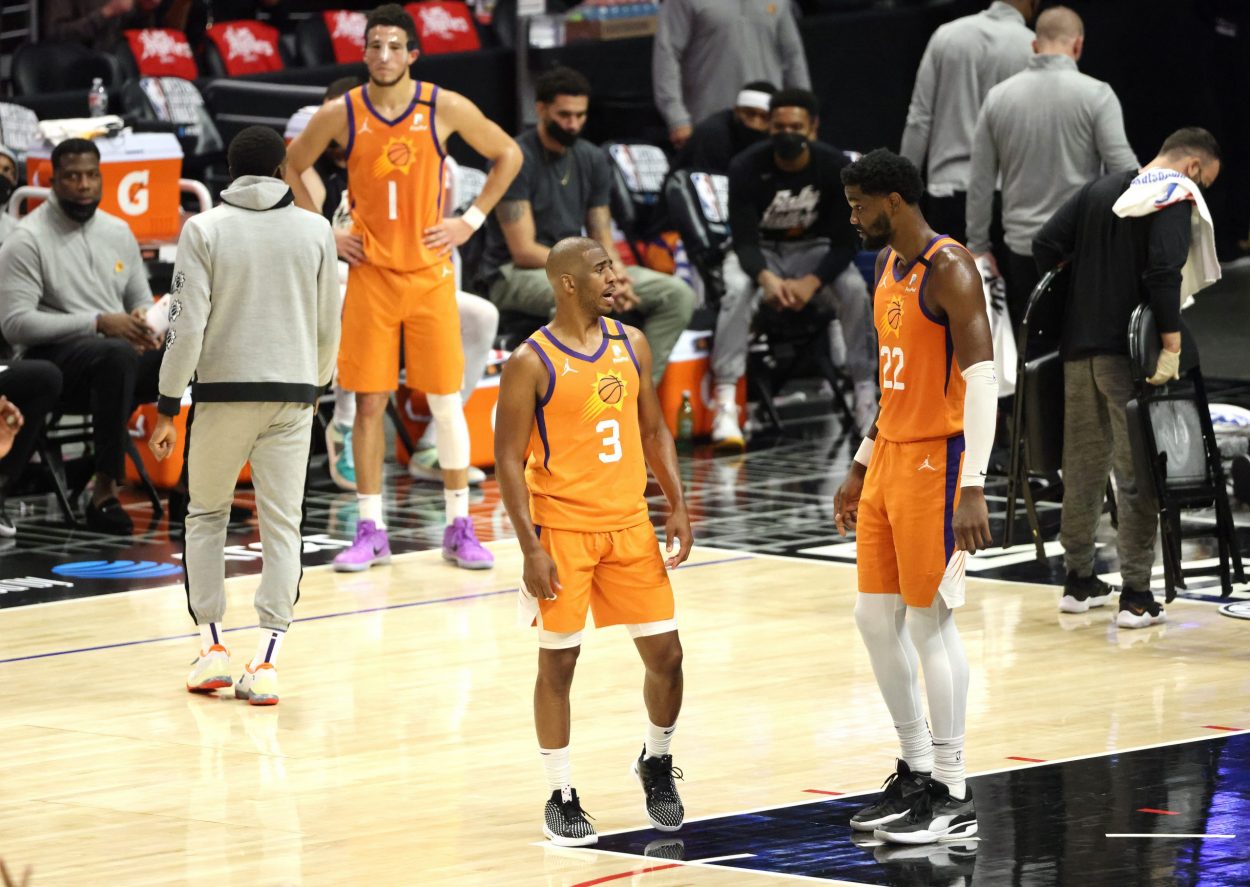 Deandre Ayton Didn't Get His $172.5 Million Contract, but He Still Has a $120 Million Reason to Listen to Chris Paul and Maintain His Star Trajectory
Deandre Ayton couldn't cash in on the $172.5 million he could have made this offseason. But Phoenix Suns teammate Chris Paul is motivating Ayton behind the scenes, and the $120 million contract he signed this summer should give Ayton incentive to keep playing winning basketball. Ayton can go out and show the Suns he is …
Deandre Ayton couldn't cash in on the $172.5 million he could have made this offseason. But Phoenix Suns teammate Chris Paul is motivating Ayton behind the scenes, and the $120 million contract he signed this summer should give Ayton incentive to keep playing winning basketball.
Ayton can go out and show the Suns he is a max player — and possibly even a franchise centerpiece. Or, he could wallow in his frustration and potentially harm his value in restricted free agency next season. Paul hopes it's the former.
Chris Paul spoke to Deandre Ayton about failed contract talks with the Suns
Deandre Ayton reportedly felt disrespected by and miffed at the Suns' evaluation of him as being less than a max player. However, Chris Paul is trying to keep the young center on an even keel.
Paul told Chris Haynes of Yahoo Sports that he spoke with Ayton about his contract situation and explained that the 2018 No. 1 pick understands he still has everything to gain.
The veteran point guard added that these situations can sometimes provoke tension within the team. Paul told Haynes that such tension can arise internally or from those within one's inner circle.
Indeed, Ayton might have felt frustrated after the Suns extended Mikal Bridges and Landry Shamet while insisting the center was not worth the five-year, $172.5 max extension for which he was eligible this offseason.
But the reality is Ayton did not get the contract. Now, as Paul stated, it's about how he responds and proves his worth on the floor.
Interestingly, Ayton might be able to draw on Paul's own contract extension as a reason to have a massive season and force the Suns to empty their pockets.
Ayton should look to Paul's $120 million contract as a means of motivation
Not long ago, questions swirled about how the CP3 experiment would work out in Phoenix.
Chris Paul had a real impact on winning in Oklahoma City during the 2019-20 season, dragging a young Thunder team to the playoffs. Could he do the same with the Suns? The answer was resoundingly positive.
Paul excelled in his first season with the Suns. He averaged 16.4 points, 8.9 assists, and 4.5 rebounds during the regular season, making All-NBA Second Team and leading Phoenix to its first NBA Finals appearance since 1993. He also elevated Ayton and Devin Booker, among others, both of whom had terrific playoff performances en route to the Finals.
Before the season began, Paul seemed likely to accept his $44.2 million player option for the 2021-22 season. Yet he leveraged an All-NBA season into a four-year, $120 million extension with the Suns this past summer.
If a 36-year-old Paul can go out and earn a mega-deal, then surely Ayton — still just 23 years old — can do the same, right? He can likely do so by having a breakout campaign and helping the Suns build on last season's success.
Will the Suns get Ayton more involved going forward?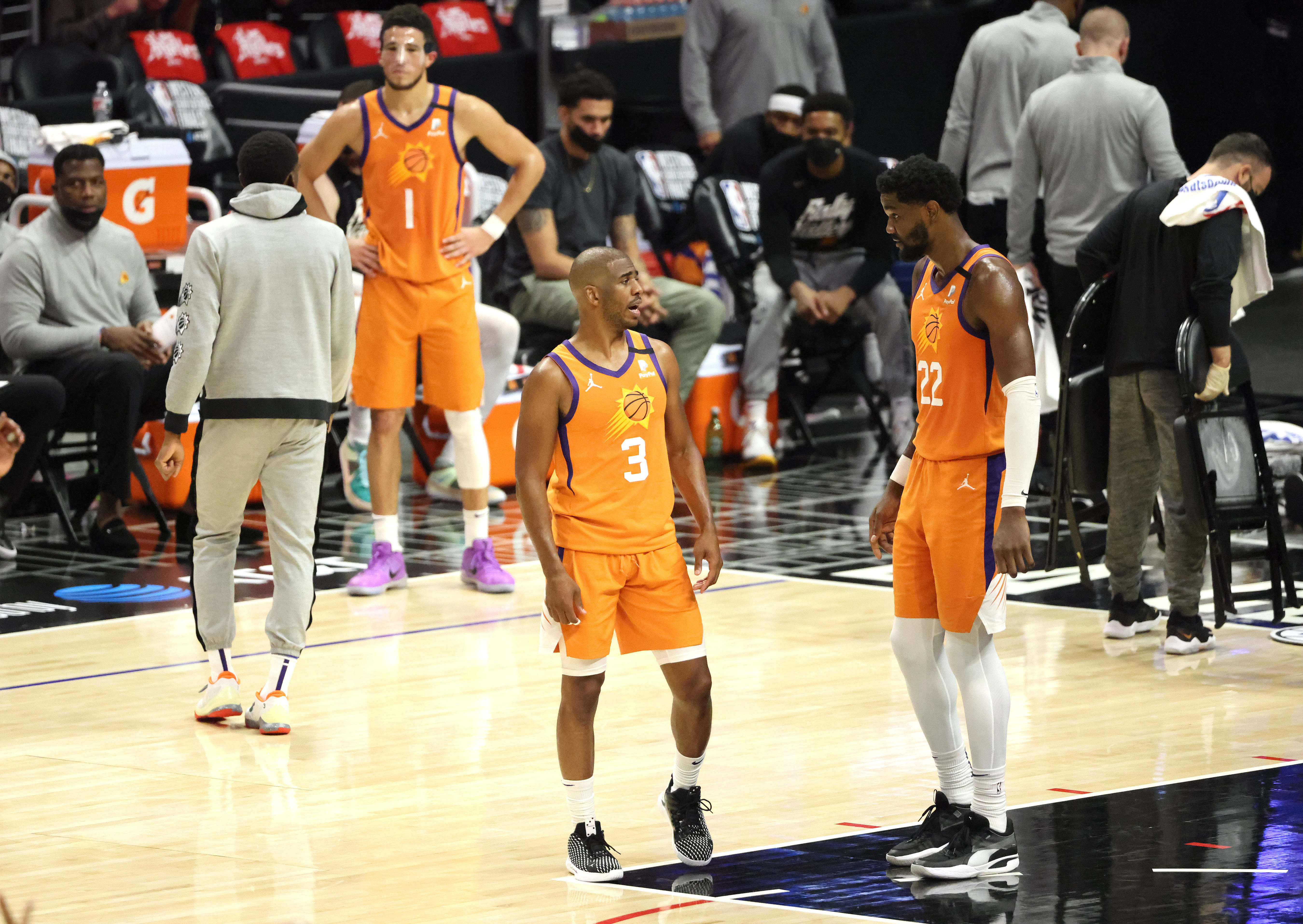 Deandre Ayton stated a desire to have a more prominent role in Phoenix's offense this season. Suns head coach Monty Williams' ability to get his young center more looks could determine Ayton's likelihood of earning a big deal next summer.
Ayton averaged close to 15 field-goal attempts during the 2019-20 campaign. That number fell to 10.0 shots last season, though he shot a career-high 62.6% from the field. His numbers are down again to start this season.
The former Arizona standout is averaging just 8.7 attempts through Phoenix's first three games. He'll likely end up averaging double-digit field-goal attempts when all is said and done, but it's worth monitoring his usage as the season rolls along.
Paul stated that the whole team wants to see Ayton get paid next summer. The fourth-year center should look to CP3's contract as inspiration to be more assertive and produce as the Suns try to get back to the NBA Finals.
Stats courtesy of Basketball Reference. Contract information courtesy of Spotrac.