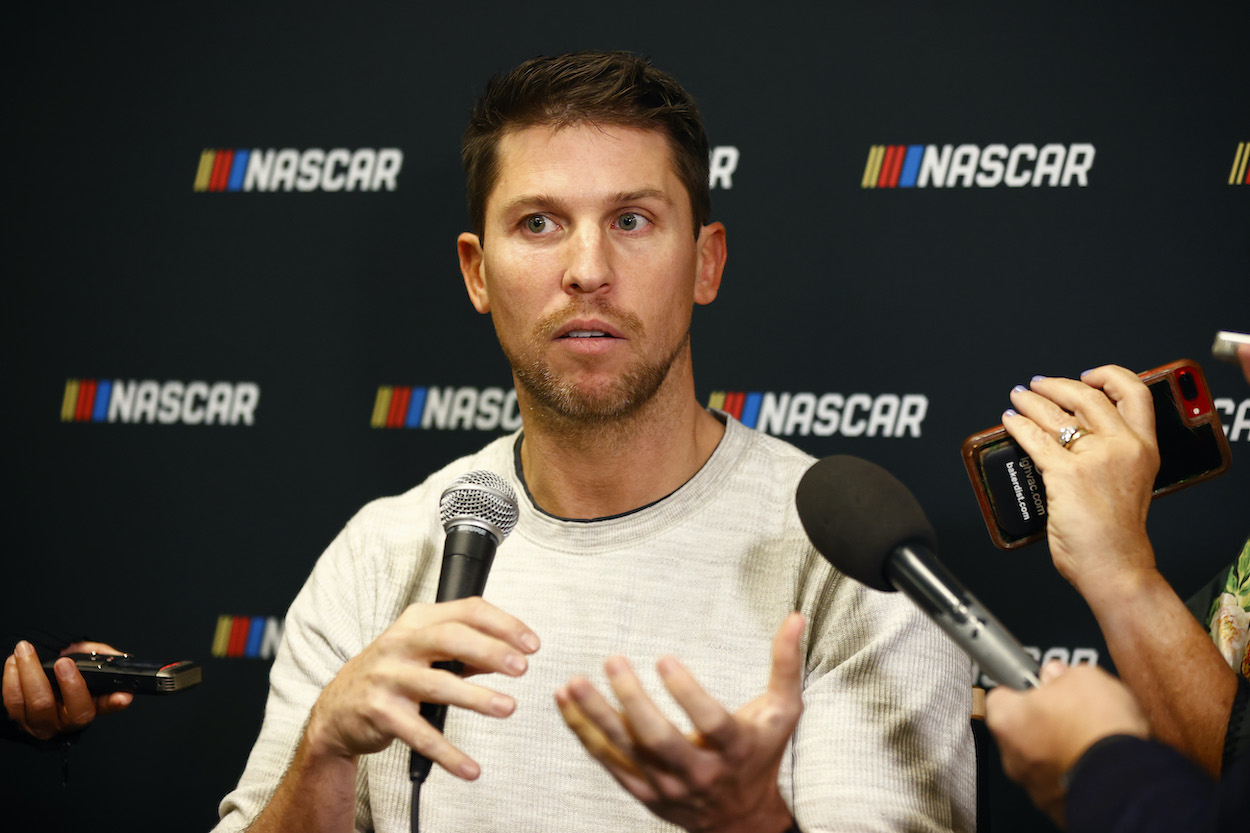 Denny Hamlin Throws Shade at NASCAR for Latest Cosmetic Change to Next Gen Car and Video Proves Him Right
Denny Hamlin has been vocal about the Next Gen car and threw shade at NASCAR for its latest cosmetic change to the car. Video proves him right.
Denny Hamlin is one of the veterans on the NASCAR Cup Series. The three-time Daytona 500 winner is one of the most respected in the garage. His voice matters. 
The 41-year-old driver has been very outspoken this year on the development of the Next Gen car, raising concerns about safety and admitting that the cars are slower than the lower level Truck Series. During the most recent round of testing at Charlotte Motor Speedway, Hamlin was at it again when he threw shade at NASCAR for a cosmetic change to the car in which video proves he's right.   
Denny Hamlin candid about concerns over safety issues
Denny Hamlin has never been afraid to stand up and criticize NASCAR. Earlier this summer he had the Next Gen car in his sights with a focus on safety issues and NASCAR's lack of transparency in addressing the drivers' concerns.  
"When it comes to the crash stuff, I've asked questions to two different NASCAR people, executives. I can't get a response. That, to me, makes it even scarier," Hamlin said. "Man, the disconnect right now between all the parties — NASCAR, the tracks, and all the drivers, it's tough right now. It's not a good place."
Hamlin suggested in order for drivers to ensure that they are driving the safest cars in the future, they must work together.  
"In seven years, I'll be a team owner only, but these drivers, they need to get organized. Their safety is at risk," he said. "They need to know what they're getting strapped into. So they need to get organized and they need to have a voice. They deserve to have a seat at the table, whatever that table is."
Throws shade at NASCAR for chrome numbers not being visible
While the Next Gen car is a completely different machine and has an entirely new look, NASCAR also decided this year to introduce some additional cosmetic changes, including the shifting of the numbers forward on the side of the car. 
Another change for 2022 is to allow the use of chrome numbers, which based on a small sample size so far, can prove to be challenging to see. Hamlin said as much during the first day of second-round testing at Charlotte when Tyler Reddick was the first one out on the track. 
When reporter Toby Christie posted a video of the No. 8 car from Richard Childress Racing driving out onto the track, he identified it as just that. However, the chrome number made it almost impossible to identify the car without giving it a second glance. Hamlin pounced.
"Are we sure it's the 8? Couldn't tell," Hamlin replied to Christie's tweet, followed by an upside-down emoji. 
Denny Hamlin admits he spun during first round of Charlotte testing for embarrassing reason
While Hamlin brought up the chrome numbers from the current round of Next Gen testing and how they could prove problematic from a fan viewing experience, he recently addressed the last round of testing at Charlotte during a Racing Spaces conversation on Twitter and discussed the unbelievable reason why his car spun out. 
"The manual that they actually give you to put the car together has the left rear control arm upside down. So that's a problem," Hamlin said. "So my rear end was actually skewed to the wrong side because the manual. I mean, we triple-checked. The manual has it wrong. It's upside down. We got that fixed. 
"I told them, 'Man this thing is driving sideways. I don't understand.' It has no sideforce to begin with. Why am I on edge so bad? And then I spun out. But then they're like, 'Oh we've got an issue with the left rear there. They fixed that.'" 
Chrome numbers. Incorrect manuals. Safety concerns. If there's an issue with the Next Gen car, Hamlin isn't going to hesitate to call it out. And his fellow drivers and fans should be thankful for it.
Like Sportscasting on Facebook. Follow us on Twitter @sportscasting19.