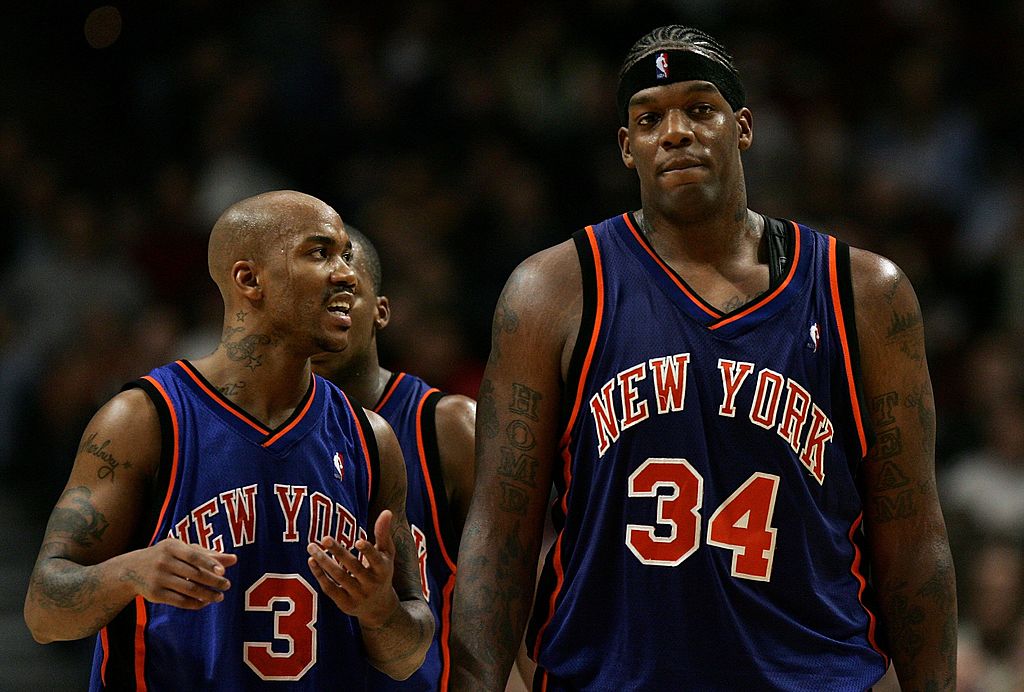 Knicks Bust Eddy Curry Blew $70 Million on $1,075 Monthly Cable
Eddy Curry was a notorious bust for the Knicks. The former high school star also ran into financial troubles off the court.
Eddy Curry checked every box. Size. Strength. Ability. Yet, the promising prospect once dubbed "Baby Shaq" never realized his immense potential. Considered one of the best high-school recruits of all time, the Illinois native essentially ate himself out of the league. Of course, he managed to haul in millions from the Chicago Bulls and New York Knicks before retiring as one of the NBA's biggest busts.
Life off the court wasn't easy for Curry. He ran into a myriad of financial troubles. His lifestyle choices played a major factor in his eventual downfall. One of those happened to be the most expensive cable bill anyone's ever seen.
Eddy Curry was once dubbed "Baby Shaq"
Eddy Curry surprisingly didn't begin playing basketball until middle school. But like Kevin Garnett and Kobe Bryant, the bruising big man blossomed into a transcendent talent in high school. In his prep days, Curry tipped the scales at 6-foot-11, 290 pounds.
A star at Thornwood High in South Holland, Illinois, the towering titan made his peers look downright silly. He simply couldn't be contained. As a senior, he led his school to a second-place finish in the state championship. Most impressively, Curry got selected as Mr. Basketball in a state renowned for producing elite talent. He also took home MVP honors at the McDonald's All-American game.
Though he could have been a star at any college program, Curry eschewed the opportunity. Instead, he declared for the 2001 NBA draft. In hindsight, that decision proved to be a poor one for Baby Shaq.
Former NBA lottery pick flamed out with Knicks
The 2001 NBA draft featured four centers with the first four picks. While Washington blew the first pick on fellow high-school prodigy Kwame Brown, the next two picks turned out to be major hits. Ironically, second-overall pick Tyson Chandler landed with the Bulls in a trade that sent former lottery pick Elton Brand to the Clippers. Pau Gasol went off the board next, but he also got dealt on draft night to the Vancouver Grizzlies for All-Star forward Shareef Abdur-Rahim.
With one prized big man already in play, the Bulls doubled down on their efforts by selecting Eddy Curry. Ideally, the Chandler-Curry pairing should have set up Chicago for another dynasty run. Instead, the teenager started just 202 games in four years and averaged 11.8 points, 4.9 rebounds and 0.9 blocks in four seasons in the Windy City.
In October 2005, Chicago traded Curry to the Knicks in a huge package deal that included multiple first-round picks. While the Bulls ultimately made out well on the deal, Knicks fans quickly realized the front office's fatal mistake.
Weight issues plagued Curry during his time in New York. After starting 208 games in his first three seasons, he never started another game in a Knicks uniform. While he did average a career-high 19.5 points in the 2006-07 season, he finished his Knicks career with disappointing averages of 15.2 points, 5.8 rebounds and 0.6 blocks.
Curry's financial troubles included insane cable bill
Eddy Curry missed the entire 2010-11 season before making a brief NBA comeback with the Miami Heat and Dallas Mavericks. However, after entering the NBA at age 18, his career ended after his age-30 season.
Though he failed to live up to expectations, Curry still got paid well. He totaled $70 million in NBA earnings, including a career-high $11.5 million from the Timberwolves. Of course, many forget that Minnesota bought out his contract and paid him to literally not play for the franchise.
Even though he banked millions, the father of seven struggled to maintain his money. Some of that was his own fault. He faced legal troubles as a result and detailed some of his personal expenses.
The most shocking revelation? According to Curry's court papers, he spent $1,075 per month on cable and satellite TV service. He also spent $6,000 a month on a personal chef and $17,000 on relatives and dependents. Eddy Curry serves as a cautionary tale for athletes when it comes to financial management. Today, he's only worth about $3 million.