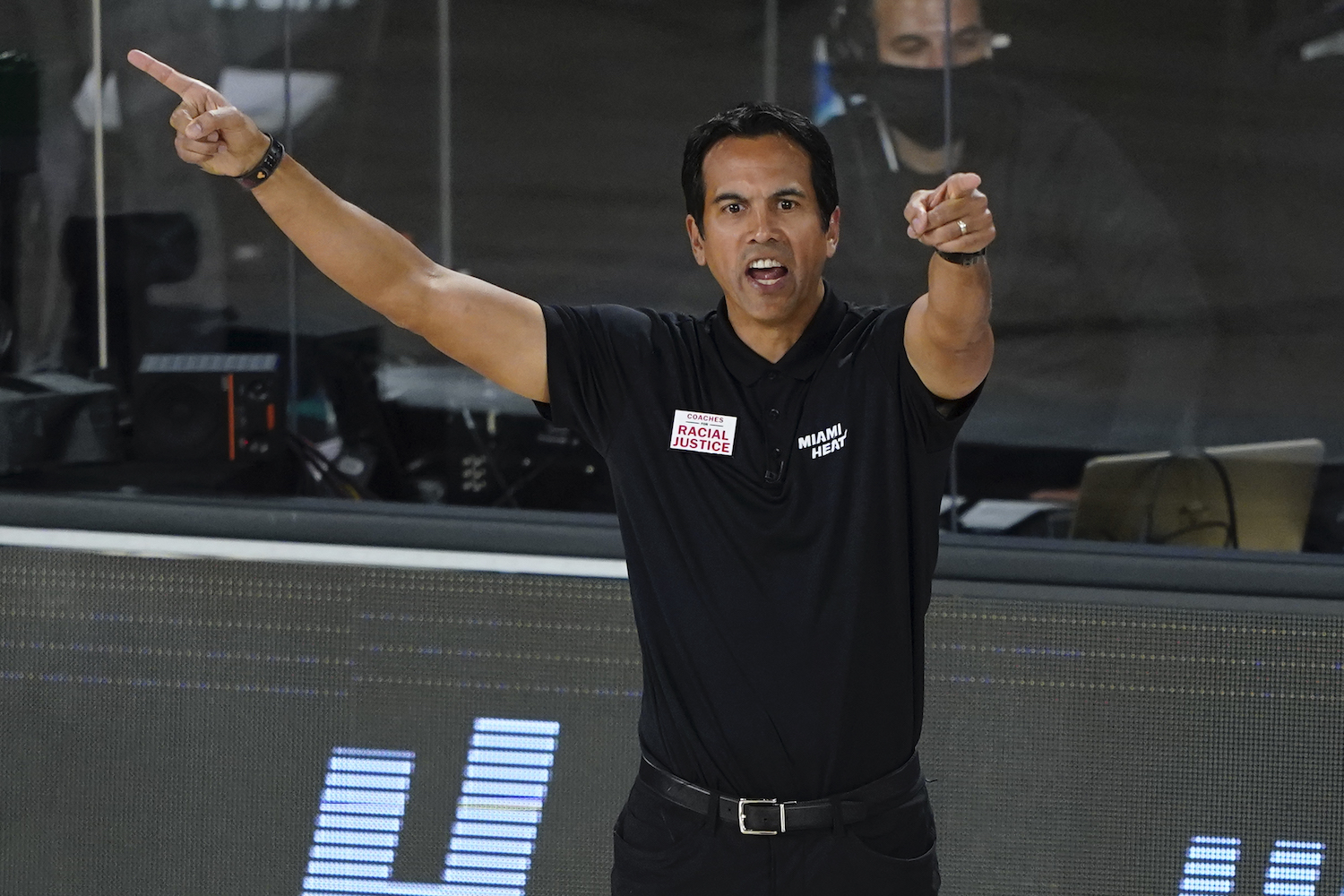 Erik Spoelstra Stood Feet Away When Hank Gathers Tragically Collapsed 30 Years Ago
Before Erik Spoelstra became an NBA title-winning coach, he played in college and stood just feet away from Hank Gathers when he collapsed during that fateful game in 1990.
Erik Spoelstra is in his 23rd season with the Miami Heat organization and 12th season as the man in charge. He has a pair of NBA titles on his head coaching resume and is looking to add a third as the Heat take on the LA Lakers in the 2020 NBA Finals. 
By many accounts, Spoelstra has never received the amount of credit you would expect for someone with his level of success. For Spoelstra, he's never been concerned about that. He has the game, and more importantly, life in perspective. That's what happens when you experience tragedy first hand. And he did just that in 1990 when he stood just feet away from college superstar Hank Gathers as he collapsed on the court before dying a short time later. 
Erik Spoelstra's coaching career
The Miami Heat hired Erik Spoelstra as the team's video coordinator in 1995. He worked as an assistant with the team until 2008 when then-head coach Pat Riley decided to step down. Riley handpicked Spoelstra as his successor, saying "he's a man that was born to coach."
Since his promotion, Spoelstra has proven Riley right on a regular basis. In this, his 12th season as head coach, the Miami Heat has missed the playoffs just three times under his leadership. The team won the title in 2012 and 2013 and made the NBA Finals in 2011 and 2014.
While Erik Spoelstra was the coach during that period of success, the Big Three of LeBron James, Dwyane Wade, and Chris Bosh generally receive most of the accolades. 
Chris Bosh was a scary reminder for Erik Spoelstra
Just a couple of seasons into Erik Spoelstra's tenure in Miami and he received an influx of talent with the additions of LeBron James and Chris Bosh. During the next four seasons, the Heat managed to reach the NBA Finals each season, winning twice.
Following the 2014 season, James returned to Cleveland and Bosh re-signed with the Heat. In February 2015, Bosh was diagnosed with a blood clots on one of his lungs. The club held him out the remainder of the season. 
Bosh returned to action in 2016, but almost a year to the date, he was again in the spotlight for his health. Numerous outlets reported Bosh was under pressure from physicians and the Heat organization, including head coach Erik Spoelstra, to sit out the rest of the season due to his recurring medical condition. Bosh sat out and never played again.
Spoelstra stood feet away when Hank Gathers collapsed
For Erik Spoelstra, Chris Bosh's medical saga was a scary reminder of what he experienced years earlier as a point guard at the University of Portland. Spoelstra, who was named West Coast Conference freshman of the year in 1989, was the starting point guard for four years, including 1990 when Portland faced Loyola Marymount in the WCC Basketball Tournament. 
During that contest, Loyola star Hank Gathers, who was a player of the year candidate, caught an alley-oop pass and slammed it home near the midway point of the first half. Just seconds later, near mid-court, Gathers collapsed backward on to the floor. Erik Spoelstra stood a few feet away and helplessly watched as Gathers' body started convulsing and he stopped breathing. 
"Shuddering," is the one word Spoelstra used to describe the moment to the LA Times on the 25th anniversary of the incident in 2015. "There was piercing silence in the gym. Immediately."
Gathers was taken to a nearby hospital and pronounced dead a short time later.
When Erik Spoelstra leads the Miami Heat into the NBA Finals tonight against the LA Lakers, he has his eye on winning a third title, and this time against one of his former stars in LeBron James. But win or lose, Spoelstra understands it's just a game. Life is precious, and he understands from what he tragically witnessed on a basketball court 30 years ago, it can be taken away in an instant.