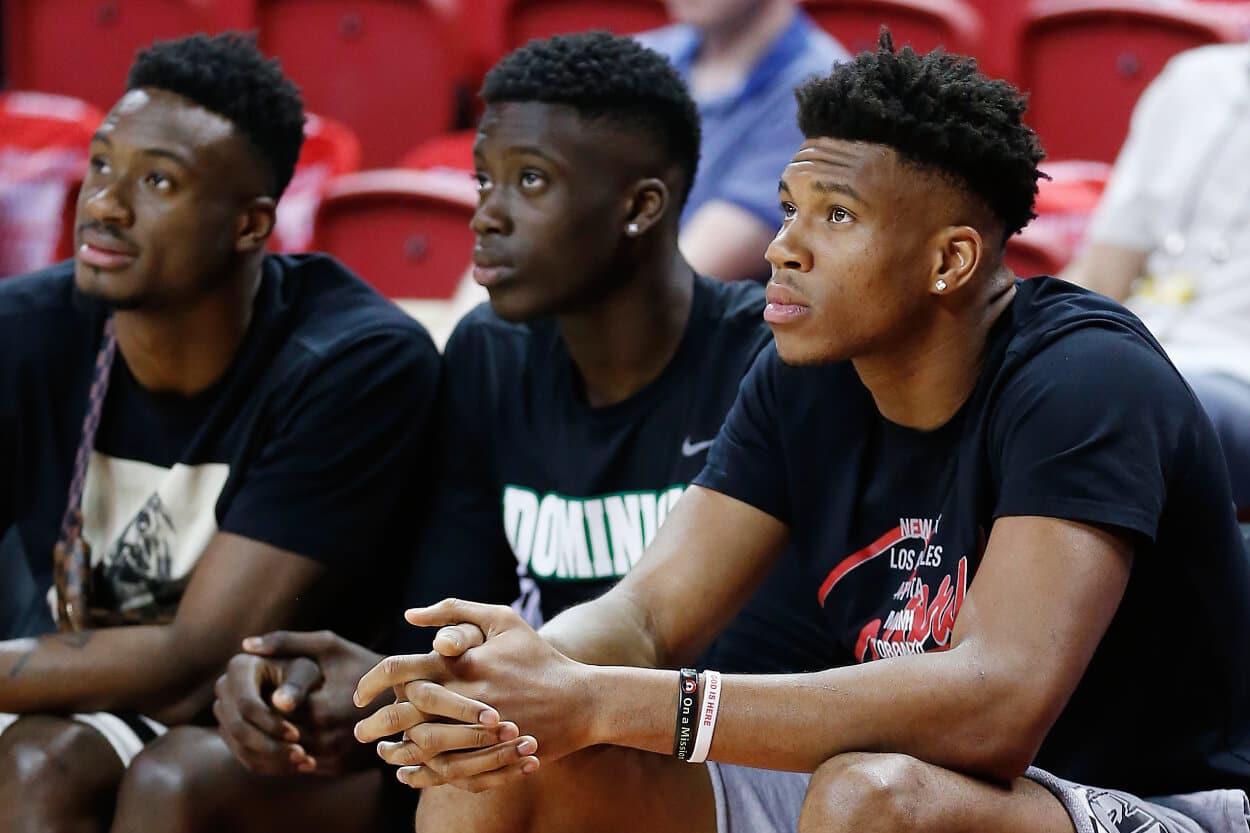 Everything We Know About the Oldest Antetokounmpo Brother, Francis
What do we know about Giannis Antetokounmpo's oldest brother, Francis?
You can't argue that Milwaukee Bucks star Giannis Antetokounmpo is part of one talented family. The two-time MVP is one of five brothers who strut their athleticism in one way or another. Giannis is one of three Antetokounmpo brothers with an NBA championship ring.
But what about the lesser-known Francis Antetokounmpo, the oldest of the five? Here's everything we know about Francis, the soccer star and musically-inclined brother.
Where was Francis Antetokounmpo born?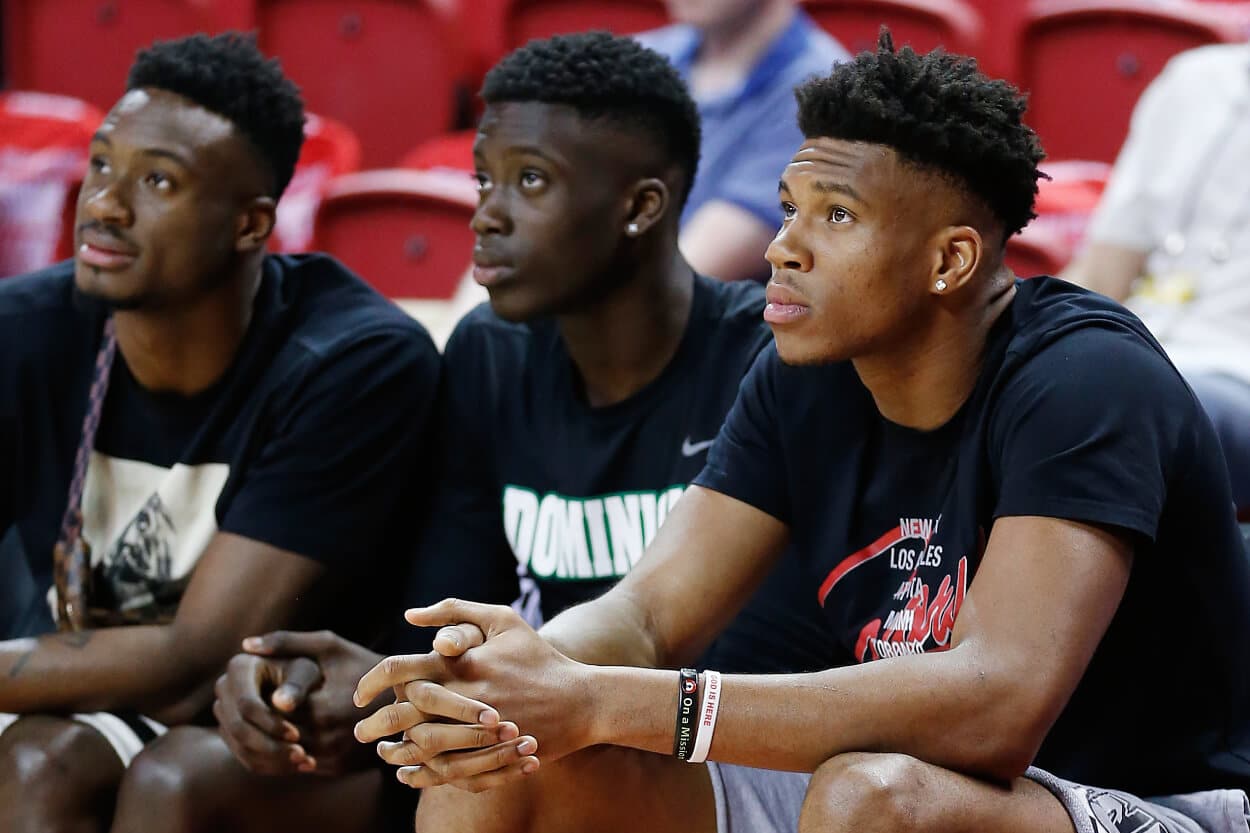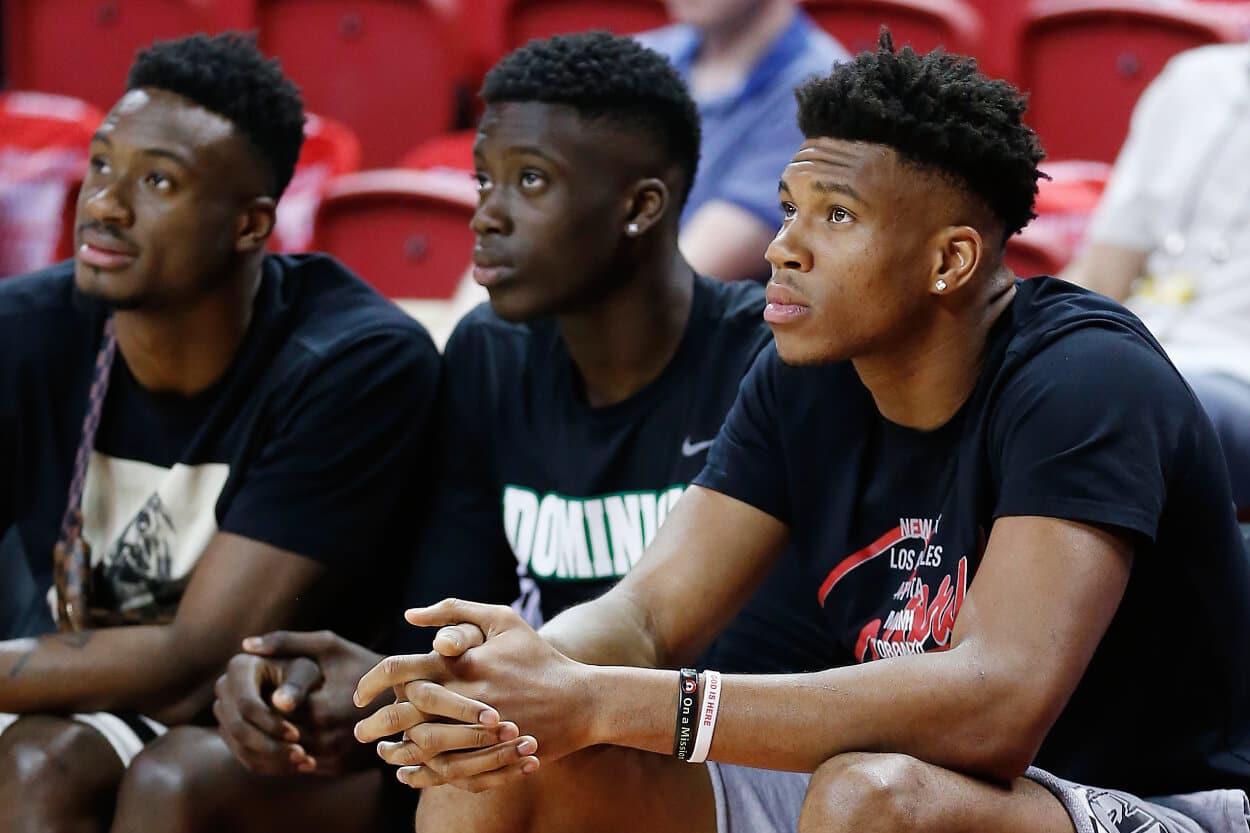 Compared to Francis, Giannis's life is practically an open book. There's little information available about the oldest Antetokounmpo brother.
According to People.com, Francis was born in Nigeria before his parents, Charles and Veronica, emigrated to Greece. Born in Lagos, Nigeria, on Oct. 20, 1998, Francis was the one Antetokounmpo brother most like his father.
Charles Antetokounmpo, who died of a heart attack in 2017, was a professional soccer player. When he retired from the sport, he moved to Greece with his wife. While his four brothers were all born in Greece, Francis stayed back with his grandparents (but now lives in Greece).
But the info available tells the story of the first-born member of a family that would become one of the most famous in sports. Francis's story also begins somewhere slightly different than the rest of his siblings.
In a 2019 article in The Guardian, Giannis, known as the Greek Freak, said that although he was born in Greece, there was no Greek culture in his home.
"I grew up in a Nigerian home," Antetokounmpo said. "Obviously, I was born in Greece and went to school in Greece. But at the end of the day, when I go home, there is no Greek culture. It's straight-up Nigerian culture. It's about discipline, it's about respecting your elders, having morals."
Francis is the only brother who never got a taste of the NBA
Giannis and Thanasis have spent the last four NBA seasons playing together for the Bucks. They won a championship together in 2021. Giannis has proven to be one of the greatest basketball players in the league, earning back-to-back MVP honors. Thanasis sees very little action, averaging 8.4 minutes per game in his four years with the team.
Giannis was the 15th overall player selected in the 2013 NBA Draft by the Bucks. The following season, the New York Knicks selected Thanasis in the second round. He played two games for New York in the 2015-16 season before heading overseas to play. He returned to play for the Bucks in the 2019-20 season and has been there since.
Kostas Antetokounmpo was drafted by the Philadelphia 76ers with the final pick in the 2018 NBA Draft. He was immediately traded to the Dallas Mavericks, where he played in two games during the 2018-19 season. He then spent parts of two seasons with the LA Lakers, where he won a championship in 2020.
Alex Antetokounmpo went undrafted in 2021 and has been a member of the NBA G-League's Wisconsin Herd.
As for Francis, the 6-foot-5 athlete played basketball in Greece but didn't move to the pros like his brothers. That said, Francis possesses considerable athletic prowess. He was most successful on the soccer pitch, seeing time as a midfielder in both Greece and Nigeria.
In 2020, Francis showed off his musical talent by releasing his official debut single, "Shekosi," and music video in 2020.